Difficulty: Normal
Agrresitivity : Normal
Game : Doomsday 1.3a
Plan : Be in london before the date say's 45 :rofl:



Britain first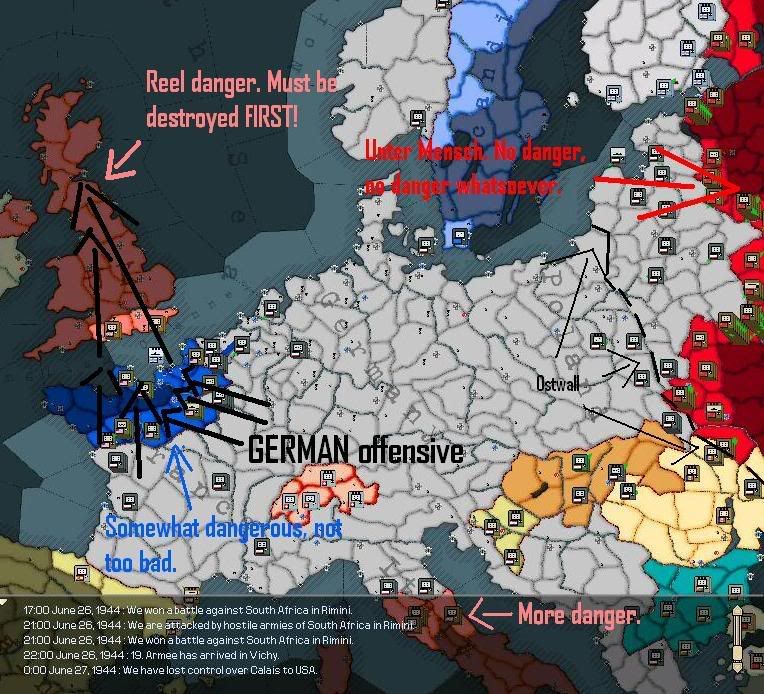 ------------------------------​

27 June 1944.
German High Command
Berlin

Bormann stod up before the table, and surveyed the individuals who looked back at him. First there was Dönitz. The capable commander of the german naval forces. Guderian who was in charge of the luftwaffe, and a loyal nazist. Albert speer, the amazing architact behind the war machine. Ribbentrop the skilled diplomat, and his more secretive counterpart Kaltenbrunner. Who was in charge of secret "diplomacy". The next chair belonging to Herr Himmler, in charge of "obedience", but he was away on the eastern front and had not sent a representative. The same was not true about model, who was busy on the western front. He had sent Oberstleutnant Shulz. Representing the italien front was the present and daring Rommel. And to represent the eastern front was Field Marshall Rundstedt.

Bormann : You all know why you´re here. Tomorrow i give Hitler his briefing, and you're all here to brief me. So lets begin. Dönitz?

Dönitz : Well, theres not much to say. The naval forces have been withdrawn to safe harbours. To prevent unwanted contact with the Royal Navy. Hopefully this will be a brief respite.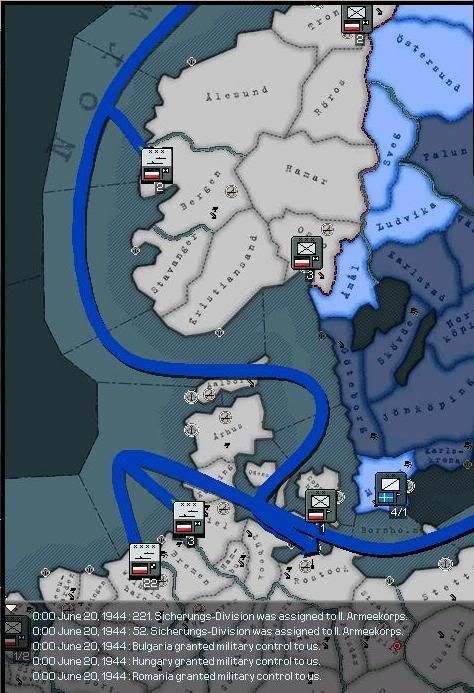 Bormann : we all hope so. Speer you have anything to say?

Speer : Not really, production haven't changed noteworthy in the last few days.

Bormann: okay... Güderian?

Güderian: Sadly, the luftwaffe is badly needing fuel. I request we are henceforth better prioritized. We have problems fielding enough aircrafts to do a impact on the enemy bombers. AND due to lack of oil we have been forced to stop all bomber attacks on Britain. This is not good.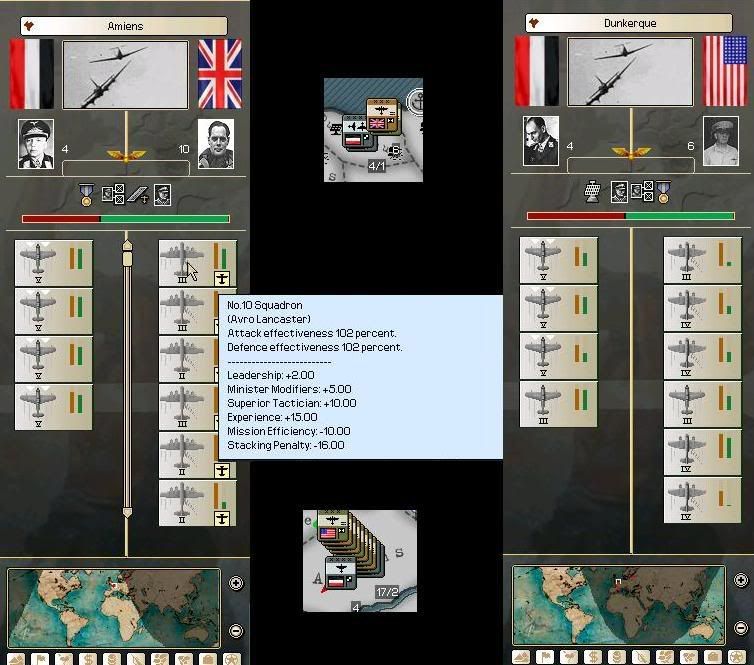 Bormann: We all want more fuel. Ribbentorp, are you succeding in aqurering some?

Ribbentorp: Yes, we have had much luck gaining fuel from our allies and venezuela. However.... Our allies, besides romania, is gonna suffer from total
lack soon aswell. And venezuele is hostile, and might eventuale declare war on us.

Bormann: Lets not dwell on this. Any comments from Himmler or Kaltenbrunner?

Kaltenbrunner: Yes, we have both begun extensive spy programs. Him to root out hostile and me to place. So far the progress has been limitid. And our intels are quite clearly inflated.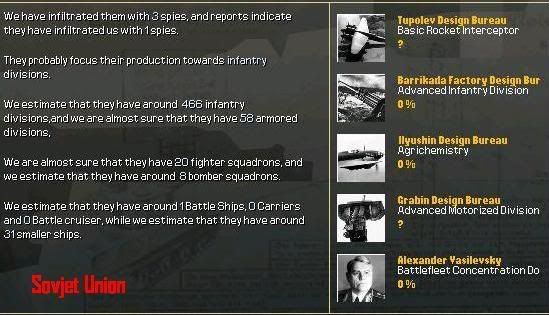 Bormann: Okay, onwards to the army. Hopefully they have better news.

Rundstadt: Not reallly, we are being forced back on the northern and central sectors in the eastern front. Only the southern holds in Ismail. The oil fields of plotsti are sequre.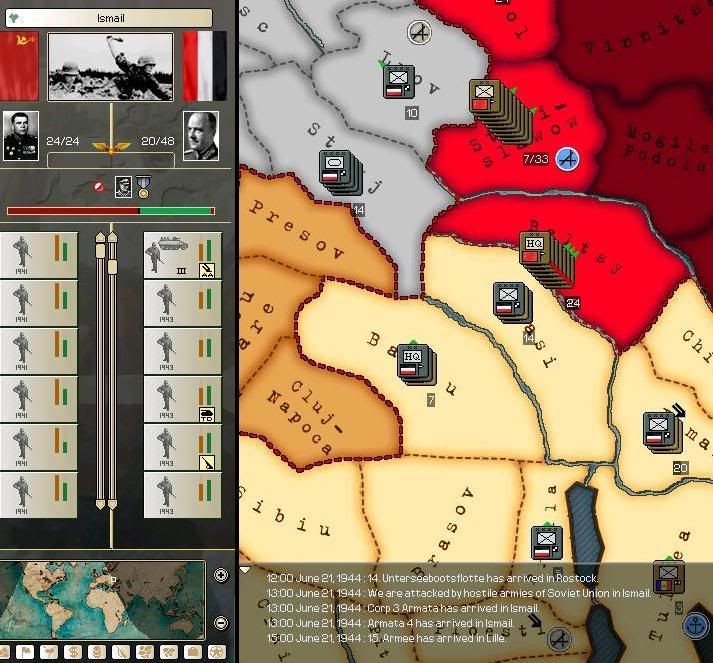 However, the more northern sectors are being forced back.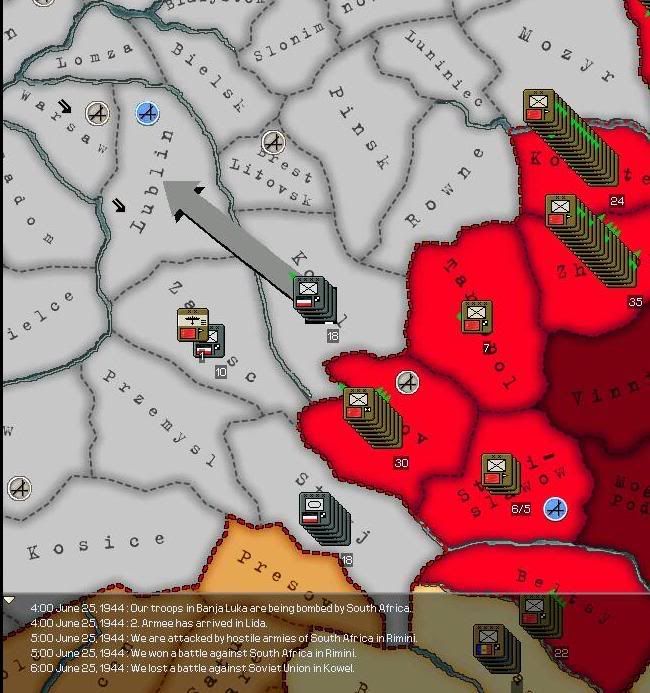 And even more northern the results are even worse.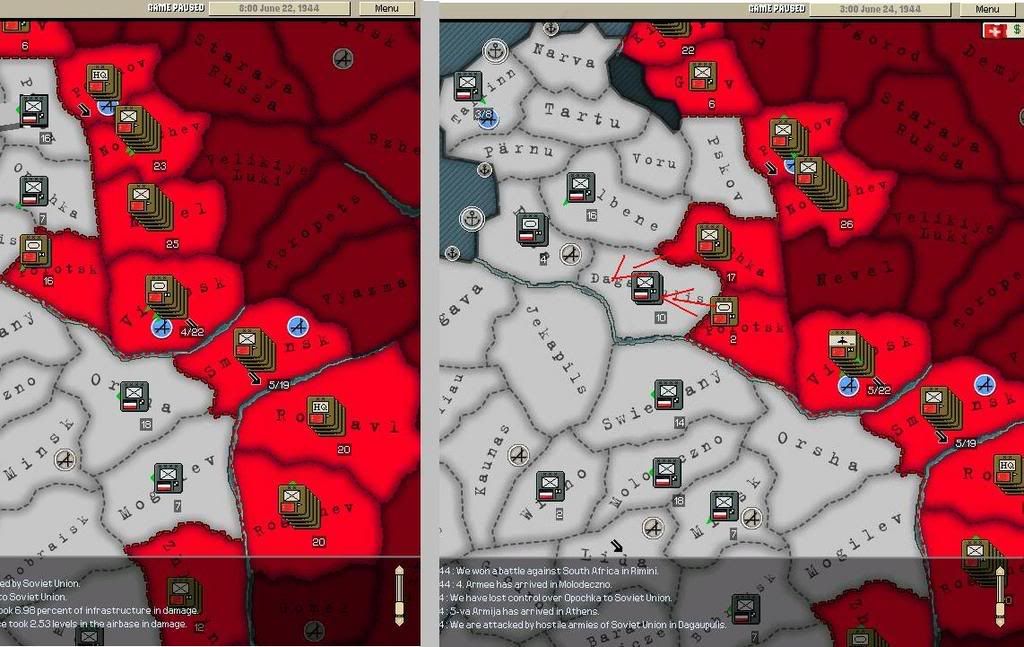 I commisioned the troops stuck in estonia to withdraw before they were cut off. And troops east of the potential break was ordered west to prevent it arising. In generel troops are moving west to create the ostwall per the fuhrers request.

I have more sliders of defeat if it has any interest?

Bormann: no... uhm... i think we'll quickly proced to the italy. Rommel.

Rommel: We´re holding the line. No ground is given, dispite continus assults from a south african armoured division.


Last edited: