I don't actually know what Bohemia was, ladyfabia. All I know is that they seem to come and go at random. You'll see from the next screenshot that they've now been swallowed up by Austria
Next episode:
Joachim I Nestor (b.1484, Elector 1499 - 1535)
(Part Two: The Reformation and its aftermath)

Martin Luther, a slightly free-thinking citizen of Brandenburg
In the Year of Our Lord 1519, the light of the Glorious Gospel finally dawned, breaking through the dark clouds of the centuries-old false teaching of Rome. Stirred by the teachings of Martin Luther, all but two of the provinces of Brandenburg declared their allegiance to a new creed - Protestantism.

Joachim Nestor himself saw the grave error of Papal authority, not to mention the large amount of cash that could be seized from the churches if Luther's teachings were taken to heart, and issued a proclamation on August 2nd 1519, announcing that henceforth the state religion of the mighty realm of Brandenburg would be that of Martin Luther.
(At this point my screen went black. No - it wasn't the dreaded CTD, it was just the screen filling up with an avalanche of stability drops, broken royal marriages and revolts. In theory I took a mammoth -17 stability drop, with eight instant revolts. Was I ever glad you couldn't actually drop below -3!)
At this, the entire continent of Europe was thrown into uproar. Within Joachim's territories revolts sprang up, while all eleven royal marriages that the House of Hohenzollern had entered into were broken. The word "Brandenburg" became dirt on the lips of every ruler in Europe. But Joachim had found peace of a different kind, and sang lustily with his Lutheran brethren
With force of arms we nothing can,
Full soon we were down-ridden;
But for us fights the proper Man,
Whom God himself hath bidden.
Ask ye: Who is this same?
Christ Jesus is His name,
The Lord Sabaoth's Son;
He, and no other one,
Shall conquer in the battle."
Nevertheless, Joachim did find that force of arms was quite useful in quelling the almost continuous revolts that convulsed his realm for the next thirteen years. The situation was aggravated by a political crisis in 1526 and a devastating plague in 1530.

Meanwhile, Joachim had of course been forced out of the North German Alliance on Brandenburg's conversion, but Bohemia, it's new leader, saw fit to invite him back three months later. In 1521 Bohemia herself converted to Protestantism, leaving the leadership of the Alliance, now consisting of Brandenburg, Kleves and Strassburg, once again to Brandenburg.

In 1527 the League of Schmalkalden gave Joachim a chance to improve his severely damaged relations with some of his neighbours. In 1527 the North German Alliance expired and Joachim, sensing that its usefulness had also expired, opted to join the Franco-Scottish Alliance, with Kleves and Strassburg following soon afterwards.
Known to some irreverently as the Macdonalds Hamburger and French Fries Alliance
In 1528 Venice also joined the alliance and the following year declared war on Denmark. Brandenburg's troops participated by capturing Jylland and Sjaelland and in 1532 Denmark paid her old enemy a tidy sum to get them out of the war.

In 1535 the Venetians again took the alliance into a war, this time with Tuscany and Genoa. Once again, there were no German provinces available for occupation, and in any case Joachim chose this moment to die, at the age of 51, leaving his son Joachim II on the throne.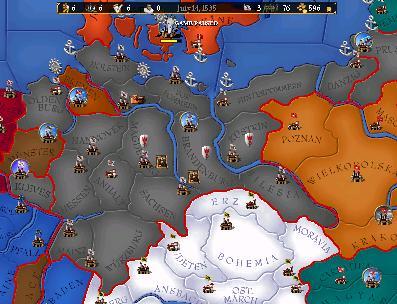 Brandenburg in 1535
And finally...
Joachim, speaking with a court advisor: More revolts! Revolts, revolts, revolts! What's wrong with these people? I changed our state religion because they'd all become Protestants - what are they complaining about for goodness sake?

Advisor: Ah, well, Your Spiritual Excellency, it isn't actually the Protestants that are revolting.

Joachim: Who is it then?

Advisor: Well there are one or two Catholics left in our realm, scattered about here and there.

Joachim: But surely they're a tiny minority?

Advisor: Quite tiny, yes Your Excellency.

Joachim: So what are all my loyal Protestant subjects doing? Can't they stop them?

Advisor: Ahem - er... I think they're mostly reading the Bible and stuff like that Your Highness. We've tried involving them in armed resistance to the Catholic rebels, but they just quote verses at us.

Joachim: What sort of verses for heavens' sake?

Advisor: Well, "Love your enemies", and "If someone strikes you on right cheek, turn to him the other also" - things like that.

Joachim: "Love your enemies"? That's not in the Bible is it?

Advisor: Well, yes Your Excellency, technically it is.

Joachim: And who on earth suggested that everyone should start reading the Bible, then?

Advisor: Ah - Martin Luther, Your Excellency.

Joachim: *slumps back in his chair * And this is the state religion we've just chosen?

Advisor: I'm afraid so, Sire.

Joachim: I think I'll just go out there and do a bit of revolting myself...

Last edited: