0. Introduction
Welcome, fellow megalomaniacs.
In this AAR I am going to play the Kingdom of Bohemia, with the goal to bring back its golden age of the 14th century, go beyond that and generally make it as powerful as possible as an entirely Europe-based empire, while still wearing the 'historical plausibility' robe (loosely, sometimes) and enjoying being emerged the unfolding alternative history. No, something like that is not original at all. But always fun, I think.
The idea for this AAR originated in the "MM2 empires" thread, where SpartanSoldier recently presented me with the challenge to play an arbitrary European nation (Magna Mundi 2 or higher, 1453 start) and try to conquer all of Europe during the game's timeframe; he wanted to try the same as Burgundy. I still think that this is impossible, but in the end, I could not resist. I hope it will at least be interesting to watch the attempt.
Settings:
- IN + Magna Mundi Platinum 2 mod (the "best" MM, according to some) with a few personal trivial modifications (e.g. making the Knights not spawn at weird places)
- regular 1453 startdate (not a 'Hussite Bohemia' AAR)
Writing Style:
- mostly gameplay-focused reports with screenshots
Short overview of the starting situation: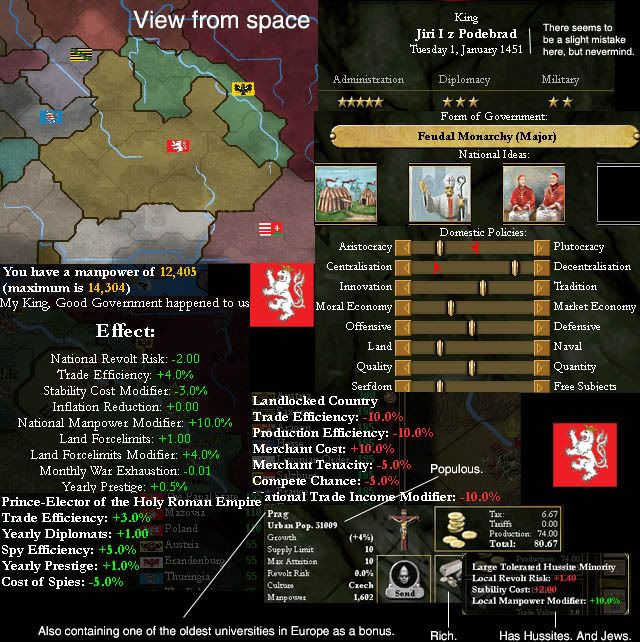 Bohemia in Magna Mundi already starts with a lot of assets and interesting peculiarities:
- arguably the second most powerful country in the Holy Roman Empire (after Austria), in part because of its vassal Silesia; elector, kingdom and in a strong position to go for the HRE title
- located near the Eastern border of the HRE, making expansion easier
- in the West Slavic culture group, but uses 'Latin' type instead of Eastern type units and starts without any modernization penalties.
- starts with two excellent NIs, Battlefield Commissions and Ecumenism, plus one that doesn't seem to fit, Divine Supremacy. The reason for this setup has to do with the unique religious history of Bohemia and the Hussite Wars. The Ecumenism NI is surely there to represent the Compacta, about Divine Supremacy I am not sure.
- starts with Hussite minorities in most provinces, which, thanks to "Ecumenism", actually have more positive than negative effects.
- starts with (arguably) two of the best provinces in Europe, Bohemia and Wroclaw, and also with Silesian as an accepted culture
Bohemia in the game, much easier to rule than in real life:
- no animosity from the Pope or other Catholic rulers, because of the special religious situation; same ability to influence Cardinals as the other countries etc.
- religious and other internal strife, so intense and impeding in real life, not nearly as problematic in the game, Magna Mundi or not
- actually an elective monarchy, the country plays exactly like any other feudal monarchy
- no worries about being inherited
- And so on. So an outperformance of the historical counterpart is only to be expected.
First real update: Soon(ish).