Blood and Gold: a Catalan Tale
Chapter 1 (1066-67)
"Blood and Gold"
​

Hug d'Empuries's wife was swinging backwards and forwards from one of the banners that hung along the walls of the great hall in the Castle of Empuries shouting "Wee-hee!" in a loud voice. She was apparently enjoying the game immensely. Hug's wife, who was also the sister of the Count of Urgell, was in the habit of behaving like an eight-year-old, mainly because she was in fact eight years old. Hug had married her on a whim the previous year without really thinking through all the consequences, such as the fact that she would not be able to bear him any children for some years. Children, and more particularly sons, were something that Hug was anxious to have, seeing as he was poised to become the Count of Empuries on the death of his aging father the Count Ponç d'Empuries, who was now sixty-six years old.

"Why does everyone in Catalonia have red and yellow flags, Huggy?" asked Sancha, still swinging around wildly.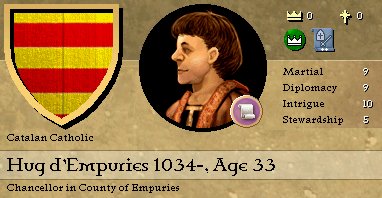 Hug d'Empuries, known to posterity as "Hug Cradlesnatcher"​
"Er… that's a very good question dear." Hug hadn't a clue. Then he had a sudden brainwave. "Actually it stands for blood and gold."

"Blood and gold?"

"Yes. See, to become great Sancha, one must be prepared to pay one's way to greatness - sometimes in blood, sometimes in gold. That's how things work in Catalonia. So everyone has red and yellow flags."

"You're really knowledgeable, Huggy."

"Yes, I know. Sancha, could you stop swinging about like that - someone's coming."

Sancha dropped to the floor sulkily, just as Hug's father the Count himself strode into the hall.

"Ah, there you are Chancellor Hug." The Count always liked to be formal. "I have a little mission to send you on."

"Oh goody, can I come to?"

"Shh Sancha, please don't interrupt. Yes father, what is this mission?"

"As you know, your brothers, Marshal Ermengol and Spy Master Pere, are still not married. One might say that they have been…" here the Count gave Sancha a disapproving look, "a little more circumspect than you have been. Now, it so happens that their majesties, Sancho Jimenez King of Aragon and Sancho Jimenez King of Navarra, both have younger unmarried sisters of a suitable age. Your mission is to lead an embassy to the courts of Aragon and Navarra and persuade their majesties to give their sisters in marriage."

It should be noted that the Jimenez family were a powerful dynasty who at that time ruled Aragon, Navarra and Castille. Like so many other powerful families, they were somewhat lacking in imagination when it came to naming children, and all three thrones were currently occupied by men named Sancho Jimenez. This made things very confusing for Chancellors like Hug who were trying to keep track of foreign affairs.

"It will be an honour for me to serve you in this way, father."

"Can I come too?" Sancha was persistent, if nothing else.

"Only if you're very, very good, Sancha."

"Yes," added the Count, "I don't think the Kings of Aragon and Navarra will appreciate their flags being swung on."

Hug looked guiltily at the still badly creased banner hanging on the wall, and tried vainly to smooth it out.

"Er - yes, Sancha, how many times have I told you…"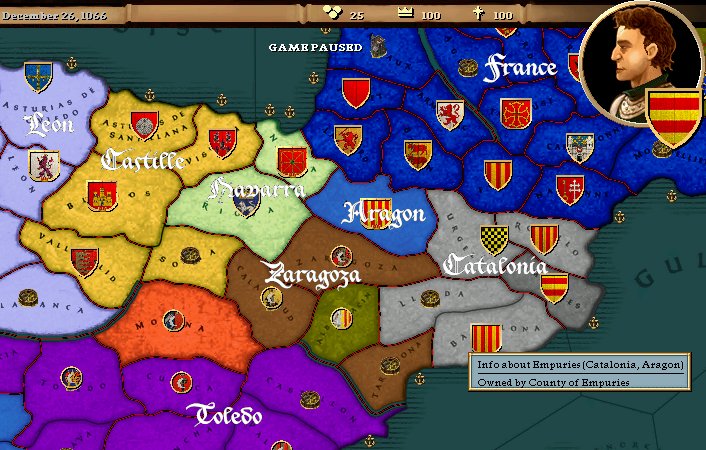 Northern Spain in 1066​
So it was that in the winter of 1066-67 Hug and his young wife Sancha rode across the Spanish Marches to the city of Jaca, where a request was presented to King Sancho of Aragon, and then on to the city of Pamplona, where a similar request was presented to King Sancho of Navarra. Hug was a reasonably good diplomat, and Sancha managed to be very, very good, at least whenever it mattered, so it was not long after their return to Empuries that messages arrived from Jaca and Pamplona with the happy news that both Kings had agreed to their sisters' marriages.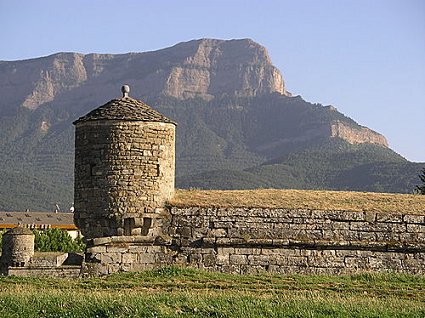 Jaca, capital of Aragon in the foothills of the Pyrenees​
Marshal Ermengol was married to Sancha Jimenez sister of the King of Aragon, while Spy Master Pere was married to Urraca Jimenez, sister of the King of Navarra.

The future looked rosy for the d'Empuries dynasty, especially when Urraca announced that she was expecting a baby. Hug tried not to be jealous, but he was very much hoping that the child would be a girl. Why, oh why had he gone and married an eight-year-old? Still, he was in the prime of his life, and Sancha would be able to bear him lots of children in a few years time. He just had to be patient.

Meanwhile the Duke of Catalonia had gone to war and Count Ponç and his son Marshal Ermengol had been summoned to fight with him against the infidel Moors. Fighting against the infidel Moors was of course something of a national sport in Catalonia, and Ramon Berenguer de Barcelona, Duke of Catalonia, was one of its finest practitioners.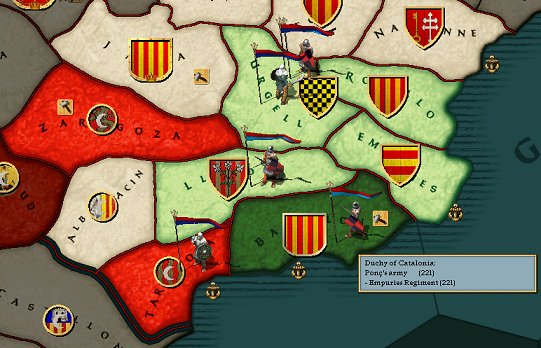 Count Ponç and his men en route to spill some infidel blood​
This particular bout of infidel-bashing only lasted a few months, before the Emir of Zaragoza, Ahmad Abu Dja'far, was forced to hand over all his gold in return for the armies of Catalonia all going home and leaving him alone. A little blood spilled, a little gold handed over. This was of course the way things worked in Catalonia.

The d'Empuries family were pleased with the outcome of this war, mainly because Duke Ramon had not seized any of the infidel lands for himself, but at the same time he had proved that it was fairly easy to defeat the Emir of Zaragoza in war. Perhaps next time some of the infidel lands could be liberated by the d'Empuries family. It would after all be nice to be raking in a little more than 0.6 gold per month. It might have to be paid for in blood, but that was only to be expected.
Last edited: