All right, this is going to be a tribute to my beloved homeland that I have been thinking of making for a few years by now. Thing is with Hungary in Eu2 (and FfG) is that the game will either go pretty ugly or pretty sweet really fast. Hope it will be the latter this time. Game is played with vanilla For the Glory with Very Hard/Aggressive settings.
Blocking the Gate of Europe: Hungary
​
So here lies the Kingdom of Hungary just between Austria to the West, Bohemia to the North-West, Poland to the North and the Ottoman Empire to the not so distant East. Wars can turn pretty nasty in this situation but there are also loads of room for expanding. At start I move one step towards centralization and put all investments into researching infrastructure despite the fact that my starting army is numbering 60,000 people and I have 50 ducats in my coffers. Investment readjusting is scheduled really soon.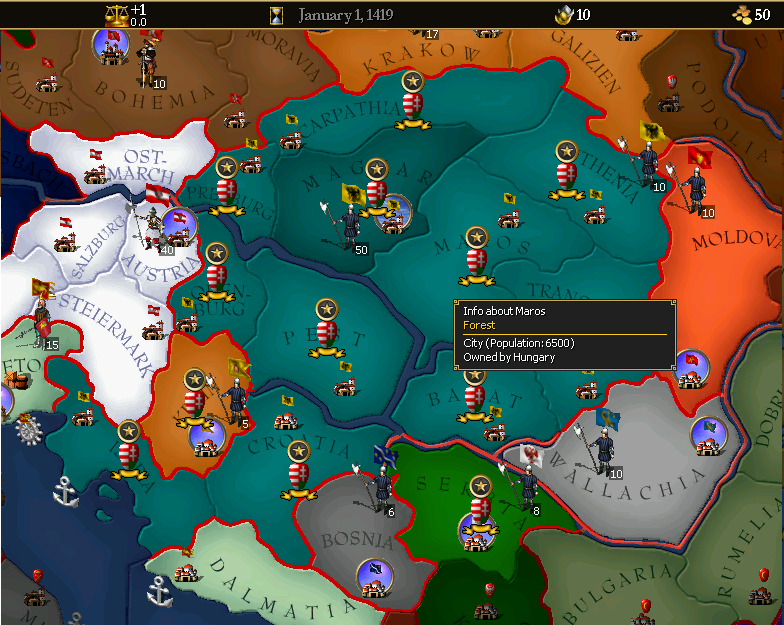 The Kingdom of Hungary in 1419
​
Here is the diplomatic situation at start. Hungary and Croatia are at war with Venice. To be fair, this war is only good to get rid of some of the starting troops for cheaper maintenance cost. There are hardly any ways to secure Dalmatia this time as the Venetian navy will block any ways into Veneto and I will most likely suffer some defeats against the Venetian army so even after capturing Dalmatia I will not have enough war score to claim it.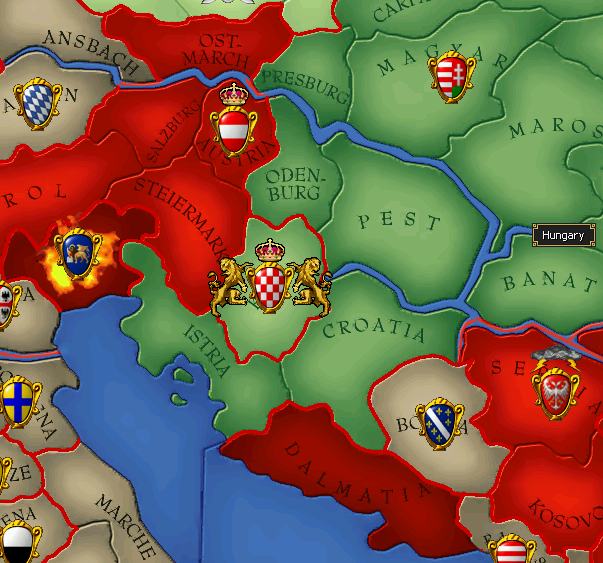 The sides in the Venetian war
​
Nevertheless, I get the troops moving and in a couple of months they reach Croatia and some regiments immediately ordered to march onwards to Dalmatia to engage the small garrison there. At that time only 3,000 Venetian were besieging my neighbouring province, Istira, but Venice dispatched an additional 16,000 to join them. As they would probably arrive before me, my army is taking up defensive positions in Croatia and Dalmatia.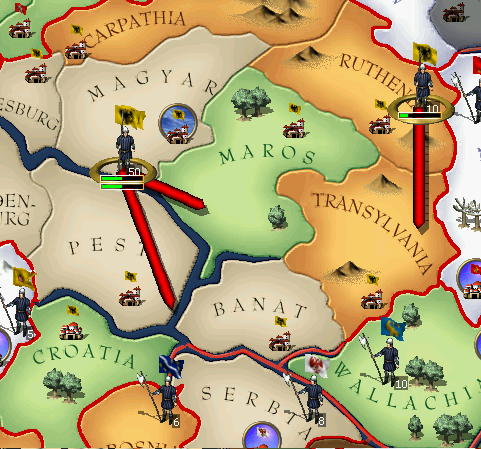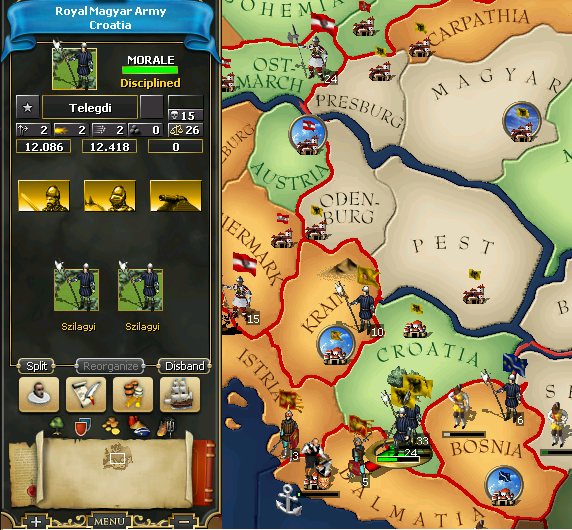 Troop movements in early 1419
​
Roughly a month later I order my army to attack the 19,000 Venetians in Istiria. Perhaps a bit premature move, but the order has been given before I reconsidered it. The Venetian army proves more than a match to my bigger army and I suffer a defeat and retreat to Croatia. I repeat this move a couple of times until I can achieve a victory finally by November. During the series of battles King Vaclav IV dies and I get a claim on the Czech throne. Perhaps I can use that casus belli a bit later, maybe after Venice has been dealt with.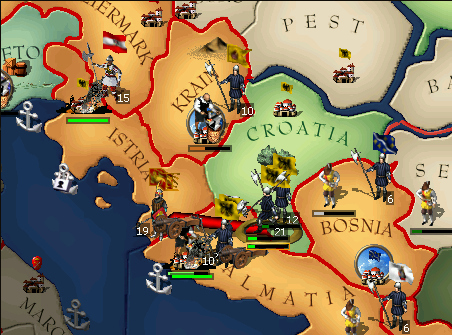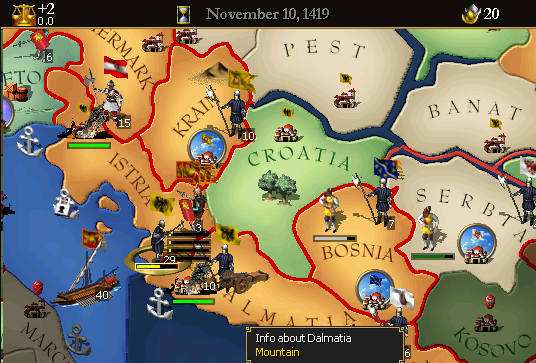 After the victory in Istria there was a lengthy stalemate until June of 1421 when 6,000 Venetian routed my 10,000 man (on 50% maintenance). Shortly after I commence two attacks on the province and the Venetian army perishes. The first tax collectors are being built during this time, one by one, every time the treasury breaks the 50d limit. The budget was balanced on a bit more than an income of 0 and the rest going to infrastructure research. In 1424 I get the option to hire a foreign drill instructor but he is just too expensive at this time. 1426, and it is time to ignore corruption. By 1427 I manage to promote tax collectors everywhere and I can begin to invest everything into infrastructure. In the eve of 1428 I started doing some diplomacy around, Bosnia and Ragusa are in an alliance that expires in 1430. As a preparation to bring them under my influence I sign royal marriages with them. Also, in 1428, I manage to end the Venetian war with a white peace. As I said earlier, it really was only useful to reduce the maintenance cost and for a bit gold from looting Dalmatia for almost 10 years. Later on, I bring my vassal ,Croatia, formally into my alliance and I sign a royal marriage with Bavaria. 1429 brings another DP click and it goes towards centralization, again. In 1430 I manage to add Bosnia and Ragusa to my alliance. Afterwards, being a good Christian I took a look at the religious map and decided it is high time to do something about my Eastern borders.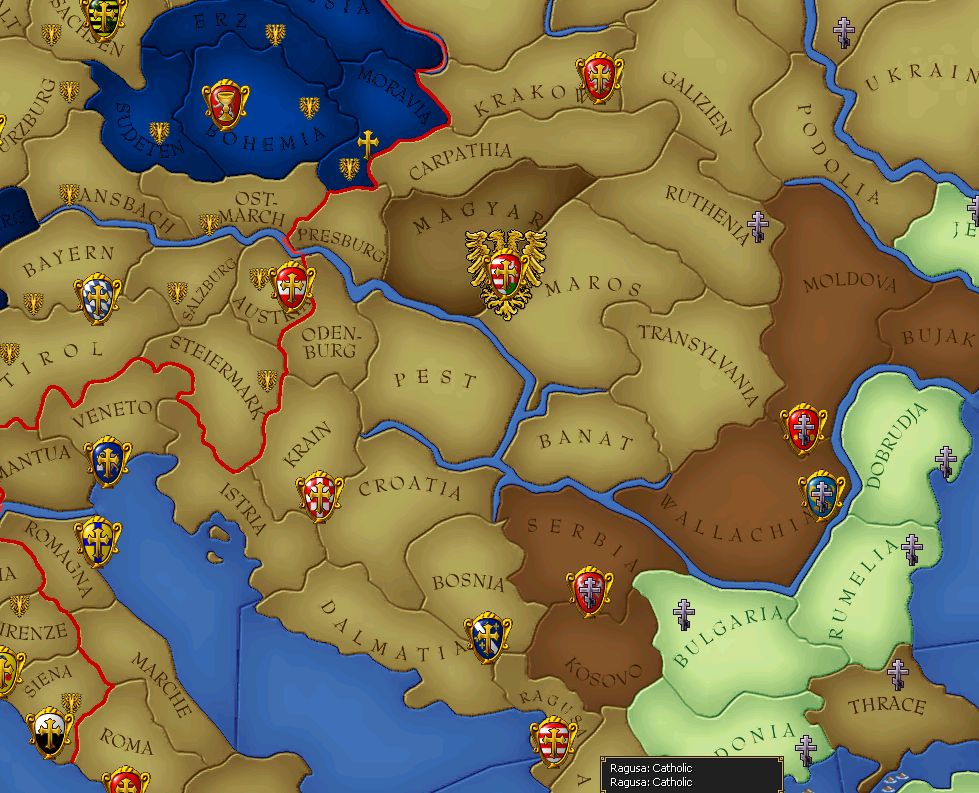 Last edited: