Some of you may know of the little nation of Bhutan. I know of it all too well. For you see there was a time in my life when I was the King of that nation. I will now endeavour to tell you a little more of that time. I'd also like to start by noting, as you may have already, that I'm speaking in the past tense. This little fact is probably the only blessing in the whole tale.
Now I'm not usually a man of strong opinions, but in the course of my time in charge of Bhutan I did form one strong one. There really must be some form of examination to determine fitness for kingship. However I'm not talking the normal kind which determines whether a person is fit to rule. No what I want to see is a test to determine if a country is actually fit to have a king. Had one of those been undertaken upon Bhutan prior to arrival then this sorry little tale no doubt wouldn't be taking place.
But this tale is taking place and thats that. So in the worlds of some famous person (therefore clearly not from Bhutan) always look on the bright side of life. Trouble is though that when you're in complete darkness even the most pathetic of birthday candles will look very bright indeed.
Alright then, enough moaning. Lets have a better look at the shouldn't-be-a-nation of Bhutan.
This is me and my right hand man Brug-Ngyas. As you can see I'm considered by most to be a pretty decent king. I can therefore say that whatever might become of Bhutan is probably not my fault. It's the countries fault. I also have only one rght hand man because, well right hand men like to get paid and we aren't to keen on those in Bhutan
This should pretty much inform you why it is that we don't like payments. Its also another excellent point for why Bhutan shouldn't be a nation. After all what kind of nation have such a low patriotic fervour that all the people combined can only rustle up 1.7 gold coins to keep the nation afloat. 1.7! I mean its not even a whole number. They must have actively taken a coin and cut it into two just so as not to give it to me. Yeah this nation is doomed.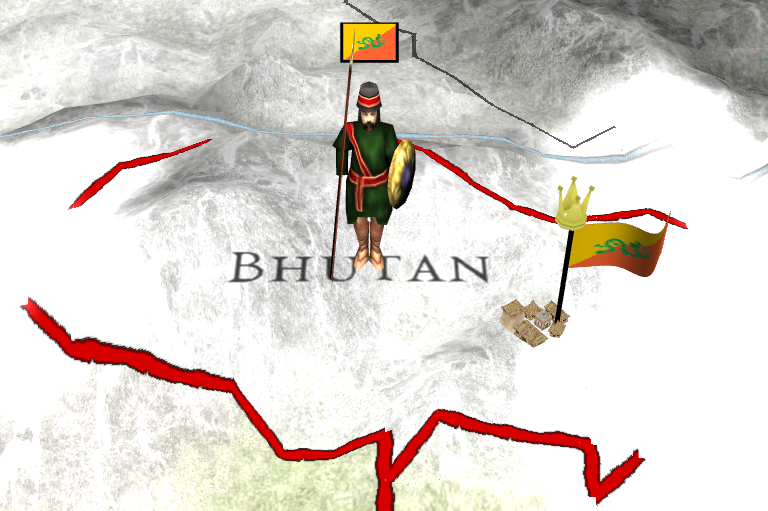 This is the whole nation. Not a pretty sight. Should be fairly self explanatory as to whether a nation like this really deserves to be a nation.
And this is the capital, Thimphu. At this point I'd like to draw your attention to the last syllable of Thimphu which is aptly pronounced poo. This city also shows that someone here has a sense of humour. Its just ridiculous building a wall around this city. It's six houses, six trees and assorted shrubs and barrels. When you consider that one of the houses is mine (second from left) and another belongs to Brug-ngyas (third from left) it's even stupider.
Surely the money spent on that wall would have been far more useful dealing with the chronic shortage of men this nation experiences. I sure can't blame so few people for living here. Certainly if I'd known a bit more about this country then that number would read 633 right now and you wouldn't be reading this tale. My statisticians did inform that in Bhutan we could be proud of having the most accurate count of soldiers in the world. Of course I'd expect nothing less, since if I wrote all the soldiers names on a piece of paper it would struggle to cover both sides.
And last but not least here's a wider look at our place amongst all the real nations of the world. Surprise, surprise it ain't a pretty sight either and it's all gonna be downhill from here.​