Before Plantagenet - Chapter 256
May 1134 - Bordeaux, Kingdom of Aquitaine
As Ælfflæd stood on the steps of the palace in Bordeaux, hearing the cheers of people in the streets in the distance, she felt something unexpected.
Pride.
Or, more specifically, pride in her place. Pride in her status. Pride in her husband.
She could see the knights and soldiers approach, with Geoffrey on a horse near the front. Dressed in his mail and a red surcoat with three golden bulls on the front and wearing his crown instead of his helmet, the king waved to those gathered, his slow pace indicating he was soaking it all in.
As he entered the palace gates, Geoffrey dismounted, along with those at the front with him - his commanders, as well as Prince Alias, Duke Simon and the younger Adhemar de Limoges. Making his way up the stairs, his mail and sword rustling loud enough to be heard over the crowds behind them, Geoffrey made a beeline for his wife.
And Ælfflæd's heart fluttered.
In retrospect, perhaps she should not have been surprised by her emotions. She had been fearful of the city falling and of a repeat of her fate against the heathens. Even worse, her children might suffer for her ambition. For all her bluster before Duke Osmund, she was powerless to stop him. She needed someone to save them, with all the knowledge that in the past, that had not happened.
But this time, and perhaps for the first time, a man in Ælfflæd's life had not disappointed her.
In her arms, her infant daughter stirred. She had not liked the loud noises before, but eventually had grown used to them enough to be rocked into a sleep. But her mother's racing heart may have disturbed her, for she began to cry.
No matter - Ælfflæd was pleased her daughter was showing off her strong cry as her father got to see and hold her for the first time. Even if he wanted a son, that Ælfflæd was able to birth a child healthy under such circumstances felt like a badge of honor.
The scene was almost as she had dreamed as a little girl - a handsome, young, dashing husband returning to his queen, who had kept the realm and his family safe while he was away.
That feeling grew even stronger when Geoffrey reached her, following greeting Prince Guilhem at her side, leaning down to kiss her on the forehead and then smiling broadly as he took his nearly three-month old daughter and held her close.
"Have you named her yet?" he asked.
Ælfflæd smiled. "Marguerite."
Geoffrey nodded and looked to his mother, who stood close to the queen. "Mother, what is the name?"
Ælfflæd chuckled. "That is the name, husband. Marguerite. After your mother."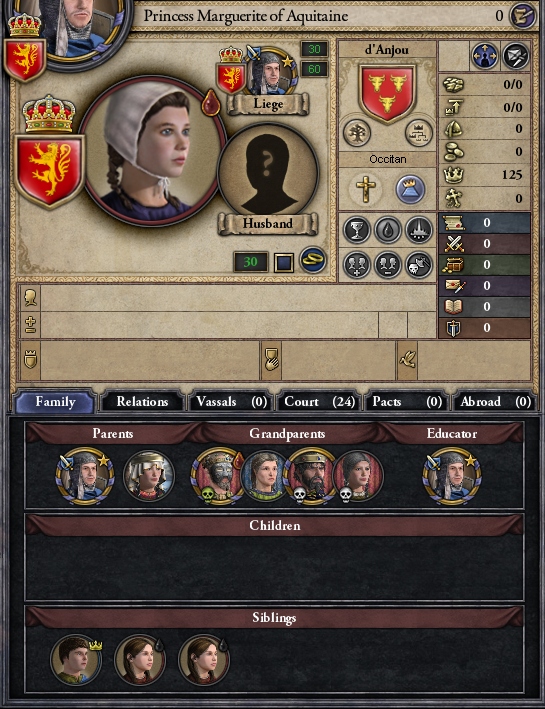 Geoffrey's brow rose as he switched his gazes between his wife and his mother.
"She was a great help to me during this trying time," Ælfflæd said. "I thought it was right."
"You need not look surprised, my son," Marguerite said. "I always have the interests of your realm in mind. Aiding the queen is a large part of that."
Geoffrey was not always good at hiding his emotions, and Ælfflæd could see the wide-eyed look and then flummoxed face as signs he was both in disbelief and suspicious of this harmony between his wife and mother.
But he was able to put it past him, at least for now, as he gave his daughter back to her mother and then moved down the line to chat with his council, speaking at length with his cousin, Bishop Edouard. Meanwhile, Ælfflæd was treated to the sight of Berard and Assalide reuniting. Given that Ælfflæd remembered husbands and wives who never saw each other again after Wiltshire fell, and her fears about Bordeaux, it warmed her heart to see the pair had avoided such a fate.
Geoffrey turned back toward the city, and seemed to take in the love of the crowd once more. Then he made his way into the palace's main hall, with everyone else, Ælfflæd included, following. Geoffrey bounded up the dais quickly, but did not sit on this throne. Instead he turned back to those gathered, and motioned for Ælfflæd to join him. She gave her daughter to Benoite, and then followed Geoffrey up the dais.
Then, Geoffrey took her hand, raised it with his and proclaimed: "We have defeated those who would deny your queen her rule - their arrogance checked by the strength of our knights! Soon, we shall bring them to their knees, permanently. But tonight, we celebrate! Drink, be merry!"
Ælfflæd was pulled close by Geoffrey, who kissed her deeply, to the cheers of the crowd. And the queen's heart raced once more.
….
Because of the siege, the food for the celebration was light. But the wine flowed in great abundance in celebration of Bordeaux's conquering hero. That Geoffrey had not actually done anything but make up for his own error was not lost on Ælfflæd, but she guessed most of those gathered shared her sentiments - she simply didn't care.
The celebrations were raucous, as less food and more wine made drunkenness commonplace in the hall on the evening. The guards had to be alert as a few scuffles between knights broke out, with those involved separated and in some cases, removed from the hall.
Of less concern to the guards were the women who found themselves in the grasp of the men present. Ælfflæd tried to send guards to aid a few who looked particularly distressed, but they became more numerous as the night went along, and the queen's own lucidness decreased as she drank more and more of her ale.
Before the celebrations had begun, Ælfflæd had wondered if Geoffrey would go to her on this evening or to the arms of his lover, Ana. By the end of the night, there was no longer any doubt, as Geoffrey had Ælfflæd on his lap, tossing proper decorum out the window. Sober, she might have cared. Drunk, in the midst of celebrations that were partially in her honor, and happy her husband didn't run to his whore, she enjoyed his sloppy affections.
Then, as Geoffrey began to grow even less restrained in his affections toward her, Edouard suggested to the king that the pair move to either her chambers or his for privacy. Though Geoffrey glared at his cousin, he listened, pulling Ælfflæd out of the hall and to his bed.
She didn't remember much speaking when they arrived. No sweet words. Just lust, passion and release, which suited her just fine.
….
Though things calmed down in the coming days, Ælfflæd was pleased to see her elevated status remained unchanged.
She and Geoffrey shared a bed the next few nights as well. And during the days, he included her in his business. Her being by his side as he held court was no surprise, but her being present when he conducted his strategy meetings on what next to do about her uncle, was. Not that Ælfflæd was anything but an observer, but it still felt nice.
Perhaps he really does view me as his queen,
she thought. And for the first time, in a long time, Ælfflæd began to feel some sort of affection toward her husband.
He is not perfect
, she reasoned.
But he did what my father could not. And will elevate me in ways others refused to. He has looked past his lover for me even though he could have chosen either one of us. Perhaps…
The previous times she had felt betrayed by him loomed large - a loud voice in the back of her mind, reminding her not to trust him. He will run back to Ana. Or the countess. Or some other whore. He just uses you for now.
But she tried to ignore it the best she could, as Ælfflæd enjoyed what might have been the happiest few days of her life. A queen in more than just name, with a husband who appreciated her and two children she was proud of… it was perfect.
Unfortunately, it could not last forever.
Geoffrey drove Osmund off from Bordeaux, but he was still out there. And England remained across the channel. Until Geoffrey brought his troops to Devon, Ecgwyn's handlers would not bow before them.
At a strategy meeting, Mayor Frederic of Saumur revealed Osmund had fled north toward Tours and Geoffrey announced he would leave as soon as possible to trap and crush him. Then, he would not return to Bordeaux, but instead, head north to conduct his invasion of England.
Hearing him speak of it made Ælfflæd's heart flutter. It was harrowing to hear in one sense - it was her homeland that was being invaded. But it was for her benefit, her reign, her son and it reminded her how much she wished to be there.
It wasn't outlandish, in her mind. Ælfflæd had gone with Geoffrey toward Dauphine on his first campaign, with her difficult pregnancy being the only reason she returned to Bordeaux. And her second pregnancy was the reason she had not pressed the matter the last time.
But Ælfflæd wasn't pregnant anymore and though she certainly could be again soon, especially if she did accompany Geoffrey, she would deal with that when she came to it. In the meantime, there was no reason she couldn't do as she had when they were first married, especially since this war was for her personally and not her husband.
Still, even if it made sense she should go, Ælfflæd had a sense of foreboding. Her uncle's declaration she would be Geoffrey's puppet… surely he would let me come as well.
Since Geoffrey made no mention of Ælfflæd's place during the meeting, she resolved to broach the subject with him after.
She asked him to return with her to her chambers, and given that his hand went immediately to her behind, Ælfflæd knew he was of one mind. And she did not have a problem with that… once he had heard what she had to say.
When they returned to her chambers, Ælfflæd dismissed her ladies and servants, and Geoffrey immediately began to paw at her.
So impatient,
she thought.
Some things never change.
"Husband," Ælfflæd began, "there is a matter I wish to discuss with you first."
"We can after," Geoffrey told her as he pulled her body against his.
"It won't take long," Ælfflæd said. "I ask just one thing."
Geoffrey sighed and though he did not release her from his grasp, motioned for her to continue.
"England," Ælfflæd began. "You did not make mention of where I would be."
"Was there reason to?" Geoffrey asked. "You would be here, as you were before I returned. And would be had I not been forced back here by your uncle's trickery."
"I was heavy with child," Ælfflæd noted. "But I have birthed our daughter. I have recovered from it well enough and undergone my churching. I could accompany you to England."
Geoffrey began to chuckle. "Why would you do that?"
"Because you seek to make me queen in my own right?" Ælfflæd asked. "Your Boudica? She did not hide behind others while she attacked the Romans."
"She did not have a husband alive to do so," Geoffrey said. "There is a difference."
Ælfflæd had been nervous about broaching the subject. But seeing Geoffrey grin and seem so dismissive...
"So you will say I'm to be a queen in my own right, and I am not even present when you move across England in my name?" Ælfflæd demanded.
"Your time will be when we are crowned," Geoffrey said.
"When we are crowned…" Ælfflæd repeated as she slipped from his grasp. She could already see it - Geoffrey slowly but surely turning this into his conquest… making England his kingdom. Not hers. Osmund's words proclaiming she would be a puppet to Geoffrey gnawed at her.
"Your uncle still is out there, in the countryside," Geoffrey said. "We must track him down before I head to England. Your best place is here, behind the safety of these walls."
"Walls that have already come under siege?" Ælfflæd asked.
"But did not fall," Geoffrey said. "And won't, since I will not leave your uncle with enough men to threaten them, if I leave him with any at all."
Before his bravado was endearing and almost attractive. Now, it was irritating.
"You speak of my countrymen," Ælfflæd reminded him. "My subjects, who are brave men, will leave families of widowed wives, and fatherless children."
Geoffrey rolled his eyes. "Such is war. And I gave them the option to acknowledge us as their rightful king and queen. They refused."
"Perhaps because they do not wish to acknowledge you as their king," Ælfflæd noted.
Geoffrey's brow rose. "The Saxon we captured called you a heathen harlot. Trust me, my dear wife, they think as little of
you
as they do of me."
Over the course of their seven year marriage, Geoffrey had said many things to Ælfflæd, including attempting to pin any complications of her first pregnancy on her. But nothing he ever said struck her as hard as repeating the accusation of Æthelræd.
It was something she'd long dealt with since her return. She knew plenty among the Saxon and Norman nobility thought she had forsaken the church, that the heathens had turned her. They rarely said it to her face, but snickered and whispered behind her back.
It had been something she had been able to mostly leave behind in Aquitaine - whatever talk there had been dissipated as the people here grew used to her as queen. But it was never wholly forgotten, and one of the worst insults she could suffer.
She was speechless at first, sucking for air as if she had been struck in the stomach. But when she did regain her bearings, she simply said: "Leave me."
Perhaps realizing his mistake, Geoffrey sighed. "It was what he said. I don't believe it. I just tell you what
they
think."
Her eyes fixed on him, and narrowed into a glare. "You tell me that to belittle me. To remind me of my place. Well, you have done well husband. I am reminded I am not wanted by them, and only by you when I can be a symbol. Nothing more."
"I did not mean it like that," Geoffrey said he tried to pull her close again.
But she jerked herself away from him. "I told you to leave me! Go, bathe in the blood of my countrymen and then summon me when you need to drop a crown on my head to justify your ambitions."
Geoffrey rolled his eyes, but did not press her any further, moving to leave her chamber. But he turned back to her as he neared the doorway.
"Your father was ambitious too," Geoffrey said. "And look how that turned out. Be happy you finally have someone who can actually deliver on what he promises, rather have his family ruined by them."
It was time like these that Ælfflæd could see how Geoffrey was the son of a renowned speaker. He was actually quite good at pointing his words - he just never did it consistently. And half the time, he seemed unaware of his own power.
But on this occasion everything he said hit her, and did so hard. The implication was clear - her father was a failure, her countrymen were failures and by proximity, she was a failure as well - only good to be a showpiece to her betters… and birth their children, who hopefully would be untainted by her side of the family.
Ælfflæd did not have her ladies rejoin her after Geoffrey left. Instead, she sat alone, tears in her eyes, wondering if she had made a terrible mistake, and whether her uncle was right all along.
….
Geoffrey departed a few days later and Ælfflæd barely mustered the strength to see him off. Her uncertainty over all of this left her hesitant to play the role of symbol any longer, but she told herself that, if nothing else, it was for her children's futures. They would be left to deal with this when she was gone, whether she liked it or not.
Once Geoffrey departed, and with the threat of the Saxons gone, Bordeaux seemed to return to some semblance of normalcy. And in that, Ælfflæd's days as an inspirational figure had gone.
She returned to doing things like holding court, but was more of a showpiece than anything else. The decisions mostly lay with the council, and the steward, Bishop Edouard at the head. Marguerite also was involved, and she would throw Ælfflæd a bit of policy every so often, but the queen felt her opinion was only asked for when the matters were long decided.
She certainly felt a bit more useful when it came to her children, though even that had begun to lose some shine. Guilhem was growing older, and tended to spend most of his time with the other boys in the palace, and the men overseeing them.
Young Marguerite, naturally, still needed her mother, as Ælfflæd breast fed her. But wet nurses could and did do that as well.
It felt a far cry from what she had been promised months ago, and had been coached to believe was in her future.
And about a month and a half later, she heard news that surprised her… and left her even more frustrated by her situation.
Riders arrived one afternoon, bringing news of another battle between Geoffrey and Duke Osmund. It was hardly a surprise to her that Geoffrey had trounced her uncle again, this time near Tours - the ancestral homeland to Geoffrey's grandfather, Duke Foulques IV.
The English army had not been completely destroyed, but Osmund had been left with under 1,000 men - enough to raid but not enough to threaten Bordeaux.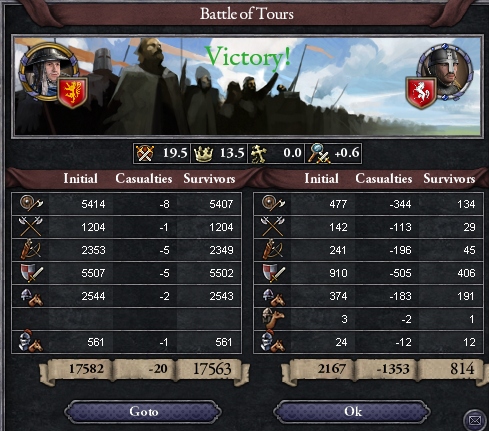 And apparently, Geoffrey felt comfortable enough to call for the thing that shocked Ælfflæd - he wanted Prince Guilhem to join him, along with the king's cousin, Centolh d'Uzes.
Geoffrey had preached safety and protection for the prince. To this point, it had meant leaving him where his mother was, whether it was Angouleme or Bordeaux. But to take him on campaign?
Naturally, Ælfflæd disagreed. But she knew she could not fight with Geoffrey on the matter.
And a day later, a foreign visitor provided the likely reason for Geoffrey's sudden change of mind.
Ælfflæd was greeted by a man introducing himself as Earl Oswulf of Brycheiniog, chancellor to Duchess Adelise of Mercia. Ælfflæd officially met him in the main hall, but eventually received him in private, alongside Helie, Assalide and Benoite.
"The girl Ecgywn can boast no more than 1,000 men in total," Oswulf explained to her of the situation. "And much of that is with Osmund, here in Aquitaine. England is essentially undefended."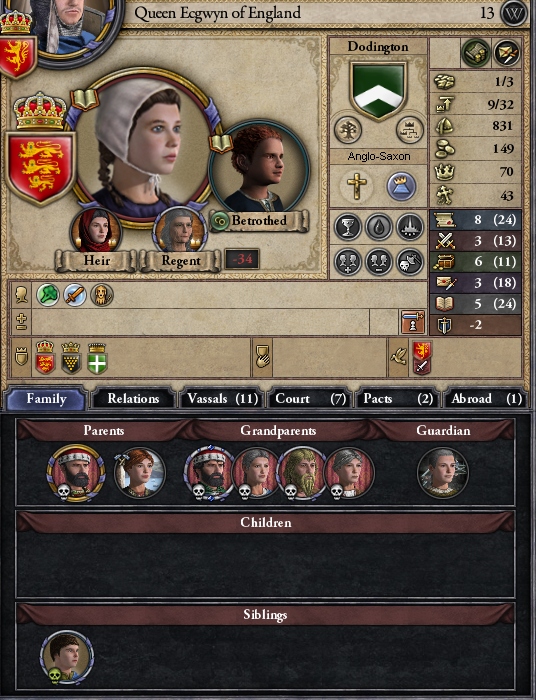 "Can she hire mercenaries?" Ælfflæd asked. "Or will other lords rally to provide her more men?"
"The duchess says support for Ecgywn falters," Oswulf said. "The Countess of Cornwall still backs her, as does her mother. Kent does as well, since Osmund remains away. But Lady Aevis grows hesitant, as does Duke Sigeric of Essex."
"They think of abandoning her?" Ælfflæd asked.
"Not openly," Oswulf said. "But they will not provide her much aid. No additional levies, nor money for mercenaries. It means they all but doom her. Your husband will face little resistance once he lands in England."
On one hand, Ælfflæd was relieved to hear that. Regardless of her frustrations over how she was being treated, the die had been cast. Losing the war would hurt her children, and she didn't want that. It was better this was over quickly, and England accepted its fate.
Then another thought occurred to her. "Did you see my husband, before reaching me?"
"I did, my queen," Oswulf said. "Duchess Adelise instructed me to see him as well as you."
And suddenly it made sense - Geoffrey was told the English were all but broken. So he decided to keep his son close to him, figuring he could likely keep him away from a siege camp. He might seize a town or Ecgwyn's manor and keep Guilhem there. Heck, Geoffrey himself might use it as his headquarters.
But Ælfflæd could not help but feel insulted. Not only had Geoffrey denied her, but he was taking her son from her, having the prince where she should be.
If I allow this, I will never receive what I was promised
, she thought.
I will never be anything more than his puppet. And England will suffer as a result.
So she resolved to not let it happen. If he could take her son, she would go with them. And Geoffrey would be forced into either sending her back, ruining her symbolism, or accepting her by his side.
Of course, getting to Geoffrey was part of the problem. She might have been queen, but she was not free to move about as she pleased. She needed to get the council to go along with it.
Ælfflæd wasn't sure about Bishop Edouard. The steward, as Geoffrey's maternal first cousin, had shown himself to be close to the king. But he had run afoul with Geoffrey of late - not enough to be stripped of his authority entirely, but enough that even Ælfflæd knew of their disagreements. So she was left uncertain if he was the one to approach.
Instead, she found herself going to Marguerite.
The queen mother was the one who counseled her on the display needed against Duke Osmund. This would be a continuation of that, Ælfflæd reasoned. Even if Geoffrey can't see it, perhaps his mother can.
If she couldn't, Ælfflæd wasn't sure what she'd do. But the queen resolved to cross that bridge when she came to it.
"You wish to take to the field?" Marguerite asked when Ælfflæd approached her. "It is not what I would enjoy."
"I suspect your son had already designs on not having himself entirely in that field," Ælfflæd said. "Why else would he summon your grandson, after fighting a war to protect him?"
Marguerite nodded. "You make sense."
"You agree with me then?" Ælfflæd asked.
"Agree?" Marguerite asked. "It is not about agreeing or disagreeing. As I said, I would not do as you do. But I am not you. I am not a queen anymore. However, I am curious as to why you think you can go against my son's order and why you think Geoffrey will not send you straight back here."
Ælfflæd swallowed hard. Not that she didn't see all of that as a possibility. But it was another problem she wished to deal with when she came to it - and if she left Bordeaux, she would have a few weeks before that would be required.
She cleared her throat. "Well, his order was before he routed my uncle, again. And before he summoned my son. If it is safe for a child of six years, then it certainly is for the woman who is to be his shield… which I can hardly do in Bordeaux if he is in England."
The words made even more sense as she spoke them. And angered her once more. The nerve of Geoffrey to do this…
"I don't think England is the place for him," Marguerite said. "Do you agree?"
Ælfflæd wanted to agree, but if she did, that might make it less likely for her to go as well. Still, she also knew in this case, it was irrelevant what she thought.
"It hardly matters," Ælfflæd said. "My husband has called him. Therefore it falls on me to make what I can of it… and protect my child the best I can. That means being with him, while my husband is distracted attempting to take Ecgwyn's holdings."
Marguerite smirked. "You've gotten better at this."
Ælfflæd could not resist a smile. She never thought she'd be happy for praise from her mother by law a few years ago. But things had changed quite a bit since then.
"I assume you come to me to convince Edouard," Marguerite said. "We will tell him. He will not dare go against the both of us, especially if we use your reasoning."
….
The next matter was her ladies.
Technically, they were obligated to go with her. But Ælfflæd was taking them to a foreign land, where there was conflict. And there would be some risk, even if Geoffrey thought little of it.
So she did not wish to demand it of them. Instead, she would ask them, earnestly and honestly. And she would hold no ill will if they did not wish to come.
But if nothing else, it would be good practice for when she would have to make speeches if she ascended in England. When she ascended.
Ælfflæd gathered them in her chambers and she explained her plan to go to England with her husband and son. It was no secret the king had refused her request before. So Ælfflæd had to at least address why she felt it was needed for her to challenge her husband.
"I know you might think it is not a queen's place to be," Ælfflæd told them. "Or that the king has already spoken. But I must be there. A queen's duty is to her people, that is what you all always remind me. And if my people are to once again be my Saxon brethren, then that is where I must be now. My husband will lead, as he always does, but I must go with him and do there as I do here.
"I ask much of you," Ælfflæd continued. "Too much. This is not Angouleme. This is going to a different realm. To either sit in an army camp or some foreign manor, which will not be as nice as this palace. To take your families, or potentially leave them behind. I cannot fault you for not wanting to go… so I ask you, but I want to be clear I will not make you. If you do not wish to go with me, I hold no ill will. You will receive no punishment. You can resume your duties when this war is past. The choice is yours."
"I would be with you, always," Helie told her.
"Me too, my queen," Benoite said.
"And me as well," Escarlmonde said. "And I will get to be with my husband as well."
Their eyes all fell on Assalide. In truth, Ælfflæd was not certain how she would respond. She was the newest among her ladies, and certainly the one most married to the traditional view of a woman's role. While that might be debatable in some cases, flaunting Geoffrey's will was a clear violation of that code.
"I am your lady, my queen," Assalide said. "And I will go wherever you do."
Ælfflæd smiled. "I know you probably think ill of this, Lida. I appreciate you following me anyway."
The lady nodded and mustered a weak smile. She did not love this, clearly, but Ælfflæd was pleased she went along with it.
And with that, Ælfflæd had secured what she had to at home. The next test would be her husband.
…..
With a healthy escort of knights and infantry, there was little danger for Ælfflæd or her family.
They were treated well, naturally, since this was the royal family. Villagers came out to see their queen, along with the prince and baby princess. Of particular warm welcome was in Angers, where some of the old residents who remembered the days of the Iron Duke and Geoffrey's father when he was a boy got a chance to see the latest Angevin heir.
And technically, it was a chance for that heir to see what had come before.
"Greatness once walked these halls," Helie explained to Guilhem as she joined Ælfflæd and her family as they toured the keep. The old woman smiled as she ran her fingers against the stone.
"My great grandfather?" Guilhem asked.
The old woman nodded. "But he was not alone. Your grandfather. Your great aunt. They both grew here."
Ælfflæd looked around, trying to imagine what it was like then. A world before her husband, who she knew had been born after his father had moved the court to Bordeaux. A world that existed when she was just a babe… and before Tunis.
She found it interesting. Foulques IV was a figure of her family's past and little did her grandfather know at the time, their future as well. But the man was a bit of a mystery to her - his accomplishment of Rouen was widely known, but the world of Angers back then was shrouded in mystery. It had been left behind when Geoffrey I had taken his court south, and Geoffrey II knew nothing of it beyond what Agnes had told him… which was what Agnes had told her. And it left Ælfflæd with so many questions.
The Iron Duke. What was he truly like? What was this place then? Agnes… what must have it been like for her as a girl as she ran through these halls? Had she any idea of what awaited her? Did she even know she wanted it?
But while Ælfflæd was fascinated by Angers, she could not remain there long. They were still required to arrive in St. Malo as quickly as possible so Geoffrey could get on with his invasion of England.
They found the town bustling with life - not a surprise since Geoffrey had his army spread around the county, while the king and his staff took up residence while waiting for their ships to be ready.
Geoffrey was staying in the home of the mayor and it was there that Ælfflæd and her children were brought.
The king's brow rose as he saw Ælfflæd, but did not say anything at first, as he was greeted by his son, whom Ælfflæd had told could give him a big reaction.
"Papa!" Guilhem exclaimed. "Mama says you're taking me in a boat? To where she used to live?"
Geoffrey nodded. "I've heard you like to pretend to be a knight. So I thought it was time to show you what it means to be one. And there is no better time than when we fight to win a kingdom you will one day rule."
Ælfflæd narrowed her gaze at her husband. Funny that reasoning was good enough for Guilhem, but not for her.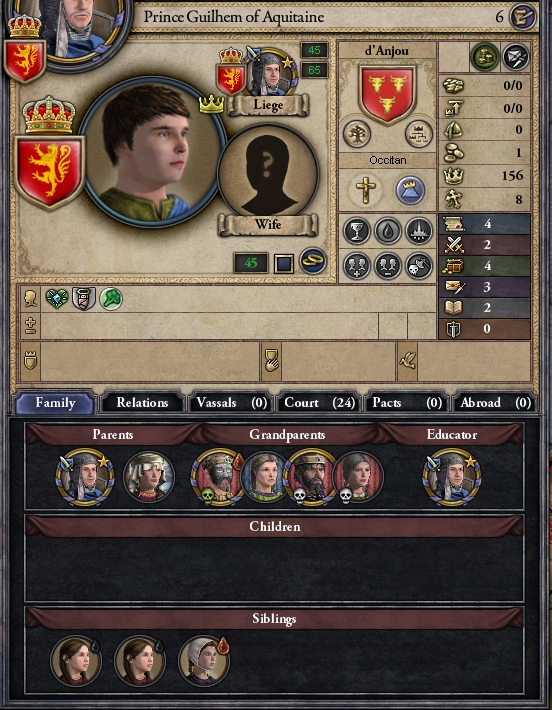 The king looked at her. "Come to see our son off?"
"No," Ælfflæd said. "I thought I would accompany him. Since it is safe enough for a child to be there."
Geoffrey eyed her, and she could see the red begin to color his face. He turned to Berard.
"Why don't you take the prince and show him the boats we will be taking," Geoffrey suggested. "And your son - I assume he is here, since he was summoned as well?"
Ælfflæd nodded. "He is here, Sir Berard. Waiting with your wife Lida, and your new son."
Berard bowed and then led Prince Guilhem out of the room. The discord must have been clear enough for the boy to pick up on it, for he had a slight frown on his face as he departed.
When the door was closed, Geoffrey glared at Ælfflæd, shaking his head.
"I told you that you were to remain in Bordeaux," Geoffrey told her. "I sent for only our son. Had I wished for you and our daughter, I would have called for you both."
"You send for your son, but not his mother?" Ælfflæd demanded. "You do not see the insult, after I asked to accompany you?"
"No," Geoffrey said. "I had no intention of taking our infant daughter, and she needs her mother."
"She shall have her mother," Ælfflæd said. "And if you think it is safe for your six-year-old son, then why it would not be safe for your adult wife is a mystery to me."
"I prefer a babe to be kept in the safest of conditions," Geoffrey said. "Even if I do not expect England to be very dangerous now, it is still enemy lands."
"But still safe enough for our son?" Ælfflæd demanded.
"Safe enough, yes," Geoffrey said. "Children are sturdier than infants after all. And it is time Guilhem gets some idea of what will be expected of him. I will not wait too long, as my father did with me."
"Our daughter is no weakling," Ælfflæd said. "She can handle a manor home. I did, and I hardly got that. The drafty keep in Wiltshire was where my mother had me most of the time."
Geoffrey rolled his eyes. "I issued my order. Our son joins me. You do not."
Ælfflæd narrowed her gaze. She would not back down.
"I am Queen of England," Ælfflæd said. "I am not going to sit by and let you seize it with me sitting half a realm away in Bordeaux!"
"Are you saying… you intend to take control of my army?" Geoffrey asked.
"I did not," Ælfflæd said. "They are the armies of Aquitaine, husband. Your armies. I am but your consort there. But in England… I am the queen. And it is only right that I am there."
"As you say, it is
my
army," Geoffrey told her. "And as such, I can and will tell you that you cannot accompany it."
"So, you would tell my people that you seek to make me a true queen, and not your puppet," Ælfflæd said. "But you would leave me behind? What will they think?"
"Do I care what they think?" Geoffrey scoffed. "I put them down in Bordeaux. I put them down at Tours. And if they muster any resistance when I cross the channel, I will put them down again."
"We are not dogs, husband," Ælfflæd said. "And the problem was rarely about a show of force. Everyone knows you can best my homeland in a fight. The problem… and whole reason you claim to be in this war, is because you cannot control what happens off the battlefield. You wish to protect our son? Our daughter? Then you will have me there, so that you can continue to insist that I am to be England's true queen when this is done."
Geoffrey narrowed his gaze. Then Ælfflæd added: "Your mother agrees. As does your council. Why else do you think I'm here?"
She would have preferred to stand on her own merits, but Ælfflæd knew that might not work. If her path to England lay through relying on the support of her husband's mother and council, then so be it.
"And if you do send me home," Ælfflæd continued, "how do you think that will look?"
"Like I reminded you in your place," Geoffrey snapped.
"Like we cannot agree," Ælfflæd said. "I have joined you… but you sent for our son. It only makes sense I come as well. We go together. For if I am Queen of England, and you are king, then our son and daughter are prince and princess. We should all see the realm that will now become a major part of their lives."
Geoffrey grunted and leaned forward on the table. His head dropped, and he fell silent. All the while, Ælfflæd's heart raced. He had to accept this, didn't he? But what if he didn't? The humiliation. The shame? Could she take it? Could she dare to simply refuse his order and force him to make this even worse?
Geoffrey lifted his head and sighed. "I suppose it is not the worst idea. I expect to seize a proper place to reside while we lay siege to the girl's keep. And it may tempt the Saxon lords to abandon her when their true queen is on the island."
Ælfflæd's lips formed a wide smile, though her heart still raced. "Thank you husband. You will not regret it."
"Hopefully not," Geoffrey said. "But perhaps we can conceive another prince while we wait out the surrender of Ecgwyn's handlers, and make it truly worthwhile."
That wasn't exactly what she wanted - granted she knew another prince probably did add a bit of security for herself and her children. But she thought victory could well be close and having to step onto the throne while carrying another child could make things more complicated than it needed to be.
Still, it was a trade she was willing to make. She wanted to be in England. While in some ways she would remain a passenger, at least she would be there. And if needed, she might be able to interfere on behalf of her people, should Geoffrey get too brutal.
…..
They departed a few days later, leaving port early in the morning aboard a cog.
In total, only half of Geoffrey's army headed to England. The rest remained behind under the command of Duke Foulquesson, to keep an eye on Osmund or anything else, just in case the English had any other tricks.
Ælfflæd rode in a cog with her husband, her children, her ladies and their families, and Berard, along with some of Geoffrey's soldiers. In total, near 9,000 men set out from St. Malo, with their destination the coasts of Devon. Geoffrey intended to land and march on Sutton, a town on the River Plym, seize it, then establish it as his headquarters before sending the bulk of his force to besiege Ecgwyn in her keep in Lydford.
As it had been when Ælfflæd traveled previously, the sea was choppy, making the travel bumpy. A cold spray frequently escaped the sea and made its way onto the boat, leaving Ælfflæd glad she was wearing a whipple and cloak over it.
At one point, she looked over to Geoffrey, who stood in the center of the boat, holding on to the mast tightly. He was as pale as she'd ever seen him, with eyes wide.
"Are you alright, husband?" she asked him.
"I hate boats," he grumbled as he tried to brace himself against the rocking.
She didn't care for them either, but for different reasons. Boats had often taken her away. She had been shoved onto a boat and hauled to Tunis. She had been put on a boat to Aquitaine, sent away from what remained of her old life and shoved into the unknown.
Her returns had not exactly been joyous either. She was happy to be free when she returned from Tunis, but did so feeling the shame of imprisonment. And the knowledge her mother was not with her then.
She had come back to England after arriving in Aquitaine, but that was for her mother's funeral, all while she was estranged from Geoffrey. It was certainly not anything to celebrate.
This promised to be different.
The coastline came into view and Ælfflæd's heart began to pick up once more. She was nearly there.
They could not travel all the way to shore in the ships, and they were not docking in any port as an invading army, so row boats would be required to traverse the final distance.
Geoffrey got into the row boat first, and offered his hand as Ælfflæd made her way into it to join him. The prince and Helie, holding Princess Marguerite, followed. It was the late afternoon, but the skies were cloudy.
"We need to make it to shore to set up for cover," Geoffrey told her. "In preparation for the storm."
"It's often like this," Ælfflæd replied. "It does not rain as much as you'd think."
Geoffrey grimaced in disgust. "Truly?"
Normally such a reaction would have prompted a smirk at Geoffrey's ignorance, but she was too nervous to. Even as the boat rocked as the oarsmen rowed against the waves, her eyes were fixated on the shore.
The boat was rowed nearly all the way to the shore, before a small group of men came out, grabbed it and then pulled it the rest of the way.
Geoffrey again stood and was out of it first in order to help Ælfflæd. She stepped out, her soft shoes hitting the muddy sand of the water's edge, though she soon made her way to the soft, granular portion of the beach.
She paused to look forward. To the north. Toward the horizon, where the rest of England lay and where parts of her husband's army was already headed.
Her breathing slowed and she remained silent, though her stomach felt as if it was doing flips.
"Are you all right, mama?" Prince Guilhem asked her as he tugged at her dress.
Ælfflæd looked down at him, trying to hold back tears. She never expected to truly return to England again. If she did, it likely would have been because of some catastrophe - Geoffrey dying and she had not produced a child, like what happened with Rae. Or an annulment of some sort.
But she had returned and not done so in shame. She returned on the precipice of glory… or at least glory in her name.
She closed her eyes and took a deep breath.
"Mother, father, Ulf," she spoke softly, the tears now streaming down her cheeks. "I'm home."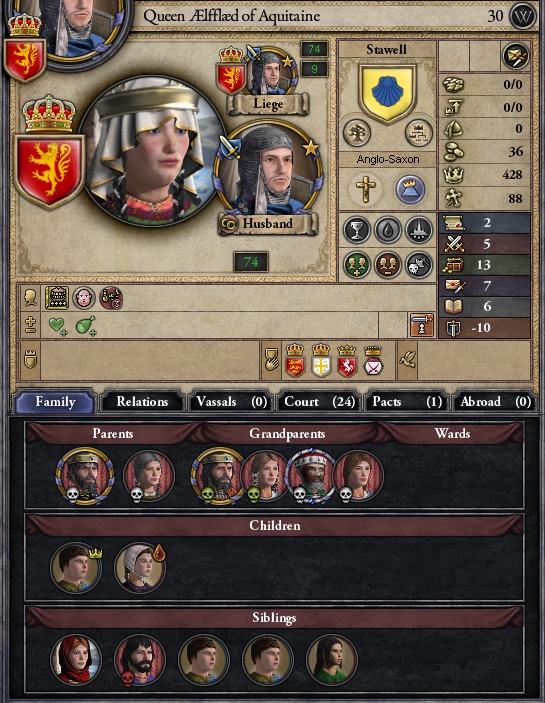 2

1
Reactions: