Chapter 138 - December 1109
Before Plantagenet - Chapter 138
December 1109 - Anjou, France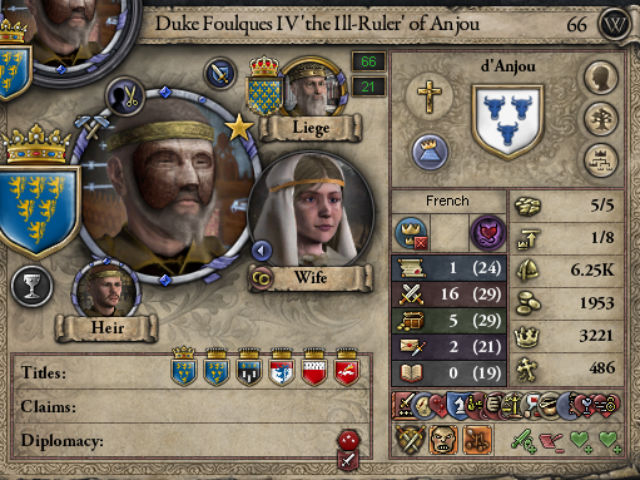 I don't like the way this sounds.
Foulques thought to himself as he lay in bed, parchment in hand. It was a section of his "History of Anjou" that he had begun years before - a work that neared completion. But as it did, he went back to look over other sections and wondered if perhaps they might be improved.
"You should rest," Adalmode told him as she stood on the other side of his bed. "You have been struggling of late. It may be the only way to recover."
Foulques looked over at the old nun and rolled his eyes. "I do nothing but rest in this bed."
Adalmode frowned but Foulques went right back to his business.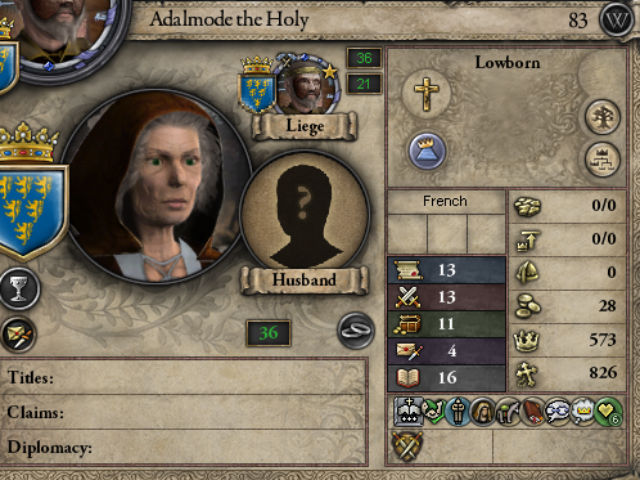 Things had been a struggle lately. He had returned to Anjou a month ago, his weakness severely limiting him. He had barely managed to make it back to his keep on horseback and had been mostly confined to his bed since returning.
To pass the time, he had been reading over his writings - at least then he felt he was doing something. Tonight's read took him back to his ill-fated relationship with Aines de Poitou, the murder of her husband, and her death. Much to Foulques' dismay, he did not like how he appeared in it.
While he had attempted to play on the late Adhemar's cruelty as a "justification" of sorts for his murder, it still seemed unseemly - almost villainous. So Foulques tried his best to think of either a new way to phrase it… or perhaps a new charge to level at the dead courtier.
The duke put down the parchment to pour himself another cup of wine. When he looked back to grab it once more, he saw, sitting by the bed with the parchment in hand, was Hildegarde.
It should not have surprised him… but it always sent a chill down his spine to see his sister's ghost. She glanced up at him and shook her head.
"You may tell this tale any way you like brother," she warned. "But you are still a murderer."
Foulques eyed his sister. "So now you complain about others, rather than just of our family?"
"No, I wish to save you the trouble," Hildegarde said. "I actually am far more interested in what you have said of me. Surprisingly complimentative, though no mention of my daughter, Vainmonde. Is she not family enough for you?"
Foulques frowned.
It is because Vainmonde did nothing of note but commit adultery
, he mused,
and was likely murdered some 15 years ago.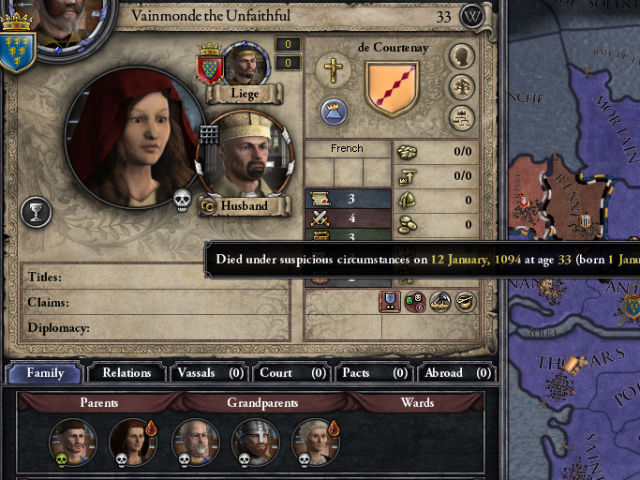 "I see," Hildegarde said. "So only those who have done something important may get mentioned? I wonder, what of your secret son, Edouard, who has managed little in his time on earth?"
"How… how did you know my thoughts?" Foulques demanded.
"It is the way with avenging spirits."
Foulques turned to see Adalmode staring on the other side of the bed. His eyes widened.
"You… you can see her?" Foulques asked. "How?"
"I have experience in such matters," the nun said.
"Can you help me be rid of them?" Foulques asked.
"Rid of us?" Hildegarde asked. "I do not think that shall happen."
Behind her, his brothers Simon and Geoffrey appeared. But this time there was another by Geoffrey. It was a face Foulques had not seen in well over two decades. And as a result, he felt drawn to her - enough to rise from his bed and stroke her cheek before tilting her head up toward him.
"Lithuaise?"
"You are surprised to see me?" she asked - her face betraying little emotion.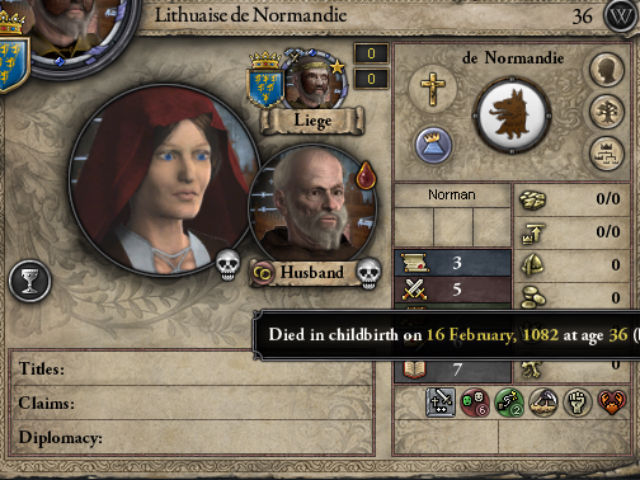 "You… you are here?" he replied. "With Geoffrey?"
"You would wish for me to disregard her," Geoffrey said. "But I will not."
"To spite me?" Foulques asked.
Geoffrey said nothing, so Foulques looked back to his former mistress, who died birthing their bastard child. "I did not wish for you to run. I would have acknowledged Edouard. Even now, I accept him as if he were my own."
"You do not understand," Lithuaise said, tears in her eyes. "I did not leave because I feared you would dismiss me or because I feared the Lady would kill me. I ran because I knew I had committed the ultimate sin. I begged for repentance… from priests… and your brother."
"You knew?!" Foulques exclaimed at Geoffrey. "And you said nothing?"
"I believed you likely forced yourself upon her, even if she claimed otherwise," Geoffrey said. "It is your way to take what is not yours, after all. And you would wish for me to denounce her… if for no other reason than to show you have cuckolded your own brother!"
"Silence! Both of you! This bickering remains foolish!"
The two glanced at Lithuaise, who looked on wide-eyed. She pointed behind them, where a gray-haired woman stood, hands on hips, glaring at the two brothers.
"Mother?" the brothers said in unison.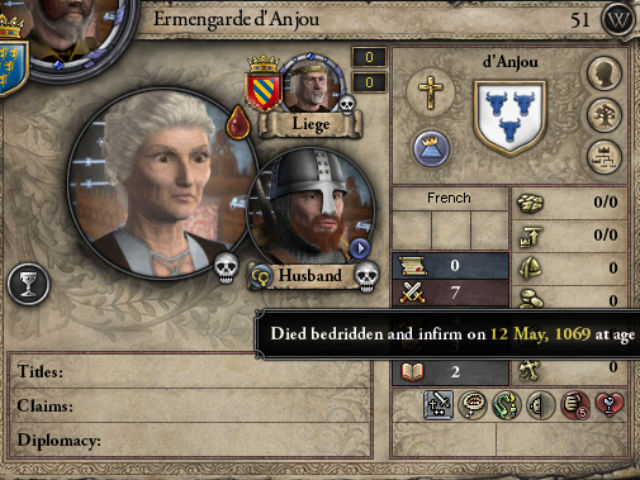 Ermengarde marched herself between them, giving each of them a slap on the face - that stung more than expected, given Foulques' mask. And that's when the duke realized his face was oddly uncovered. "You openly bicker over who fathered a child?" Ermengarde demanded. "Have I taught you nothing?"
Hildegarde smirked. "You know them, mother. Always trying to prove who is superior."
"I think
that
has been proven without a doubt," Foulques said, smug grin on his face.
Another slap from his mother. "What have I told you about trying to show up your brother?"
Geoffrey smirked, but that was soon wiped away with another slap. "And you make it far too easy for him, and always have. In conversation, politics and warfare."
Geoffrey grimaced but said nothing. Then Simon stepped forward.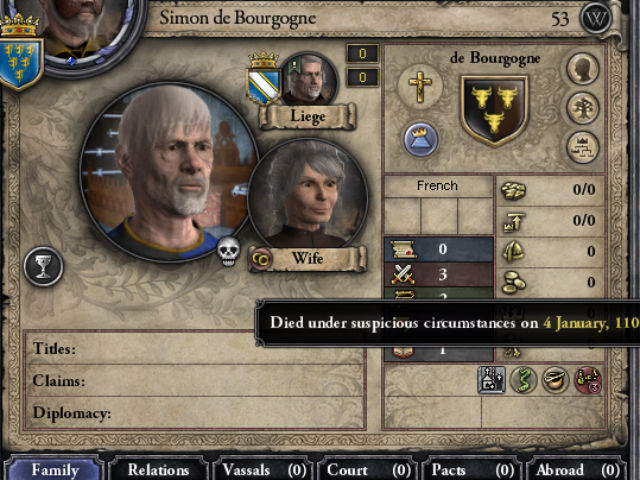 "I never did that mother," he said. "I never tried to show them up.
"Of course not," Ermengarde said. "You
never
truly set out to do anything."
And with that she took Foulques' arm and guided him away from his siblings. He glanced back at them, Geoffrey and Simon both frowning but Hildegarde smiling, then at his mother. His mother… he had not seen her in over 40 years. It was strange to look upon her now, still vibrant - and defiant - after so long.
They walked the quiet, dimly lit halls of the keep. Foulques glanced back - his siblings had remained behind in his chambers. Only Adalmode followed, a few paces behind. It was a relief - if she had experience with these ghosts, perhaps she might be able to aid him should they become more… aggressive.
"You have led quite the interesting life since I departed," she said as they walked.
"Yes…" Foulques said. "I have reclaimed everything Geoffrey had lost."
"What did I tell you about that?" Ermengarde demanded.
"It is true," Foulques said.
"You overstate your brother and you are far from blameless," Ermengarde said. "Your uncle struggled against the Bastard in Maine. And you and your brother's inability to cooperate is why you lost Saintonge."
"But his leadership was poor," Foulques said. "And you cannot deny the strength of our home now."
"No, I cannot, and would not try," Ermengarde said.
"But you disapprove of what I have done," Foulques said. "Or so my siblings tell me."
Ermengarde laughed. "I told you I did not wish my children to fight and kill each other. I am disappointed that you insisted on fighting your brother. But you knew that before. I told you as much when I lived."
"Hildegarde and Geoffrey said…"
"Come now, you let your elder siblings get under your skin?" Ermengarde asked. "You, a man who thinks himself the Iron Duke of the Franks?"
Foulques frowned as Ermengarde pushed open the door to the strategy hall. She led him to the map and then looked down, smiling broadly as she traced a path from Vannes though Dijon.
"Ultimately, my children have done well for themselves in a brutal world," Ermengarde said. "You can cross the realm from west to east in the lands controlled by my grandsons. No small feat.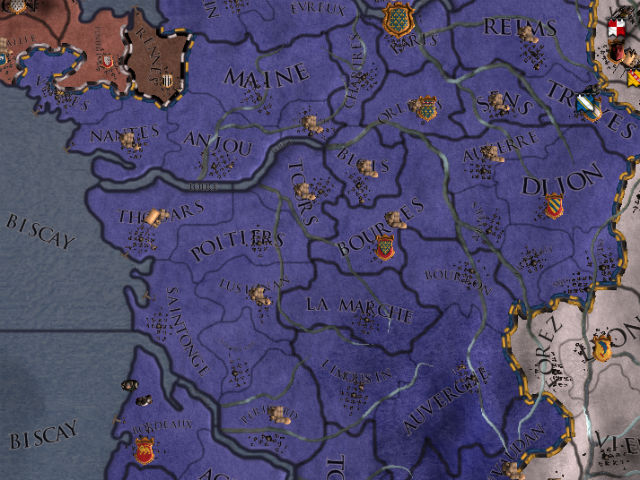 "I have a son who is a bishop. Another grandson who served you as a great leader of men. A granddaughter who might yet be a queen, and others still who may be duchesses. No, I am hardly saddened Foulques. I am prideful at all that all that has been done."
And there it was.
Validation.
"So it was all worth it," Foulques said.
Ermengarde's brow rose. "For me. But I said nothing for you. Whether it was worth it… that is for you to decide for yourself. I cannot help you there."
She approached him and adjusted his leather armor, which he did not remember putting on, until it was up to her standards.
"Good. Very professional," she said. "I shall not have you looking poor to meet the king."
"The king?" Foulques asked. "Hugues has come to Anjou? But I thought him in Iberia?"
"My friend, that hurts, Though not nearly as much as the assassin's arrow."
Foulques turned to see Philippe sitting on the chair in the hall. As he stood to approach, the duke could see the king's robe bloodied around where the arrow had struck him. Nonetheless, he smiled at Foulques.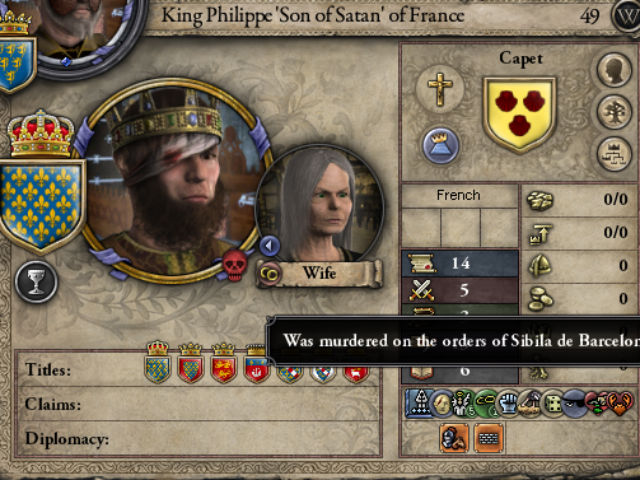 "I am gone not even 10 years and my brother is the first king to come to mind?" Philippe asked. "Maine was worth that much to you?"
Foulques felt compelled to drop to a knee. But Philippe grabbed him by the shoulders and yanked him back to his feet.
"There's no need for that, my friend," Philippe said. "This is hardly a formal gathering."
"What exactly is this?" Foulques wondered.
"The preparation for a journey," Philippe said. "A long journey… but one we must make."
"I don't understand," Foulques said. "Why must we make it?"
"It is the way of things," Philippe said. "But you shall not make it alone. I have even finally located Amaury, the simple knight who you could not find after our victory over Champagne."
Foulques shook his head as he opened and shut his eyes quickly. His mind surely played tricks on him as before the old, bearded knight was not present. Yet now he was, alongside Philippe.
"It is good to see you again, my lord," Amaury said. "I have been lost for some time now… without direction. But when the king found me, he promised that was to soon change. He has recruited us…"
"Us?" Foulques asked.
Then by Amaury's side stood Andre, the Baron of Cholet. And on the other side, steward Guilhem, dressed in leather armor, even though Foulques had never known the man to fight. And so too was Baudoin, the old spymaster who died of rabies, silent, as he usually was unless he had something important for Foulques to hear.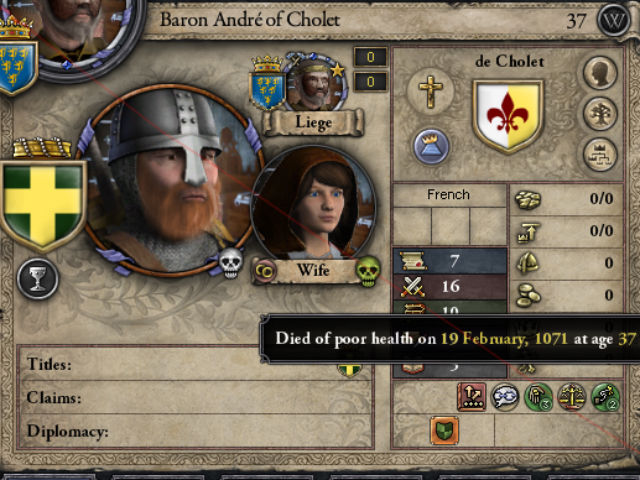 "We are ready to serve at your behest once more, my lord," Guilhem said.
"But you cannot," Foulques said. "For you… all of you are dead."
"You speak with them and yet you wonder about them serving you?" Philippe asked. "Duke Foulques, you never cease to amuse me with how your mind works."
"It is easy to be amused when the consequences are less dire for you," a female voice said.
"Less dire? My dear Aines, did I not die, as the result of an assassin's arrow?" Philippe asked.
The raven-haired Aines de Poitou wrapped her arm around Foulques and learned her head on his shoulder before replying: "You do not blame my love for Champagne's actions, do you?"
"He could have mentioned the plot to kill me," Philippe said. "He knew of it for years."
"Truly Philippe?" Aines asked. "It likely was not even the same plot."
The king shook his head before looking again at Foulques. "That woman is an attack dog. I do enjoy her."
"Always the charmer, Philippe," Aines said. "My father clearly was not forceful enough for you to convince you to take me as your wife."
"If he had, the realm would have been a far different place," Philippe noted. "You as my wife… and my friend Foulques would have been free to chase his heart. But… alas."
"Yes, but alas," Aines said. "Now, may I have a moment? You shall have him again soon."
"I can hardly tell a woman such as yourself no," Philippe said. "But do not damage him! I have need of my friend in the days ahead!"
As Aines led him out of the strategy hall, Foulques looked into her beautiful blue eyes and asked: "What does he mean by that?"
"Pay him no mind for now," Aines said. She kissed him. "It is good to see you again… my love."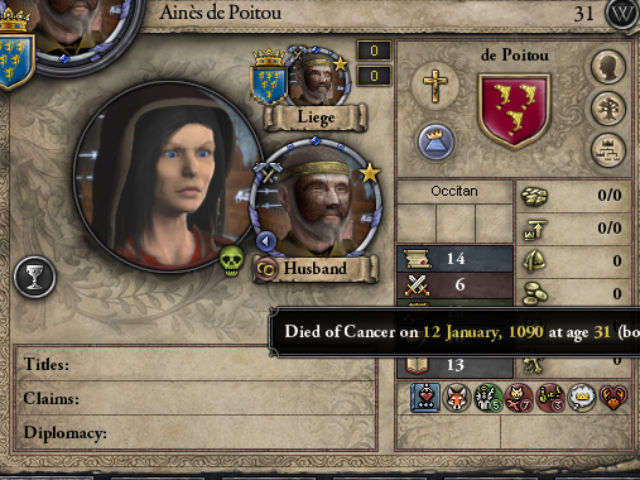 It was then that Foulques fully comprehended her presence. There she was, in all of her youthful, beautiful glory. The woman he lusted over… the woman he had killed for. Restored. And as he looked into her eyes, he was reminded of why her daughter was but a pale imitation.
"You live," Foulques said.
"I most assuredly
do not
," Aines said as she pulled away from his embrace. "I remain stuck, unable to move forward, and continually look back. Back with… at times... disgust at what we did. And at other times… pleasure."
"As do I," Foulques admitted. Then he felt his stomach clench as a thought occurred to him. "Have you… have you seen what has transpired since your death?"
"You mean your bedding of my daughter?" Aines asked. She scowled. "I did. Made to watch in disgust. Though I cannot say I am surprised. I knew who you were when I met you."
"I am sorry," Foulques said.
"You are not," Aines told him. "No, you are sorry that I saw. That I know. But you are not sorry that you did it. It is how you are. You were sorry I believe that our actions caused God to punish me - but you are not sorry we killed my husband or that you married me and laid with me as his child grew in my belly."
Foulques looked down. He could not bring himself to maintain eye contact with her.
"You need not shirk from your culpability," Aines told him as she titled his chin up. "As I have said, it is no surprise. We were, ultimately, perfect for one another. A sinful lot, driven by lust, passion and desire for power. We suffer… but I am uncertain we could have lived life differently."
Then she grabbed him by the chin and turned his head. Though it was dark, he could see they were out on the ramparts now, overlooking the Maine, the moonlight reflecting off the water's surface.
It was the view he loved. The view he had seen less of as he'd grown older… he had come to take it for granted.
"For perhaps it was worth it," she said. "Much like this view that you admired, but had to betray your brother to secure."
Then Aines pulled him close for a long, deep kiss. After, she released her grip and pushed him away.
"But if there is one thing I realize," Aines said. "It is that we are not meant to be together. I have had my fill of you, and now I release you to the others."
"Others?" Foulques asked, his voice nearly cracking at his reply to the ominous words spoken.
"You need not worry, my love, Aines simply seeks to spread some of the misery she suffers."
Foulques turned to see Alearde by the entrance to the stairway back into the keep. She looked… younger than when she had last seen her, yet still far more mature than the girl he had seduced so many years before.
The duke embraced her tightly. His eyes even stung, uncharacteristically.
"I thought you were taken from me forever," he said.
"Only for a time," Alearde said. "A difficult time, but a time nonetheless."
"There is much I wish to say," Foulques told her.
"But there is no need," Alearde said. "We have already said all that needed to be said."
"I did not say goodbye," Foulques said.
"A lifetime of memories can hardly be sullied by a thing like that," Alearde assured him. "You need not worry over it. After all, you made me quite happy in life."
The smile he loved so much formed on her lips - lips he moved to kiss, the temptation too great. But he ran up against her fingers instead.
"You know we cannot," Alearde said. "Not even here."
"If not now, then when?" Foulques asked.
"Never," Alearde said. "That time is past."
"Why?" Foulques demanded. "Are you angry at me for choosing Aines over you?"
Alearde gently stroked his face. "For a time. But I saw what fate befalls those who become your lover or wife. The Lady did well, but the rest? Miserable. And most end up hating you. I cherished our time together too much… I did not wish for that to happen to us. And it did not."
Foulques shook his head.
"Besides," Alearde said as she tossed her hair. "You are not mine anyway. You never were. That honor belongs to the Lady."
"The Lady?" Foulques asked.
He looked up and around and noticed the star-filled sky was gone, replaced by the high ceiling of the main hall. Up on the dais, someone sat in his ducal chair. He approached, slowly with caution, and was left wide-eyed as he realized who it was.
There sat his first wife, Beatritz. The Duchess of Anjou who had died some two decades earlier, appeared plump and healthy, as she had been before the cancer that eventually felled her. Silvery hair, but more youthful in face, her thin lips formed a wide grin as she gazed down upon Foulques.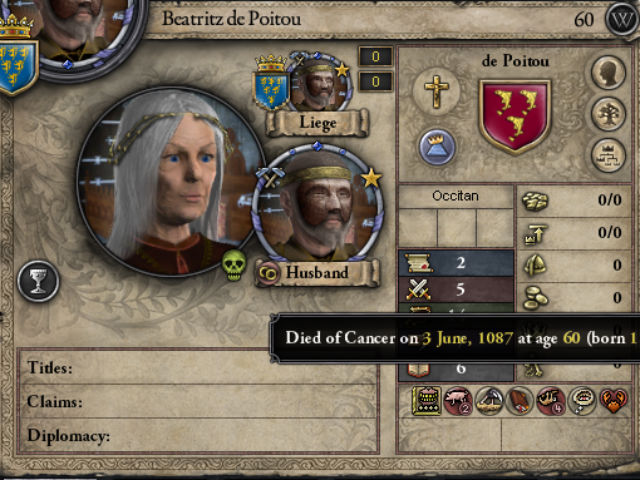 She rose from the chair and approached him, slowly, swaying her hips as she descended the dais. When she reached him, she pressed herself against his chest, and he kissed her forehead.
"Beatritz…"
"Have you missed me husband?" she asked.
Before he could answer, her thin lips formed a sly grin.
"Of course you have," she said. "You have never been the same since I left you. So many have tried to fill my seat… my niece, her daughter, the Northwoman, the Karling girl, Alearde, even Agnes when it came to administering Anjou. But they have failed… though I admit, it was a large seat to fill."
She pulled Foulques hands down her side and around her wide hips.
"You seem… pleased," Foulques noted.
"Why would I not be?" Beatritz asked. "My son has achieved what I dreamed of doing so many years before - becoming the Duke of Aquitaine and Poitou. My daughter has grown into a fine woman. And after so many years, I have my husband back with me again. I have missed you."
Now the words struck home… their meaning clear. Foulques released Beatritz and slowly backed away.
"Back with you," he said. "You mean to kill me?!"
Beatritz laughed. "Husband, I need not kill what is
already
dead."
"No!" Foulques said. "That is impossible. It is…"
He glanced back to the hall saw it was now populated by those who he'd seen on the night - his siblings, his mother, Aines, Philippe, Guilhem and his old council members… Lithuaise. And there were others he did not even recognize. They all seemed to stare back at him, knowingly. A few had sly grins, others solemn expressions.
"NUN! Adalmode!" Foulques demanded. She stepped out from the crowd and faced him.
"What do you wish?" she asked.
"What is this madness?" Foulques demanded. "I am not dead."
"But you are," Adalmode said. "You drifted off to sleep while you read your writings. And it was then that your body succumb to age. God's will."
"No," Foulques said. "No… that is…"
And yet, he knew it was true. He knew that is why they were all here. His mother, Aines, Philippe, Amaury, Alearde… Beatritz… they were here for him. To take him away.
"You… you killed me!" Foulques shouted at Adalmode. "That is why you wished for me to rest. So that I would die!"
But the nun shook her head. "I did no such thing. I have guided you as best I can in your life, standing by your side since the moment you became the lord of Anjou, keeping you healthy… and your family as well… until it was your time. And now I guide you once more, on this final journey."
"What are you?" Foulques demanded. "Are you an angel… a demon?"
Adalmode laughed. "Does it matter? Have I not aided you when you needed it most? Ensured your legacy?"
"But you will not aid me today?" Foulques said. "Even as they come for me?"
"Do you not understand?" Adalmode asked. "They do not come for you. You have always come to them."
Foulques stood still, mouth hanging open while his body trembled.
Beatritz took his hand. "You need not fear the future husband. Did you not fear being left alone? I know not about the others, but you shall always have me by your side. Our marriage vows say as much."
A thought that was oddly comforting. But Foulques shook it off. "No… there is much I have to do."
"You have done all you were meant to do," Beatritz said. "As you so proudly boast, you claimed Anjou. You took Nantes and Vannes. You aided in your family reclaiming Saintonge. You die holding rights over the lord of Maine. I think you have done enough."
"But Geoffrey…"
"Geoffrey is a man grown," Beatritz said. "A man who has achieved much. You can let go this foolish mistrust of him. Has he not done you proud? I know I smile when I look upon him. A son that should not have even been… instead has become a figure who kings themselves must fear. My son… our son."
"Our… son," Foulques mused.
"Does that not fill you with pride?" Beatritz asked.
"He… he has not turned out like I expected," Foulques said.
"Because he is my son as much as he is yours," Beatritz said. "We were most successful together, so it is no surprise that our child has excelled as he has."
"He hates me, you realize," Foulques said.
"He does not," Beatritz said. "He disagrees with you. He thinks you are often wrong. But he has always respected you."
"But what will he do to my legacy?" Foulques asked. "Will he make me some monster? Some demon which he has restored Anjou from?"
Beatritz grinned. "I think Geoffrey wiser than to admit his demon blood. Your legacy shall be fine, husband. But even if it is not, it is out of your hands now. Come, our horses should be ready now."
It was a blur as Beatritz pulled Foulques from his hall, the path open as the crowd melted away to allow them passage to the exit to the keep - a journey they had not made together in two decades.
Foulques was fearful… and yet calm. She had always been a good wife - and the groundwork for all his accomplishments happened during her life. When she died… he had become lost.
It was then that he made his mistakes with Aines, Adhemar and Alearde. It was then that he had contracted the pox and lost his face. It was after Beatritz that he let Geoffrey scheme right under his nose. And it was after her that he let Champagne play him and left Philippe to die.
For all his bravado, Foulques could see now the value she had provided him. His success came in no small part due to her. And for the first time in some time, he felt grateful.
"I have missed you, Beatritz," he told her when the reached the stables.
"And I you, husband," Beatritz said before they kissed.
Then he helped her up onto her horse, and, with a spryness he had not felt in years, bounded up onto his own steed. As the two wandered out of the stables, Philippe, on his own horse, came up beside him.
"I know not what the future holds," the late king said. "But I know that so long as I have my greatest knight by my side, I do not fear it."
Foulques glanced to Beatritz beside him. "Agreed, my king."
The old duke then raised his hand. He took one last deep breath and urged his horse forward, riding into the unknown, one last time.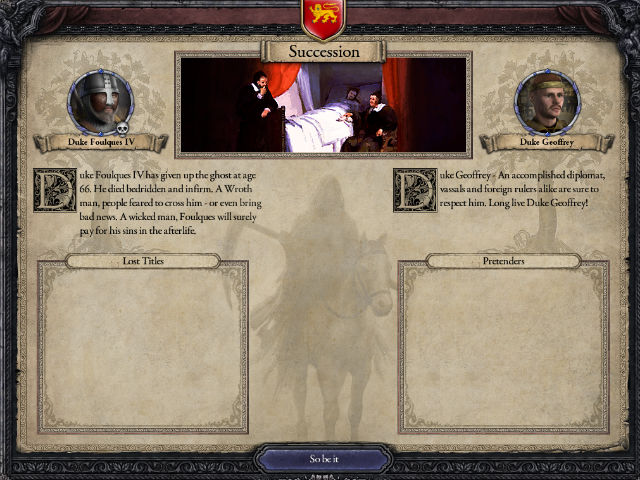 ....
Note: And so it ends. I started this AAR just over 11 months ago, and we spent the entirety of it with Duke Foulques IV of Anjou. That time comes to an close now, as the Iron Duke passes on. I said it was nearly perfect - that's because the real Foulques IV died in April 1109, so this version also fell in the same year. It seemed fitting.

I had this finale in mind for sometime. Who exactly would appear in it would differ as I played it out in my head, but Foulques being confronted by the literal ghosts of his pasts as he shuffled off seemed fitting. I wrote him as a man always somewhat haunted by his actions, and as such, this made sense to me. And it gave us one last opportunity to not only send of Foulques, but the characters who shaped him yet departed early. In some ways, this was as much their final send off as Foulques'.

But the story does not end here. Now we step fully into the boots of Geoffrey - a version who is already far more successful than his real-life equivalent, who ruled Anjou briefly alongside his father as Geoffrey IV, but ended up dying just before Foulques did. Whether he can lead to the ultimate expanse of the Angevin line, as his brother did in real life, will be a question we will look to answer as we go forth.

Above all, thanks for all of your support. This has gone from a story with a few loyal commentators to one where seven or eight are the norm and 10 or so is not uncommon. And there are even more who read but don't comment. It inspires me to keep going and work to provide you all with a story that is worth reading.

I hope this send off for Foulques was as enjoyable for you reading it as it was for me to write. And I aim to keep providing you with more quality as we move forward. Thanks again!

On to Book 2, (which will remain in the same thread) - tentatively titled "Angevin Ambition".
Last edited:
2

1
Reactions: