Before Plantagenet - Chapter 270
April 1139 - County of Devon, Kingdom of England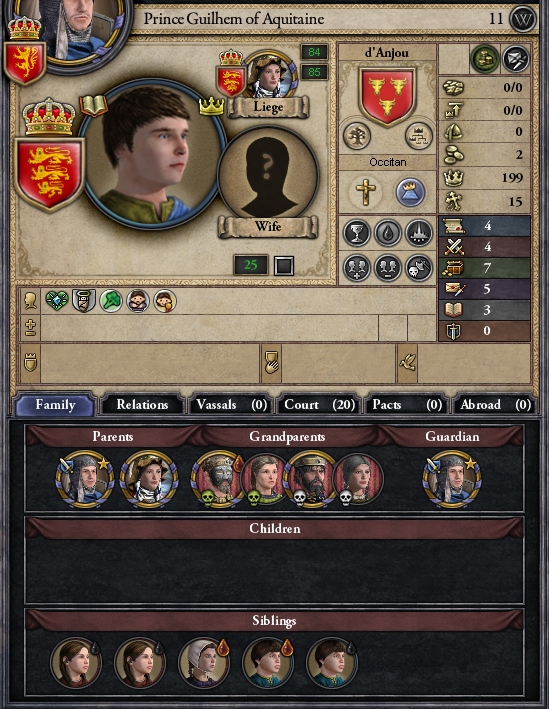 Guilhem d'Anjou wished he could ride with his father.
It was expected, after all. He was the crown Prince of Aquitaine and England. His great-grandfather had been one of the greatest lords in the Kingdom of the Franks. His grandfather had forged a kingdom. His father had expanded that realm.
And when Guilhem was king, he knew he would be in the saddle, at the head of knights. Why not get to it now, sooner rather than later?
Especially when his father's opponents would be the heathen armies which had invaded England, the homeland of Guilhem's mother. The ones who had driven her from her keep in Lydford, and harried her to the shores of Brittany.
It would be the future king's duty to drive them back to the sea, if not destroy them outright, and improve upon the legacy his mother's side had left him.
So it was easy for Guilhem to imagine his enemy as he stood on a grassy field, a stiff spring breeze blowing in his face - a refreshing wind given how hot he was under his mail and leathers.
He did not ride a horse on this day, standing with a sword in one hand and gripping a shield with the other. By his side were more boys, some a few years older than the 11-year-old prince, others some years younger. All armored. All armed. All ready to move forward against their enemies.
It was an enemy that was outmanned, out-equipped - some of them didn't have armor or shields. Was it aslo out generaled? That would be determined soon enough.
His heart racing, sweat running down his cheeks, Prince Guilhem raised his sword arm, and, in Occitan, barked out the order to move forward.
It was easy for the prince to imagine moving forth against the heathen scourged which plagued his future kingdom. But the reality of what lay before him was quite different - he did not march his men against the Fatimids today. Instead, his opposition were the people he was to rule.
The site was some miles south of Lydford, where the army of King Geoffrey prepared to move against the heathens who held the old Saxon burh. On the southern outskirts of Geoffrey's camp was a grassy field where around 40 boys had gathered - none older than 15 years - eager to prove a point in a relatively impromptu melee that had drawn observers on all sides of the field.
It had begun with some boasting by someone - Guilhem wasn't sure who - about who was better in a fight, the Occitans or the Saxons. It had devolved into this, with the boys eager to settle their rivalry on the field of battle.
It was a fight that would have been impossible when they landed in Cornwall a month before but the English numbers were bolstered in recent weeks by the arrival of some households to join the King and Queen as they marched against the heathen invaders.
Both the Duke of Kent and Duchess of Mercia had summoned some more of their household guards and servants to join them. The Duke of Somerset, who had remained in his lands while Lydford was sieged, now came himself with his household, though not his wife and daughter.
But that still wasn't enough to equal the numbers of the Occitans, who were mostly made up of the squires and pages who accompanied the Aquitaine knights. And that had some of the English unwilling to engage in the fight with numbers uneven. Undeterred, the Occitans had conscripted some of the servants, whether they hailed from England or not, into their enemy's ranks to force their counterparts to put up, or shut up.
They had decided to put up. And now it fell on the Occitans to actually make them shut up.
Which presented the prince with a small problem - the highest ranking noble boy or teen was given the honor of leading their respective groups. In both cases, that was Guilhem. But who would he go with - the boys of his father's kingdom, or the boys of his mother's?
It made a lot of sense for Guilhem to lead the English, given they were a motley crew of Saxons, Normans and Occitans. Not only could he communicate with them all, was that not his future as the king of two realms?
However, Guilhem knew the Occitan boys. He had spent much of the past few years with them on campaign. He ate with them. Drank with them. Grew with them. He could not fight against them now.
Thus the English side was led by his cousin, Ælfsige of Kent, who at 15, was among the oldest to take part. There was some debate whether he should even take part, given his age, but the Occitans were confident, and felt their victory was assured regardless.
They might have been right. It was not going to be a fair fight - not only did Occitans boast more boys who were trained to fight, they also were given better weapons. Everyone had to use dull practice arms, but the Occitans had their pick of them, while the English were left to take the scraps. The richest among the English had no problems, but when it came to the conscripted servants, they were given sticks, no shields and no armor.
Ælfsige arranged his forces defensively, with those with spears forming a spear wall, or a "wall of dull points" as nine-year-old Savarics de Perigord called it. It was meant to blunt an Occitan charge given most of Guilhem's men were armed with swords, which had a shorter reach than spears. But Guilhem simply ordered his men to advance with shields up in two groups at their flank, hoping to open up gaps which his better armed men could get into to fight up close and personal. A well drilled unit of knights probably would have handled the prince's advance easily. But their opponents were not well trained knights.
The "wall of dull points" quickly became more akin to a group of tree branches sticking out awkwardly - branches that could easily be brushed aside by Guilhem's men. The servants boys were bludgeoned and in some cases bloodied - Guilhem smashed one in the nose with the pommel of his sword. Soon the servants broke, running in all directions, bringing the Occitans into battle with the English backbone of their opposition.
That fight promised to be more even, man-for-man, but was still uneven because of the Occitan numbers. It was only a matter of time before Guilhem emerged from the battle triumphant.
"Cousin!"
Ælfsige shouted out at Guilhem as their compatriots battled. "Face me!"
Guilhem smirked, eager to get at him. Bludgeoning servant boys was one thing - taking down his older cousin, the heir of a duchy, his future vassal, was another.
Moving aside from his group and alone, he took a few cautious steps toward Ælfsige. But he was taken aback when Ælfsige charged him.
His shield raised, Ælfsige slammed into Guilhem. Four years his elder, Ælfsige was taller and a little sturdier than Guilhem, and the price was knocked off balance by the force of the impact. It was stronger than Guilhem had ever faced when he sparred and he stumbled backward, falling onto his rear with a thud.
More importantly, he was at his cousin's mercy.
"Yield!" Ælfsige ordered.
Wide eyed and looking around for aid, Guilhem tried to slide himself backward on his rear, unwilling to turn his back to his cousin to stand.
Thankfully for the prince, aid came.
Savarics charged forward slamming into Ælfsige despite his smaller stature. And with him came another two boys who proceeded to pile onto the heir of Kent, pinning him to the ground. Guilhem scrambled to his feet, found his sword and hurried over.
"I… think," Guilhem said, breathing heavily, "it is you who should yield, cousin!"
Ælfsige, still struggling against the three boys holding him down but unable to get free, cursed: "It's not fair! You had them interfere!"
"Enough!"
The thundering voice of Berard de Perigord put a halt to the melee - enough so the boys loosened their grip and Ælfsige got free. Though he did nothing else, except stare as the advisor to King Geoffrey came up to the group. He was not alone, joined by Duke Holthere of Northumbria and Duke Æthelsige of Somerset, as well as a knight dressed in full regalia - mail, helmet and even a mask.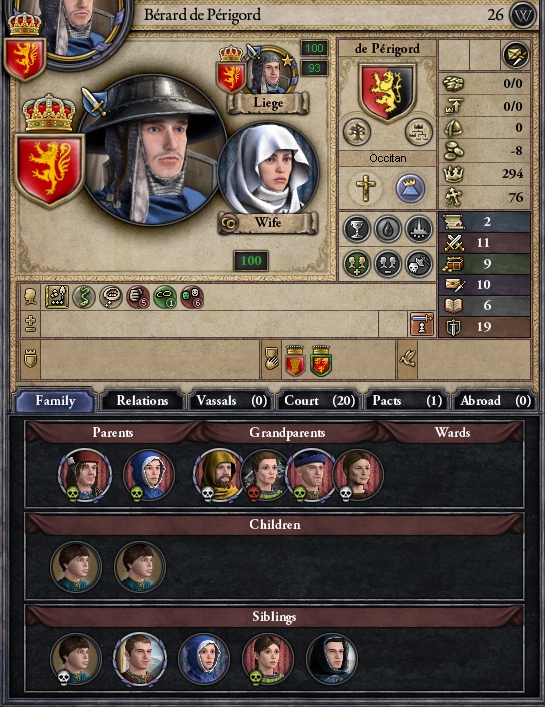 "The prince has no honor!" Ælfsige complained to the Saxon lords. But it was Berard who answered.
"If that had been a battle, you would be captured or dead all the same," Berard told him. "Do you think your father would care for such excuses?"
Ælfsige's eyes darted toward the Saxon lords. But they remained silent. The teen's head dropped.
"The prince and his men have won this melee," Berard declared.
There were cheers from those gathered. A few scattered jeers were heard too, but Guilhem could not see where or from who they had come from.
Ælfsige frowned at Guilhem before leaving with Hlothere. Æthelsige, however, remained with the prince and the others.
"A fine show," the Duke of Somerset said. "Attacking the flanks was a wise strategy. You learn well."
The prince smiled. "It seemed the best way to break their spear wall."
Berard shook his head. "You must be careful, my prince. That was reckless."
Guilhem's stomach sank. "You think I should have kept my group together?"
"Your strategy was fine," Berard said. "But you were baited into attacking an enemy that had the advantage in size and strength. You would have lost if not for aid - and you may not always have help in the middle of a battle. Remember, the objective is to win. Do not fight unless you are confident of victory."
Guilhem's pride was wounded. But he nodded.
"Father," Savarics began. "Was it dishonorable for me to interfere?"
"No," Berard said. "A few years ago, there was a tournament in Toulouse. In the melee, a group of knights announced they were not taking part. Then, at the end, they joined and easily bested their exhausted competitors. They were not seen as dishonorable… but as cunning."
"This wasn't quite the same," Guilhem said.
"No, but there is less honor in war than many wish to believe," Berard replied. "Might usually makes right in that people will usually find reason for why the winner deserved victory."
"No one understands that more than the king," Æthelsige added.
Guilhem nodded. He wasn't sure how much he liked that thought.
"Savarics," Berard said. "Fine work. You protected your prince. Just as you shall protect him when he is king."
"Thank you father," Savarics said, through a grin that went ear to ear. "I could not let Ælfsige win."
"No you could not," Berard said. "For it would have endangered the victory the men had won. Your bravery is commendable. But remember to treat the boys tonight. That goes for you as well, my prince. They performed a heroic deed. Your father and your grandfather would make certain to reward them."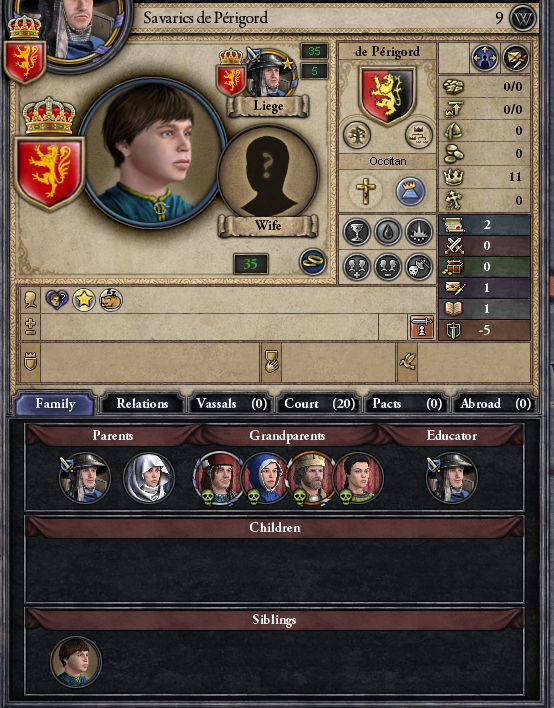 Guilhem again nodded. And he would, though his mind was still on his mistake - one that likely would cost him any chance of seeing action when the real battle happened in the coming days.
He had hoped the melee would prove to his father that he was ready to ride forth - to battle the heathens and fulfill his legacy as the true heir of the Stawell family.
It was a legacy that Guilhem knew his father struggled to understand, despite his own prestige and bravado.
That was not to denigrate the Angevin line. Demons and devils according to some, they nonetheless had become one of the pre-eminent families among the Kingdom of the Franks, before their merging with the de Poitous allowed them to forge their own path in Aquitaine.
His father had worked to bring an end to the misconception of their family's evil. But the Stawells were already the first family of Christendom.
Guilhem's great grandfather, King Ælfmær, was the most powerful lord in Christendom to answer the Pope's call to the defense of the Holy Lands. And he did most of the work - it was why his son Thoeæd, Guilhem's grandfather, had been made the first Christian King of Jerusalem, after all.
Even if Thoræd had failed to hold many of the gains, his contributions could not be denied. And currently, Guilhem's cousin Æthelfirth was the King of Jerusalem, and fighting to hold back the heathens once more. It made him both a friend and rival - a man who fought for similar goals and battled for the same legacy.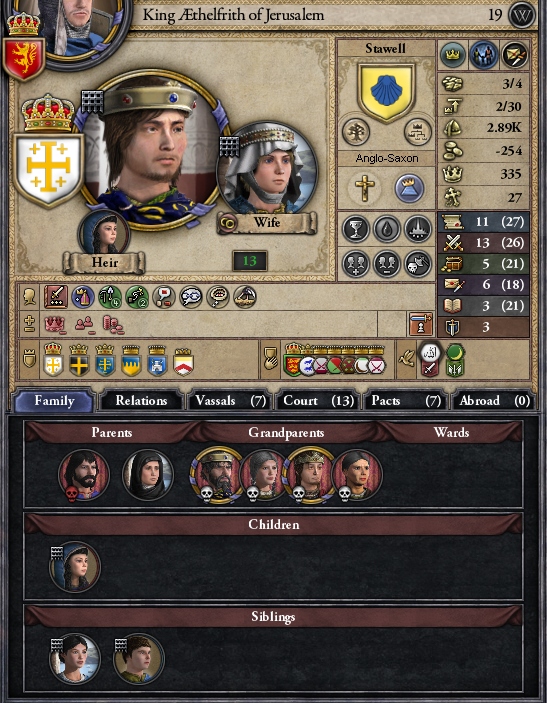 That was the dual battles Guilhem knew his mother Queen Ælfflæd fought now - even if his father could not understand it, the prince could. It was their legacy. Their calling. Their purpose on God's earth. He had chosen them. Guilhem's family had answered… and so would he.
But now, he would likely have to wait a while longer, especially if Berard spoke to the king about that near defeat to Ælfsige.
Nervously, the prince asked the advisor: "You won't tell my father I was nearly defeated will you?"
Berard smirked. "I'm not too worried about that."
"Next time choose your foes better," came the muffled voice of the knight behind them.
Guilhem's eyes widened as he turned around in time to witness the knight remove the mask, revealing his father's face. King Geoffrey had a wide grin on that face as he stared down the prince, while Guilhem felt flush. He wanted to sink his head into his armor, like a turtle, but there was no escape now.
"Ah," Somerset began. "A knight this time."
The king's smile faded and his gaze became a glare at the Duke of Somerset. It was enough for Somerset to bid farewell to the group and sheepishly slink away.
"You watched the whole thing?" Guilhem asked. "Why did you hide yourself?"
"I did not wish to add any pressure to you," Geoffrey replied. "I wanted to see how you would act normally. And now I have seen."
Guilhem shrunk is head further in, feeling as if that judgment had not been positive.
"As Berard said, your strategy was fine, but you were baited into a foolish decision," Geoffrey said. "Foes will often make appeals to honor when they have nothing else. Don't bother with such things."
"Honor is not important?" Guilhem asked.
"Honor by itself will get you little," Geoffrey said. "And there are many roads to achieving it. Your cousin had but one road available to him. He convinced you to walk that road, when you had others to choose from."
"Yes father," Guilhem said.
Quick answers, and perhaps he will drop i
t, the prince thought.
"But you are young yet," Berard told him. "Your father made mistakes at your age too."
"Oh I seem to remember taking down boys older than me," Geoffrey said. "Your brother for one."
"The Duchess of Dauphine probably would prove a better fight," Berard said with a grin.
"Well, you can only beat who faces you, and I have beaten all I have faced," Geoffrey replied. Guilhem again drew his father's gaze. "Through careful planning and measured choices."
Guilhem knew enough to understand that wasn't entirely true - Leyre had not gone well. But he understood that might have been his uncle Alias' fault more than his father's, and so he let it be.
They made their way to the king's command tent, which despite its larger size than any other in the camp, was rather cramped these days.
In Iberia, the king shared it with Guilhem, a few servants and sometimes Prince Alias. Here, the queen was added to the mix, along with her ladies, though Margo and Prince Geoffrey remained in a manor home to the south. Berard and Savarics also took up residence within, in order to allow the advisor to be with his wife Lida, one of Ælfflæd's ladies.
And when they arrived, it was the ladies who were busying about the tent, directing servants as they set up tables, readied drinks and other decorations all under the watchful eye of the queen, Duchess Adelise and Duke Osmund.
"All this for our return?" Geoffrey asked. "You outdo yourself, my dear wife."
Guilhem saw his mother eye his father. He knew at that moment this was not for them at all, not that he really thought much of it to begin with.
"My cousin Aevis will arrive soon," Ælfflæd said. "We must be ready for her arrival."
Guilhem had heard from his mother previously that the duchess would be the latest English lord or lady to rejoin the king and queen. But he had not known when that was happening.
"Your cousin comes now?" Geoffrey asked. "Well… that is unfortunate."
Ælfflæd's gaze narrowed. "Why?"
"Because I have a meeting of my war council," he answered. "It would be a disruption to have you meeting the duchess at the same time. Aevis will have to wait."
Guilhem frowned. It was true that his father had planned a meeting today, especially since they expected battle in the next few days. But he had not specified a time.
"It is rude to keep such an important vassal waiting," Ælfflæd argued. "Especially as she has come all the way from Lancaster, taking risks trying to avoid the heathens."
"And my war council is to ensure I do not risk defeat against the same heathens," Geoffrey said. "One of these is far more important than the other. I should hope you can figure which is which."
"I just can't figure out why you did not conduct your meeting before," Ælfflæd said. "Or not call it for now. I cannot make my cousin arrive any earlier but you have all your commanders here."
"My commanders are making their preparations," Geoffrey said. "And your son was fighting in a melee with the boys, besting the heir of Kent."
"He lost?" Osmund asked.
Geoffrey nodded. "Fought well, for what it's worth."
Guilhem lowered his head while Osmund's frown turned to a small smile. "I shall have to commend him, then. It is no small thing to earn your king's praise in defeat."
Meanwhile, Ælfflæd's eyes had widened. "You didn't tell me of a melee! I would have watched!"
"Ah so your cousin could have been made to wait for that," Geoffrey said.
Guilhem hated this. But he was hesitant to get involved. He had occasionally voiced opinions during his parents' disagreements… and it had gotten him told to stay out of it by both of them.
"Your pettiness knows no bounds," Ælfflæd said.
Geoffrey rolled his eyes. "Your ignorance is just as boundless. We are to fight shortly. You may not understand this, given you are not a warrior, but it is important to maintain routines when a battle is near. Do you want us to suffer defeat? That would hardly be good for England, would it?"
Guilhem suspected his father was being petty. But he wasn't sure he was wrong. Defeating the heathens was their main goal here. Do that, and everything else would fall into place.
Ælfflæd, meanwhile, simply replied with an exasperated grunt. Her narrow gaze told the story for the prince - they were headed for another day of discord.
"Fine," Ælfflæd said. "I will find somewhere else to greet her."
"Give my regards," Geoffrey said.
The queen clapped her hands and then ordered the preparations stopped, in order for them to be moved outside, in the open, between the tents of Duchess Adelise and Duke Osmund. She then left with them all but not before giving one last nasty glare to her husband.
If Geoffrey was fazed, he did not show it, ordering the servants to fetch him and the others some drinks.
"Could you have let her meet Aevis?" Guilhem asked.
"It is an unnecessary delay," Geoffrey said. "Aevis is worthless. I have no time for her."
Berard cleared his throat. "What your father means is… if Aevis brought men, she would have been properly entertained. But she doesn't. None of these English lords do, even as we defend them. It is most disappointing."
Geoffrey nodded. "They're performing. My father may have enjoyed shows, but not until after a battle. If your mother and her vassals wish to play court, then they can do so after the important business is done for the day."
It was a wise enough explanation. But something did nag at Guilhem - he believed Aevis was different than, say, Duke Æthelsige of Somerset. She was family, and he knew his mother valued her. "But isn't meeting Aevis important? She is a duchess. And family."
Geoffrey rolled his eyes. "She is a duchess… who only can bring a few thousand men to a fight. In Aquitaine, she would be the weakest duke or duchess in the realm."
"Besides Alias," Berard noted.
"
Yes
," Geoffrey said. "Besides Alias, who has only recently been raised. The point is, Aevis is nothing. Your mother treats her well because she is a cousin. Which she can do, but I will not rearrange my plans to suit that."
It seemed reasonable enough. Still, Guilhem knew his father sometimes showed preferential treatment to his friends and relatives. Why should the queen be punished for something similar?
But while Guilhem debated pushing the issue further, the Dane Knud entered the tent, and Guilhem's urge to speak evaporated entirely. Knud wasn't the largest of men, but he had a blunt, fearsome reputation, enhanced by the fact he was a known murderer. Guilhem remembered his mother complaining that his father should have banished the Dane ages ago, but Geoffrey was attached to his old mentor.
"I see the queen is upset," Knud said.
"She wished to host her cousin," Geoffrey said. "Here in the tent. I told her I have more important things to deal with."
Knud smirked. "That is too bad. I saw Adelise was with her. The Norman sisters reuniting would have been fine entertainment."
"They're liable to fight each other," Geoffrey noted. "With the way Adelise has been speaking of her."
"Exactly," Knud said. "I say let them. No weapons or armor. Let them wrestle it out in the mud."
The grin that formed on the Dane's face sent a chill down Guilhem's spine. And while Berard seemed uneasy at the quip, the prince was horrified to see Geoffrey had a smirk of his own on his lips.
Yet as much as he wished to say something, it seemed foolish. Did he really need to defend the honor of his mother's cousins?
"All right," Geoffrey said. "Might as well get on with it. Knud, send for Toumas and Rogier to get this meeting started. I want to know where we stand."
Where they stood was in a place Guilhem did not expect. And for that matter, neither did his father.
Based on what the queen had told them, and their own scouts, Geoffrey had expected around 3,000 men to oppose him as he moved against Lydford. He had assumed they were in for a siege, with an attempt to starve those men out of the burh.
"I will not assault those miserable walls again," the king had sworn to his commanders before.
But when he arrived at the tent, Rogier, handling scouting duties with Mayor Frederic still away, reported the enemy was not holding up in the town.
"The bulk of their forces have marched out to meet us," Rogier told the war council after his arrival, which he had said was delayed by Aevis' arrival in the camp. "They have linked up with an additional group - our scouts say Mameluke mercenaries."
"How many?" Geoffrey asked.
"Around 1,000," Rogier said. "It gives them no more than 3700."
"We have nearly twice their forces," Berard noted. "Unless our counts are off."
Duke Osmund, who had returned for the council meeting as the queen's representative, shook his head.
"They had 3,000 or so when they attacked Lydford," Osmund said. "Our men saw that one group - but that was it. So I would be surprised if they had more than 4,000."
"Then why would they fight?" Toumas wondered. "They would be beaten in a day when they could last in Lydford for months."
"There is more," Rogier said. "The Caliph of the Fatimids is with his men."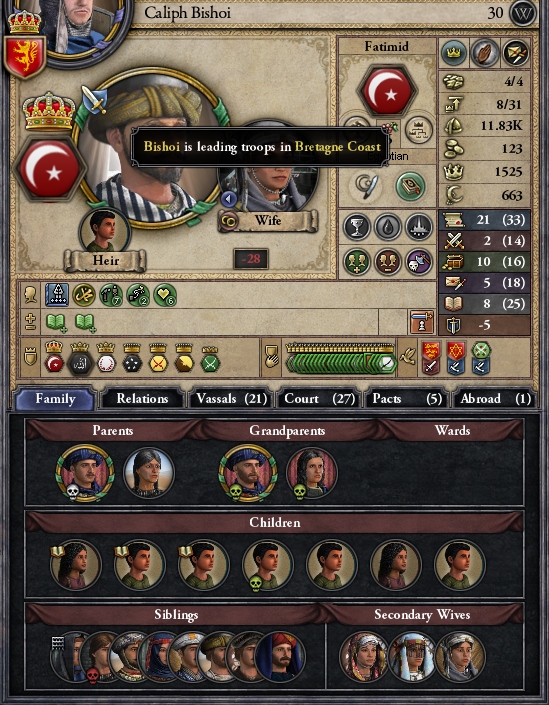 "That makes even less sense then," Geoffrey said. "Why would he risk himself against us in battle?"
Knud shook his head. "They have no more help coming."
"What do you mean?" Geoffrey asked.
"Holding in a town or keep is worthwhile if reinforcements come to your aid," Knud said. "Otherwise, it would be a death trap. We would starve them out and all would fall to us, or die. The Caliph as well."
"They could make for his escape," Toumas said. "Escape as Lady Ecgwyn did. Or the queen herself."
"We know of those passages now," Geoffrey realized. "No… they would be trapped."
"So they fight, because if they sit in Lydford, they are certain to lose," Knud said. "They fight us, they may well lose, but they can escape. And if they win… well…"
"They will not," Geoffrey insisted. "I expect if this is truly their number, they will do as our enemies in Iberia did and feign retreat, hoping to bait us. I have heard since that it is a popular tactic of heathens in the Holy Lands. I imagine it is where our enemies in Iberia learned of it."
"So caution?" Berard asked.
"It is more about avoiding recklessness," Geoffrey said. "We advance together. No riding off too far. We have the men. We have the numbers. We have the advantage. If we are not foolish, that will be enough."
Everyone gathered nodded their heads in agreement.
"Rogier," Geoffrey continued, "post extra sentries tonight. I do not want to be surprised. If they do not attack, we will move north and give battle. Knud, you shall have our right. Berard, you can have the left. And Rogier, you shall have the reserve."
Berard grinned. Guilhem knew how much having a flank meant to the advisor - Savarics had been talking about for days how his father could not wait to prove himself there when the opportunity arose. And with the king still having a limited staff - Mayor Frederic was away and cousin Ancel insisting Duke Foulquesson was not quite up for this campaign - Berard now had his opportunity.
With that, the meeting was dismissed and the commanders made their way from the tent, leaving the king and prince alone.
"Are you concerned father?" Guilhem asked.
"I am confident," Geoffrey said. "I would not attack otherwise. No one should attack unless they are confident of victory."
Guilhem frowned and nodded, wondering if that was another dig at his decision earlier.
"May I be excused?" he asked.
"The meeting is done, so yes," Geoffrey said.
Guilhem nodded and moved to leave the tent. But at the last moment he heard his father's voice.
"Guilhem!" Geoffrey called out. The prince turned, sheepishly, becoming pinned by his father's gaze. "Well done on your victory today."
And suddenly, a weight was lifted off the boy's shoulders. A smile broke through.
"Thank you father," he said. "And I will not make the same mistakes again."
….
For Guilhem, the English lords and ladies were mostly mysteries. The exceptions were Adelise and Aevis.
He remembered they visited his mother when she was in Angouleme years before. Ælfflæd claimed they had become more sisters than cousins - her only real family now that her older sister was left in Swabia, her elder brother dead, and her half-siblings, all younger than Guilhem, residing in Wiltshire, unlikely to meet her given the circumstances.
It was enough that Ælfflæd referred to the pair as "Auntie Adelise and Auntie Aevis" in his presence. Guilhem had no reason to doubt their closeness. In fact, he had reason to suspect they might grow closer still, since he had heard talk he might find himself wed one day to Adelise's daughter Avelina.
Duchess Aevis had insisted that such talk was premature - especially now that she had a pair of twin girls of her own. It was true that Avelina was but a few years younger than Guilhem, but Aevis was quick to point out that there was no rush - men often married women many years their junior.
Guilhem didn't know. It wasn't that he didn't think anything of women - he was starting to feel his heart race when he looked at some women. It was embarrassing at times, since it happened around both Ana de Perigord, his father's lover, as well as well as both his "Aunties". All of that was improper for a variety of reasons.
But his prospects at this point were not yet women. Aevilna was just a girl and Aevis' twins were babes. He could not yet think of them in that way. And so he did not. Though, he supposed, if Avelina grew to look like her mother, perhaps he would not mind her at all.
Either way, he made his way to the area between the tents of Duke Osmund and Duchess Adelise, where he found his mother in the middle of greeting Aevis.
The location was hardly luxurious. The grass had been torn up by men marching back and forth and rain from last night had left the ground at his mother's feet muddy. A blanket was laid before her, in order to minimize the chances of the queen's attire being sullied by it.
All the other English lords who had been in the camp, Adelise, Hlothere, Æthelsige and even Osmund, straight from the war council meeting, were in attendance. And Guilhem's arrival was not unnoticed, for his cousin Ælfsige glared at him. More importantly, the queen herself rose from her throne.
"Is that my son?" she asked.
Guilhem blushed and made his way forward, coming up beside Duchess Aevis, who smiled warmly at him.
Ælfflæd grinned as well. "You escaped your father's war council?"
"It wrapped up quickly enough," Guilhem said. "I wished to be here to greet Lady Aevis."
The Duchess of Lancaster brought her hands to her chest. "I am flattered my good prince! To make such an effort on my behalf - I shall be the envy of all the ladies of England."
Guilhem blushed. Her over the top response was made even worse by her holding out her hand to be kissed, which the prince nervously did. He felt his heart race again.
"Come," Ælfflæd ordered him. "By my side."
He did as he was ordered, moving to the right of his mother, and doing his best to stand tall and puff out his chest. At least, still dressed in his armor from the melee, he felt he gave the appearance of a warrior, if not the aura.
It was a bit of a change from his father's courts, since every word spoken was in Saxon. Guilhem understood most of it, though even now there were still some words and phrases which left him confused. And while with his mother, he could ask her to repeat, such a thing was not possible in this scenario.
Given Rogier had mentioned it when he arrived at the command tent, Guilhem guessed it had been going on for a while. While that didn't preclude it from running for a while longer, in this case, it ended not too long after Guilhem had arrived.
The nobles and men dispersed, leaving Ælfflæd, Guilhem and the Norman sisters and the four moved to Adelise's tent. Guilhem suggested they go to the command tent, but Ælfflæd did not want to - the prince guessed because she was still angry with his father.
"How was your journey?" Ælfflæd asked Aevis once they had settled, the sisters taking a cup of wine and the queen a mug of ale.
"We were careful," Aevis said. "We traveled further east and then hugged the coast. So there were no real problems, besides being mindful of brigands. How are you? I heard you had a difficult trek to escape Lydford. We were all terrified for you."
"I'm sure you were," Adelise said. "
Sheer terror."
Aevis turned her gaze toward her sister. "You doubt my words?"
"I doubt terror was on your mind as you gathered your knights near my lands in Mercia," Adelise replied.
"Adi," Ælfflæd said as she raised her hand.
But Aevis waved the queen off. "She can accuse me all she likes. I readied my men in case the heathens continued north. As I said, terror."
"Prudent," Ælfflæd said. "Are those men still ready? We can use all the help we can down here."
"I have kept them in Lancaster," Aevis said. She turned her gaze again to Adelise. "
For defense
."
The bickering of the sisters was not new to Guilhem, at least in concept. He had, however, rarely seen it in practice. And it did not end with that line of questioning.
"Your timing is curious, sister," Adelise said.
"What is curious about it?" Aevis wondered.
"You have had months to join us," Adelise said. "And now that her husband lands in England, you make your way to her?"
"I could offer nothing to the queen in Lydford that I could not also offer in Lancaster," Aevis said. "Meanwhile, I have two daughters who did need me."
"Do I not have children?" Adelise asked. "Does not Hlothere and Ealflaed? Or Osmund? But we are to abandon them and you are not?"
"Your boys are nearly grown," Aevis said. "Your daughter is with you. Uncle Osmund also has his son with him, and his wife with his younger boy. I can't speak to the Duke and Duchess of Northumbria. It is not quite the same as having two twin girls who are not even a couple of years old. I nursed them myself until recently!"
"Ladies," Ælfflæd said. "Enough of this. Aevis, I understand your desire to stay with your daughters… and to avoid the risk of being captured by the heathens. Adelise, I admire your bravery under such circumstances. But that is in the past now. Our enemies wait in Lydford. We must focus on them."
Guilhem's heart raced, realizing he had information to provide. "Actually, mother, the heathens do not wait in Lydford. They have moved south, and father expects to battle them nearby."
The brows of the three women rose. It was Duchess Adelise who spoke first.
"Truly?" Adelise asked. "I would not have expected them to give up such a position."
"The Dane believes it is because they have no aid coming," Guilhem explained. "So they would be trapped and unable to escape."
He paused and then snapped his fingers. "Oh! And the Caliph is with them! So they don't want to risk him falling into father's hands."
Ælfflæd scratched her chin, a small smile forming on her thin lips. Adelise joined her apparent pleasure over the situation with a smile of her own.
"Things have gone from treacherous to fortuitous," Adelise said. "If Geoffrey can capture the Caliph…"
"It might well force him from the war," Ælfflæd said. "And without him, surely Aquitaine's men could practically walk into Acre with little resistance."
"God smiles upon us then," Aevis said. "The trials and tribulations you have suffered were for a purpose."
Ælfflæd nodded but Guilhem saw Adelise narrow her gaze.
"Have you anything else from that meeting?" Ælfflæd asked. "I wished Osmund to tell me but you already bring me good news. Perhaps you have more."
Guilhem shrugged. "Father is cautious. But he is confident of victory."
"As am I," Adelise said. "Your father has seen success everywhere he has fought. Why would now be any different?"
Guilhem nodded. He knew Leyre had been a problem, but his father had won. And Pau was, from what he'd heard, a masterclass. If King Geoffrey had shortcomings, they were not on the battlefield.
Adelise smiled at the prince. "And I hear such talents may run in the family. You won your melee today?"
Guilhem grinned. And his mother began to applaud.
"Brilliant," she said. "What was the fight?"
"Occitans against Saxons," Guilhem said. He realized then his exploits might not be as welcome with his two "aunties" as they would have been in his father's tent. His voice lowered a bit. "I er… led the Occitans to a victory over cousin Ælfsige."
"So that's why he looked so unhappy," Aevis remarked. "Poor boy, bested by someone four years his junior. Then again, it is no shame to lose to a future king."
Guilhem slowly nodded. But inside, his heart raced. He wondered if Adelise knew of his near defeat to their cousin… but if she did, she did not mention it. Instead, it was Aevis who continued.
"Winning melees at your age," she said. "Is true battle far off? Perhaps a fine reward would be accompanying his father in this upcoming fight."
His mother blanched. "I do not think him ready for that yet."
"I am 11," Guilhem protested. "I would be honoring our family's legacy, as you do."
"I appreciate your dedication," Ælfflæd said. "But there will be plenty of time for such things in the future. I'm certain your father would agree."
"I think he would be a fine addition to the king's knights," Aevis added.
"In time," Ælfflæd said.
"What time better than now?" Aevis asked. "He can ride, I'm sure. He knows how to hold a lance. The heathens attack his mother's home. It would be such a dashing tale. Those Occitan bards would sing it about it for years to come."
Guilhem's eyes widened, thinking about that type of glory.
"Cousin," Ælfflæd said. "My son needs no tales of him at 11. He can have plenty of tales sung of him when he is 16. Or older."
"I can do it mother," Guilhem insisted. "If you tell father it is fine, then maybe…"
Ælfflæd laughed. "Oh, then he would tell me I was a mad woman to risk you so. And in this case, he would be absolutely right. Perhaps he will let you watch the battle, though I'd prefer you remain here. But you will certainly not fight in it, God willing."
Guilhem frowned, but despite Aevis raising his hopes, he was not surprised.
"And that is quite enough suggestions out of you, cousin," Ælfflæd said to Aevis.
"I spoke my opinion, that the prince is ready," Aevis said. "You and his father may disagree."
Adelise smirked. "Spoken with all the confidence of a woman with no sons."
"I shall have sons in time, God willing," Aevis said. "And when they are ready, they will fight."
"I doubt they will be ready at 11 years," Adelise said. "The prince is not firing a bow, but wielding a lance! He is growing, but not a man yet."
A frown came to the prince's face. He knew it was right. But he didn't have to like it.
Ælfflæd must have noticed it, for she looked to her cousins and said: "If you would give me a moment with the prince?"
The sisters nodded and made their way from the tent, leaving mother and son alone. Ælfflæd sighed softly once they were out of earshot.
"You just wish to grow up so quickly," she said.
"I just want to fight as grandfather did, and great-grandfather," Guilhem said.
"They were older when they fought," Ælfflæd said. "Men grown."
"Do you still think me a child?" Guilhem asked.
Ælfflæd smiled. "You shall always be my child. But I know you will be a man soon enough. Your time will come, but be patient. When you are king, or a lord of your own lands, you will be able to ride forth, banners flying and all that."
Guilhem's brow rose. "When will I be lord of my own lands?"
Ælfflæd sighed. "I… I do not know. I cannot offer you anything but Lydford, and I do not think you are ready to be King of England yet. It would have to be a fief in Aquitaine and that would be up to your father. Has he said anything?"
Guilhem shook his head. "No. He says he will find me something in time. But he never says what. Or where. Or when."
"He is in no rush to send you out on your own," Ælfflæd said. "That is all. With your father's ambition… and our shared desire to see you ready for England and Aquitaine, it will come. I swear it."
Guilhem sighed and nodded. What else could he say? His mother and father promised him he would become a lord one day. He could not demand they do it sooner. And he was going to be a king of two realms one day. His mother was right - his time would come.
"Now, I am very happy you came," Ælfflæd said. "And thrilled you won the melee. But I must have a little time alone with your aunties."
"Of course," Guilhem said. "I will head back to father's tent."
Ælfflæd sighed again. "I will be there as well soon enough. It is still expected he sees Aevis, even if he does not care enough to greet her properly."
Guilhem bit his lip. After all, he knew his father didn't care about Aevis at all.
….
That night Guilhem did remember to give a portion of his meat pie to the boys who had helped him. They were grateful, and declared him the greatest and most generous prince in all of Christendom. It was over the top, but much like with Aevis, Guilhem couldn't help but smile.
Despite his excitement over the potential battle the next day, Guilhem was tired enough after his exertions to sleep well. That was good, since he was forced to be up early the next morning.
"Get your armor," Geoffrey told him as he stood over his cot.
Guilhem's heart skipped a beat. "Am I… Am I to join you in battle?"
Geoffrey grinned. "Not yet. But you will ride with us north. I wish for you to see the battle - from a safe distance of course. But after your melee I think it is time you see how things work in a real fight."
Guilhem nodded so quickly he actually felt a twinge in his neck from it. But he could not wipe the grin from his face - even if it was not being put into the fight, it would be the closest he'd ever been. And he couldn't wait.
He put on his armor as quickly as possible, getting some help from the servants, grabbed his helmet, sword and shield and hurried over to his father. The king, already fully dressed, was waiting.
Guilhem wished to say goodbye to his mother, but did not find her in her cot. Perplexed he went to his father, wondering if he knew where she went.
"She went to her cousin Adelise's tent," Geoffrey said. "But there is no time. We go now."
"It won't take long," Guilhem said.
"Do you wish to come or not?" Geoffrey demanded. "We must move. I want my men in position, with a little time to rest before engaging the enemy. If we start too late, we will lose the light."
Guilhem lowered his head. He didn't want to leave without saying to his mother… but he also didn't want to be left behind or cause his father's plans to go awry. So he dropped it and made his way out to his horse.
He stepped on a small stool to mount it and then took a long look at the camp, hoping his mother would come out before he departed. But once his father started forward, Guilhem sighed and moved to join him, praying the next time he saw the queen, he would be able to regale her of tales of a great victory.
Even if he could not fulfill his family legacy today, he could at least witness his father do it in their stead.
Last edited:
5

1
Reactions: