Iteration 1: The Stranger
"Let's try this again."
Welcome to BeThought 9.3!

Initializing...

Initializing...

Credentials required: The moon in Aries squares Pluto in Capricorn.

>
the ancient one dies by drowning
Checking...

Confirmed!

The current time is 9:38 by Adyar reckoning. Good morning!
How can I help you, Pluto?_

>access record 2169-12-07 Pluto-6-38
Searching...

Searching...

Found!

Pluto-11 note: This record is pre-BeThought, so I've had to reconstruct it using Pluto-6's own diaries, as well as eyewitness accounts and media records. Sensory data is only simulated, so disregard it for esoteric purposes. If you're anything like the rest of us, you already weren't using it for that, so have at it. Pluto-11 out.

Continue? Y/N_

>
y
Initializing...

Prepare for immersion in 3...

2...

1...

The simsuite's usual electronic hum fades into the loud silence of a city night.
A title card, somehow covering half the visual range no matter where you look, announces
Istanbul, 2169. A rough city in a dirty time.
11 did like his neo-neo-noirs. We pan over the expansive city, from the Asian side--crammed with refugees as has been common the last couple of centuries--over the series of seawalls which defends the city from the vengeful waters of the 2100s--to the comparatively wealthy and touristy European side.
The visual range narrows to a small white building, two stories, seven streets away from Taksim Square--an auspicious combination of numbers. This humble stack, spared the rampant commercialization of the rest of Beyoğlu, sits as an oasis of silence in the busy tourist district. We zoom in on a window, second floor, on the right.
Behind thick, prewar glass is a simple bedroom. Bare walls, stained by smoke. A simple writing desk in one corner, facing a bed too small for its current occupant. A closet filled with identical tracksuits and sneakers, perfectly complementing the aviators on the desk. The trademark uniform of a degenerate, as the man who occupies this room likes to say.
That man, by the way, is currently having a nightmare.
It's the same one he's always had. The one that he came to the Lodge to fix, so many years ago.
He can't breathe. He can feel the sweat on his brow, on his arms, everywhere, an ocean of the stuff, stinking and cloying, dragging him down into the black abyss he can feel opening beneath him. And always, the laughter. It resounds, an echo in his mind, in the room, in what he half-believes to be the real world, as something--not just something, but
something--
reaches out to him in the black corner of the room.
It is turning towards him.
He will see it in a moment, but he cannot see it,
must
not.
It will not stop, and as the features become clear, the awful, blackened, burned face and those awful blue eyes that beg for help and mock at the same time, as he can behold it in all its awfulness...
He wakes.
Not like one coming out of a nightmare. Pluto's Minister has long since learned to come out of his night terrors almost casually, like nothing ever happened. "What? Me? Nightmare? No, couldn't be! You've got to be thinking of someone else."
The first rays of the sun hit rheum-encrusted eyes, and Pluto blinks, squints, sits up.
He is not an old man, nor quite a young man anymore. Almond-shaped eyes and black hair belie Russian parentage; a feature he's always found useful in the Russophobic EU. Three days' worth of stubble, at least, and deep black circles under the eyes, tokens of a hardworking life.
He stands and stretches, then mumbles his morning incantations, drawing the sacred seven symbols with a practiced ease as he does. He doesn't really believe, but then, none of the Plutos have as far as he could tell from their records. "It's why I chose you," his mentor had said. "You're one of the few to have advanced so high and retained a skeptical nature."
He didn't really believe that either.
Nevertheless, the ritual has become calming over time. The constant kneeling and bowing is good for his heart, and the esoteric blitherblather of the words are a relaxing kind of white noise. A good way to take the edge off of a hard night.
He finishes an hour later, and dresses in one of the identical tracksuits with identical sneakers, then takes his aviators and leaves the house.
There is much to do before the launch.
A notice pops up, pausing the sim.
Pluto-11 note: If you're not interested in the engineering of space travel, I suggest you skip the next six hours or so. It's pretty shit, if we're honest with ourselves. Skip to launch? Y/N_

>y
An ear-shattering crunch as simulated Istanbul collapses and is replaced by the Guiana Space Center, nearly half a planet away. The wonders of air travel.
Pluto is standing just outside the barbed-wire fence that surrounds the center, leaning against a rented jeep. He clutches a cigarette in his right hand like it's the only thing keeping him alive, while his left is held up to his face. His eyes flick from the holowatch on his wrist to the distant spacecraft.
He hates Guiana. It's too hot, and worse than that, it's too humid. He'd give anything to be back by the Mediterranean in one of those cheap tourist places, bottle of cheap beer in one hand and greasy kebab in the other. But even he has to admit this is too important for laziness.
The watch projects ten small figures in front of him, a mini-council, each face a disconcerting mass of static, courtesy of Mercury's anonymity protocol. Safety concerns, of course. Even in the Lodge, which is already hidden from the vast majority of mankind, only a handful of people outside of the Seven-and-Four actually know that the group exists. Still fewer know even one or two of the ministers' actual identities, and no one--save Sol and probably Saturn, the canny fucker--knows who
all
of them are. And yet, Pluto marvels, this group of eleven--including him--holds the fate of all of humanity in its collective grasp.
Makes ya think.
His thoughts are interrupted by the distorted voice of Mars. He can hear the brusqueness in the minister's (a man? maybe?) voice even through the voicechanger.
"What's the holdup, Pluto? We're all waiting."
Sol tsks at Saturn, tapping a tiny electronic finger on their hip in irritation. "Proper terms of address,
please
, minister of Mars. This is to be a momentous occasion, and should be honored as such."
Pluto rolls his eyes and answers. "Ministers, just one moment please. Having trouble connecting to our boy." A chorus of distorted sighs. He leans back over to the jeep and taps a few keys on the computer sitting on the passenger seat. As far as the astronaut knows, this is a sacred communication with one of the Ascended Masters. Which it kind of is, if you think mundane power drawn from capital and centuries of secret deals counts as ascension.
Acolyte, your beginning is at hand. The Seven Primordials bless you and guide you, and the Seven Rays carry you on your sacred path. Are you ready?

The Wi-fi was spotty out here, but he had a reply in under a minute.
I am afraid, Master. What if I do not find what we seek? What if I fail?

Pluto mentally facepalms. He hates dealing with the recruits. That's Saturn and Mars' job, anyway. But no, it has to deal with space, they said. You have to take care of it, they said.
Fuck it, whatever.
I have seen the signs, my child. In the House of the Sun is your destiny ordained. You shall unlock the secret gates at the edge of the solar system, and pass beyond to worlds new. You have but to seize it.

It is more than a minute before the next one.
I will, Master. I will.

The roar of the engines catches Pluto by surprise. He hadn't realized lag was so bad they had already started the countdown by the time he got the last message. He turns, and watches as, in the distance, the craft which looks small but is, in actuality, the largest human spacecraft ever built, designed by Pluto himself and disseminated through secret couriers and hidden avenues of politics and corporate espionage to an EU team, begins to rise on a column of fire.
For a moment, his heart, scabbed over and chained by years of sadness, struggle, and heartbreak, soars in his chest as his greatest achievement pushes loose from the cloying atmosphere of Guiana.
"It's now, ministers. Behold our future."
Luna breathes out with a digital crackle, over and above the rest of the 7+4's murmurs of approval. They--a woman, he thinks--still manages to sound dreamy through the voicechanger as they say the words.
"There is no religion higher than truth. There is no path greater than ours. We are vindicated by the shadows of the past and the lights of the future."
He repeats the sacred phrases along with the rest of the council.
And for once, he means it.
End of record

Continue? Y/N_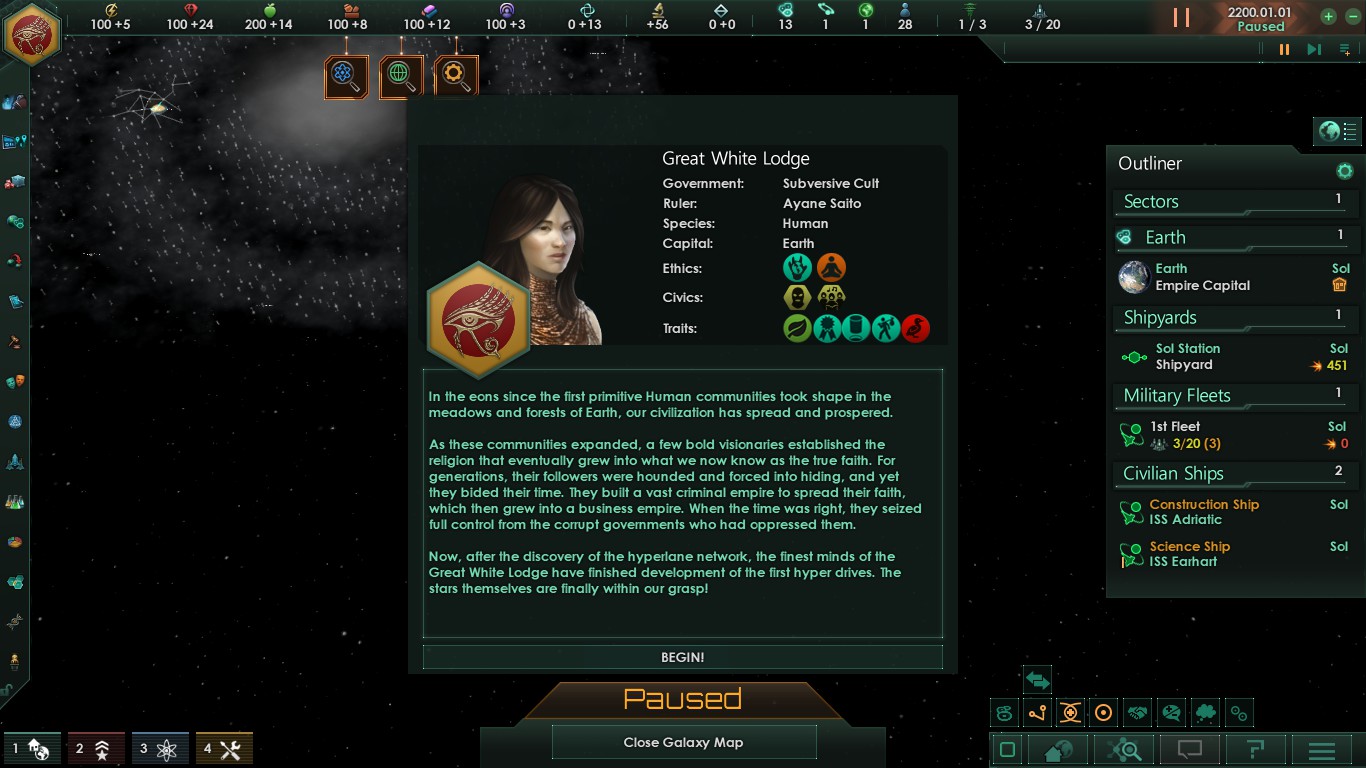 Last edited: