Mademoiselle Gothique (she/her/hers)
Moderator
87 Badges
Argh... sorry guys.
Bastions
Prologue One: The Saxons
Part 6
serigt næ se dzimŝán uv ien prætin. wilkámt se prasit.
Never mourn the birth of an enemy. Welcome the challenge.​
A rivalry quickly built between Æthelweard, Duke of the Prussians and Boris, Prince of Polotsk. Both men had their eye on the same titles, the same plots of land. They looked longingly northward toward Livonia and Estonia as places to be conquered and colonized. They were lands said to be full of riches and who ever got their first would be the sole victor. The two men quickly went about making allies, and mopping up smaller border tribes, but soon it someone would have to move against the larger tribes such as the Livonians. It was these people that Æthelweard moved against. It was his hope that he could capture Riga before Boris could make a move for it, but after conquering the Livs, he found that Boris had made a B-line for the Baltic city. His hope for keeping Boris land locked had failed, but the Duke had other things to deal with in the new century.
In 1103 the first church built for the Orthodox faith was started in Memelgrád. A small, one-roomed building, it would quickly be replaced by other, larger cathedrals as the city grew. But it marked an important date for the Prussian people, a sort of coming of age that their religion had need of a church, and had the funds to build one rather than just take an old catholic one. By this point, Mariengrád was now mostly Orthodox. Catholics were still an important minority, made mostly so by the large number of still Catholic nobles that existed in the court.
1104 and 1105 pitted Prussia against Polotsk, for both recognition and land. The new states, both ruled by glory-seeking conquerors, were quickly arming themselves for war against one another. Only time would tell when the war would start and who would be emerging victorious.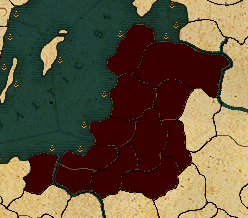 Prussia in 1104.
​