Let's start this thread mentioning Halil İnalcık:
"In order to make their new conquest secure the Ottomans used an elaborate system of colonization and mass deportation (sürgün). The turbulent nomads or the rebellious population of a village and even of a town which had caused or might cause trouble were shifted to a distant part of the Empire. The Ottoman state was also greatly concerned with the settlement of Turkish people in conquered lands."
What were overall objectives Ottomans followed?
A. Manpower
Construction of a new order through displacement:
a. "The documents of later periods confirm this old tradition of mass deportation and give interesting details. According to an imperial decree of deportation dated 24 September 1572 one family out of every ten in the provinces of Anatolia, Rum (Sivas), Karaman and Zulkadriye were to be sent to newly conquered Cyprus. The expressed motives for this particular deportation were the
rehabilitation and security
of the island. The settlers were to be chosen from every level of the society, peasantry, craftsmen, etc. However, the first people to be sent to the island were peasants with insufficient or unfertile lands, the poor, the idlers and the nomads."
(decreasing unrest in different cultured lands in game)
Profiting from disposable populations:
b. "Conquered populations present another example of such a "disposable' group. We have seen, for example, that huge numbers of captives from Mehmet II's conquests in Greece were transported to Istanbul in the course of the city's repopulation. Some were settled outside the walls as agricultural laborers and some, particularly artisans and craftsmen, were selected to settle inside the city.
The mass deportations by Mehmed II (1451-1481) from Serbia, Albania, Morea and Kaffa to Istanbul are well known. Their chief object was to secure the prosperity of the new capital."
(dev increase in specific trade centers or capitals in game)

Loyalty through displacement
c. "Key examples of this in the Ottoman case include of the movement of Turkish and Tatar tribes from Anatolia into the Balkans, the reassignment of native aristocracies to positions elsewhere within the empire, and the transport of conquered peoples out of their native lands to be settled in the towns and countryside of Anatolia. As Colin Imber expresses concerning the deportation of Turkish knights to Albania in the early 15th century: —What Mehmet clearly did was to remove the fief holders from Saruhan, where they had local connections, and transferred them to Albania, where they had none. Their only source of patronage and protection was the Ottoman Sultan, whose interests they would therefore defend from local challenges." The disorienting/reorienting effects of such relocations, however, were not necessarily enduring; the strangeness leveraged here no doubt diminished as the foreigners and their new environment became accustomed to one another."
(decreasing influence of estates/increasing their loyalty)
Other options I don't need to quote:
B. Security Objectives
PUSHES: political and military reasons to move people out control of new territories,
part 1: conquered populations control of new territories,
part 2: conquered elites
the issue of internal elites
the issue of the tribes and their elites
PULLS: political and military reasons to move people in
holding new territories placement for internal security
C. Economic Objectives
PUSHES: economic reasons for moving people out
alleviation of population pressure
economic deprivation
PULLS: economic reasons for moving people in
revival of conquered lands
reconstruction and rural economic development
reconstruction and urban economic development
looting labor
As Paramilitary forces
d. "Ottomans seemed to be interested rather in using deportation for military purposes. During this period a number of nomadic people in Anatolia who had proved troublesome were transferred to the Balkans, and having been settled in the border zones were given a special military status. According to the map drawn up by Barkan, who obtained his information from the early 16th century defters, these Turkish nomads, militarily organized under the name
yörük,
were found primarily in Thrace, in the Rhodopes and on the Southern slopes of the Balkan mountains, in Macedonia and in Dobrudga, all of which were conquered in the second half of the 14th century. Meanwhile, according to the defter of Albania, many deportees from several parts of Asia Minor such as Saruhan, Djanik, Paphlagonia, Tarakliborlu (Bolu) and from Vize (in Thrace) were given timars in Albania between 1415 and 1430. "
(instead of assimilation, suppress of local communities by yörük/nomad usage under tımar system)

Here are list of historical population transfers in Balkans and Anatolia and the results
Why and how: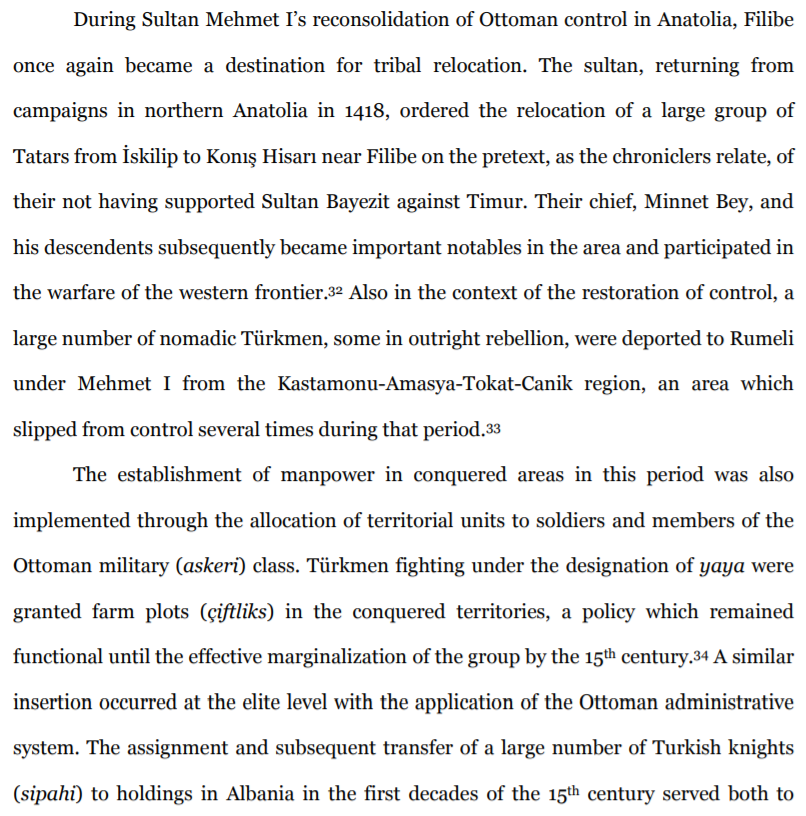 Furthermore:
Labor exploits: (Sephardic Jew detail)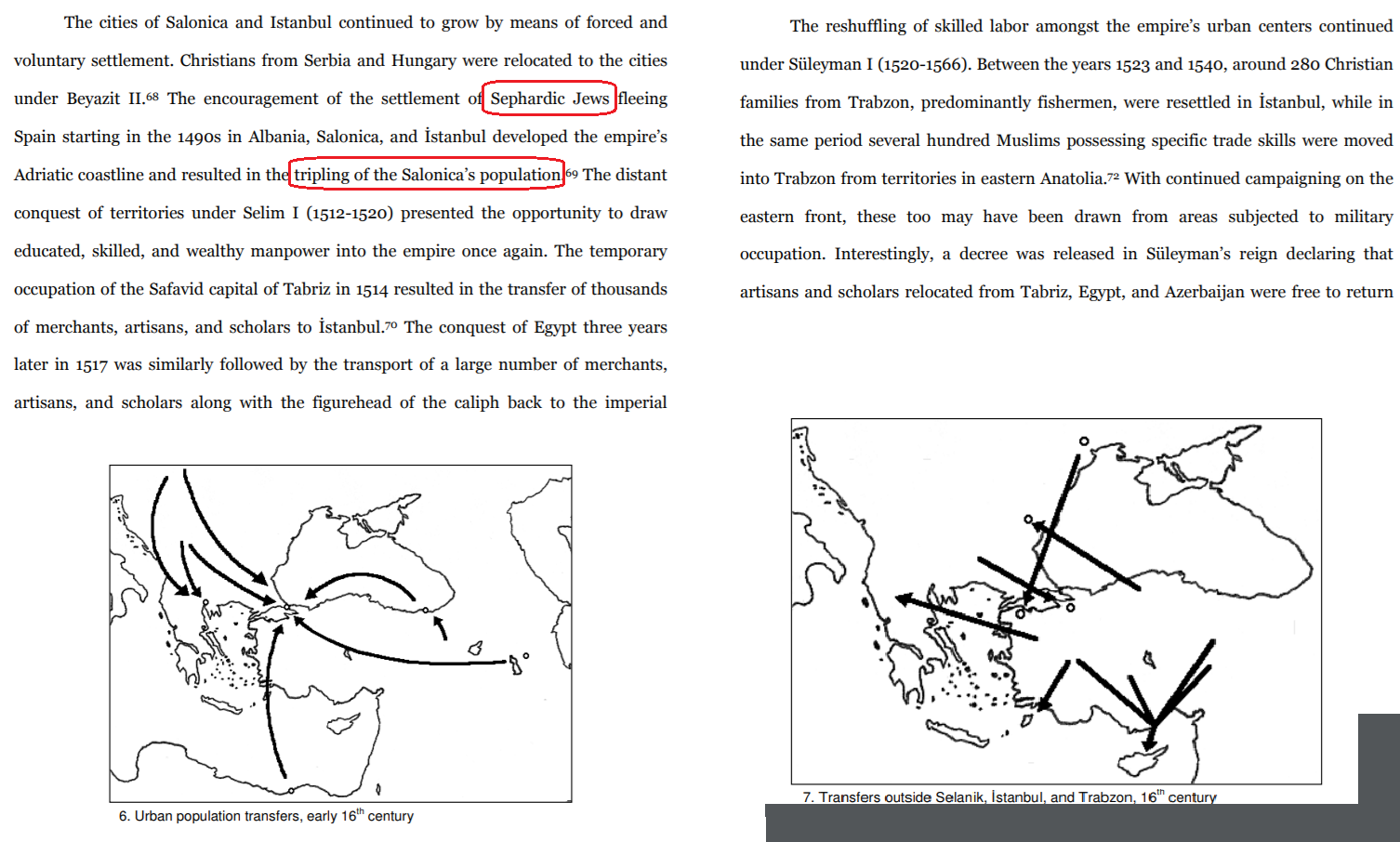 Full list:
Other examples for various reasons such as security, economy, internal autonomy:

Byzantium:
Russian
:
Ming:
Inca and Ming:
Paramilitary usage similarities:
Mongols of Ming
Cossacks of Muscovy
Tatars and Türkmens (called Yörük) of Ottomans:
I have used these documents for this thread:
-Ottoman Methods of Conquest by Halil İnalcık
http://media.library.ku.edu.tr/reserve/resfall17_18/Hist 203_KeremTinaz/week3.pdf
-Forced population transfers in early Ottoman Imperial Strategy: a Comparative Approach by Paul Lovell Hooper
http://www.unm.edu/~phooper/thesis_condensed.pdf
-Forced Population Movements in the Ottoman Empire and the Early Turkish Republic: An Attempt at Reassessment through Demographic Engineering by Nesim Şeker
https://journals.openedition.org/ejts/4396
-The Ottoman Auxiliary Units in the Balkans; A Study of the Yörüks in Rumeli and the Descendants of the Conquerors in the 17th and 18th Centuries by Keiko Iwamoto
https://www.academia.edu/19074222/T...the_Conquerors_in_the_17th_and_18th_Centuries
I have couple of different suggestions for Tımar system here and possibility of advisor drafting school called Enderun for Ottomans:
https://forum.paradoxplaza.com/foru...-state-sipahi-sultanate-of-women-era.1068546/