Hi everyone, this is my first aar and i hope you will enjoy it. I'm a french canadian so you might see a lots of grammatical errors, but i'll do my best. I took an armenian proverd as a title since i didn't know what to choose. I was hesitating between this one and "The dogs, who fight among themselve, unite against the wolf". I've only set some basic rules for this game, projects will probably pop up during the gameplay.
Rules: Hard difficulty, Hardcore game (no reload).
When Alexander the Great was on his dying bed, his marshals asked him who should be the heir of his kingdom. On the verge of death, he spoke one word: "Krater'oi". As soon as the word came out of his mouth, the birds stopped to sing outside and the sun suddenly disappeared behind the clouds. An argument soon emerged within his men about the meaning of this one little word... Did Alexander say that the heir should be Craterus, the best officer of his army? Or did he say that the kingdom should be given to the strongest. Scholars of the entire kingdom soon came to debate about this question, while the marshals were all plotting to become the unique heir. Before long, accusations of foul play were being thrown about by his generals at one another, and no contemporaneous source can be fully trusted. And so, one day, the words about Alexander reached Mithranes ears. The satrap of Armenia didnt wastes his time and declared himself King of Armenia! With him, a New World would emerge from Europe and the Orontid dynasty was ready to forge it...
However, Mithranes realised early that he wasn't the only one ready for a fight. The Seleucid to the South could wipe him out whenever they want. At west, some greek city states were also waiting for an opportunity to backstab Armenia. The only real "friend" that Mithranes had, was some unworthy Iberians. Since Armenia wasn't considered a rich country, Mithranes urged to sale citizenship amongst the people in order to stabilize his rule. Loyalty is the first step of global domination after all!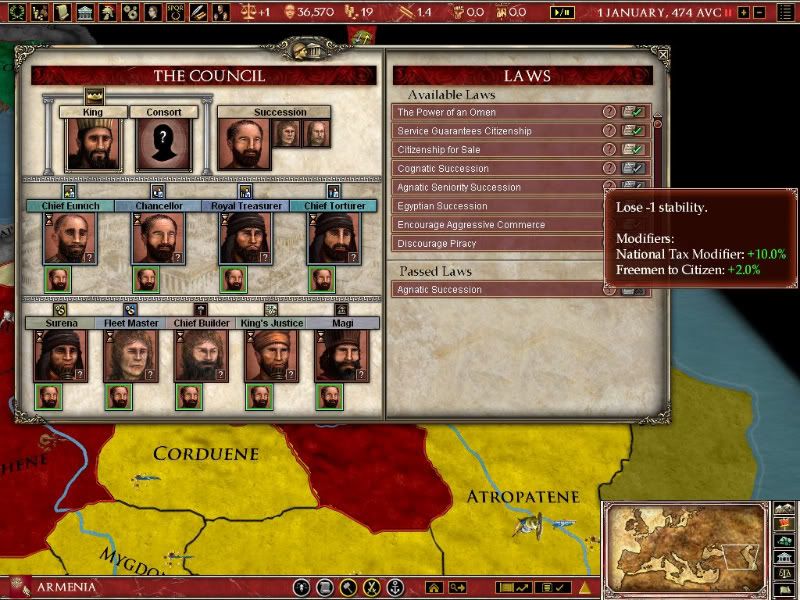 To make sure he would attract even more citizen to Armenia, he even started to promote some freemen to bigger position. Like this, Mithranes would also get more popular among his people and maybe one day he could be worshipped like a living God. He also started to promote the discipline amongst his men and made sure that the heart of his troops, the heavy infantry, would be ready for carnage anytime!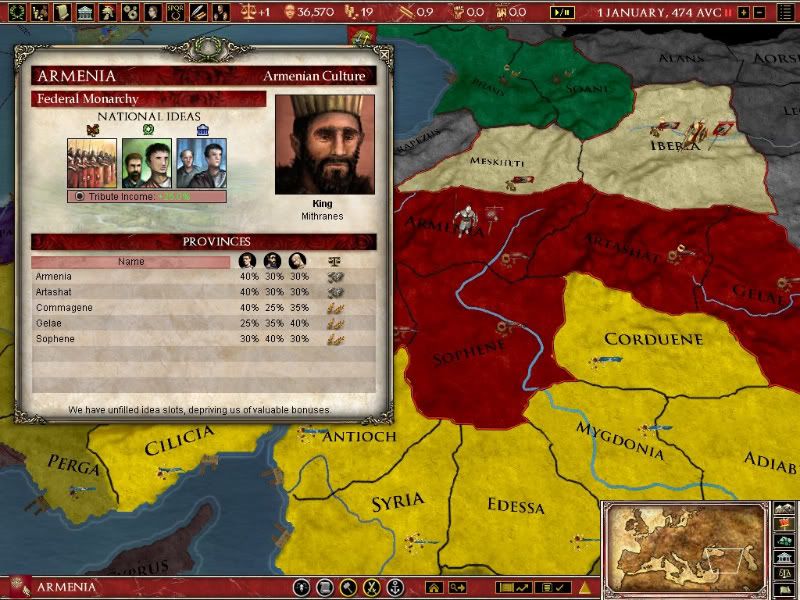 After having set his new policy upon his Kingdom, the King of Armenia started to gather one quarter of all his capable men. He promised them glory and fortune for becoming is permanent army. 2 regiments were created, one with 15 000 men (2000 archers, 13 000 heavy infantry) and the other of 7000 men (6000 heavy infantry, 1000 archers). With this new army, Mithranes had a feeling that his west border with Pontus should now be safe, however the King was stalking at the Seleucids every day. As time passed, Mithranes almost forgot about his nemesis, but one day he woke up and had an urgent message from a spy. The Seleucids were under attack by Egypt! Without further need of information, Mithranes gathered his men.
Mithranes: "Let tyrants fear, I have always so behaved myself that, under God, I have placed my chiefest strength and safeguard in the loyal hearts and good-will of my subjects; and therefore I am come amongst you, as you see, at this time, not for my recreation and disport, but being resolved, in the midst and heat of the battle, to live and die amongst you all; to lay down for my God, and for my kingdom, and my people, my honour and my blood, even in the dust. I know I have the body but of a weak and feeble man; but I have the heart and stomach of a king, and of a King of Armenia! I myself will take up arms, I myself will be your general, judge, and rewarder of every one of your virtues in the field. I know already, for your forwardness you have deserved rewards and crowns; and We do assure you in the word of a prince, they shall be duly paid you. (i took this part from a Queen, now try to find which one)
Last edited: