Synopsis​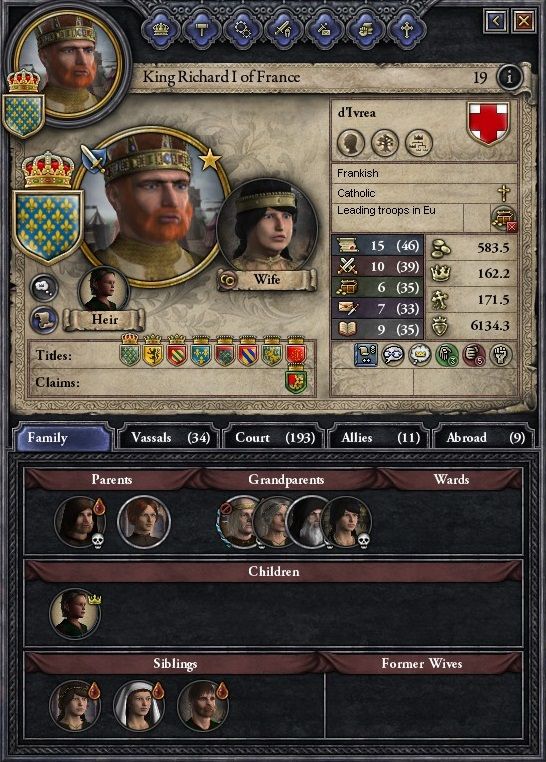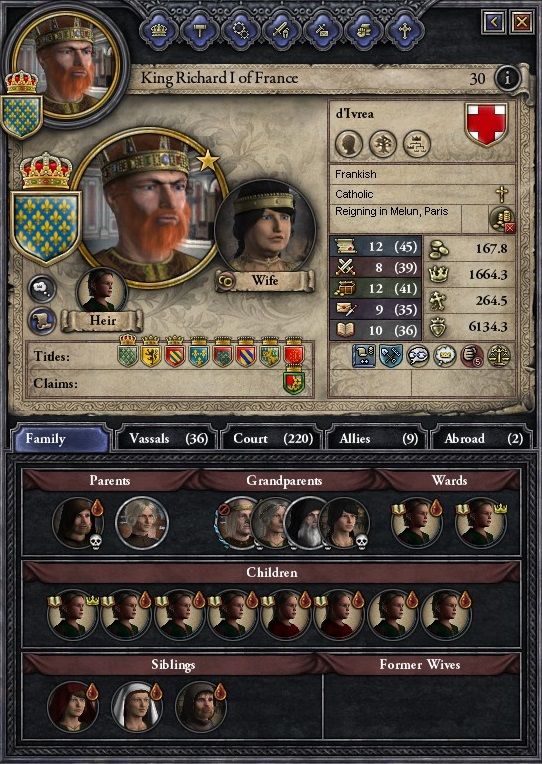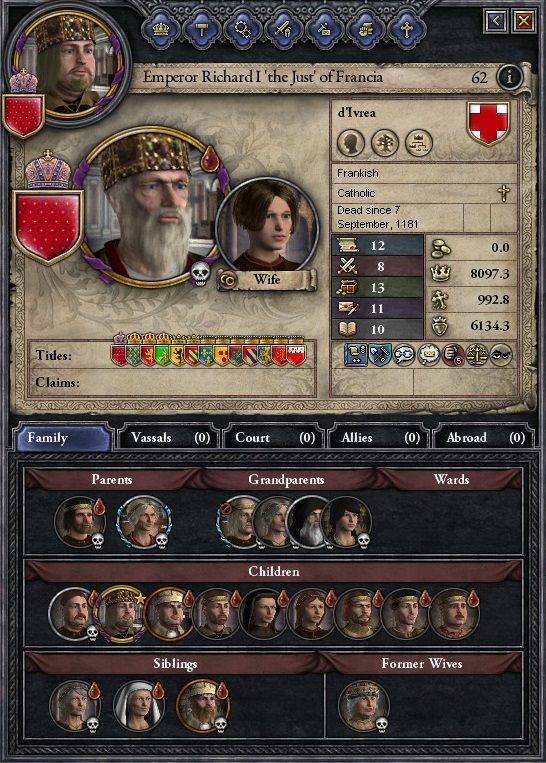 Young, middle and old Richard
Attributed quotes
"Do not tempt the wrath of France."
"How dare (insert unfortunate adversary) oppose me?!"
"Nothing is impossible for a willing heart."
"A king cannot afford to be weak. An emperor cannot afford mistakes."
Also known as:
The Just
King Richard Firebeard (sobriquet given by his wife)
Richard I "the Just" was born to Guy d'Ivrea (grandson of King Guy the 1st) and Countess Éléonore of Thouars. Himself great-grandson of the previous king, Richard was brought up as the next ruler of France, since his father died during his early childhood and his grandfather Richard the elder was already in poor health. Once he inherited the throne and the Will at the young age of 15, Richard quickly set the tone for his long reign: an ambitious and dynamic political agenda that would shape Western Europe for centuries to come.
Richard possessed a very sharp personality. While he was quite gregarious and socially pleasant with his fellow peers most of the time, he also proved to be a ruthless opponent when angered. The emperor's wrath became legendary in the Will of the Anscarids and other sources of the time. Few persons aside from his immediate family could calm him down when Richard entered one of his terrible anger bouts. One such occasion was at a winter feast, when a bishop cut the throat of a servant who spilled wine on his clothes. Richard was so scandalized and revolted that he sent the priest to the dungeons, proclaiming him unfit to be a holy servant of God. This particular event earned Richard the epithet "Just". Interestingly, the hot-headed emperor also loved gardening. It soon became a form of therapy to soothe his fiery temper during his free time. Charlemagne may have been known for his flower beard, but Richard was known as "King Richard Firebeard, the man who is afraid of nothing" according to his wife Giulia.
While his fellow vassals found Richard to be overbearing at times, his reign remained popular with the common folk. As France was prospering under his reign, Richard funded the construction of several cities to accommodate the population boom. The cities of Cosne, Noyers, Ardres and St.Nazaire are attributed to Richard.
Contrary to the usual customs of medieval royal marriages, the young king married a commoner, Giulia Dandolo, daughter of the Doge of Venice. Richard's contemporaries predicted he would marry Ælfgifu of Norfolk, the previous Queen of France. According to Richard's own words, he appreciated the duchess, but he saw her as an aunt, despite her being only a few years older than him. Nevertheless, Richard's marriage proved very fruitful: Giulia gave birth to 9 children in rapid succession. Among them was Richard II, his second son and successor. A few months before his death, he married Carola d'Este, Countess of Mantua, once Giulia perished of old age. This second union produced one son: Robert d'Ivrea, the next Count of Mantua.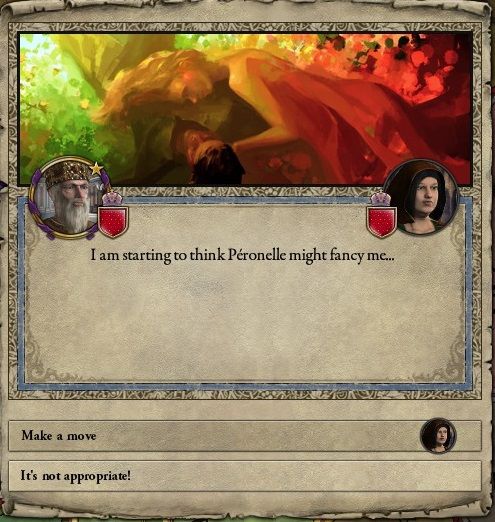 This event popped at least 15 times during Richard's rule
While the emperor wasn't a womanizer, he was quite popular with his court ladies. One ill rumour spoke about how Richard was cheating on Giulia with another lady. However, this seems highly unlikely, as there's never been any mention of Richard frequenting other women besides Giulia or his second wife Carola. Most likely, the emperor preferred to focus his energy on either work or gardening.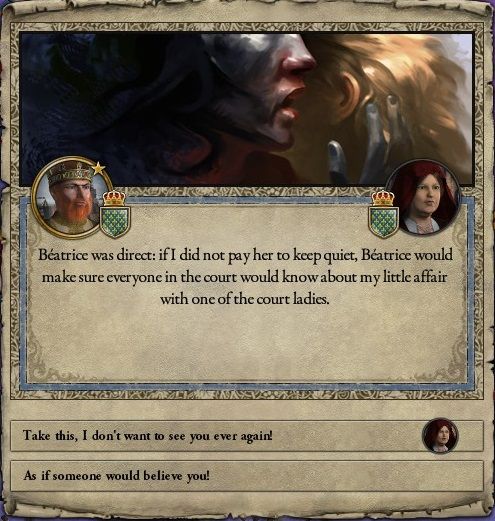 They didn't believe me...
Animated with an ambition rivaling that of Julius Caesar himself, Richard greatly expanded the frontiers of France. Against the Holy Roman Empire, France acquired Provence, Upper Lorraine, Gévaudan and Vivarais. These defeats shook the Salian dynasty so hard that they eventually lost the imperial crown to another prominent house: the Udonens. Under Richard, Brittany was completely annexed and the last Norwegian holding in northern France, Eu, was also conquered. The cities of Béziers and Nîmes who were captured by Genoa were also won back. However, Duke Alan IV of Brittany sought revenge by having Richard excommunicated.

Being the inflexible ruler he is remembered for, Richard appointed an Anti-Pope, Sisinnius II, and had him remove the excommunication stigma. He then proceeded to depose Pope Sylvester IV by force. While his army was marching to Rome, a revolt rose in the duchy of Champagne to install Ancel d'Ivrea, a son of the previous king, on the throne. Richard boldly fought on two fronts, emerging victorious; Sisinnius II became the new Pope while the rebels were crushed and arrested.
Perhaps Richard's most famous act was his participation in the 3rd Crusade, an episode that is intertwined with the mythic Five Peers. Pope Eugene III appealed to every Catholic noble to aid him in his quest to free Andalusia from Islam's yoke. Most of the European kings were caught in wars of their own, but France answered the call. Victorious in Andalusia, Richard proudly elevated himself as the new emperor of the Imperium Francorum, arrogantly challenging the Holy Roman Empire's claim as heirs to the old Roman Empire. The Just died naturally at the age of 61, still bathed in the respect and glory of his subjects. Aside from one battle where the Paladins were routed, Richard remained undefeated in his time. Richard II then assumed the reigns of the empire. The old emperor was survived by 31 grandchildren and 7 great-grandchildren.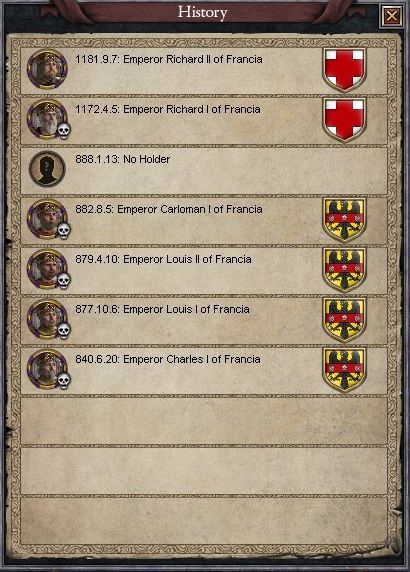 Direct dynasty branch
Richard's personal life was not met with the same brilliance. The Just arranged a marriage between his eldest son and heir André to Milia Jimena, duchess of Aragon. Unfortunately for Richard, the union produced only one girl, Violante, who inherited the duchy once her mother died prematurely. André remarried and had another girl, Mélisande, before dying at the age of 40. Due to the male preference succession law, the imperial crown would pass to his second son's lineage, Richard II, bypassing his hopes to bring Aragon into the empire. Also, three of his daughters-in-law would rebel against their liege, fail and be imprisoned afterwards.
His personal marriage prospects for his eldest son André might not have gone as expected, but Richard nonetheless concluded several advantageous marriages for his family. While André's descendants would never gain the imperial purple cloak, they gained a consolation prize with the kingdom of Aragon. Indeed, Violante I "Ironside", Duchess of Aragon, married the future Felipe III, King of Aragon. The marriage was effectively a matrilineal union, thus, the d'Ivrea name would rule Aragon for the rest of the Middle Age. As for Richard II's wife, she would bestow the Duchy of Silesia to their son Richard III, marking the birth of Francia Orientalis. Princess Esclarmonde's own matrilineal marriage would install the Anscarids back on the Scotland throne. Other unions of Richard's children sired cadet branches inside the Holy Roman Empire (Gent and Meissen), Poland (Kulm and Kujawy) and Scotland (Albany). His unborn youngest son, Robert d'Ivrea, later became Count of Mantua (Italy) after the death of Countess Carola.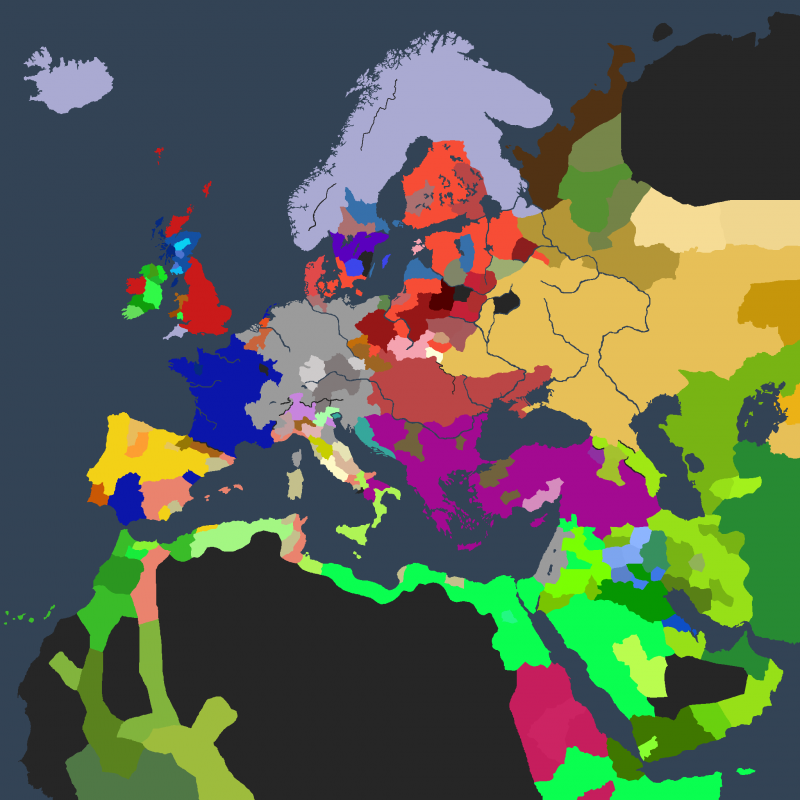 ​
Political map of 1182​
On a fun note, I can access my old saves with the Old Gods content! Notice the rivers on the map? And also that ugly Genoa expanding on my borders, reminding me how annoying they are?! So here we go, next update will be Richard II's story. It seems that Alfred is winning my small poll so far... Now, to return to my pile of screenshots... Till next update!