12:03am 13 April 1416 A campsite outside Calias in Northern France
"I see the fall of a great tree, blood seeps from its branches, the birds in their nest cry out for vengeance and through the blood a white light shines on a silver sword."
With that the old crone fell silent.
"What the hell is that meant to mean to stupid old baggage? I knew I shouldn't have wasted my time with you. Here is you 10 ducats, I am off to find a whore that hasn't been with 15 men tonight, though there is fat chance of that."
Throwing the money on the table a tall man strides of the tent, as he walks on his band gathers around him. Light brown hair, strong jaw and deep brown eyes that sparkle seem plain with the red hand dye on the front and back of his robes.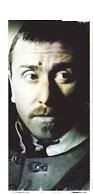 The hunky hero of our tale
Stephen, Lord of Antrim marches through the English army campsite in search of ….satisfaction.
For 5 years the Lord of Antrim and his 50 followers had been paid handsomely for their services in the army of the English King, for 5 years they had slaughtered, plundered, raped and brutalised the French countryside in another's name.
"So sick of these filthy English dogs, how I hate them and love their gold." Thought Sir Stephen looking at the drunk and debauched infantry sprawled by the fire, some with women, some with men and even one bloke with a watermelon (no idea where he got that).
Then someone bumped into Sir Stephen, without blinking he had spun the man around and broke his neck. As the broken man slide to the ground a toffee voice was heard "I say, you there! Yes you, you oafish rapscallion! You just killed my steward!"
"Then you should have kept him on a shorter leash." retorted Stephen grinning.
"You don't know who I am do you oaf?"
"No, should I and call me oaf again and die."
The noble, for Stephen recognised the short, fat weasel like face, he was often seen hanging around Henry, but Stephen had never sought to find out who he was, now he started to wish that he had.
The noble clicked his fingers and the men around started to arm themselves and form a circle around Stephen and his followers.
"This don't look good sire." Good old faithful Hagwart always pointing out the obvious, but Stephen would not prefer to have anyone else guard his back.
"I am John, 3rd Earl of Warwick and I am in charge of the Hammersmith Heavy Infantry and I will not suffer, Irish riff raff causing problems in our pure English ranks."
"What event that guy with the watermelon?"
Warwick stopped for a moment and then ploughed on with a stiff upper lip.
"He is still twice the man you are!"
Evil English Pig Dog
Silence crept across the night, suddenly swords drawn Stephen and his men charged at the Englishmen!
Last edited: