Annals of the Arnungane
Part One: Daughter of Thor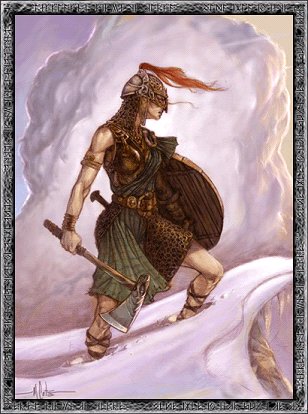 1
When Harry met Thora
​
Harald Sigurdarson was what is known in the trade as "a man of the world". In eleventh century Norway, such men were few and far between. Let's just say that not many Norwegians could claim to have fought along side Yarolsav I Grand Prince of Kievan Rus in his wars against the Poles and Wends, to have served as chief of the Varangian Imperial Guard in Constantinople and to have camapaigned in Italy, North Africa and the Holy Land. In fact there was Harald Sigurdarson, and that was about it.

The travels of Thora Thorbergsdottir of Giske had been somewhat more modest. She had travelled between the island of Giske, her family home, and Trondheim, and not much else. But in her dreams, she had traveled to Valhalla and back. Thora Thorbergsdottir was a true Viking maiden and she dreamed of the heroic deeds of old when men were men and Viking women were pretty much like men as well. She dreamed of sailing the seas in a swift drakkar, raiding, pillaging and slaying her enemies by the hundred. Unfortunately, openings for this sort of activity didn't seem to present themselves to her very often - until she met Harald Sigurdarson that is.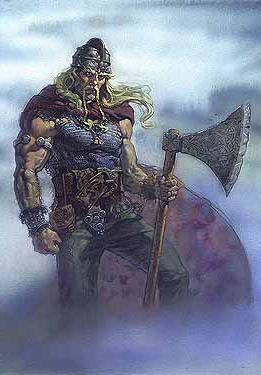 Harald Sigurdarson during one of his many campaigns​
Harald arrived back in Norway in 1046 to find his nephew Magnus the Good on the throne. As far as Harald was concerned, there wasn't much that was "good" about Magnus, the bastard son of Harald's half-brother King Olaf. Olaf had died in 1028 and Magnus had fled leaving Norway in the hands of Knud the Great, King of Denmark, England and now Norway as well. Knud is best known of course for his trip to the seaside with his throne, but despite being unable to halt the tide, he was still a fearsome opponent and Magnus had only returned to Norway to claim the kingship after Knud's death in 1035.

Harald regarded his own claim to the throne of Norway to be much more legitimate than Magnus's. Whilst abroad he had amassed a vast fortune, and he now began to spend it lavishly in an effort to win the Norwegian nobility over to his cause. It was at one of the great banquets that he held in Trondheim for this purpose that Thora Thorbergsdottir first set eyes on him. She was smitten as if by a thunderbolt.
Thora Thorbergsdottir:
Ouch!
Harald Sigurdarson:
Is something the matter my lady?
Thora:
I think I have just been smitten by a thunderbolt!
Harald:
Uh… I didn't notice any thunder. In fact we've been having some pretty nice weather recently, haven't we?
Harald might have travelled and fought all over the world but he still wasn't that imaginative when it came to chat-up lines.
Thora:
You must be the great Harald Sigurdarson.
Harald:
That's me.
Thora:
I've heard so much about you my Lord, but nothing could prepare me for this moment - a moment of destiny, surely, prepared by the gods!
Harald, looking dubiously at his wine goblet:
What did we put in this stuff?
Thora:
Take me, my Lord! Take me with you on your journeys to the ends of the earth, to do valorous deeds and to slay your enemies by the thousand. I shall stand by you in life as in death, a shield-maiden helping to guide your mighty hand to victory!
Harald:
Actually, I wasn't really planning on doing any travelling in the near future…
Thora:
Oh. What were you planning to do then, my Lord? Some other mighty deed of valour no doubt! Whatever it is, I pledge myself, body and soul, to be there at your side to serve you in whatever way I can!
Harald:
I was planning on becoming King of Norway as it happens.
Thora:
Ah! A heroic deed indeed! Yes, we shall slay the evil King Magnus and put his minions to flight! We shall…
Harald:
No, no, my lady, please! Keep your voice down!
Too late, Thora's passionate cries have drawn the attention of most of the other guests, including her brother Ogmund.
Ogmund Thorbergson of Giske, Count of Trøndelag:
What's that my sister? You want to slay the King?
Harald:
Ahem, no my lady - I don't think that will really be necessary. I was thinking more of some kind of… er - amicable agreement, actually.
Thora:
Oh. Couldn't we even slay him just a teensy bit?
Ogmund:
Now Thora, I don't think you've really thought this through, have you? You can't just go around slaying Kings willy nilly, you know.
Harald, speaking to the whole company:
There is no need for any bloodshed, my friends. Magnus the Bastard can simply step down and leave the throne to someone whose parentage is more fitting.
Ogmund, looking hopeful:
Did you have someone in mind, my Lord? We of the noble family of Giske are true-blooded Norwegians…
Harald, in a menacing tone:
I was thinking of me, actually.
Ogmund:
Oh - right…
Thora:
And then, my Lord, when you are King, you will go forth and slay your enemies by the thousand! The evil pretender to the throne of Denmark, Svend Estridsson and his worthless followers for example! They shall perish beneath the war-axe of the fearless Harald Sigurdarson!
Harald:
Um. Yes, I daresay. Whatever…
But King Magnus the Good was not willing to step down from the throne. He did realize that Harald was a threat however, so in the end the two came to an uneasy agreement. They would share the throne of Norway between them. As for Thora Thorbergsdottir, Harald couldn't seem to get rid of her, so he decided to make her his wife. It seemed like the simplest solution.

Next there was the question of the throne of Denmark. After Knud the Great's death in 1028 his son Hardaknud had succeeded him as King of Denmark. Magnus King of Norway and Hardaknud King of Denmark had then signed an agreement in 1038 that if either died without an heir, the other would succeed him. Conveniently for Magnus, Hardaknud had indeed died without an heir just four years later in 1042, leaving Magnus as King of Norway and Denmark. Or so he claimed. It was at this point that Hardaknud's cousin Svend Estridsson (whose mother Estrid was Knud's half-sister) appeared on the scene and pointed out that he should rightfully be King of Denmark and not some ignorant Norwegian.

That was why in 1047, a year after his return to Norway, Harald found himself with Magnus on campaign in Denmark, trying to get rid of Svend and his pesky claim once and for all. Needless to say, it had not been possible for him to leave Thora behind, since she threatened to kill herself if she was not allowed to accompany him. The war went well for the Norwegians, with Thora invariably being in the forefront of the fighting and Svend's minions perishing beneath Harald's war-axe, at least by the dozen if not by the thousand. Rather annoyingly however, Svend himself always seemed to get away. And then tragedy struck -after a particularly fierce and bloody battle King Magnus lay dying on the field. He called Harald to him and uttered his last request - Harald was to become King of Norway while Svend would become King of Denmark. And with that he breathed his last.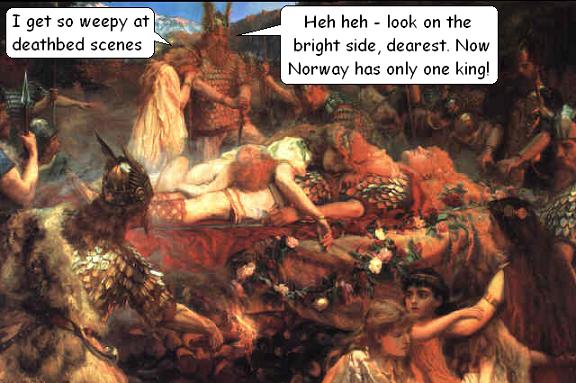 Thora and Harald mourn the passing of Magnus the Great​