presenting: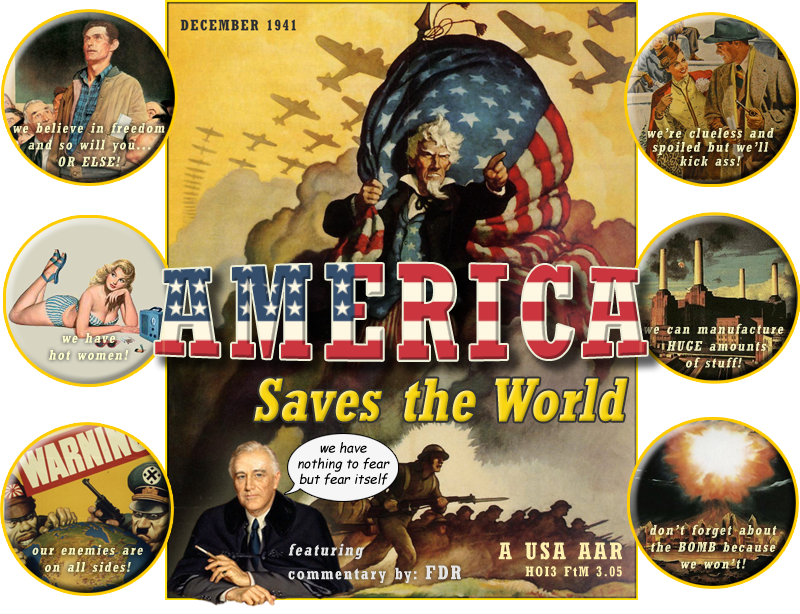 AME

R

ICA

Saves the World
USA AAR HOI3 FtM 3.05
"Democracy alone, of all forms of government, enlists the full force of men's enlightened will...
It is the most humane, the most advanced, and, in the end, the most unconquerable of all forms of human society.
The democratic aspiration is no mere recent phase of human history...We...would rather die on our feet than live on our knees."



- Franklin Delano Roosevelt in his Third Inauguration Speech, January 20, 1941
​
INTRODUCTION:
I have never played the USA in HOI3 so this AAR will serve to change that. The twist here is that I'm loading a savegame played as Germany up to December 1, 1941. I'll play using the forces built by the AI and will, of course, be building new units based on a defined set of priorities. The Difficulty setting is Very Hard. There will be no modifications used other than graphical ones. I'll follow a roughly historical timeline. To tell this story, I'll post updates in 1-3 month gametime increments (approximately). Since this AAR will be graphically intensive, updates may not come quickly. However, slowly but surely I intend to demonstrate how
AMERICA Saves the World
.
Last edited: