Contra-Vice-Double Colonel
ALONE
BRITAIN
Very Hard plus, 1936 - ?
​
War starts on page 7 if you want to skip the boring peace years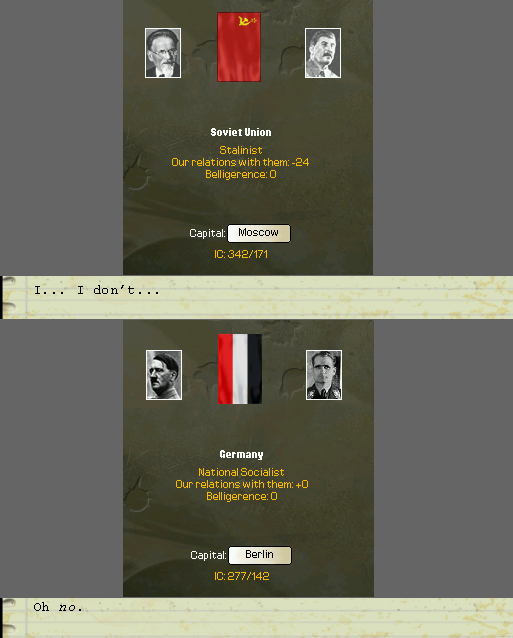 Welcome to "'Alone' – Britain, VH+, a multimedia AAR" my latest attempt at an AAR and my triumphant (read: quiet and guilty) return to AARland. As you can see, the Axis and to a lesser extent, Comintern will have big ass bonuses to hopefully result in a bigger, trickier war.
Also, the Ground Defence Efficiency has bene increased from 0.8/0.6 to 0.9/0.8, which will result in longer and thus more realistic battles.
The Allies will have no bonuses or maluses (other than France, which is a malus all on its own) but I will be RPing quite a bit to make things further difficult. I'll also actually be listening to the suggestions you lot make, which should ramp up the difficulty further
Not commenting is punishable by death.
Settings
Difficulty: VH with modifications/Aggressive
AXIS bonuses
INDUSTRY: 100%
RESOURCES: 200%
MANPOWER: 100%
RESEARCH: 50%
DISSENT: 20%
DIPLOMACY: 20%
Note: Until she joins the Axis, Italy has received 50
offmap
extra base IC and 500 free manpower.
COMINTERN bonuses
INDUSTRY: 75%
RESOURCES: 200%
MANPOWER: 75%
RESEARCH: 25%
The Comintern has these bonuses so they will actually survive longer than a week against MegaGermany (which will have at least 350 divisions by 1940)
---
I would also like to add that I was inspired to do this AAR by Kanitatlan (by his excellent Fatherland AAR with even more draconian difficulty settings) and by El Pip (for his brilliant Butterfly Effect, a superb British AAR). Thank you both, gentlemen.
And a special thanks goes to Duke of Wellington for launching me into AARland by inspiring me to write "the Kiwi Brigade".
Last edited: