I'm certain this idea has been used before, but although the nation this AAR focuses on is no democracy, I figure that a democracy among the members of this forum might make for a good AAR. So at the end of each interval, I'll give a series of options, great readers, which I want your input on which to take. Of course, feel free to present an alternative course of action of your own.
Whenever I come back to this, I'll tally up the votes, implement the winning course of action, and report back.
I'll keep my introduction brief: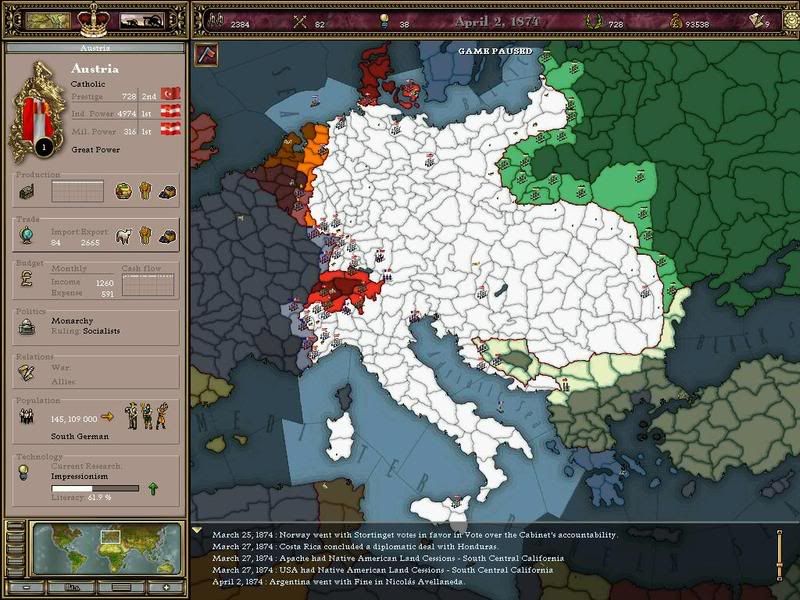 this is us.

We're number 1! We're awesome!
But growing the Hapsburg Empire into such a size- well it's caused everyone else on earth to be angry.
They're jealous of our awesomeness!!!
You see, after the Italian Revolution, we put off reconquering Venezia in order to punish the other states. Resuming an offensive against the Venezians only after grabbing land from all other Italian states. We later finished them off in successive wars of conquest.
All the world belongs to Austria! And that includes Italy!
Germany fell under the control of the Hapsburg crown after we won the seven weeks war- thanks to an event scripted by jonesy 1289 although I altered it to stay as Austria rather than to become Germany.
All the world belongs to Austria! And that includes Germany!
After solidifying our great emperor as the ruler of Germany, Austria, Italy, Hungary, Bohemia, Slovakia, Romania, Slovenia, Croatia, and Serbia- am I missing anything? Anyways, needing a way to make manufacturing more efficient, we made our ruling party socialist. Able to promote citizens from all cultures this way, we put them to work in our factories and then built more. Big powerful industry!
All the industry belongs to Austria!!!
Our bigger military grew even bigger with the backing of the bigger industry (which all belongs to Austria, mind you), and this was a necessary step given our current state of international affairs.
For you see, our big bad enemy is:

FRANCE! Grrrr! They beat us back when they still had Napoleon (the orignial). Now they've got a new Napoleon and I'm sure they'll want to do it again. In fact, they did briefly declare war against us but after losing tons of troops to our fortresses in Northern Italy, made white peace. We weren't exactly in a position to make an offensive anyways. For some strange reason they keep saying that Savoie and Nice belong to them, even though we know for a fact that we stole them from Sardinia, not France! Their military keeps getting bigger, and though we remain ahead its an arms race to keep up! We build fortresses along our borders to protect us from their aggression, although someday we may have to be aggressive ourselves.
Another big enemy:
TURKS! Grrrr! They declared war on us during the seven weeks war! We beat the pussies-er-Prussians fast and were able to turn and halt their offensive but, being busy with other things (like constant rebellions) we cut our war with them short and offered a white peace. It works for now.
A potential enemy:
RUSSIES! Grrr! We had an alliance with them on several occasions, and they were grateful that we were way too busy bullying small countries to attack them during the Crimean War. Namely, we were bullying small countries that they'd guaranteed independence to so it worked out just fine.
Lately they've been huge dicks to us! Our relations have gone under -100 and the Tzar called us names! Clearly he's jealous of our awesomeness. We consider punishing him, as our military rating is several times that of his own.
Basically the story is everyone we share a border with doesn't like us, but we're very strong. At the moment, we've got some room left for more industrialization, but not all that much as you can see from the population stats. Revolts due to events and conquests have, at long last, mostly calmed down. And with the iron railroad, we can hit them anywhere in our realm relatively fast. I say its time to conquer again!
We could attack Russia and get embroiled in a long war which we would inevitably win in the end and gain some territory in Ukraine and Poland.
We could attack the French, since they're at war with OE and are somewhat weaker, but as they still have lots of troops along the border that could turn into an ugly stalemate.
We could attack the Turks since they're at war with France, and we would certainly win and gain some more Balkan territories.
I suppose we could attack Scandinavian countries as well and either take some territory or make satellite allies of them.
We could attack the low countries, again more territory or satellites.
We could conceivably attack Spain (nobody's guaranteed their independence at the moment) and bring them back into the historic fold under the Hapsburg crown as a satellite or just take some territory.
Or we could start looking elsewhere around the world: we have no colonies! Those uncivs in Africa and Asia have no idea whatsoever that all the world belongs to Austria! This would give us raw materials and let us mobilize more of our population for industry, but this might bring us into conflict with the British, who have a way bigger navy than us.
People of the forum, what shall we do?
1.Attack Russia for territory!
2.Attack France for territory!
3.Attack Ottoman Empire for Territory! Don't forget they were once at the gates of Vienna!
4.Attack Scandinavia!
5.Attack the low countries and take some territories!
6.Attack the low countries and make them satellites!
7.Attack Spain and take territory!
8.Attack Spain and make them satellites! The French would never raise the banner of war against us on two fronts!
9.Go gettem colonies! Gettem resources and bring the banner of our emperor to Africa and the Far East!
10.I'm a sissy and don't want to attack anyone, even though all the cool kids do it.
11.Have you forgotten about Switzerland? Seriously, they're just sitting there waiting to be conquered! What if France gets to them first? Then your fortified lines on the French border will be worthless!
Alternatively, give me another course of actions, I welcome your input!