Preface:
Hello Everyone,
I've lately been having the itch to knock out the achievements in the game and figured I make some AAR's to go along with them where interested people can follow and maybe give me some idea / get some ideas on their own.
I'm going to start this trip doing "Iron Crown" achievement, which requires a Lombard cultured ruler to basically hold a Kingdom or Empire title past 1300.
Along the way I'm hoping to also knock out:
Prester John
: As a Catholic, have a border with Miaphysite Abyssinia
Saint Thomas's Dream
: Rule an Indian Kingdom or Empire as a Christian and convert all its provinces
Seven Centuries
: Play from 769 to 1453
along with some other minor achievements
Bookmarks (should read preface first if new):
01/01/757 - 01/08/790 King Desiderius
Chapter I: Re-Appropriation and the ADN
Chapter II: A Dream of Democracy
Chapter III: Justice of the Victor

01/08/790 - 12/14/811 King Adelchis 'the Hunter'
Chapter IV: The Cripples Peace
Chapter V: The Hunter's War
Chapter VI: A different kind of War
12/14/811 - 05/23/849 King Korashy 'the Good'
Chapter VII: Against Heathen, Heretic, and Infidel
Chapter VIII: Can you Spot the Bug?
Chapter IX: The Fires of Bavaria
Chapter X: Observing God
Chapter XI: The King and the Pope
Chapter XII: Family Matters
05/23/849 - 09/15/851 King Korashy II 'the Cruel'
Chapter XIII: The things you can do in two years
09/15/851 - 07/09/898 Kaiser Adelchis I 'the Just'
Chapter XIV: Hands to the Heavens
Chapter XV: Faith is mostly Politics
Chapter XVI: Chaos in the East
Chapter XVII: West vs East
Chapter XVIII: Jerusalem, you holiest of Cities!
Chapter XIX: The Heir of Rome
Chapter XX: The Kaiser's Vow
We'll start the game as King Desiderius of Lombardy (note: I thought I had to hold Lombardy and not any kingdom I choose, so I figured might as well do it as old Desi), who the Lombard cultured King of Lombardy (Italy). We start the game pretty old already at the ancient age of 52, with 5 adult daughters and an adolescent boy who is also our heir.
Not the best stats, Diplomacy is okay, but low for a Grey Eminence, Marshal is abhorrent, stewardship is decentish but nothing great, Intrigue is pretty good, learning bad (but who needs learning).
Traits are also not that great. Lustful is useless, I want to avoid more kids, Cruel is always bad, so is envious.
Usually I would have restarted this as traits and stats of both the ruler and the heir are random, but our heir Prince Adelchis actually has some decentish stats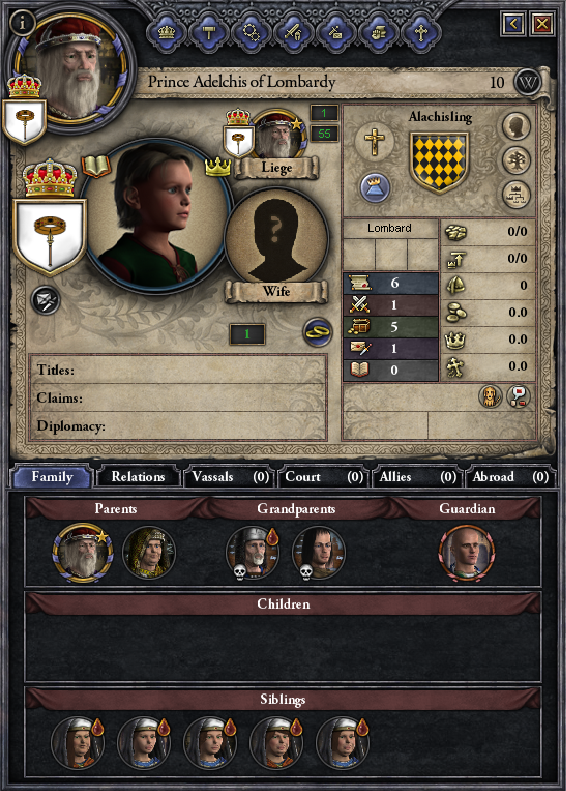 Prince Adelchis has some fairly high Diplomacy and Stewardship and traits Trusting (not good) and Honest (decent). With a Marshal education he will most likely turn out to be an acceptable ruler.
Besides our young prince we have 3 unmarried daughters to marry off.
Princess Dauferada is married off to the Strategos Lucio of Sardinia
Note: This turned out pretty useless, if I was going to start over I would have married her off to someone in my realm probably for the + opinion.
Princess Anselperga is married to King Ciniod II of Pictland
Note: She's actually the best daughter that I got, I married her off for the Prestige, the alliance itself is useless as her Husband is too far to aid me.
Princess Gerberga is married to King Karl
Note: Her stats and traits are pretty bad, she's also lustful which means that she'll be popping out bastards soon enough. Take that Karl. (Karl is always hit or miss, I want the alliance in case he goes full on Charlemagne, while also gimping him statwise a little bit).
The other two daughters are already married to the Duke of Benevento and the King of Bavaria at game start.
I decide to try and become Exalted Among Men and also pick up the Hunting Focus for the extra health and Marshal, which are both desperately needed.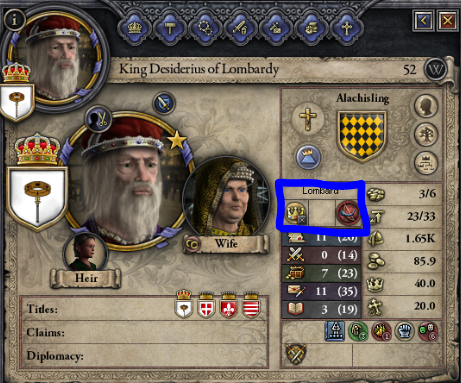 REALM SETUP

Let's talk Realm and Demesne for a bit:
Personally we hold the Counties of:
Pavia (our Capital and the de jure Capital of Lombardy)
Cremona (inside of the de jure Duchy of Lombardy, in which our capital is also located)
Firenze (part of the duchy of Tuscany)
The game starts us of with 5 duke level vassals and a bunch of counts:
Duke of Fruili
This guy actually holds none of his de jure vassals and his 2 counties are in the de jure duchy of Carinthia, which doesn't yet exist nor can it be created at game start. This guy seriously hates our guts because of 4x desires control of X province opinion modifier which is -25 a piece. I could remedy this and make him love me by transfer vassalage, but I'm reluctant to do that as it would create a very powerful vassal (he will immediately revoke the capital county of his de jure if I transfer it, giving him 3 provinces and 3 vassals)
Duke of Tuscany:
Minor player really, he dislikes us because he wants Firenze, which is currently in our demesne.
Duke of Spoleto:
Also technically a minor player, he holds his de jure duchy + has Ancona as a vassal
Duke of Ivrea:
Minor player, holds his de jure minus Monferrato (for which he hates us) + Nice
Duke of Benevento:
Now this guy is a real problem, he's easily the most powerful of our vassals and much more powerful than me even. He holds all territory in his de jure Duchy + 7 vassals in the kingdom of Sicily (basically everything not controlled by the Byzantines). Luckily our daughter is married to this guy and he loves us (100 opinion) due to our alliance.
Situation: This is looking pretty grim, due to my 0 Marshal I can only raise a few hundred levies, which makes everyone of my dukes stronger than me, even the technically minor threats are problems.
We desperate need to increase our demesne, even though we won't get that many troops from it (-40% for low Marshal owner), so we start the game how every good CK2 game should start off: Assassination
If we manage to succeed in our plot we will inherit the county of Lombardy, a 6 holding county in our de jure Duchy of Lombardia, besides the regular city and temple vassal it also comes with one extra baron, which is why we are desperate to get our hands on it.
Will our sinis.... righteous plot succeed? Will Desiderius live to see his son come of age? Is the Duke of Friuli hatching some kind of fiendish devilish plan? Find out in the next episode of Iron Crown (without vikings).
Last edited: