Managing / Game Director @ Triumph
Paradox Staff
16 Badges
Hello there! In an
earlier diary
we took a look at the structure of the World Map with its sector System. Today we're going to explore the world map a bit more, and take a look at some of its new systems and locations, especially the ones relevant in the early game. You'll see there is plenty of danger lurking in the worlds of the Star Union.
Note the Yellow Scanner Markers in the Fog​
Scan Range
We have added a new means to explore and surveil the world map. Next to Vision Range, your empire's units and structures project a Scan Range which allows players to detect units in the fog without disclosing all of their details. This system helps you set scout targets, as structure guards are detected by this system (which show up as yellow), but most importantly it detects enemy and NPC marauder stacks (which show up as red). This acts as an early warning system. AoW games always had long movement ranges compared to vision ranges; so you often got attacked out of the blue, scan range make this more balanced. Scan Range can be increased and can be made to disclose more information like which player or faction owns the detected stack through research.
Vanguard OWL scout kitted out with mods. ​

Pickups with Bonus Events
Your scouts will be on the lookout for pickups, which may be both defended and undefended. As you would expect, there are pickups associated with all resources. In Planetfall we added something new, sometimes a Pickup will spawn a bonus event in addition to its standard reward. These bonuses include items, map locations, units, and there are events affecting relations with NPC factions. Of course, all these events and bonuses are themed around the main resource.


NPC Faction Bases
Soon enough you'll meet sectors occupied by one of the NPC (Non-Primary Combatant) Factions like the Autonom, Growth or Paragon. These NPCs claim sectors using bases, like players do. For you to claim a sector you'll have to remove of the base through friendly of unfriendly means. Be careful not to make too many enemies though, as Bases will Spawn raiding stacks of that faction if relations turn hostile. These spawns are associated with Events, so players will at least receive a warning before angry groups of monsters start attacking them! NPC Faction Bases look like mini-dwellings, feature unique combat maps and are removed from the map when conquered. We'll discuss Dwellings and NPC interaction in a later dev diary.
Intelligent Plants block our expansion. How do we deal with them?​


Marauder Bases
Of course, Planetfall also includes monsters that cannot be negotiated with. It is of vital importance your scouts map out Spawners locations before they start eating your colonists. A typical marauder is The Hopperhound. A giant locust that can jump great distances and rip through armor.
Hazards
The destruction of the Empire left many marks on the planets you will explore, with some sectors filled with hazards that make settling unattractive and exploration dangerous. Hazards come in multiple types (Nuclear Craters, Void Rifts, Bio War Residues, ets), and drastically debuff both economic output of sectors and units positioned in them. Hazards originate from crater locations and can be removed after researching Hazard Removal Technology.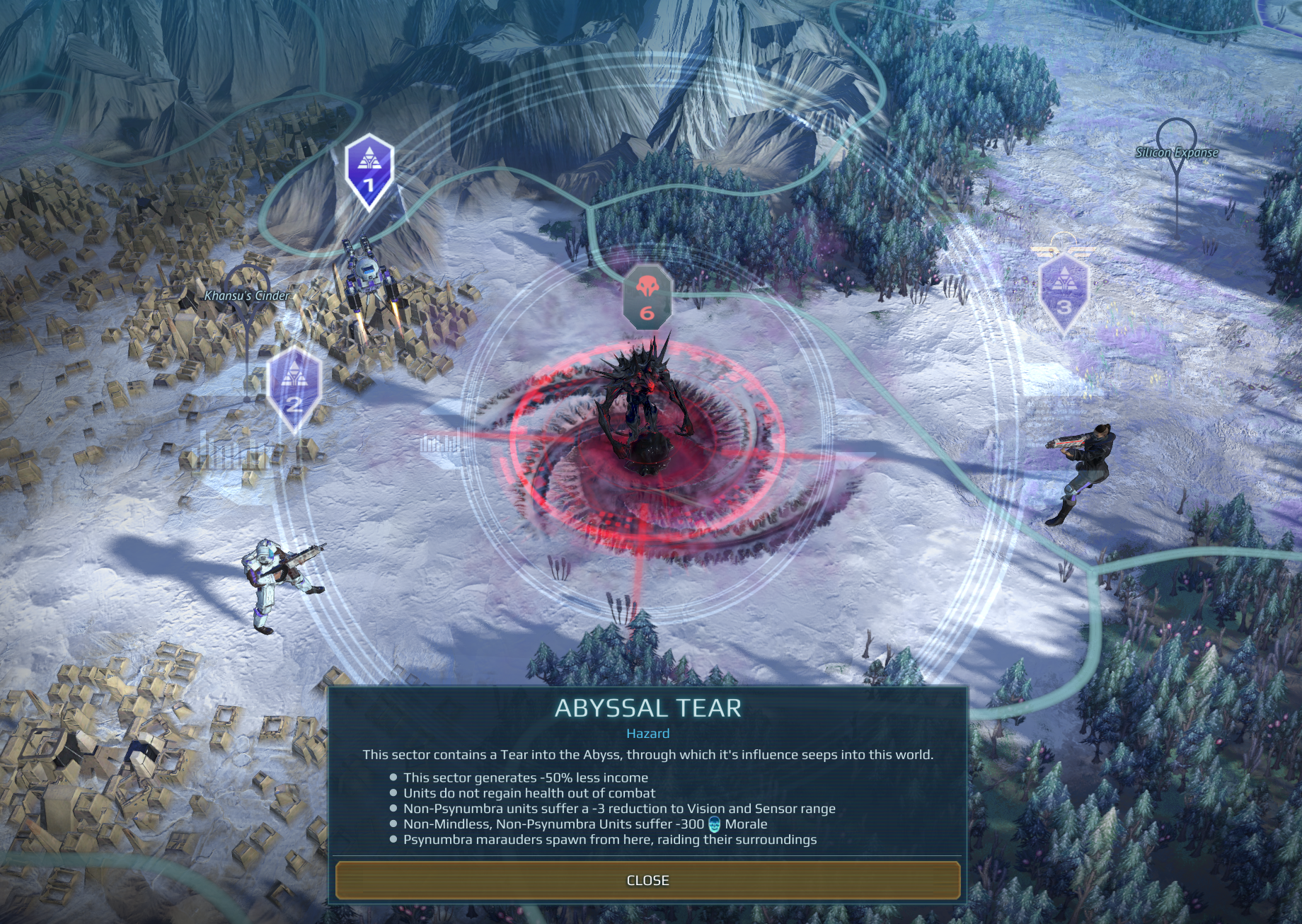 This particular Hazard is extra nasty as it spawns units ​
So you might have to hold off claiming hazard-struck sectors until you have the necessary technologies. Late game, after you have rebuilt a society from the ashes of the Star Union, you will be able to unleash powerful world map operations that can spawn new cataclysmic hazards of your own. War ... war never changes.