Hello! Today I will be talking about the Shakarn, the new faction that is preparing to conquer your worlds in our latest expansion, Invasions.
Lore:
The Shakarn have waited at the edges of the Star Union for the perfect moment to strike. They prepared, researched and stole the Secret Techs the Star Union had produced and made them their own. They infiltrated their societies and researched the tactics and cultures of the human and insectoid races.
Their own society is divided into three castes. The Domok are single-minded brutes whose function is to go into the front lines and wreak havoc, while the sleek and coldhearted Zardas supports them from the back lines, with their expertise in stealth, infiltration and calculated moves. Both these castes are products from the conditions their eggs are kept in while they mature.
However, in rare occasions when these factors are balanced, a member of the Gama caste will be born. They are a combination of the Domok and Zardas and bring to the table the best of both, making them the perfect leaders for the faction.
Conceptualization:
The Shakarn are an expression of the dystopian Illuminati trope, lizard people included, mixed in with the brutality of Orcs found in many fantasy and sci-fy settings.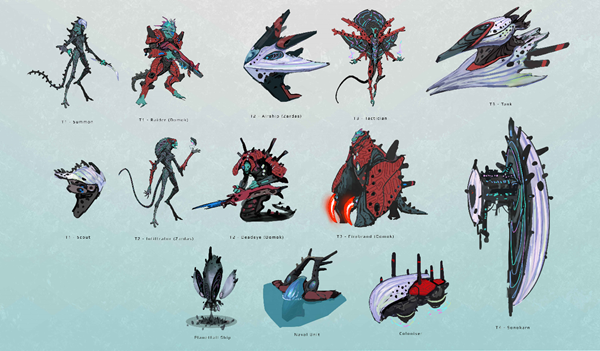 Gameplay:
Like their castes, their gameplay revolves around a healthy mix of brute force and covert techniques. They have special operations that allow them to spread disinformation on enemy cities, and doctrines that allow them to pillage more from colonies while razing them faster.
The Shakarn utilize a new source of kinetic damage: Sonic. They can project high frequency sounds that can damage living and other materials. Their other weapon group is Lasers, but with a twist. Their laser units use a mixed damaged channel called Omni, which combines Lasers and Sonic, benefiting from mods from both Tech Trees.
Another cool mechanic is their use of holographic broadcasts to control and assure their own population. Colonies with a Broadcasting Tower benefit from these sustained operations, which grant strategic and tactical effects. For example, Motivating Broadcasting, increases the production of colonies while providing a Morale bonus to units within the colony's domain.
Units:
A lot of the Shakarn units benefit from a rapid metabolism, Epimorphic Regeneration, which allows them to rapidly regenerate a small portion of hit points when they take damage in battle. But while their bodies can repair themselves, they aren't so good at resisting Status Effects, represented by Xeno Debilitation, which decreases their Status Effect resistance by 2.
Another really cool thing about their units is that all ground units are considered to have amphibious movement, as the Shakarn deep understanding of hard light and holograms creates platforms for these units to walk on. This allows the shakarn to reach islands and other continents faster than the other factions.
Units - Deadeye:
One of the ranged heavy hitters from the Shakarn Domok caste is the Deadeye. A Tier II heavy infantry unit that can use it's Omni Perforator to penetrate enemy armor in a powerful 3 hex line attack! Their special Deadly Overwatch allows them to kill incoming units trying to break your lines with a special +15% Critical Hit chance and Accuracy.
Units – Propagator:
The Propagator is the Shakarn's Tier II flying unit. It is not a very powerful offensive unit but with its special passive, Propagation, it can project any active Broadcasts to the battlefield, granting units in its stack the same tactical bonus from the Broadcast.
Units – Tactician:
A Tier III Zardas Shakarn, the Tactician, is a master of controlling the battlefield by using Press the Advantage to grant Action Points to other units and pulling units from danger with Fallback.
Most importantly, it can use One of Us All Along on an enemy Infantry unit to reveal that all this time, one of their number was a Sleeper Agent. The unit takes damage, and Sleeper Agent appears next to it, ready to strike with its powerful Reverbing Daggers!
Unit – Refractor:
The first Gama caste researchable unit is the Refractor. This artillery unit is peculiar, in that it first wants to gather stacks of Ebb from its primary attack by striking at enemies, which then buff its Sonic Flow ability. This ability is normally a single hex knockback but with each stack of Ebb, gains a radius and damage bonus. This stacks up to two times in which case the ability becomes a 2-hex radius AoE!
Units – Sonokarn:
Their Tier IV is the ultimate expression of Gama caste supremacy and Shakarn technology. Their Omni Beam is normally a 3 hex long line AoE, but given the chance to use its Omni Charge, it becomes a 6 hex long and 3 wide line that can obliterate any that challenge the Shakarn on their quest to conquer the Union's planets.
This is what I wanted to show you on our new faction, the Shakarn. There's more to discover about these strange reptiloids in-game, from units, mods and their own campaign missions. I hope this post has piqued your interest and I can't wait to see you all play our new expansion, Invasions, on the 26th of May!