Prince of Gameplay
1 Badges
The Star Union is full of mysteries, and as you deploy your armies over its planets you are treading on the remains of a billion lives, each with a story to tell. Until now, those stories were only visible in glimpses, a skeleton lying by a locked door, or a quote from a long dead scholar in a research report, but with the new Revelations expansion, those stories are ready to be told as part of a new feature called Anomalous Sites!
The smallest class of anomalous sites can be found by scouting the map, represented by glowing purple columns:
In order to start exploring the site, you will need to deploy a hero to it. This hero needs to remain on the site in order for it to progress, though the hero and any units that accompany it will gain XP for every turn they are there. Since clearing sites can take several turns, it's usually a good idea to wait for your second or third hero to appear, so you can keep clearing the map with your main army.
SPOILER WARNING! This post will now starting detailing a complete anomalous site story as well as hinting at the content of another one. If you'd rather be surprised in game, then read this SPOILER FREE VERSION instead!
Let's see what happens when we move on to this site with our Amazon Hero:
The message that we see here is generic, it mentions a sand bank because we are in an Arid sector, in order to find out what is actually buried here we'll need to dedicate several turns to clearing the sand (later on, heroes can gain a skill that reduces the duration of these timers)
It seems we have discovered some sort of Celestian Relic! Since this relic is Psionic in origin, and Uljana's secret tech is Void Tech, she can only make limited use of the knowledge that she finds here. If she had access to one of the Psionic tech groups (Celestian, Psynumbra or Psionic Weapons) she would most likely gain a whole tech for free from one of those groups!
Being a rather straightforward person, Uljana immediately assumes that the relic belonging to a sect dedicated entirely to peace and love must be some sort of weapon, and gains an option to try and make it. This option only has a 50% chance of working, however, and if we fail we'll probably only get a fairly crappy reward.
Of course, if we were to show some restraint and truly try and contemplate the real meaning of the priceless treasure we have found then… Oh, who am I kidding, GIVE ME THE GUN!
A hammer works too! If our craftsman had screwed this up (a 50% chance) then we'd have had to make do with some energy instead.
We have successfully reforged a symbol of peace and unity into a unique flaming hammer of doom that does AoE damage on hit! All hail the Amazon Empire!
But what if we had been a different person? A calmer, less blood thirsty person? A person capable of showing some patience for once in her damn life instead of storming ahead like a bull in a china shop without listening to input from anyone else.
Our calm meditation is rewarded with the true history of the relic, which was rescued from a Psynumbra raid on a Celestian temple. The relic is also transformed into a Sun Shard world map structure that provides some nice benefits to any colony attached to it.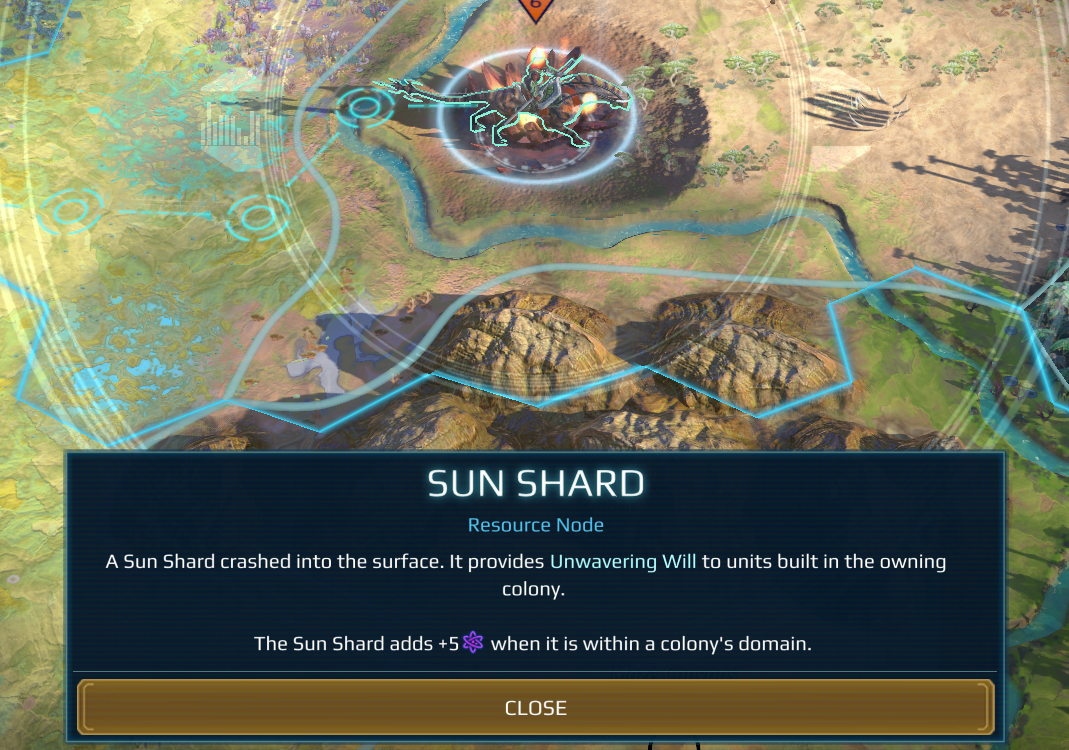 Unwavering Will grants immunity to all Psionic Status Effects. Handy stuff! We've also gotten a unique hero trait as a reward for our patience:
This is a permanent, unique buff for this hero. If we could find a psionic weapon, then we could honor the memory of the Sun Shard by using its gift to rain terrifying, mind rending doom upon all who dare oppose us.
But what if we had been yet another person? A truly despicable person? The type of person who not only charged ahead without listening, but did so in your car with the dog on the back seat and crashed it into a tree and claimed it was all an accident and really, wasn't it your fault that your cheap ass insurance didn't cover third party damage?
I'm talking of course, about the Psynumbra. If your hero is of a particular race of secret tech, then survey sites will often give special unique options for extra rewards.
So Mittex is such a vile and awful person that she would simply crush the artifact without a second thought! Let's see what happens…
Ha, in your face do gooders! As a reward, we gain a special property granting us extra damage against the filthy forces of the Celestian order.
As mentioned before, small sites like this are found by simple scouting. Once you have cleared 2 small sites, a medium or large site will be revealed for you to explore. This site is invisible to other players, though they will find it if they attack your hero while they are clearing it. The larger sites contain more phases, bigger rewards, and darker secrets. You can learn the history of the endless wars between the Growth and the Xenoplague, or the terrible secret behind the Hopperhounds' juicy, succulent legs…
The Revelations expansion contains around 30 of these sites, and will be available on November the 19th! Who knows what secrets you will reveal?
Last edited: