Managing / Game Director @ Triumph
16 Badges
Hi there! In this week's journal, we take a look at Planetfall's Covert Ops and Doctrine systems. The end of the year is a time of reflection; a time to remember the game systems that did not make it. I'll describe two failed operation prototypes for your entertainment at the end of this journal.
Covert Operations
Covert Operations allow non-warring players to interact by scheming, spying and sabotaging – hopefully without getting caught! The main palette of operations is shared between players and work closely with the diplomacy systems. Most Covert operations target other players as a whole rather than an army or colony
Covert operations make use of Operational Effectiveness and can also fail as a result, which will notify the targeted player of your actions. The success chance is based on how high the Operational Strength of the user is in comparison to the target's Operational Defense. The higher the strength, the better the success chance. The higher the defense, the lower the chance of succeeding and remaining undetected.
The Covert Ops are found in the bottom blue row of the society tech tree​
Covert operations are unlocked by advancing through the Operations Tech Group, and cost energy and Strategic Operation Points to prime before they can be launched. Some of these operations require more strategic operation points than you have available. In these instances, the operation will consume strategic operation points on every following turn until it has accumulated enough to be primed.
When Covert Ops are successful there is a 25% chance of being detected; for unsuccessful ops there is a 75% of being detected. This results in the target player getting Casus Belli against the player being caught.
Here are some example Covert Ops:
Fabricate Casus Belli. Uses stolen data and forgery to fabricate a casus belli, justifying war against this player
Sensor Jammers – Disable the target's player hidden unit detection for 5 turns, meaning they will only detect concealed units that are adjacent to t their own stacks and structures, it also means your armies will not appear on the target's player long range scanners.
Internal Purge: Attempts to identify and remove any enemy covert operations affecting you.
Sabotage with Locals: Attempts to damage the relation of target player with one of its NPC factions
Steal Map: Steals map data from target player, revealing area they have explored.
Falsify Atrocities. Expertly falsify grievous war crimes committed by the target player. Target player loses reputation, giving all other players a maximum level of casus belli against that player.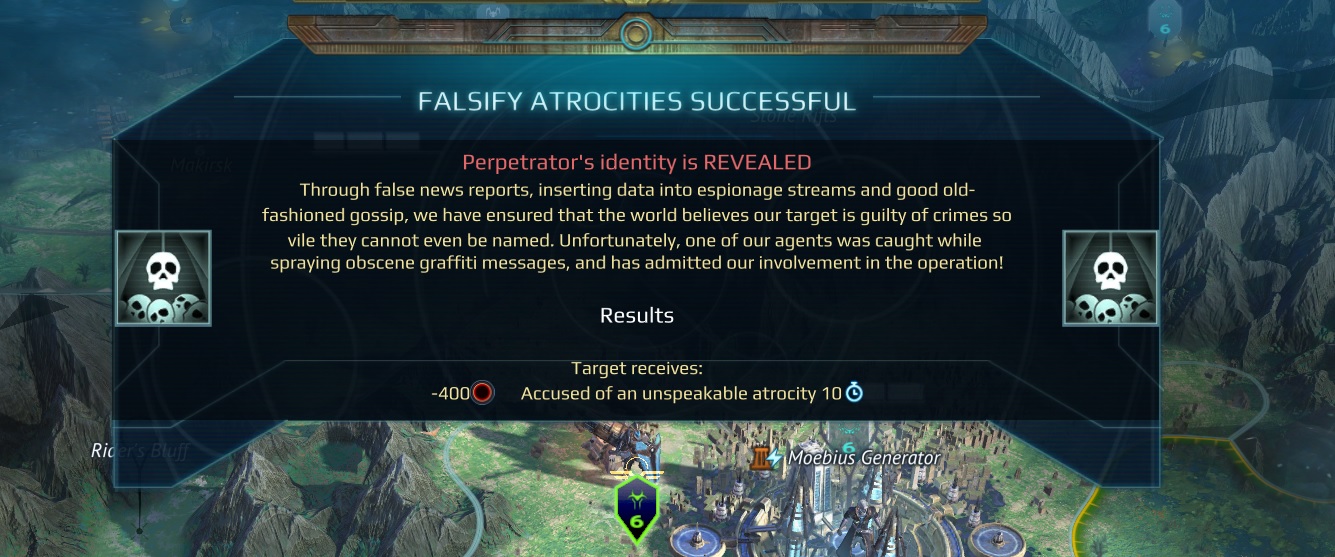 Doctrines
Doctrines are sustained operations that have a global effect on your entire empire and steer your empire's military and society as a whole. To activate a doctrine, you must spend Strategic Operation Points and energy to prime it. Once primed, it becomes active until turned off. Every Doctrine takes up one of your Doctrine Slots and when all of your doctrine slots are filled, you are unable to activate any more until an active Doctrine has been turned off.
New doctrines can be obtained by: Researching the Doctrine Tech Group Buying them from NPC Factions Annexing gold and silver Landmarks.
Doctrine Slots
Doctrine Slots are used to indefinitely sustain Doctrines. Every player can acquire several doctrine slots, limiting the number of doctrines you can have active at once. Additional doctrine slots can be acquired by unlocking the Empire Upgrades that grant doctrine slots, located in the Operations Tech Group.
The first doctrine techs generally unlock two doctrines, making your first doctrine pick a mutually exclusive choice at the start of the game that affects your initial strategy.
Here are the Doctrines contained in the Celestium Tech:
Karmic Amplification: Relation Gains from completing NPC Quests are doubled
Missionary Negotiators: Reduces the Influence Costs when buying things from NPC Factions.
Celestial Judgement: Not everyone can be shown the light through talking and scriptures. 15% extra damage vs Soulburned units. Additionally every captured enemy town spawns a free Celestium Light Bringer
Disincentive Prayers: Marauders will no longer make incursions into the territory of your colonies.
Harmonious Existence: Each Colony that is not of your starting race provided +50 to your race relations with that race.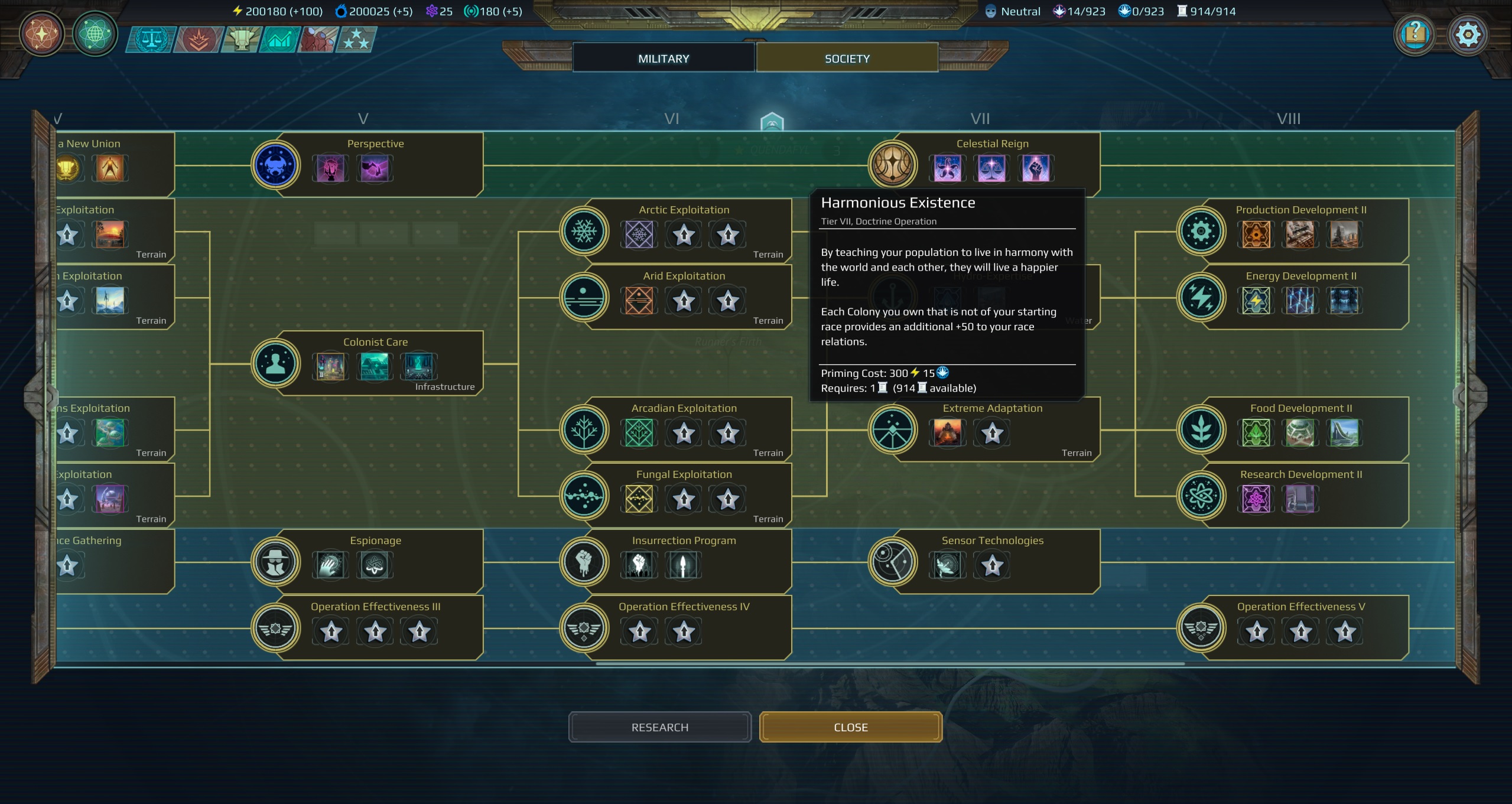 Tactical Ops
Tactical operations can only be used during combat, and will allow you to swing the course of battle to your favor by calling in damaging strikes or off-map reinforcements. Your tactical operations take one turn to prime at the start of each combat before you can launch them, and you first need to have enough Tactical Operation Points, energy and Operational Coverage.
The reason we added this one turn delay is to give units higher survivability. Some factions have researchable techs remove this one turn delay.
Looking back: The operation prototypes
The Operations system went through some extensive prototyping in the early phases of development, resulting in some shattered dreams. Maybe I shouldn't be writing this, because it will likely make some of you get excited and ask us to reconsider.
Iterations included:
An orbital layer in which satellites, death stars and strategic bombers targeted the world below. You could launch missiles to take them out, and we planned on having boarding parties that could take over space stations using TC combat with lovely space station interiors.
Another system docked special Ops units in bases on the ground ; like ICBMs, Airfields for Strategic Bombers, Psionic Sensing Units, along with defenses, and specialized attacks to take out these defenses.
All sounded fantastic on paper but resulted into massive issues once functionally was prototyped. Both the orbital layer and special operations units created a game in itself, too far detached from the core gameplay centered on ground forces. The conflict between these special ops units was abstracted and fiddly. The positioning game in the orbital layer was boring and resulted in a mess of intersecting weapons ranges drawn on the world map. The more detail we added to the system, the more we ran into thematic incompatibles, limiting what type of ops we could make.
Most importantly, the systems just introduced too many steps to launch a basic strike at the enemy, or nice little buff on your units. In our enthusiasm we forgot that most ops are meant to play mainly a supportive role and should be straightforward and flexible to use. Doomsday weapons on their own couldn't warrant a complex system like this.
Still some things survived the prototypes: the operational offense and defense that can vary per sector, the priming mechanism and the split of tactical and strategic op points. All of these improved the core flow game play. The system can be expanded in many ways, including more smoke and mirror style covert ops and who knows, may be we do something with using orbital objects in the future.
On behalf of the Team I wish you a Merry Christmas, cozy Winter Solstice a Satisfying Bacchanal or any other special thing you might be celebrating this time of year! See you in the New Year with more news!
Last edited: