Managing / Game Director @ Triumph
Paradox Staff
16 Badges
Hi there, following last week's
Dvar spotlight video
and preceding the December 6th 18:00 CET Dvar Gameplay stream we present you the Dvar development Journal.
Conceptualization
We'll be frank from the start: we wanted space dwarves in this game. As with all races, we try to find for fun angles, and of course find an origin within the Star Union. The spark of inspiration came when one of our designers came up with the race name "Dvar" it sounded a tad Russian to my ears. Why do all Dwarves seem to be portrayed as being Scottish these days? Michal (a big WWII tank nut) did the first concepts taking inspiration from the famous Russian WWII hardware for a sturdy 'dieselpunk' feel. As for their society; we made them hyper-capitalist with society organized in rival consortia. Society is Oligarchic instead of Communist. Dwarves, Russian military aesthetics, natural resources, mining, hard-ass. Everything clicked, the Dvar were born.
Some of the Dvar Unit Concepts. ​
History:
The Dvar originate from mining consortia sent out to strip worlds of their natural resources. Dvar pride themselves as being the hardest of survivors. Visitors to their home world will support that claim, as after the collapse the Dvar' were marooned on a barely habitable planet with an elliptical orbit, causing it to be scorched during short blazing summers and then frozen by eternal winters. To make matters worse, their world passes through an asteroid belt, causing a yearly bombardment of giant rocks. This environment made the Dvars to evolve as a bunker dwelling species and see nature as something that needs to be distrusted and looted as soon as a window of opportunity arises.
The Dvar are organized in Consortiums, where each Dvar is a partner in securing their group's survival and wealth. The Consortiums are led by an upper class Oligarchy of the richest families. Although the cynical, hard-working drinking Dvar regards the rich with distrust, their sense of company community is strong. They live for the competition with the other Consortia and work hard to further their Consortium's wealth and standing.
Some pittoresque Dvar Habitats
​
Dvar Commanders and Heroes
In Tolkien lore, dwarf females are a mystery to outsiders. In Planetfall, nobody has seen a Dvar's face, as they are protected by D-VR haz-mat suits. But Dvar still express their personality. Tubular Beards and Mustaches, all sorts of Goggles defining expression, and cool head gear. Of course the suits can be further customized with furs and capes.
The Dvar Rocket Hammer is a popular hero option:
Promethean equipment is a striking combo for the Dvar. Not just for the hero, it allows them to turtle in their extra strong bunkers towards a Doomsday Victory: First strip mine a planet, when they are done - set it on fire.
Dvar Techs
Here are excerpts from the Dvar tech tree. It is themed on maximizing their resource extraction potential, and upgrading their D-VR suits with survival abilities.
DVR Operation Defense Bulwark [Colony Upgrade]: Units get Morale Bonus, Colonies get 2 Operational Defense points
Fortification Tools [Unit Mod]: Strengthens Trenches to become fortified (only destroyed by siege weapons). Heal within trenches HP per combat turn. Unit gets extra armor.
Explosive Resistant Armor [Mod]: 8 Resistance against explosive attacks. Stagger Resistance. +1 Armor.
Land Torpedo [Strategic Op]: Torpedo strikes target causing kinetic damage and slows the army's units for two turns.
Tectonic Shift. Stratetic [Op]: Spawns mountain overlays and a Geothermal Instability. (-50% Sector income, no unit regeneration. In combat Units take fire damage chance to cause burning). This is Tier IX tech.
The Dvar get their name from their Redcore DV-R mining suit.
​
Explosive Tech Group:
The Dvar is (so far) the only race to use Explosive tech group. Some of its Mods and Ops include:
Guided Delivery Mechanisms [Unit Module]: Increases range by 2 hexes, increases accuracy and damage.
Smart Payload [Unit Module]: Ignores Friends (handy in wide area of attack). Raises Stagger Impact Level.
Creeping Barrage [Tactical Op]: An artillery strike lasting three rounds, each rounds the AoE is increased by 1 hex.
Tactical Nuclear Strike [Tactical Op]: Massive Impact in wide area. Every unit in combat has a chance to become blinded.
Dvar Doctrines:
The Policies of the Dvar focus on exploitation production and fortification.
Native Displacement Act: A couple of unfortunates are not standing in the way of Dvar Progress. Influence cost to remove NPC armies is lowered.
Revised Safety Regulation: Structures built in sectors costs less energy and production
Fortification Efforts: Extra HP to Militia, Extra Armor for Turrets. Defensive Structures cheaper to make
Cosmite Collection Program: Boost income from Cosmite Nodes
Military Industrial Complex: Rushing Units is 25% Cheaper. Upkeep of Heavy Units is reduced by 50%. (Steamroll the enemy with tanks)
Chrysocracy: Colonists provide +1 prod and +1 energy if they work in the respective slots. Commander and heroes gain 20% XP
Dvar Units
Here are some of the Dvar Units card. Note we'll be showing more in next week's gameplay stream. (The Ramjet and Baron)
Prospector:
Non-flying scout. Has the ability to Prospect Sectors, which will provide energy and production.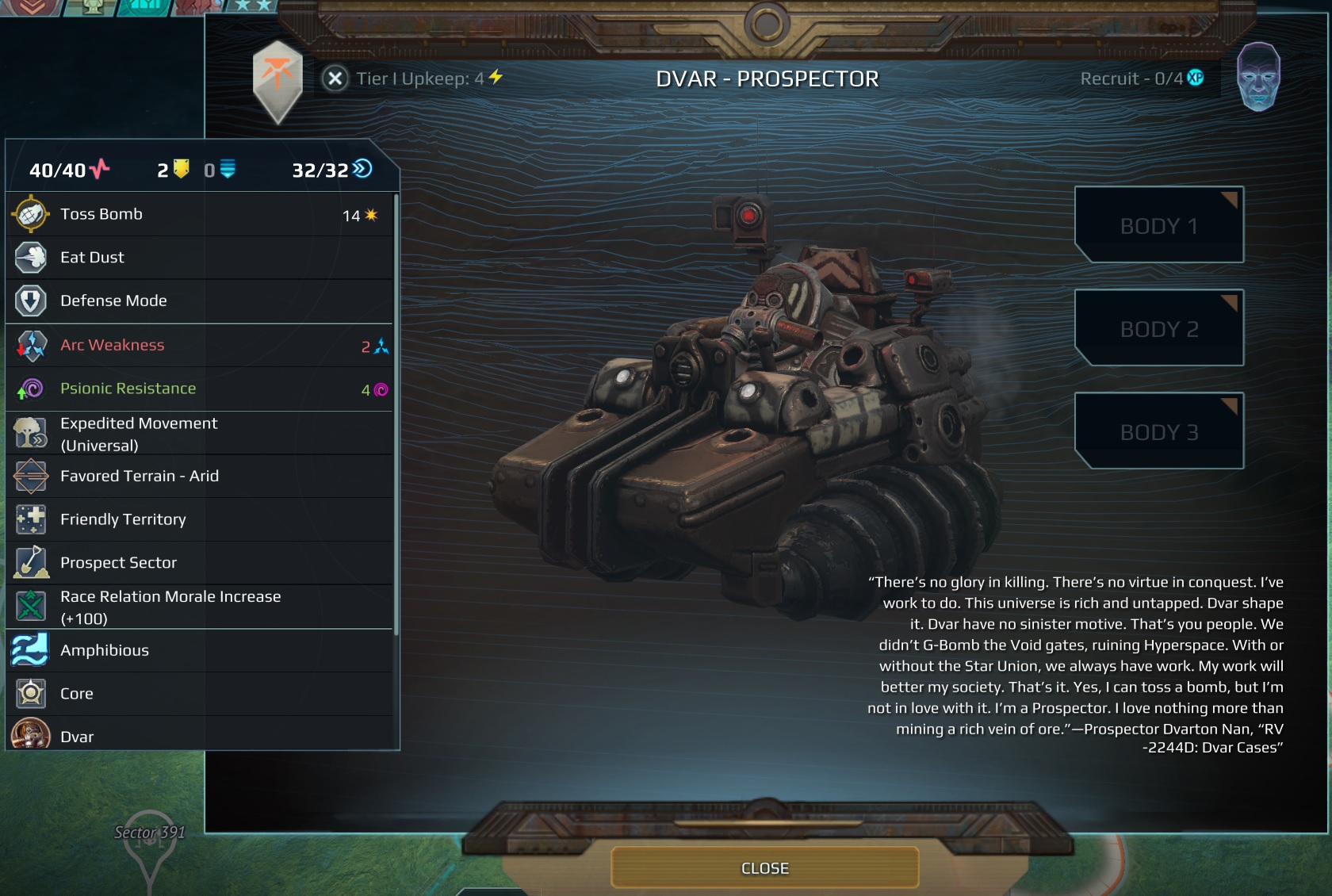 Trencher:
Spike Gun with a Shield Bash make for a great storm trooper.

Foreman:
Can incentivize troops as well as lob grenades with its portable launcher.

Sapper:
Can reposition using tunneling. Seismic Charge staggers unit.

Excavator Tank:
Can bash enemies.

Bulwark:
Mech with Unlimited Overwatch. Poor Kir'ko.

Rocket Artillery:
Lay wastes to a large area. The payloads of the rockets can be upgraded in many ways.

Earth Crusher:
Industrial complex on wheels. Can crack the earth open for researches, but turns it into badlands.
Dvar Gameplay Summary
The Dvar value industriousness and efficiency above all other virtues, and their gameplay style reflects that. They specialize in rapidly producing infrastructure and armies, and making the most of their environment. Their Prospector scouts are equipped with tool that allow them to gather resources from the wilderness as they explore, sacrificing exploration for more profits.
The Dvar's history with heavy industrial machinery has led to the development massive war machines, making them an ideal choice for a more warlike approach to the game. Their terraforming abilities allow them to cause havoc to the economies of enemies, while they have early game tech to adapt to Badlands sectors themselves.
Although not particularly suited to diplomacy, their experience of dealing with the natives gives them bonuses for peacefully removing them from valuable resources on the map.
The Dvar's industriousness makes them a great match with Doomsday Victories.
The Dvar favor a straightforward approach to combat, with heavy armor and the ability to create their own cover giving them a deliberate and defensive combat style. On the offensive, the Dvar have access to the unique explosives weapon tech, specializing in dealing damage over a wide area. For more focused damage, the Dvar rely on firearms, and when all else fails, simply crashing their vehicles into their unfortunate targets.
Thursday Next Week: Check back for the Dvar Gameplay Stream – we'll have things the Ram Jet, The Baron Dvar Units, and
likely
some Synthesis and Autonom. Mark your agenda: December 6th 18:00 CET / 12:00PM EST
https://www.twitch.tv/paradoxinteractive