Managing / Game Director @ Triumph
16 Badges
Hi there! and welcome to the first Age of Wonders: Planetfall development journal. From here on, the team at Triumph will be giving you weekly updates on our progress and revealing details of the game along the way.

Join us at the Paradox Forums:
First a request to the AoW3 community: we kindly ask you to join us here on the Paradox forums, as the old Age of Wonders ones will be closed down later this year. This way Triumph can spend more time making games and less on fighting spam-bots.
Please create your account here
.

Inspiration:
By Gandalf's beard - A sci-fi Age of Wonders? Yes - It's been a long-standing wish from many of the team to do something with our love of sci fi: Starwars, Dune, Fallout, Starship Troopers have all been an inspiration in one form or another. We feel our beloved war-focussed 4X game formula is a great fit for sci-fi themes - and futuristic weapon arsenals. At the same time, nothing gets the creative juices flowing like a new setting.

Premise:
As one of the heirs to the shattered Star Union, you emerge from a cosmic Dark Age to craft a new future for your people. You travel to one of the many lost worlds of the old empire, where you will find marvels among the remnants of this once great civilization. You will need to develop / rediscover technologies and social doctrines for your colonists to thrive on these hostile worlds, for you are not alone here. Other houses compete with yours to rebuild the Star Union, and you will need both a carefully crafted arsenal, and a firm grip on diplomacy if you are to have a chance at victory.

Our Goals:
Build a new setting filled with lore and new gameplay opportunities.
Transform the melee centered fantasy battles to new ranged sci-fi clashes with cover, overwatch and destructible terrain. Hit chances are back. It's familiar and vastly different at the same time.


Develop Planetary Empire building: Compared to AoW3, we want to added new layers of depth to the economy and diplomacy systems. Sessions now play on wrapping planets which are procedurally generated.
Roll out the fourth generation of Triumph's Creator Engine, which is 64 bit, has a PBR renderer and a new toolset. This allows us – and eventually you through modding – to create a better looking worlds, that contain more content, more efficiently.
There is nothing that reflects the fusion of the gameplay and the setting better than the unit line up. So here is one in pre-alpha state for you: A Vanguard Liberator with Flechette Ammo and Jetpack mods called the Screaming Eagle. How would you name this unit variant?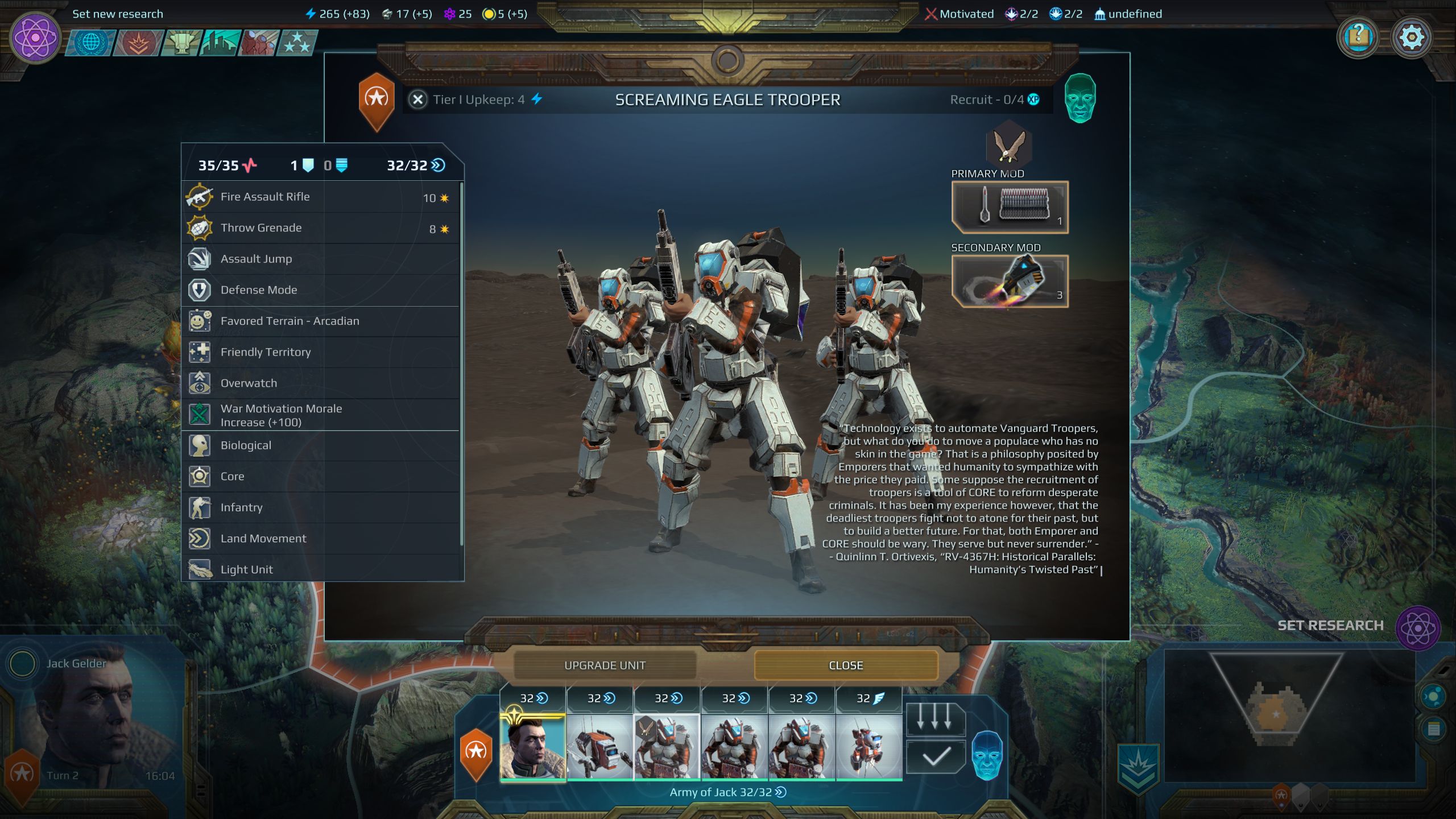 Next week we'll tell more about the setting and its central element: the galactic empire called the Star Union.