Strategy GuidAAR
26 Badges
Af-Khan-I-Stan:
The Insular Khanate
​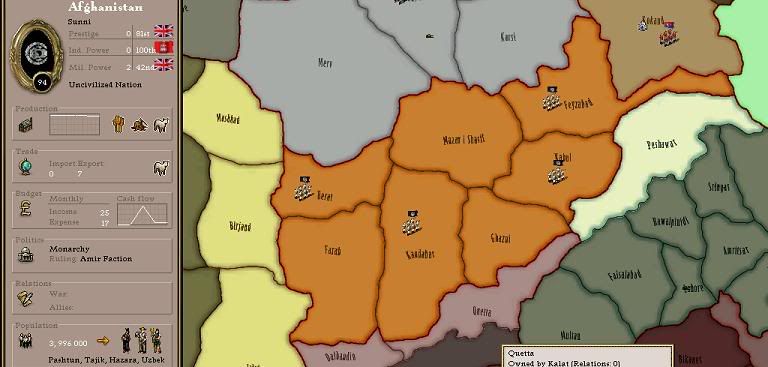 Welcome to the land of Afghanistan -- or Af Khan i Stan as I believe it would once have been said and interpreted. The land of the Afghans. But I believe also it must have at one time referred to the Khans. These points of ancient history are sometimes obscure.
The version will be VIP 0.4B. This is my first VIP game, and I'm looking forward to trying it out! Settings are middlish or normal (I figure I'll be lucky to survive in any case, why make it harder than it has to be?!).
This will be a mostly gameplay sort of AAR, with an occasional delving into history book style. I think rarely if ever will I use narrative, which is my forte (but which takes time!).
The inspiration for the mood and feel of this game (and the rather dense fog of war, so to speak) is found in Peter Hopkirk's
The Great Game
, in which he describes a very insular and not very coherent government structure. They were (and will be) aware of little beyond their own borders, and not quite understanding the concept of a nation-state as opposed to warlords of various strengths and stature.
Surrounding powers the Afghan leaders recognize include Bukhara to the north, Khiva yet further to the north, Kokand to the northeast, Kashgar far to the east through the Khyber Pass, and Punjab and Kalat to the south.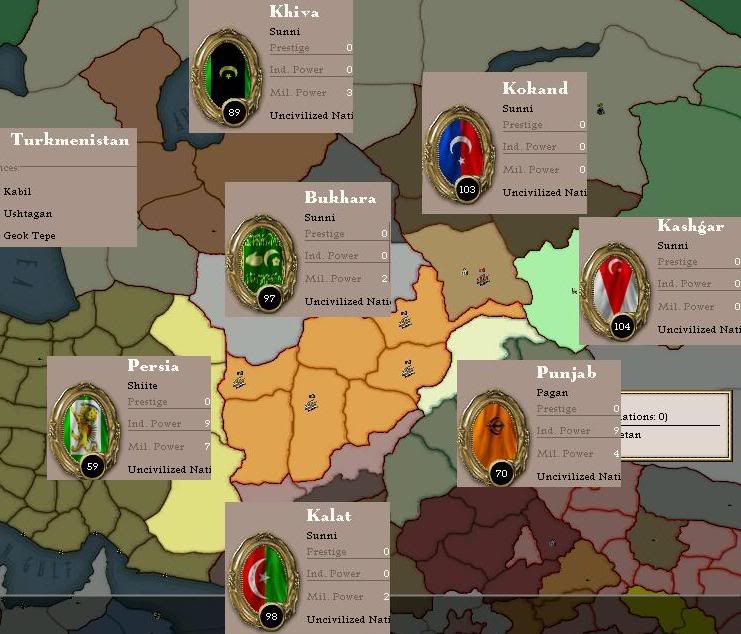 While these powers, which surround the territories of the Afghan warlords on 3 frontiers, are generally of equal or lesser strength and of occasional concern, the Kashgaris have caused the second-most worry because of the assistance they sometimes get from a powerful land to the east which supports them (China).

Then there are the Persians. If an Afghan leader wakes up in the night with an ill omen of defeat, it is usually the Persians of whom they dream.

As for the other powers of the world, they are very obscure. On rare occasions a very powerful warlord from the far north has sent an expedition to trouble the Afghan people (as well as the Bukharans and Khivans), but the idiots lost enormous numbers of men because they were not prepared for the harsh conditions during winter in the Pamir Mountains. Why they were not smart enough to travel during the summer is a mystery lost to us. But twice they have come. And twice they have died.

There is another powerful warlord with delusional boasts of having control over half the lands of the world. They appear occasionally on trade missions or diplomatic missions from the south, where they are based, in a place called India. Supposedly, they follow a woman they call "Empress" or "Queen", which is patently absurd. These are madmen.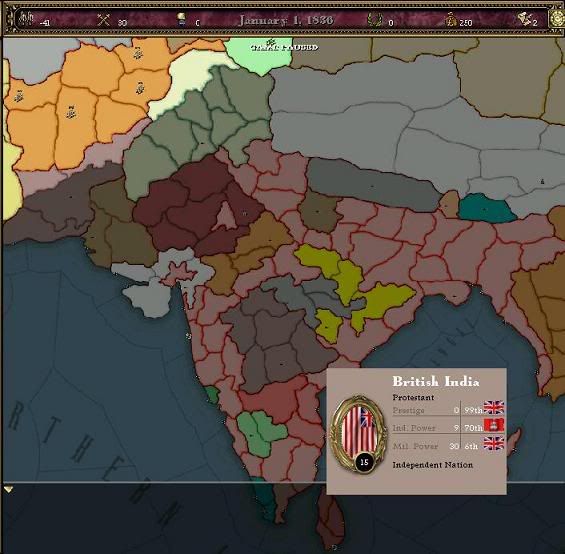 Mostly, Afghans worry about their neighbors the Persians. We are of a blood, in many ways, with the Persians. But we are an independent mountainous people, and we do not wish to be part of their vast, glorious empire. We shall have to be wary, as we build an empire from the neighboring warlords, lest we incur the wrath of the Persians and face a true threat to our existance. Then again, perhaps the Persians will be useful at times.

Temporary alliances are the way of the Afghans. Whatever serves our purposes shall be. And only so long as.

Conquest is the ultimate goal. Isn't it always? But unity between the Afghan tribes must be achieved first. Happily, unity will often come if we have an external threat to unify us. I will be happy to find some for us.
I have played a vanilla Vicky game as Afghanistan before (part of one) and seemed to have been very fortunate. Whether I can repeat that in VIP I do not know. I reserve the right to scrap the VIP game after a while and go back to the other if I feel it's likely to end in a horrible death by the 1850s.
I don't mind losing my country, but... I will have to see if I have the fortitude to lose it utterly and still write about it!
I will have pictures for you once I have time to edit them.
Thanks everybody!
Rensslaer
EDIT: Added pics, and corrected some silly geographical mistakes that I made simply because Prussia never made it to Central Asia!
Last edited: