First Lieutenant
2 Badges
What's another war? Apr 1st to Jun 30th 1817
Von Borberek takes Aarhus and now attempts the Odense crossing.
In the east the Galloper Army has arrived to find the Moldavians at Cernowitz and the Wallachians at Karlsburg. They head for Cernowitz. Other troops should arrive in theatre soon.
Von Borberek makes it to Odense brushing aside a unit of Danish cavalry before laying siege to the town.
On the Algerian border our envoys are once again rebuffed by the Moroccans.
The British make a continental landing.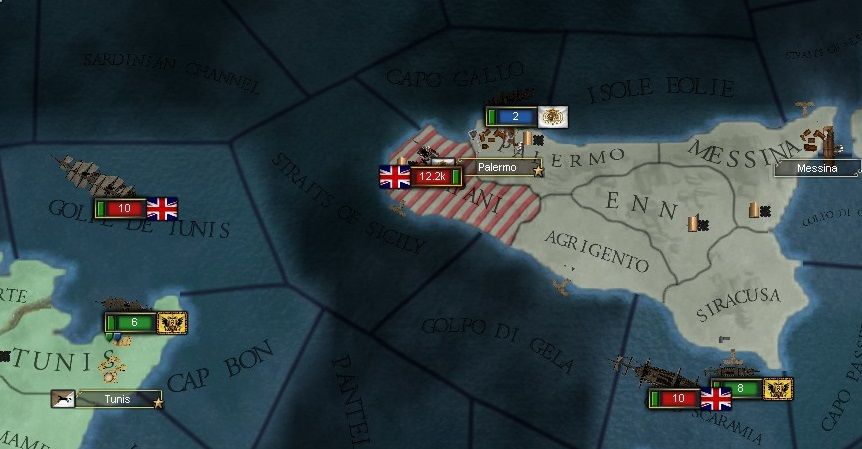 Von Bellegarde begins the long march to Sicily.
Karl's army crosses the Moroccan border and lays siege to Spanish Melila.
Von Wurtemburg who was heading for Ceuta, marches into the sandy interior to counter Moroccan movement.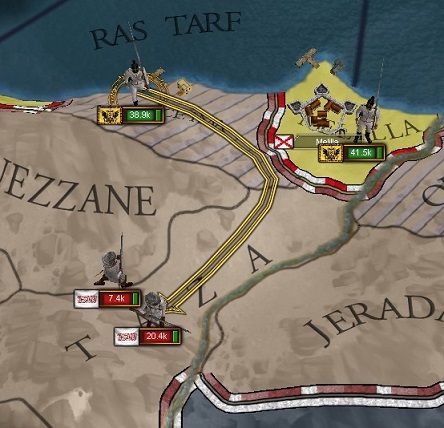 A lone British transport is spotted, it proves to be an ambush!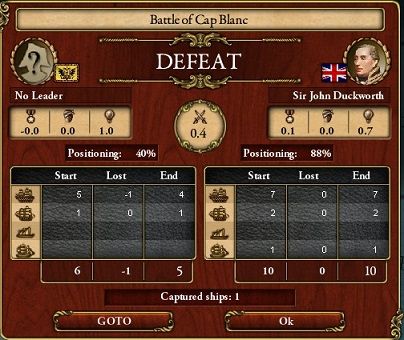 At Taza von Wurtemburg drives back the locals.
In the east Kollowrath-Krakowski overruns the Wallachians at Karlsburg and marches for Plevne.
Josef's troops reach Kutlofca and begin a siege.
Von Wurtemburg reaches the Moroccan capital of Fes. After defeating a local mob the army is split with half staying to lay siege to the city and half pushing west to invest Tanger. The Moroccans repeatedly attempt to break out.

Kollowrath-Krakowski's army splits in two to lay siege to both Plevne and Rushuk.
The Galloper Army is in Moldavia waging economic warfare. There appears to be building work in each province there, the army gallops across the land laying ruin to them all.
We adopt the Army Corps idea.
Frederica falls.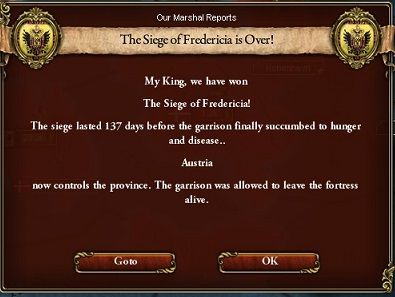 Odense falls when von Borberek makes a breach in it's walls.
Denmark capitulates.

After only 40 days of siege Kutlofca surrenders.
Construction begins on a depot at Kiel.
Civilised development begins at Warschau.
Josef reaches and storms Filibe.
The British land in Holland. With plenty of warning a reception is prepared.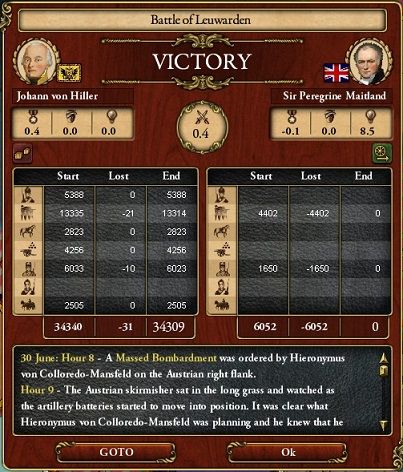 Another transport appears and starts to disembark troops, von Hiller awaits their arrival.
Plevne surrenders the leaderless troops move east to lay siege to Silistre.
Out of nothing more than spite and revenge the empire continues to grow. If Denmark had stayed out of matters that didn't concern them we wouldn't have ended up with territory that far north.
On land we work on the principle if we can reach you, you will suffer. On sea we just have to suck it up and take our beatings in silence.