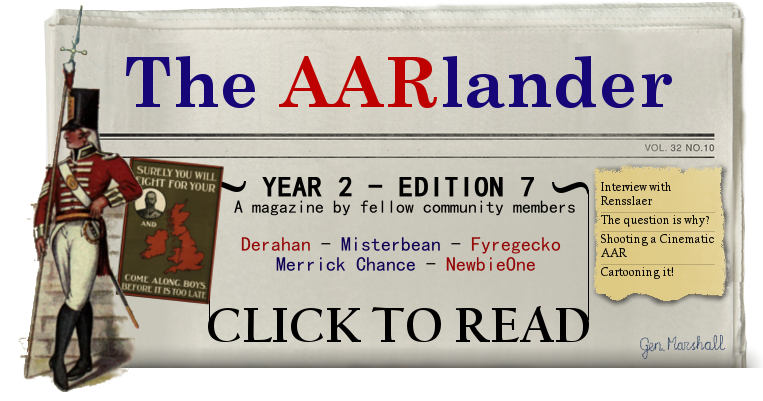 Ah! Great to see you again dear reader from where ever you so nobly hail. I bid you greetings to the next installment of the AARlander magazine of articles and letters. Hopefully your little stay here with us will be both pleasing and entertaining as is our mission here. This time the AARlander will be a little shorter than the pervious edition which I though was the best to date but don't worry about that this is totally intentional as you will find out later in the magazine. As a last announcement I wish to say that we have grown the ammount of readers from the last magazine with an ammount of around 200 forums members, a small victory and a stepping stone towards a greater audience!
So as usual I want to give my gratitude to those people who made this new AARlander possible. First and foremost, my thanks goes to Canonized and the others, who along him, worked on the first AARlander and made this one possible with their work there, otherwise this AARlander would not be here (most likely). Secondly I want to thanks the moderators who made it possible for me to do this and came up with the idea to revive the AARlander for a second round. Thirdly I want to thank Gen. Marshall, the one who has made the banner and also is spreading the word about the AARlander on the forums and last but not the least all of those who has contributed to this number of the AARlander, a many thanks to you all who in the end makes this possible with your articles.
As a final word I want to wish you the reader a good visit and hope that you like the articles written!
P.S when you finish reading you can always head over to the
feedback thread
to say your word on this AARlander edition and make your voice heard about how you think it's going for us!
Code:
[URL="http://forum.paradoxplaza.com/forum/showthread.php?674641-AARlander-Edition-7&p=15162039&viewfull=1#post15162039"]So Who the Heck is...Rensslaer - by Misterbean[/URL]
[URL="http://forum.paradoxplaza.com/forum/showthread.php?674641-AARlander-Edition-7&p=15162044&viewfull=1#post15162044"]The Question is Why? -  by Merrick Chance'[/URL]
[URL="http://forum.paradoxplaza.com/forum/showthread.php?674641-AARlander-Edition-7&p=15162061&viewfull=1#post15162061"]Shooting a Cinematic AAR - by NewbieOne[/URL]
[URL="http://forum.paradoxplaza.com/forum/showthread.php?674641-AARlander-Edition-7&p=15162068&viewfull=1#post15162068"]Cartooning it! - by Fyregecko[/URL]
[URL="http://forum.paradoxplaza.com/forum/showthread.php?674641-AARlander-Edition-7&p=15162074&viewfull=1#post15162074"]Last but not the Least, Announcement time! - by Derahan[/URL]
Last edited: