A YeAAR's Education - Russia Megacampaign
26/02/2007​
Hi.
This is my first AAR, which I intend to continiue through the ages and paradox games and end as close to our own time as possible.
The CK part of it is a fiction within a fiction. We are in the 1990s looking back through the prism of history, propaganda and bias at the events of 1066-1419. There are two POWs here, a burnout Medievalist academic and a Greek girl just starting her second year. You guess which is which.
I'm not all that conversant in Greek things and I've been to Saloniki only once, for a few hours. If I make mistakes, well, drown me in a barrel of Retsina.
This was played on regular CK with all the regular patches installed, but I edited my game files like a cheating cheater. Mostly to make sure life is difficult for me, and also to stop all the AI countries from killing each other and remaking the continent's map every 3 years or so. Oh, and to make the Mongols actually tough. It was almost always on very hard, but the agressiveness level changed depending on whim and how much of the major players I'd like to see in EUII were being killed off.
This was always meant to be a GC; this means I won't be conquering Europe if I can at all help it, but I will be surviving in some shape.
Here's a quick guide to the layout of the entries:
Book Title

Chapter Title​
"
A quote
" - or two - these are real, our-timeline quotes. They're not necessarily indicative of what happened in the fictional timeline but they're often fun. Or I think they are.
Then the text intermixed with images. One or more of them is always going to be a map like thrashing mad's excellent [thread=278786]Poland GC[/thread]. In the beginning I will be posting a lot of wiki-links in the text, to get those who want it a primer in things Russian and Byzantine. I expect the number of the wiki-links to drop significantly once we move away from the departure point and butterflies kick up a hurricane or two.
At the end of each "Book" I will be posting a quick Who's Who, What's Where and Why and Wherefore.
I'm starting with Pereyaslavl. It's 1066. Prince Vsevolod was the favourite son of Yaroslav the Wise and he and his progeny are standing on the edge of greatness even as we speak.
Okay, time to start. The first one is short. The good stuff is still coming.
06/12/2007​
Well, the Year's Education is almost over. Just two more months and I can safely call it quits and move on to subsequent parts of the Megacampaign, and perhaps start a side project or two.
In the meanwhile, this AAR won Favourite History Book and General Favourite in CK for Q1 of 2007, but has not been able to repeat the feat since, although it did get another notice last week when it got showcased.
I apologise for the long hiatus I took in the end of summer. Surely that's not a good thing for readership.
And, sometime last month this AAR passed 10,000 views, which is more than I expected to be honest - so thank you everyone!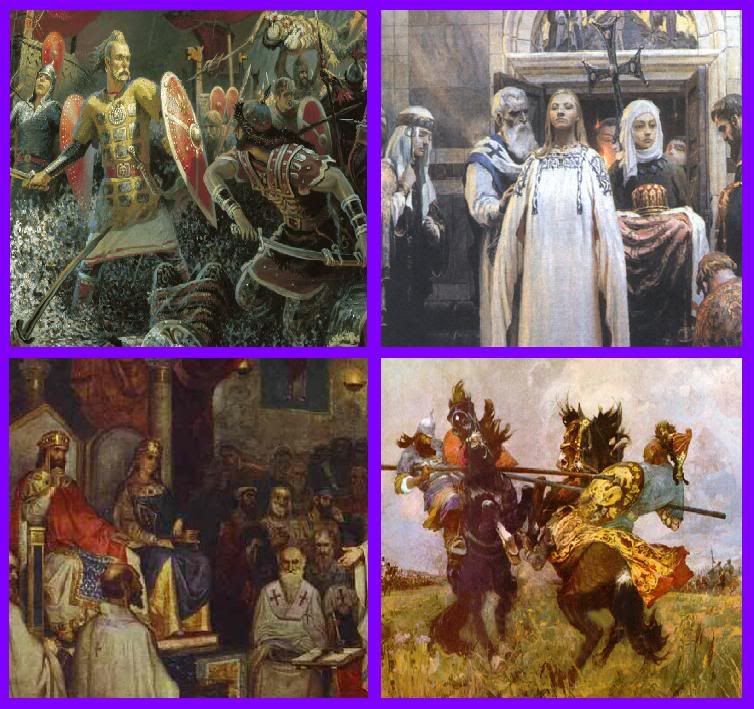 A Year's Education
I. Thither to Tsargrad (1066-1152)
[size=-1]
Coming of a Varangian
-
A Storm over the Steppe
-
Monomach Revival
-
Despots from the North
-
The Building of Babel
-
The Crimson Hills
-
A Larger Perspective
[/size]
II. The Barbarian Empire (1152-1234)
[size=-1]
The Meddling Tzars
-
Jerusalem Delivered
-
A Kingdom of Grace
- Voices from the Past -
I
-
II
-
III
-
A Long Road
-
The Insufferable Wench
- The Wages of Sin -
I
-
II
[/size]
III. A Parting of Ways (1234-1393)
[size=-1]The Angry Visage of the Lord -
I
-
II
-
III
- The Heirs of Temujin -
I
-
II
-
III
-
The Knytling Empire
-
A Private War
-
Branches of the Great Tree
[/size]
05/02/2008
​
And so I come to the end of this part of the tale, but fear not! All your favourite episodes will probably get some more loving treatment in the slightly-changed format called "Readings on the Barbarian Empire". Stay tuned!
In other news, I'd like to thank everyone who voted for me and allowed this AAR to take home my third ACA award for CK History-Book, Q1 2008. Woot!
Last edited: