Part 6.5 - Mauretania
Part 6.5 - Mauretania​
Poor little Sultan Husam II Shaiban, coming to the throne after his father and brother were killed by African voodoo sticks. He's all of 8 years old, and with luck will live long enough to see adulthood and hopefully make a baby, because right now his oldest sister Rah-Rah is the current heir apparent.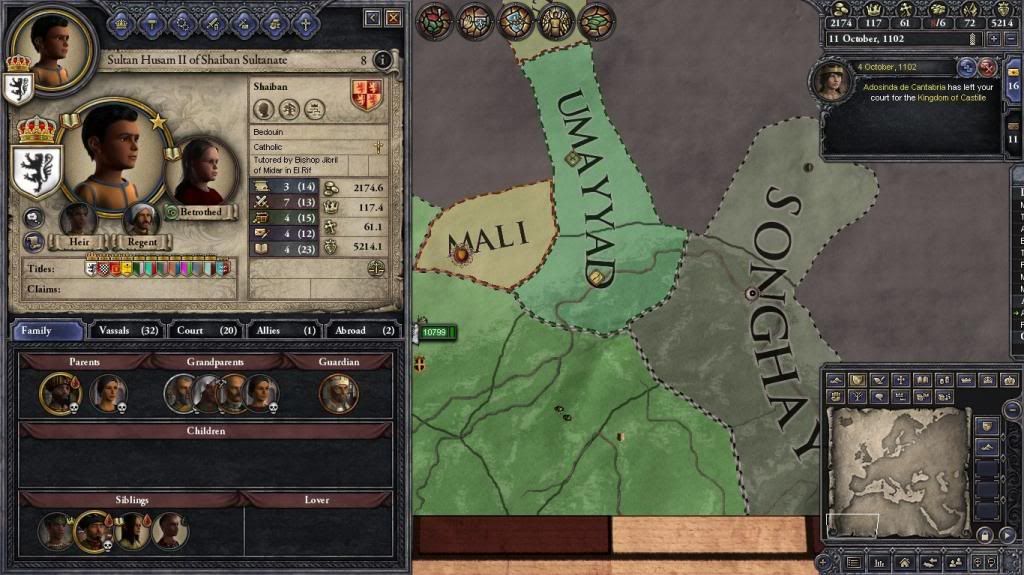 So there's a boy sultan, and a look at what the remainder of the West African jungles look like. We still have some work to do as far as taking control of these lands. Unfortunately for the moment I'm going to have to wait before making any moves against Songhai.
While I'm waiting March of 1103 rolls around and the Ummayad Emir Akin the Wise decides he can spank little Sultan Husam II in war. I guess he heard the Shaibans tend to get killed by voodoo sticks so I'm sure the Emir is equipping his armies appropriately.
Before the war even gets underway I discover that King Indy's son King Iacob of Ireland-Alba is now known the world-over as the "half-hand", which is a nickname I don't see very often.
Before the war even gets going the Sunni Caliphate declares a Jihad for Jerusalem against the Teutonic Order. And we are also notified that King Vid Mihaljevic of Hungary has lost Thrace in an independence revolt. Which means that Constantinople is now independent. The Greece is now a patchwork of independent principalities which should be interesting in the future.
Meanwhile the war swings in the Ummayad's favor. A lot of this has to do with me trying to get all my forces into a spot where they can unite into a large stack, unfortunately a large number of them were caught off guard while marching and destroyed.
By the end of 1103, the Ummayads have a war-score of 41%, which means things aren't looking all that good for our little Sultan Husam II.
So Husam, having a lot of money, hires some mercenaries, and a Holy Order, and now has a stack of 17,000 men ready to go deliver the Shaiban Sultanate's first blow to the Ummayads.
On February 2, 1104, we win the battle of Tangiers.

We give chase to the remnant of the forces routed in Tangiers and destroy them on the 28th of February.
Emir Akin then sends another stack of 5,000 men into our lands, and we meet them in May.

With the bulk of the Ummayad Army now broken, I set the Shaiban army on sieges. I don't wait around either, instead I assault the holdings one by one, wanting this war to end as quickly as possible.
We occupy our first one in July, and by September we've occupied five holdings.
While moving our men to the next target, I discover that the Holy Roman Emperor's pet anti-pope, remember the one that was dumb as all hell? 0 Stats in almost all categories save for learning. Well he died, and has been succeeded by anti-pope Valentine II, who is just as pitiful.
In November we take Tlemcen, and go about laying siege some more. By March of 1105 we have successfully occupied two more settlements.
I notice the Ummayads had gathered another 2,000 men, and were once more laying siege in Tangiers. I send my stack out to kill them, and win at the Battle of Arcos.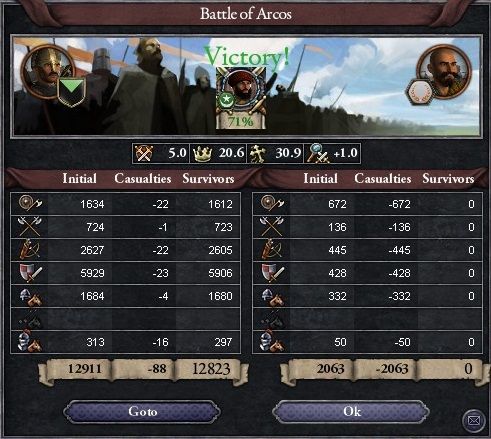 I've grown tired of this and don't want to waste anymore money paying these mercenaries. So I go to the diplomacy screen and settle for a white peace, ending the war against the Ummayads.
The next two years pass by with very little happening. In fact, truth be told absolutely nothing happens. A province converts to Christianity but that's about it. Nothing screenshot worthy or even worth mentioning.
So, in 1107, growing bored I look south once more, and decide its time to clean up the remainder of the West African Pagans.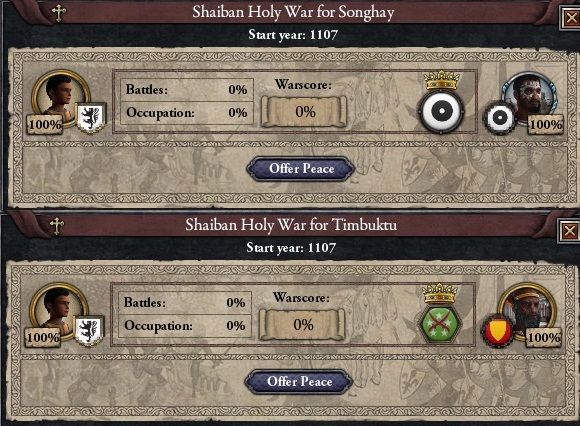 Our war for Timbuktu, the final county ruled over by the King of Mali, will end inconclusively as the Ummayads will take that.
So now, our only war is with the High Chief of Songhai.
In 1108, the Sunni Jihad for Jerusalem ends, with the Teutonic Order winning. This time around they've actually managed to hold onto the Holy Land for a little while which is impressive considering in the past they usually lose their crusade winnings within a decade or two.
Remember how long it takes for me to get my troops down south? Well, the war doesn't really see anything happen until December of 1108 when our forces occupy Gao.
Long sieges then commence.
In October of 1109 we occupy a fifth holding, driving the warscore to 90% but the High Chief of Songhai sees the writing on the wall and knows that Sultan Husam II is too young to be on the battlefield rendering his voodoo sticks useless. He then decides it is high time to convert to Catholicism.
Looks like we won't be seeing Songhai integrated into our African superpower anytime soon.
Disappointed and slightly annoyed at being blocked from expansion once again by a conversion, I decide to create the Sultanate of Mali. I do this because at least then I will be able to press de jure claims on the lands. It would be a longer process, but at least I'll be able to do something.
I could have taken the crown long ago, but didn't do to gavelkind succession. I still have gavelkind but the way successions are going for me thus far, I don't see this splitting my empire apart, so its worth the risk.
Although knowing my luck Husam will have twin boys and immediately get hit by a voodoo stick and die.
But oh well.
On March 2, 1110, Husam II Shaiban comes of age and marries Princess Juliana de Cantabria of Castille. She is the youngest sister of Husam's former sister-in-law Adosinda.
Now to see if Husam can make some babies!
Unfortunately this hope is interrupted. The Pagans in Africa have decided to pass around the voodoo sticks to the populace in celebration of the Sultan's sixteenth birthday. And in celebration they rise up in revolt.
Will Sultan Husam II Shaiban fall to the deadly voodoo stick as his father and brother did before him? Or will he survive?