Part 6.0 - Taroudant
@
DennisRoos
: It was a hopeless turn from the beginning. If the Hussayn's had attacked after I had gotten there I may have been able to mount a decent fight, and possibly even drawn a White Peace. Which, would have helped us survive against the Seljuks. But, no such luck the AI managed to destroy us before we even got a start going.
You are right it will be my first time as a vassal. I forgot that, kind of surprised I haven't been one yet. So that will add a layer of intrigue to this. Other than that the Europeans have made a monumental comeback. A lot of that is all due to the collapse of the Ummayads, which gave them ample time to mount offensives on all fronts. So the Reconquista is definitely over, now the question will be how far into North Africa can Catholicism spread!
@
mike the knight
: Haha Berber Catholics shall dominate the world!!!
@
GreatUberGeek
: Yep, all these Berbers of the Rahhalid (Andalusia) Sultanate are Catholic. I think the Rahhalids got Holy Warred while the Qutids were fighting them in a decadence revolt and the Rahhalids just threw their arms up and said, "Screw it, we want the Pope!" Because the Rahhalids overthrew the Ummayads, and the Qutids overthrew the Rahhalids, so I'm imagining that's how all this strange bedouin Catholic stuff happened.
@
TheDeaconBosco
: Hope it proves to be exciting. I did bite off a very big challenge for myself from the beginning so we will see how that turns out...
@
Stuyvesant
: True I would love if Vahid's descendants invade someone and I get to return and play as them. That would be lots of fun. And yeah both our liege's are fairly old, even the Emir we're under is an old guy.
@
Scott1964
: Eh, I enjoy playing in the sand though! Iraq was better and sandier than that Mazdaki stronghold we just left. It was just a crap hand we were dealt, but nonetheless it was entertaining!
@
ScribleScrable
: It does doesn't it!
@
Wilkey
: Sheikh Samir will be intriguing at least I hope it will. He was rather fun to play so hopefully everyone enjoys his time here.
~~~~~
Part 6.0 - Taroudant​
Off to Bedouin Catholic lands of the Rahhalid Sultanate of Andalusia. I was wondering if I'd ever get to go play with the Iberian characters. And well here we are, on our sixth turn. Vahid was sadly a short lived guy, but hey his "The Liberator" so perhaps he'll Liberate something else.
So to start off let us look at a map of where we are specifically.
Samir's lands are nice and close together. With the exception of the Canaries, which will lead to some early troop movement issues. However, he is a vassal to the Emir of Fez, an old guy with no dynastic heirs, more on that issue at the end of this here update. But back to being a vassal Sheikh to the Emir of Fez. Samir's lands are de jure part of the Emirate of Marrekech, which is a title held by the Qutid Sultan of Mauretania.
This is something I will have to rectify, although declaring war against a Sultan when your a itty bitty Sheikh isn't usually a very sound foreign policy. However, this is precisely what I intend on doing once I get some more gold saved up and get a feel for what direction my overlords are heading.
Moving on our Sultan the old shy, scarred, always unprepared guy is busy fighting two wars. The one against Grenada wraps up shortly after we arrive in Taroudant. And the one against the Queen of Navarra is swinging in our favor. The victory of Grenada brings most of their lands into Andalusia.
The Unready dies in August of 1071, passing the crown to his slightly more prepared but still a shy book-worm son Sultan Yahya. Now Yahya, makes me shake my head because it reminds me of this dude I was in the Army with. He was a dork, but greek (no offense to Greeks) but his name was impossible to say, so we called him Yaya which is remarkably similar to our new liege.
We continue to sit back and watch Samir's coffers increase with each day that ticks by. We apparently are ruling over some bountiful lands. However we are slightly over our demesne limit and the band O'Brothers event happens. I promise to punish them and gain the diligent trait.
After dealing with the Band O'Brothers, which reminds me of the EVE Corp of the same name that used to be a giant until some evil trolls came in and slaughtered everything they had built in-game. But as I was saying after that Samir decides to go on a pilgrimage to Santiago.
This pilgrimage proves to be troubling to Samir. Apparently he realizes that Santiago is a sham, fake idols, fake women, fake seashells even! The sin! He becomes cynical and decides to lie to his fellow Shaiban (Shaitan) family members.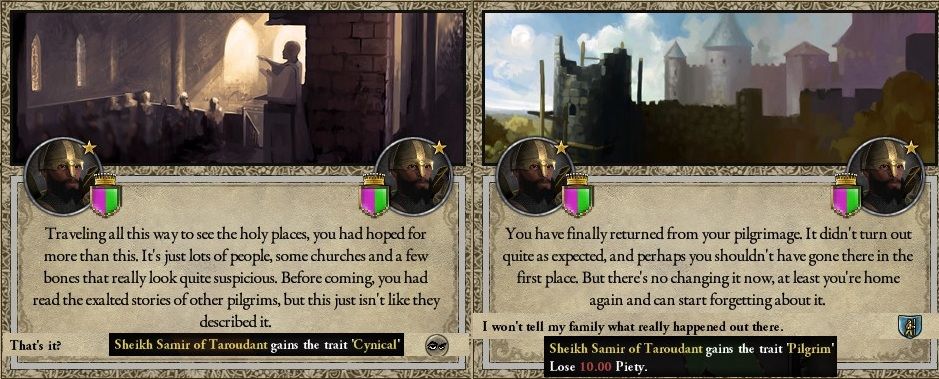 Upon returning from the Pilgrimage to unholy Santiago, Samir's sister comes of age and gets married off to the Duke of Asturias. This may or may not be a good thing. A matrilineal marriage would have been the safer route as she is the current heir of Samir's so hopefully he doesn't die suddenly in a battle or something.
In September of 1073 Samir's wife gets pregnant, which means marrying off the sister may not prove as bad a thing as I thought. And the 4th Sunni Revolt is launched against the Rahhalid Sultanate. We desperately need to convert these provinces to prevent those from firing anymore.
In the Spring of 1074, after defeating the Sunni Revolters the Sultan of Andalusia decides to join Queen Elida of Navarra to help her defend Seville against the Qutid Holy War.
At this point Samir has 291 gold saved up, not too mention the ability to raise almost 2000 men, normally not a large amount for a war but with Qutid forces fighting our main liege, as well Navarra and Castille, I decide 2K is plenty. Its time to declare war against this Qutid Sultanate.
In response the Qutids call in Farbas Bada III of Mali to help defend. No matter, they're dealing with a Pagan West African revolt and getting their butt handed to them. I begin gathering my levies and march to war.
Now, being a Sheikh and declaring a Holy War against someone that many tiers higher is never a great decision as I said earlier. Getting slapped for it is a high possibility. However, patience is a virtue and when that higher tier guy is at war, its always a decent time to strike.
As we start laying siege to Anti-Atlas, Samir has his first child a daughter.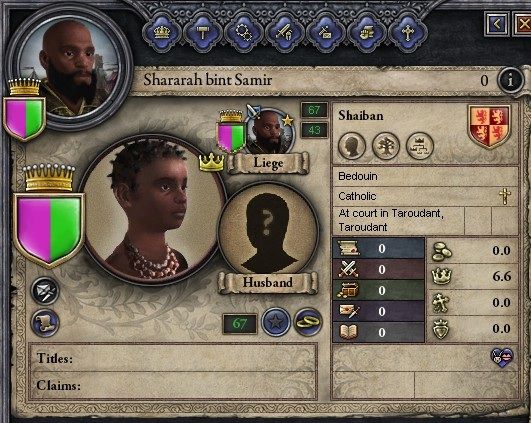 Shararah! I love that name, for some reason it makes me start whistling,
Row, row, row your boat
Gently down the stream
Merrily merrily merrily
Life is but a dream
I guess its the rarah part of her name that invokes that response even though it doesn't sound like row row. But regardless, baby Rara is now our heir.
My evil Steward then decides he can steal money from Samir's coffers, which Samir makes him pay back instead of throwing him in the dungeon.
As Samir sits around laying siege to the land that is hugely against the making of Atlases as teaching the children geography is a mortal sin punishable by death, he runs into a priest that tries to convince him that Celibacy is the only way to gain entry to heaven.
Samir, needing a son, and desperately not wanting to pass his Sheikdom onto his daughter Rarah, says no thank you and decides that being a Hedonist is way more fun!
No one in a warzone away from women wants to hear that celibacy crap anyway. After 15 months in the desert I know I was dying to be a nasty hedonist, and if a priest told me to be celibate he'd probably have been slapped. And I imagine Samir feels quite the same.
Samir is busily thinking of what kinds of trouble he get into when the war is over and he can go and practice these new hedonistic things he has in his head, when another hedonist in his court gets accused of rape.
We can't be having rapers in our Court! So we imprison our perverted Marshal. Which also gives Samir the Just trait.
In November of 1075 our Holy War as of yet is still in a stalemate. No one has gained a victory and we have yet to successfully occupy anything! Due to this Samir becomes bored with being a warrior Sheikh and loses the diligent trait just a few short years after earning it.
1076 rolls around and defending Seville against the evil Qutids was a success, but our war is still going nowhere. Which is when the aging Emir of Fez, decides to declare his own Holy War for Marrakech.

The Emir immediately begins raising his soldiers and starts sending them off to bother my guys that are already trying to siege Marrakech. However, his men are intercepted and defeated, leaving me all to my lonesome. But the Pope is grateful and sends us 200 gold which pushes us up to 561. Which means mercenary spamming coming to a Berber neighborhood near you...well soon anyway!
By September of 1076, we finally occupy Marrakech, giving us a warscore of positive 8, which is pretty small since we've been at war for two years already.
Yahya then decides to defend Asturias from Castille. These alliances shift so much in Iberia guessing which side Yahya will fall in is damn near impossible.
So three wars our now raging...and the only one I care about is slapping around the Qutids. I'm beginning to think I'm going to get sucker-punched eventually.
However, I see my chance to deliver a huge blow to the Sultan. He has 4,000+ men laying siege to some of my Emir's territory, and with all the gold I have I decide to play hardball.
I hire the most expensive mercenary band money can buy, march them to Marrakech to rendezvous with my main body. Once they join together I send the now 7,000 men off to wage real war.
The Qutids get a slight defensive bonus which will make this battle a tiny bit more even, but we still have superiority. And thus the battle of Ketama begins.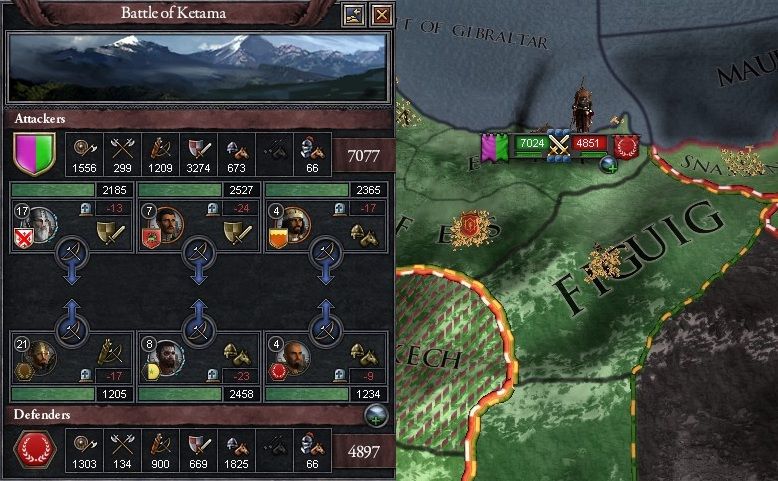 It starts off slowly with morale on both sides waning ever so slowly, but Samir learns how to fight in the Mountains because of it.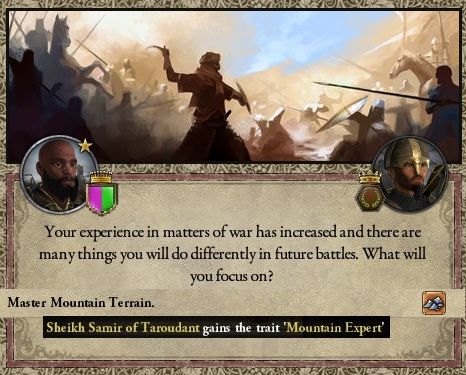 By December the Battle of Ketama is won, and the tide of the war swings heavily in favor of Samir.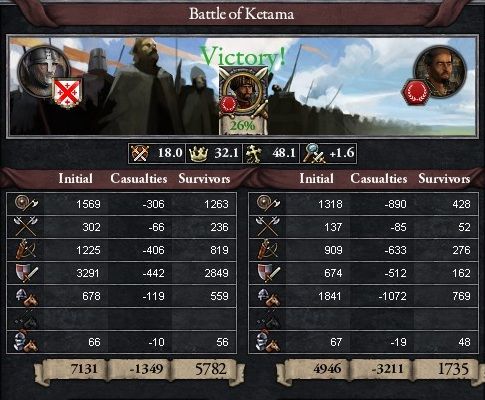 With Qutid forces on the run, we send our men back to the Sultan's lands to begin laying siege once more. Which is when our gracious Rahhalid Sultan decides he wants the realm to be involved with FOUR wars! Because he's Yahya and whenever one of his subjects say his name he immediately thinks they're agreeing with him, thus he always ends up going to war.
This Fourth war, is the Aquatanian War for Limousin against the little boy King Heahbert II of England. Yahya is siding with Aquitaine in this fight, as are our good friends the de Wexfords of Ireland-Alba.
What is sad about all of this is that Samir is the only one winning a war. Yahya is losing both of his, and the Emir of Fez is losing his as well. Its a sad day when a Sheikh can slap Sultans around better than his own Sultan can.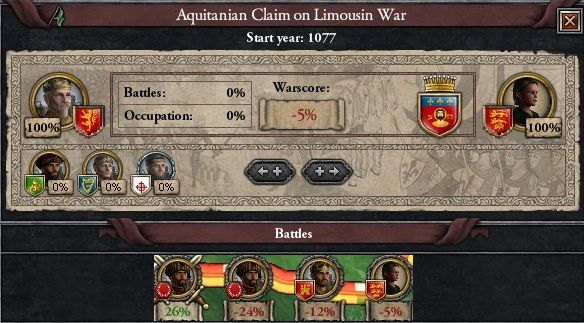 Seeing that he is obviously the best war strategist in all of Andalusia, Samir loses the stressed trait.
Even foreign writers began pouring into Taroudant to write epic tales of the great African warrior named Samir the great Christian Sheikh.
Another year would pass and only one more holding is occupied. Its now 1078, and this war has raged on, well raged probably is an incorrect description as its been more of a ho-hum war. But its been pretty ho-hum for 4 years now.
In August of that year Samir's wife would become pregnant. But that isn't the big thing that happens. Oh no, something unexpected occurs that made me scratch my head.
The Emir of Fez has died! Yes, that in itself wasn't wholly unexpected. He was old and dying anyway. It was only a matter of time before said event occurred. What was unexpected is that Samir was his heir!
I had no idea that was the case. Apparently Samir was his Nephew.
So once again I get a nice fat juicy title dropped right into my lap. The last time this happened it was playing as Aarif over in Baghdad, when the Caliphal title just kind of fell into our lap.
While this isn't being handed a vast Empire it is being given control over most of Morrocco, and therefore after we win this war against the Qutids enough to usurp the Crown of Mauretania. Which is something I would like because its apparent Yahya, is hellbent on involving himself in every war from Santiago to London.
Oh and did I mention this inheritance gave me 4,000 more troops already laying siege to Qutid territory?
Well, this war may now wrap up rather quickly.