The game difficulty is set on normal.

​

​
From 1066, for more than eighty years on, the Danish kings had been succesfully managing and defending their realm against claimants both, from the South and North. None of them behaved with impatience whether to expand their territories or only to impress their neighbours. Except, perhaps, of King Halvor I, who had unsteady character....if one grabbed him, one came away with a handful of slime. King Svend II, on his turn, enforced the law and destroyed the stronghold of Wend pirates. He had left his son Harald III to govern; but he was so unpopular that nobles assasinated him and elected the King Knud the Bewitched.

The dukes and counts of Brunswick persistently tested military skills and abilities of every consecutive Danish king. Especially, those of King Knud the Bewitched (1072-1111) and King Gregers the Old (1114-1158). Holy Roman Emperor sought to include "eternally united" Duchies Slesvig and Holstein in the Holy Roman Empire, which both had the King of Denmark as their sovereign. However, carefully managing their kingdom, bribing their vassals and paying mercenaries both Danish kings not only thwarted enemy designs, but also were able to develop military technologies and even managed to build the first Danish university. Despite some very strong vassal demands, elective Royal laws were preserved, laying down the fundamentals of a relatively modern representative system.

The Crown authority and feudal taxes were kept low. The Royal house considered it to be a criterion of nobility that it served the Kingdom for nothing.To be able to do that it had to have its own wealth, from which it could live; otherwise the thing simply would not work. With bad laws and good vassals one can still govern, but with permanently hostile vassals even the best laws cannot help.
The Kings didn't stay only defensive, however. Benefiting from the conflicts between the Swedish King and his vassals, the Kingdom was expanded conquering the counties of Smaland and Vastergotland. The Danish Kingdom acquired its rightful place on the European map and the Danish King's court among other royal houses. By the mid of the 12th century the 5th King of Denmark, King Gregers felt that his days under this Sun were numbered and everything was prepeared for a peaceful transition of power. The throne had to be left to Prince Deodat, when the last suddenly, at the age of 33, died of syphillis.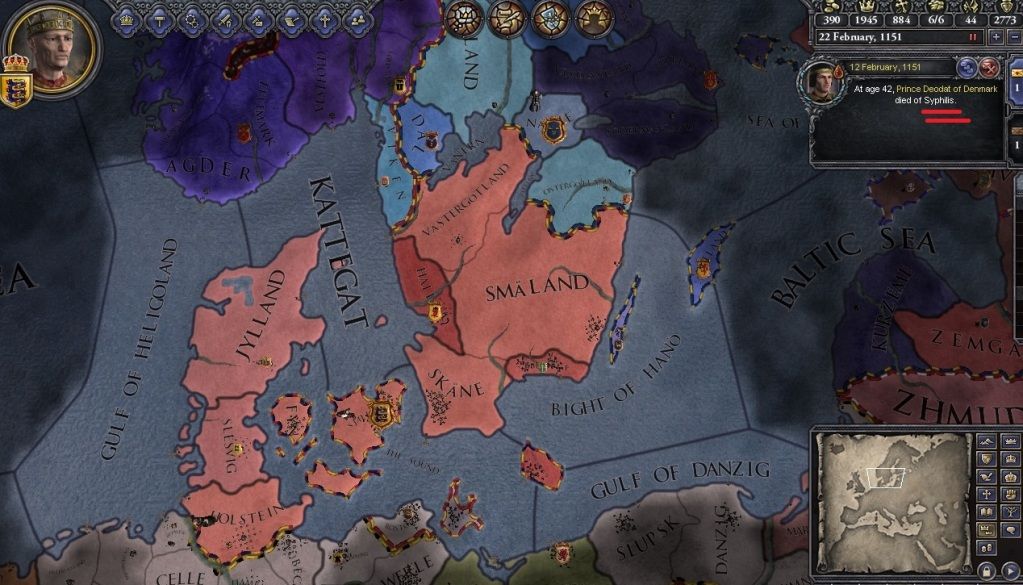 ​
Last edited: