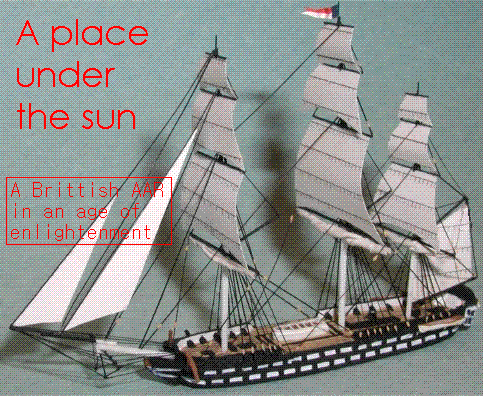 Brittain 1768 - 1819
​
For the past few years, tension between the East and the West has increased. About a decade ago, a number of Chinese states banned Brittish merchants from their markets and monopolized the trade of spices and other luxuries in their lands. The united Kingdom of Great Brittain and France - the major power in Europe - has sworn to avenge, breaking open the Asian markets by force in necessary. Now that the Brittish Parliament gave authorisation to defend the Brittish interrests in Asia by force, a new age has begun. An age in which the Brittish would establish their hegemony over eastern Asia, and would rise to become the sole world power.
I use AGCEEP with MyMap. I started playing England in the Grand Campaign and managed to defeat France, thus established a dual kingdom. I prefer to use a careful expansional course within Europe, partly relying on vassals and trying to switch alliances whenever possible. As of such, Europe managed to stay divided, in a balance of power. History has changed. There was no English Civil War and no serious War of Religion. There will be no American or French Revolutions. Venice, Russia, Cyprus and the Papal States all have an oversea imperium...

This AAR will be written as one story. I will get 'out of character' for time to time to explain things or show interresting or odd things, as well will there be a few 'interludes', but most of it will be one story. Don't expect a lot of screenshots. I don't use screenshots much, only when they were relevant or interresting. Don't worry, there will be other pictures to look at! I like making my own maps from time to time. This way I would elevate the story beyond the game engine. My ultimate goal is to create a plausible, genuine 'alternate reality', with the empathesis on 'reality'!

One more thing needs to be shown before I get started; the map showing my empire and that of my vassals and allies in 1768...
Prelure (19 dec '67 - 31 dec '67)
The British Empire in 1768
Chapter I - Under a tropical sun - pt. 1 (26 jan '68 - 24 feb '68)
Chapter I - Under a tropical sun - pt. 2 (8 mar '68 - 25 nov '69)
Chapter I - Under a tropical sun - pt. 3 (29 dec '69 - 7 mar '70)
Last edited: