A Hyderabad Holiday Special
(Based on a test game I played as Hyderabad, in AHD 2.31)​
"Mommy, will you tell me a story?"
"It's late, just close your eyes and you'll fall asleep."
"But I'm not tired. Please, tell me a story?"
"Fine, I will."
"Yay! Tell me one I've never heard before. Something with adventure and wars and kings and queens and magic!"
"Alright, alright... Have you ever heard the story of the Immortal Nizam?"
"Everyone talks about him but… I'm not sure. I didn't know he was from a story."
"It's a true story, but a story nonetheless. And it's a story that lasted for a hundred years!"
"A hundred years? How did he live that long?"
"He was immortal. That's why he is called 'The Immortal Nizam.'"
"Why was he immortal?"
"That's part of the story. And it all begins like this…"
In halls of marble in a palace of gold
The Nizam of Hyderabad never grew old
Since he swallowed a ruby that took ages to form,
From the crystallized blood of a phoenix swarm.
"Is this going to be a poem?"
"It's part of an old oral tradition. It's easier to remember a long story if it's in verse..."
"But I don't like poems."
"Well, this story is in verse."
"Can't you tell it to me like it's not in verse?"
"It will lose all of its charm if I change it…"
"Pleeeease? I really don't like poems."
"Alright… I'll try."
So, there was this Nizam, which means administrator but really he was a king, and he ruled over all Hyderabad, like his father and his father's father before him. Hyderabad was a very wealthy country, like it is today but back then the people were mostly poor and illiterate, which made the Nizam even more wealthy and wise by comparison.
"So, he wasn't very wise?"
"Oh, he was wise. Though not too wise. But wise enough to do some very important things, which you'll get to hear about if you let me get on with the story."
The Nizam was powerful, rich, young and prow, but a dread weight of woe fell over his brow.
"You're doing it in verse again!"
"Sorry, that's how I learned the story, it just comes more naturally. I'll start over."
So, the Nizam came to power in 1829 but long before that Hyderabad had become a client kingdom of the British Empire. Princely states, they called them, and Hyderabad was the princeliest of them all. A salute state, actually. I think that was a term they used.
"This doesn't sound like a very interesting story."
"It sounds a lot more adventurous when you say it in verse. Would you like…"
"No, no! It's fine! Please, go on!"

The Nizam wasn't happy to swear allegiance to the British King, but he had no choice. Hyderabad's foreign policy was completely under British control and he had no way of interacting with foreign governments on his own, or of declaring wars. Worst of all, The British conquest had deprived Hyderabad from all of its ports, and the Nizam was sad to see all the south-east coast of India, to which he had some hereditary right, under direct British rule.
"A map would have been nice at this point."
"Well, you know where Hyderabad is, don't you?"
"Yes, it's where we live."
"Okay, then all the lands that rightfully belonged to Hyderabad were to our south-east. And all the lands to our south-east, rightfully belonged to Hyderabad."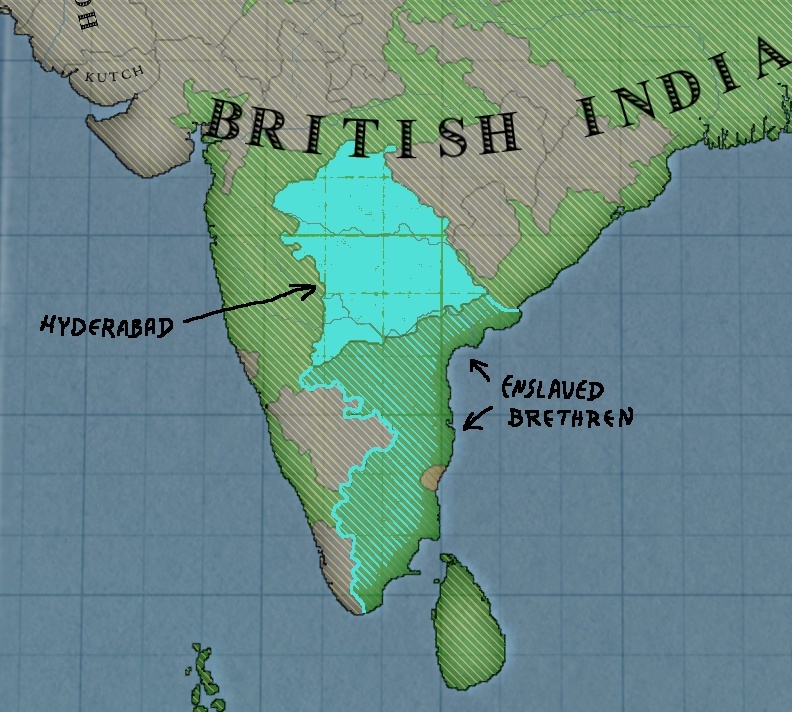 Back to the Nizam, then, he was furious at the British and he vowed to find some way of restoring his kingdom's old glory. So for seven years he commissioned brave adventurers to search the globe for secrets and relics that would help him with his quest. By the end of those seven years few of them had made it back, but one of them, the youngest and bravest, had raided tombs, braved doomed temples, challenged death and tempted fate, and he returned with a ruby; a ruby formed from the slowly crystallized blood of generations of phoenixes, as each one of them grazed its wing on a stalagmite during a journey it undertook once a decade.
"So… it wasn't a very big ruby then, was it?"
"No, I'm guessing it was very small. Although the story doesn't specify size."
Anyway, legend had it that that ruby had the power to grant immortality to whoever swallowed it. It would work its way to the heart and keep it beating forever, while the slowly dissolving phoenix blood crystals would keep the body young and strong. The Nizam gave that adventurer ten times his weight in gold, and a few buckets of diamonds, sapphires and other precious stones as a bonus, and then swallowed the ruby. His court gazed in wonder as he gained the power of immortality.
"Does that ruby still exist?"
"No, he ate it. I just told you."
"But wouldn't other phoenixes…"
"It took millions of years for enough blood to slowly accumulate into one ruby. Remember, each phoenix flew over that spot once a decade and only slightly grazed its wing on that stalagmite. And there's only one such bird living at any given time…"
After that interruption, the newly immortal Nizam turned his attention to administrative affairs. Hyderabad, at that time, although rich was plagued by administrative inefficiency and crime. It took years to combat corruption and establish a fair and approachable bureaucracy, but the Nizam was patient. He had all the time in the world. And it only took seven more years for that feat to be accomplished.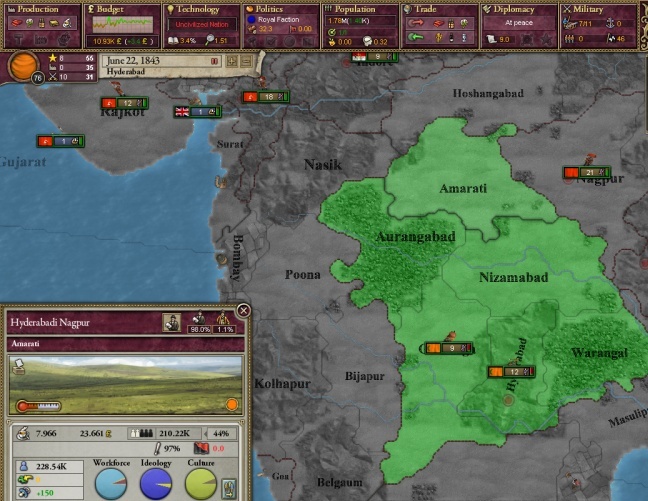 "So, how old was he by then?"
"What's age to an immortal?"
After that, the Nizam turned his attention to education. Because the more children study at school, the better life is for everyone.
"I'm sensing a subluminal message here."
"Will you let me tell you the story?"
By 1850, the Nizam had managed to double Hyderabadi literacy to 5.4%, and had also built up a competent population of educators, who would carry on that task in the future. He had also enacted land reform, which greatly increased the wealth of peasants and the Nizam alike. Not so much the nobles whose land was 'reformed', but they were wise enough not to argue with an immortal ruler.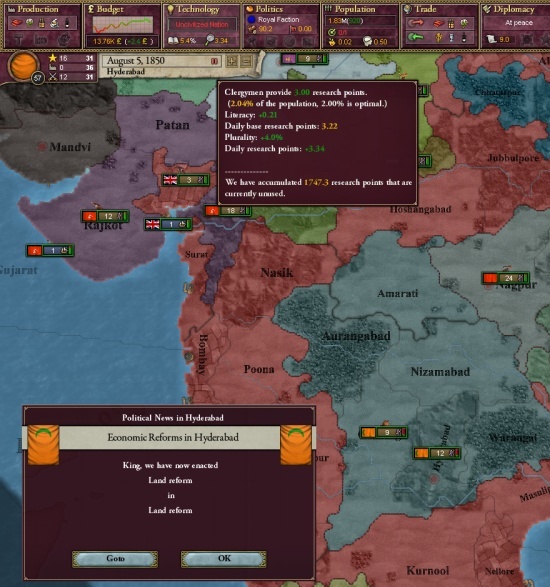 So the Nizam continued with his policies, his pride tempered by his infinite patience, until 1884…
"Wait, wait. You skipped… 34 years!"
"Yes, well nothing much of note happened in those years."
"But that's a third of a century. It's a third of the story, if it really lasts a hundred years. Something must have happened!"
"The story doesn't go into much detail. It only repeats the verses 'And the Nizam was wise and looked to the West, / He enacted a reform as he thought best' over and over a few times. It's more repetitive than interesting."
"What about his family? Did he get married? Did he have kids?"
"Well… the old stories tend to gloss over the role of women, if they are ever mentioned at all, but we can be certain that he had many, many wives. And children. He had a lot of time on his hands…"
"Was he ever in love?"
"Again, the old stories don't go much into such details. It's pretty certain that he loved himself; a lot, I'd guess. And he loved all the wealth, power and immortality that he had. Now, can I get on with the story?"
"Yes…"
For over half a century the Nizam toiled 'gainst odds,
That…
"…"
"Sorry, sorry!"
So, it was 1884 when, after many reforms, Hyderabad could rightfully be called a modern, civilized country.
The Immortal Nizam then set in motion a plan to break free of British bondage, by being recognized worldwide as a great power. He was already the richest man in the world, and he spared no expense in importing technology, funding philosophers and artists and constructing and subsidizing numerous factories. But, although Hyderabad's prestige and research rate increased rapidly, it was nowhere near enough to reach the level of that age's great powers. In addition to that, all of the factories he, or other rich Hyderabadis, constructed were unprofitable. And although the Nizam's largesse was boundless, he could not bear to pay for all those factories forever. Fortunately, an entrepreneur proposed an investment in oil refineries, which proved profitable beyond anyone's wildest dreams for decades to come. Factories for electric gear and telephones were constructed soon afterwards, and the old, unprofitable factories began to be phased out.
"I thought this was a story about adventure and magic."
"There's magic in it! And adventure! But sensible people know that you can't have those things without a properly running economy, and the Nizam was certainly a sensible person."
Finally, in December of 1908, the Immortal Nizam was partially vindicated when Hyderabad was recognized as a secondary power. That's not quite a great power, but it's the immediately lower step.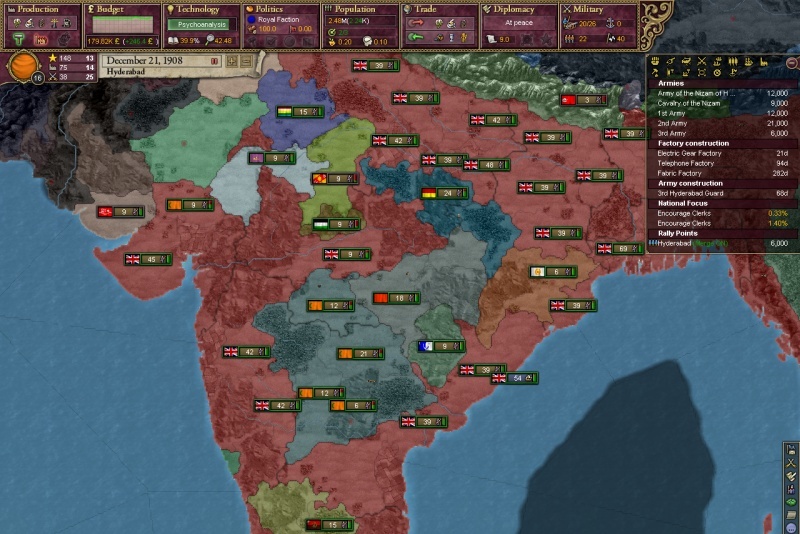 "What happened then? Did he start a war? Did something interesting happen?"
"No, but… well…"
Then the Nizam built more factories, and invested greatly in education, and he continuously improved the armed forces, both in quantity and quality for over twenty years, until Hyderabad was a power to behold, in industry, military power and prestige! The Nizam was quick to grasp the commercial opportunities of radio technology and Hyderabad was the lead manufacturer by 1928.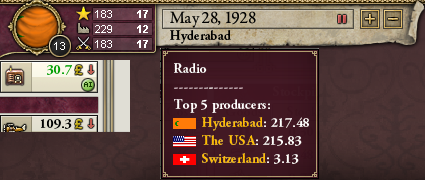 But even though everyone had nice job security, even though people were reasonably rich and secure within their borders, there are always some who complain, and by 1929 a lot of them had become very vocal about representative government and public meetings.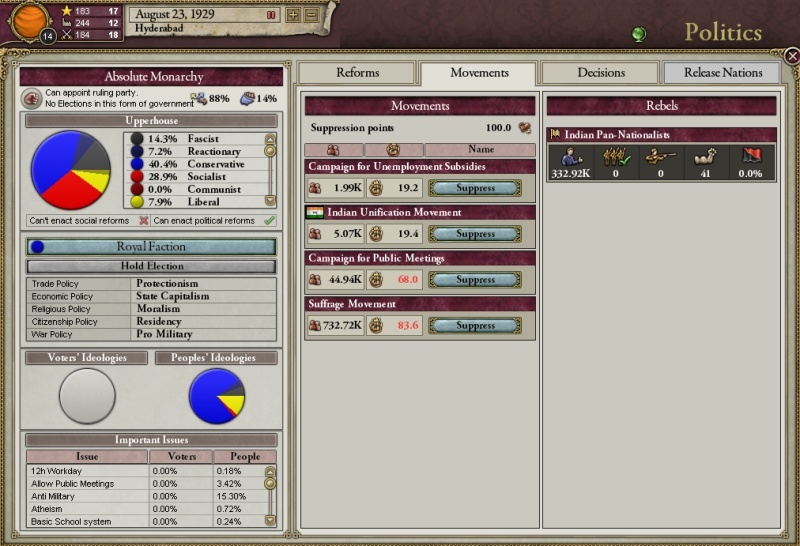 The Immortal Nizam would have none of those newfangled ideas about representation and he cruelly suppressed them; but he did allow public meetings, as long as they were held under huge posters of his face. Because immortality had made him vain, since surely no shorter-lived man would suffer such garish displays of leader-worship.
"The Nizam is still the hero, right?"
"Yes, that's just how the story goes."
Society was progressing, but the Immortal Nizam still contemplated with sadness the lands and people living under the iron fist of the British, instead of under his own enlightened rule. Hyderabad was a powerful secondary power with over 150,000 men in its army; including a whole armoured corps, which was a big deal at that time. It was possible to try to break free from British rule by force of arms; it would only necessitate defeating the British army in India, as well as the armies of all the other Indian satellites of the United Kingdom. The Nizam studied carefully the locations and quantities of British and allied troops in India and, after much contemplation, decided against an uprising.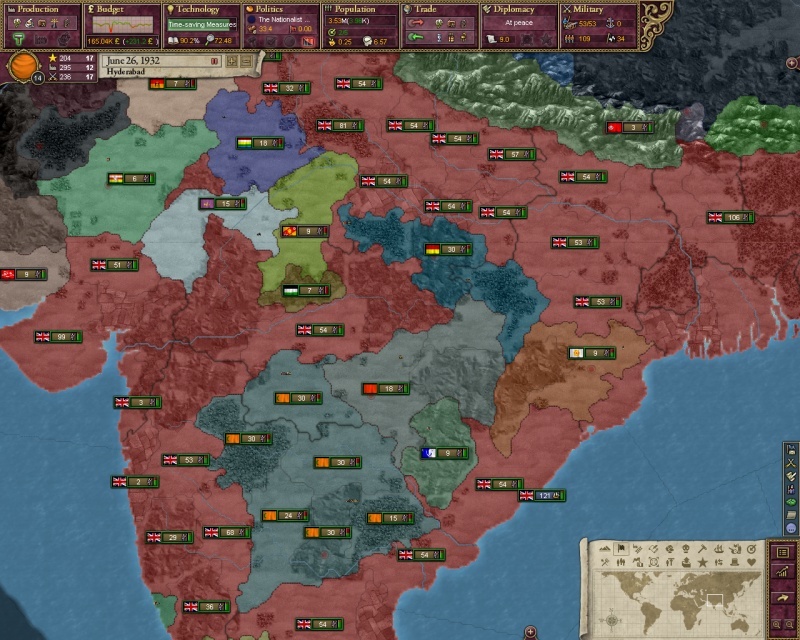 The Nizam was heartbroken to see that even his greatest efforts bore no fruit, but then a British official insisted that Hyderabad was all the better for staying in the British common market. Its industrial base was expansive and profitable. Its people were wealthy and well educated.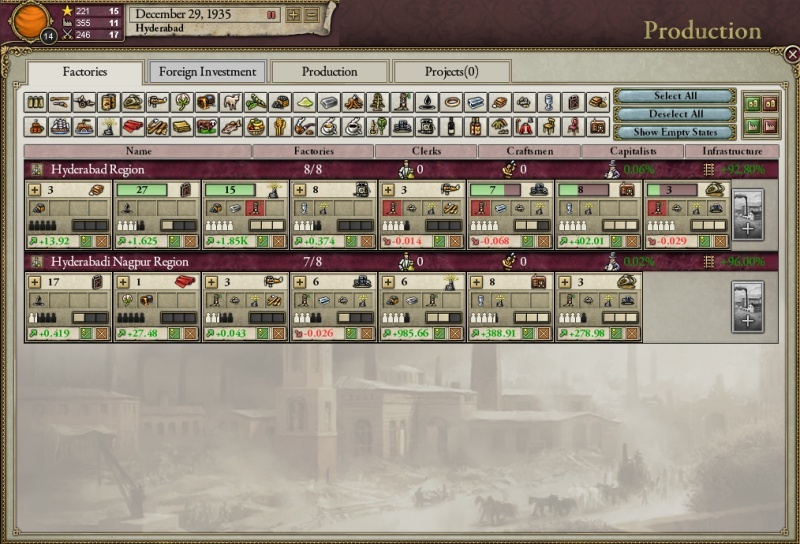 Although the country remained an absolute monarchy, numerous social reforms were being enacted almost every year, and the people were happier than ever.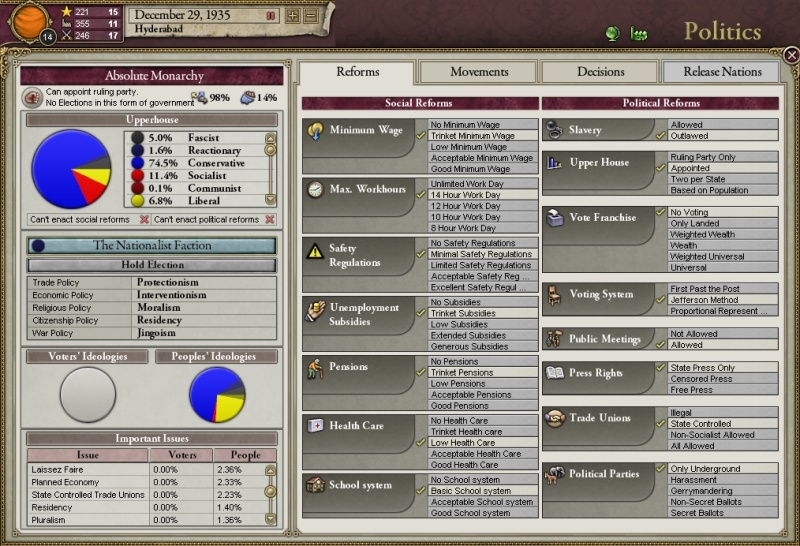 When that official explained all those benefits of British friendship to him, the Nizam took a walk incognito in Hyderabad City and he saw all those things for himself. Then, when he came back to his palace, he shed a single tear, because he was ashamed for focusing so much of his rage on the British while neglecting the feelings of his people. And with that tear, the Nizam was not a nationalist any more!
"Just like that, he changed his worldview?"
"Not only that, but the warmth that filled his heart when he loved all Indians and British alike crushed the ruby into dust, allowing him, in that moment of perfect happiness, a swift passage into heaven, a heaven that he had feared was forever closed to him."
"Hm, I guess it's a happy ending then. But this must have all happened recently?"
"Yes, at the very end of 1935 the Immortal Nizam drew his last breath and departed from this world. The older versions of the Nizam's Song were updated in the following years to account for that ending, under the patronage of our friendly British overlords."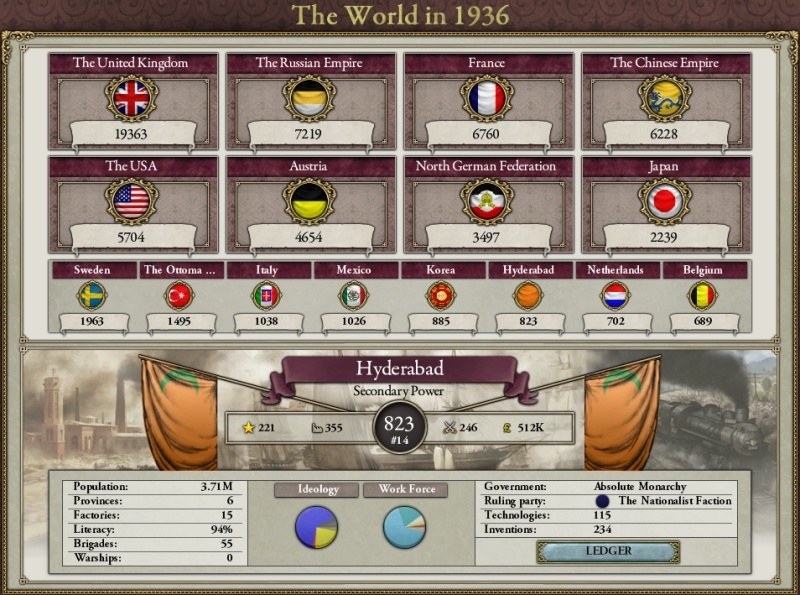 "So the Nizam was wrong for wanting independence?"
"Yes, just like that mean old Ghandi, who stirred up so much trouble those many years ago. That's what our friendly overlords say, and bad things happen to those who say otherwise, so remember this when you're out on the street talking to people!"
"But I don't talk to strangers…"
"Yes, but sometimes strangers listen in on you when you're talking to friends. That's why it's important to know what to think, so that you won't go and say something silly that will get us in trouble.
"Sleep tight now!"
That night, the little girl dreamed of an Immortal Nizam who faked his own death to retire to an elaborate hideout, from where he used his vast wealth, international contacts and skill in martial arts to fight crime and oppose oppression, as leader of a team of clandestine heroes. In art class, the next day, she drew happy daisies, but inside her head a legend grew. And the story that had been changed so many times throughout the decades would be changed again, many years in the future, when she would have the chance.
THE END