Florence of the North - A Hainaut AAR
Chapter I-1399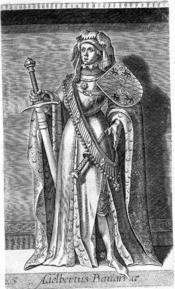 It was another cold morning day in the low countries as Count Albert of Hainaut held court. The day before, he had issued an order to his advisors to begin a planning to unite the germanic peoples of the low countries. He had tired of either bowing to the Holy Roman Emperor or the blasted King of France. A United Flemish people could maybe hold thier independence a prosper. Albert was not a great warrior, but he was a very competent administrator and diplomat.
His best advisor, Corneilius von Lynden a brilliant young Captain spoke first.
"My lord, we currently have 2000 footmen under our command. I suggest that we begin the training of a Cavalry regiment immediatly."
Next his head diplomat spoke. "I propose that we make it our nations mission to Ally ourselves with the King of Burgundy bec-"
"NEVER!" Albert yelled. "That bastard has half the Flemish people under his thumb. I will never allow it!"
"But your-"
"Gaurds! Send this nitwit to the dungeon"
Four burley gaurds siezed the diplomat and took him off, kicking and screaming"
Albert again spoke, "I think that it is more sensible to ally with our my our brothers in Gelre and Friesland. Make it so. Also, marry off some of my cousins or something to them to cement the deal."
Next the treasurer spoke "My lord we are not a rich nation I suggest that we send merchants to Antwerpen immediatly"
"A good plan, however, with our current mercantilist policies, I am forced to almost personally finace such ventures, for the time, no. Further more, I wish that we begin to look at the navy as a priority in the future. I believe that after we unite the low countries the sea will hold the key to our future."
von Lynden again spoke "very good sire, for the time being I suggest that we make it our mission to, I dare say god's will, is for us to build our land forces to the maximum we can support comfortable. Eight full regiments, three of our finest noble Knights and Five regiments of footmen."
Albert weighed this idea for a moment "make it so"
Finally he eyed the map before him showing the current politcal situation.
---------------------------------------------------------------------------
Welcome to my first EU3 AAR. I was going to do Brabant but thier is already an AAR for them so I chose Hainaut. Hopefully my writing will get better. I am open to any suggestions, as I have played this scenario a couple of times before and it's pretty hard (or I suck).
Last edited: