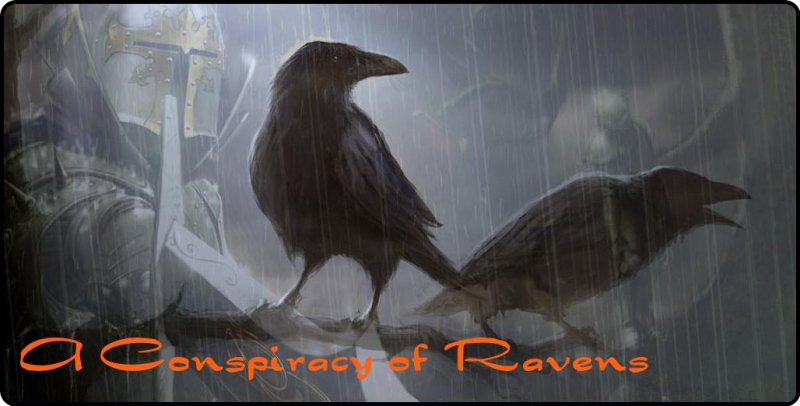 Introduction.
​
In order of a rewrite! All you need to know
right now
is that this AAR is based on a game I'm playing using
Grell
's amazing
Westeros Mod - War of the Usurper
modification for Crusader Kings, and partially inspired by the magnificent AAR
'Rome AARissen - a Byzantine AAR'
by
General_BT
. My AAR will not aspire to be like General_BT's masterpiece, but it will try to stand on its own. It's a narrative AAR with no screenshots integrated into the narrative itself (but I will post amusing/interesting screenshots from time to time, or on request!). It exists out of multiple chapters that describe certain events that befell the Corbrays. All of which are, more than less, based on what actually happened in the game.
I began the game in the first scenario, Robert's Rebellion and I decided to play House Corbray, rulers of Heart's Home in the Vale of Arryn. A poor house, headed by an ambitious and arrogant man with little more than a blade made of Valyrian steel.
For those interested in settings: I play on cowardly/hard. I hope you will forgive the often crummy grammar and spelling. I try my best, but English is not my native tongue. Nevertheless, I do sincerely hope you'll enjoy this AAR!
As a final note, those who have not read the brilliant books/watched the amazing series. Have little fear for spoilers. This AAR begins about 15 years before the events of Game of Thrones, and everything goes batshit off the rails soon after. Up to and including chapter III (which hasn't been written yet) you might encounter canon characters whose lives turned out completely different afterwards. For example, Cersei Baratheon née Lannister died before the events of the books/series could even take place. I do ask my readers to keep the spoilers to themselves as well.
Underneath the spoilers can be found a short description of the principal characters of 'A Conspiracy of Ravens'. The characters are in no particular order of relevance, they might or might not receive a Point Of View, but they are, generally, important to the narrative.
'Fields of Feasting'
Lyonnel Corbray.
Ruler of Heart's Home, bannerman to House Hunter of Longbow Hall and to Jon Arryn, King of the East. His short brown hair has a reddish glow, and his eyes have a violet colour. Some say there's a drop of Targaryen blood in the Corbray dynasty. Who knows? If so, it's been lost to history. Lyonnel is an experienced, but arrogant warrior who feels that life has been unfair to him. He fought in the final battle of Robert's Rebellion, twenty years prior to the events of 'Fields of Feasting'. He wields 'Lady Forlorn', a blade forged out of Valyrian steel.

Balor Egen.
The bald lord of Crown Crag, and best friend to Lyonnel. At first acquaintance, many mistake Balor for being dim witted and slow. A formidable fighter, Balor was the one who saved Lyonnel from certain death during that final battle of Robert's Rebellion. Like Lyonnel, Balor longs for glory and recognition.

Elyanna Corbray née Baker.
Lyonnel's wife. At first a marriage of convenience since Lyonnel needed heirs, their marriage soon turned into one of genuine affection. Elyanna bore Lyonnel many children, enough to guarantee the dynasty. She serves as Lyonnel's steward, her brilliancy with coin did not make Heart's Home the most wealthy of seats, but the Corbrays now make a tidy profit of their lands, thanks to her.

Dagos Egen.
Balor's eldest son. Was send as a fosterling to Lyonnel's court, where he quickly became best friends with Stafford Corbray. Dagos is considered a prodigy in all aspects of rule and warfare, and was always considered to be one step ahead of Stafford. Is destined to succeed Balor as ruler of Crown Crag.

Stafford Corbray.
Lyonnel's eldest son. His leg was crushed during when the horse he was riding fell during war games. It permanently crippled Stafford, who now lives in near-constant pain. The injury did not stop him from attempting to become a great warrior in his own right. At the start of 'Fields of Feasting' he is considered to be almost equal to his father in martial prowess, which considering his injury is an amazing accomplishment. He is considered just and fair, and a skilled diplomat.

Jon Arryn.
Warden of the East who fostered Neddard Stark and Robert Baratheon, and was the first to rise up in rebellion against the Mad King Aerys. Became a king in his own right after Rhaegar's Peace. King of the East, Jon Arryn has managed to stay out of the many small wars that seem endemic to Westeros. Except for a small conflict with Walder Frey of the Crossing, his kingdom has been peaceful for the last twenty years.

Ser Robin Alryc.
Captain of Lyonnel's bodyguard. A tall and burly man with long brown hair and a red beard. Served as Lyonnel's squire during Robert's Rebellion. Devoted and loyal to Lyonnel, Robin is the de facto leader during the campaign against the mountain clans.

'Little Lords'

Parmen Corbray.
Second son to Lyonnel Corbray. A boy with poor health and a crooked spine, he fell under the influence of septon Gaelyc after the death of his father and elder brother. Devout and pious, he still posseses the strong will of the Corbrays, but no longer cares for the trials and tribulations of the mortal world.

Rollam Corbray.
Youngest son to Lyonnel Corbray, and said to be his spitting image save for the colour of their eyes. Receiving religious education, although Rollam desires nothing more to take up the martial lifestyle.

Lyn Corbray.
'The Blonde Raven'. Fair haired and handsome. A nephew to Lyonnel Corbray who returned to Heart's Home after the former's death. Once considered to be one of the finest swords in the Vale.

Ser Patrek Ermethon.
A lean and towering man, clean shaven with short brown hair, sharp features and dark eyes that lay deep within the sockets. Fought on Lyonnel's side during the Battle of the Four Rulers as his sworn sword. Became captain of the household guard after Ser Alryc's death. Not a refined man, but looks can be deceiving.

Ser Artyr Daviros - courtesy of Knight Errant.
The master at arms of Heart's Home. A man of average size, with short black hair and a well-trimmed beard with streaks of grey. Boisterous, lustful, loyal.

Septon Gaelyc.
A very fat septon who's in the pockets of the Arryns. His influence over Parmen Corbray causes a great divide between 'loyalists' and 'royalists'. He appears to be raising Parmen in such a way to renounce his family's estates, and to hand them over to him.

Sandor Redfort.​
The red headed captain of the guard from the Arryn contingent of soldiers currently stationed at Heart's Home to keep the peace. Solemn, dutiful, loyal. Deserved his spurs in the war against Lyonnel Corbray.
Last edited: