Part 3: Crazy Ahistorical Fun
Wow, this game has LAND COMBAT?
The British Army must be a little sad. The North Africa campaign consisted essentially of a handful of move orders. East Africa was a long, pointless frustration. A lot of my HQs aren't near where their associated divs are supposed to be. In Scandinavia they basically just had to show up at a fortified position and the AI decided that attacking dug-in infantry, across the a strait, with tanks and motorized troops, was not a good idea. (They could've brought up some Marines, though. Germany has built several Marine divs. The game doesn't even have a historically-appropriate name for them, and Hoi1 had authentic sounding names for Finnish Mechanized Divisions of all things.) Although the AI is kind of funky in certain areas, it is very good at this kind of tactical risk assessment.
But the Army's kind of gotten a bad rep, I fear, in this AAR so far. My decisive victories have all been naval, and my production queue is mostly fighters though I always have ~4 infantry divs and 1 armored div building. I need to pedal back production slightly because I skimped on upgrades for a bit to pump out more fighters, and my larger forces need more supplies.
And besides, historically Great Britain has been reluctant to commit its forces to the continent without a strong ally. But an ally from another continent has braved long Atlantic crossing to give a glimmer of hope. A New World, has, perhaps, come with all its wealth to the salvation of the old.
I speak of course, of South Africa.
(And here I would have a pic of their initial landing on the Atlantic coast in south-western France, just north of Spain. If I could find it. I need to organize my AAR pics better. If I find it later I'll edit this to include it.)
Does anyone know if the ai transports/ships still have unlimited range? I was under the impression they didn't, but they could've easily rebased in Gibraltar or something without me noticing.
At first I think that this is going to be just like Australia's attack on the Baltic. I check the army statistics screen, and it's a shame: Australia's army hasn't been built back up yet (they used to have the second-largest allied army). I also see South Africa's army is mostly militia. I check the landing forces and they're all infantry. It seems such a shame to waste an entire corps of infantry or so on nothing...
So I decide to help them out a bit. The Luftwaffe can't do much to me in France because I've bombed all the airbases, so I send air support for starters. I also grab a Div from Territorial Army to repeat my commando raids!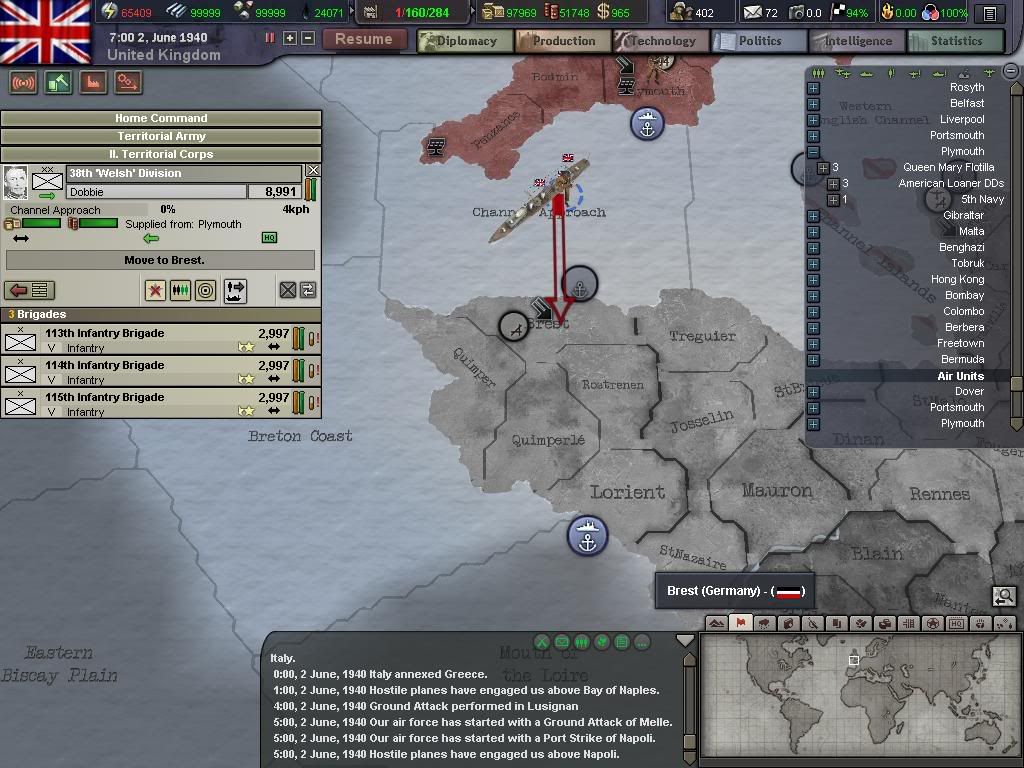 (Also, as per advice in this thread, I've moved Territorial Army Corps I to portsmouth, II to Plymouth, and III is spread across the northern ports. Dover is where I always put newly-built units, so I'm not worried about defending it.)
I grab normandy, cherbourg, and decide to be ballsy and grab Wilhelmshaven. (It has a BB in it, and is there anything in this game more fun then tracking down and killing enemy BBs?) Wilhelmshaven is a little risky--the AI starts to move to get it back right away, and I need to wait for naval combat to finish before I evacuate.
With my radar, I realize France is weakly defended. (Also, the South Africans aren't completely smashed right away.) I notice I have a BEF Corps still in England, and I'm thinking it's time the British Expeditionary Force actually Expedition'd somewhere.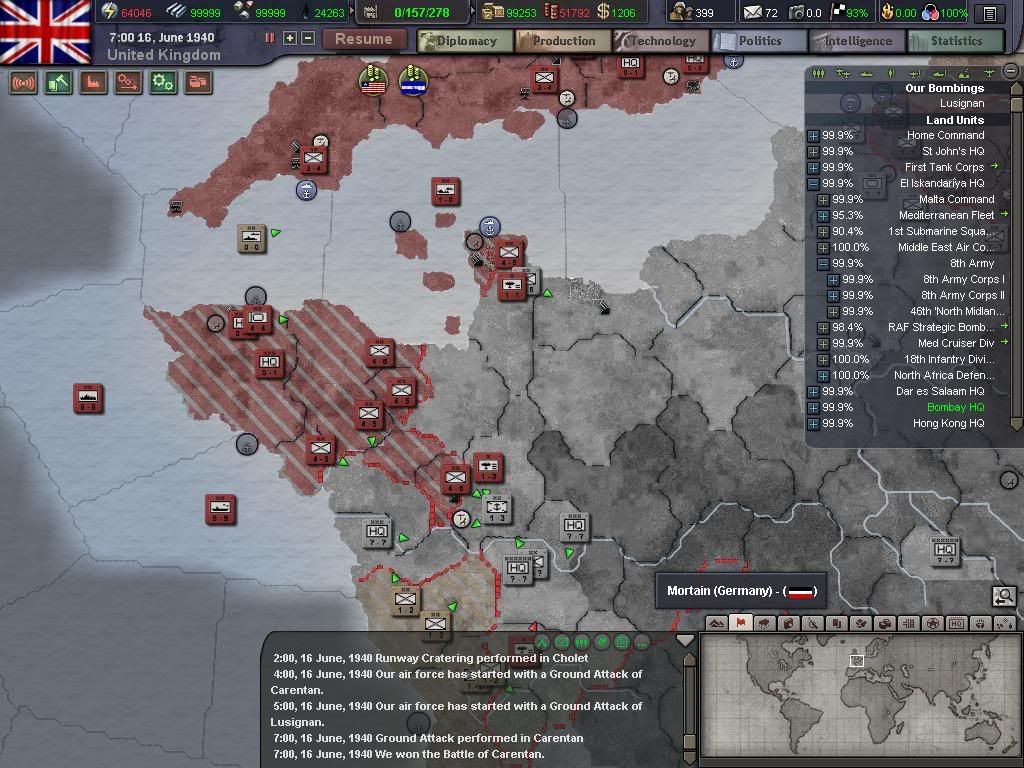 That's an Irish div in Cherbourg, although I made the initial landing, they did it and were thoughtful enough to get the Channel Islands back before pushing forward. This gives you a decent look at the South Africans progress, too; with three allied countries, this is as close to coalition warfare as I'm gonna get with the AI. You can't see it, but almost all of the German HQ divs are moving West, but all their combat divs are moving East. Clearly my raid on Wilhelmshaven has induced the intended fear and panic that I'm going to launch invasion of the Kiel area (like you could do in the demo!) The AI sends divs to get Wilhelmshaven back way before it responds to my other stuff: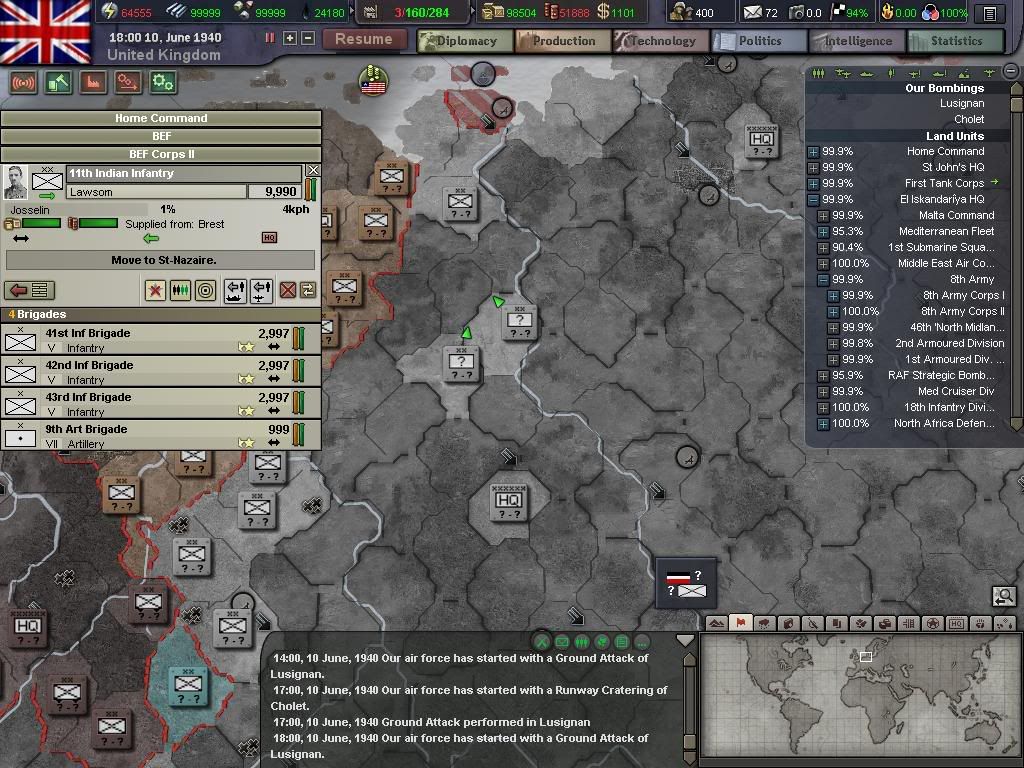 This and other moves makes me think the "operational" AI is compartmented by theater. (I also have the hilarious image of the German Western France commander screaming at the commands next door that the British are coming, and the Lowlands Borders commanders waving dismissively and saying, "It's just another raid, don't worry about it.")
My army organization is a bit of a mess--I was planning on fixing it and making it all nice and neat for the invasion of Italy--but I have to improvise. It's clear I can get most of France back with hardly any resistance. To conquers the enemy without fighting is the acme of skill. (Or the 'pinnacle of excellence', depending on what translation you're reading, but Sun Tzu likes it.)
Soon I help the South Africans close a pocket: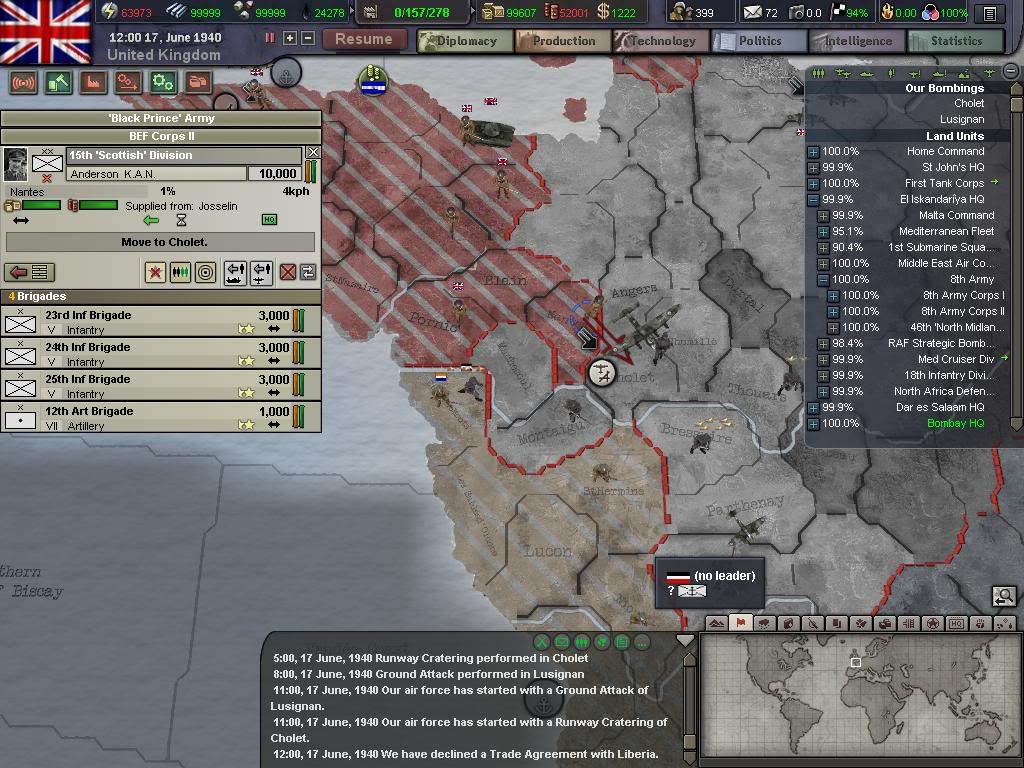 My army's all over the place, and I've made a nub mistake and I don't have enough transports. I have one long serial going, but I started it some year other then 1936, so I don't have enough. I grab two armor divs in port in East Africa; they were waiting for the First Tank Corps' other div and it's associated HQ, but time is clearly of the essence, so I pick them up and embark them. I have strong reinforcements in the Med--the invasion of Italy, now temporarily postponed--but I skip them and send them straight to Cherbourg. As soon as they land I tell them to drive up the coast, and, since I'm feeling lucky, I tell one to drive to Paris.
Soon Tommy meets Jerry:
And I must admit I worried a little bit, at least before the "Assault" event fired giving me a big bonus. There are a number of German AARs, and I played a quickie German game to '39 just so I could get a little bit of land combat, and I was really worried that that I'd be fighting troops armed with ahistorically high tech like jet aircraft, king tigers, and death rays.
So when this happened: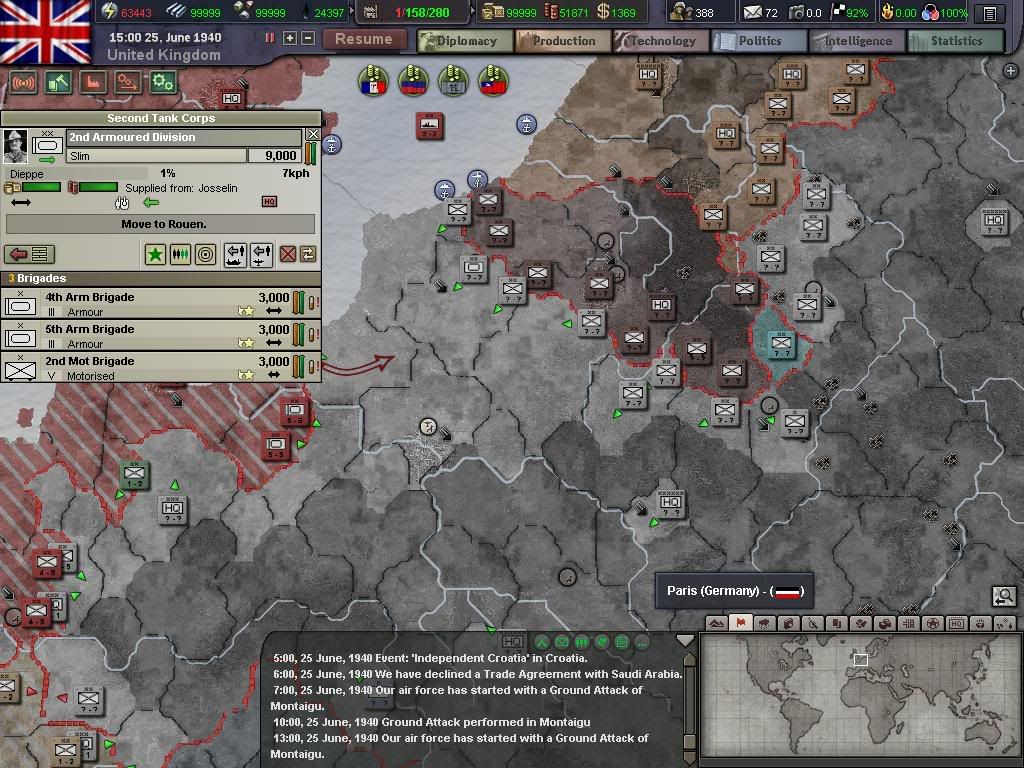 I had half a mind to send all my guys back to the transports, and write the whole thing off as the largest commando raid of all time.
I'm quite relieved to see that my fights with the Germans go more or less as I expected: quite well in an infantry brawl, not so well in a tank fight.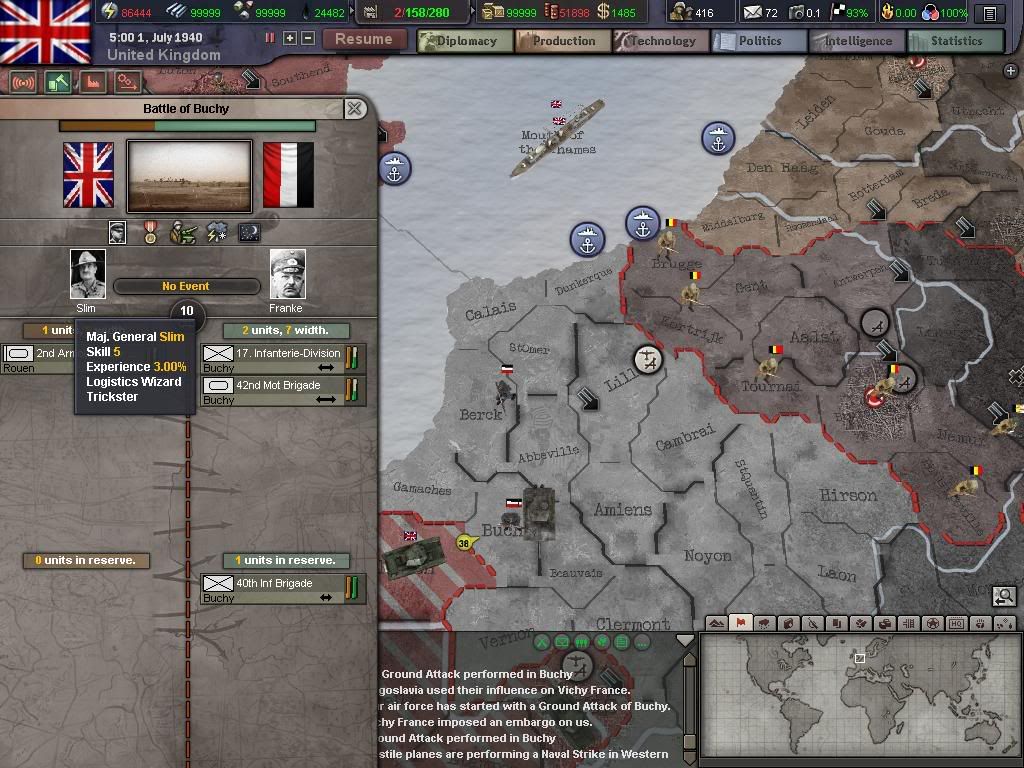 As promised, Slim turning defeat into victory in Europe.
As you can see, my cruiser tanks have successfully grabbed Paris. This is a pinning attack to buy time for me to get an infantry div to the city.
Clearly, my tanks are called cruisers because of the stranglehold the navy has on British strategic thought. Historically, the 'cruiser tanks' were intended to conduct far-ranging operations, independent of infantry (as you see here), as opposed to the slower-moving, infantry support tanks. (Represented in game by the early Heavy Tank Brigade...which I have none of, because armor research is for people named Hans and Fritz who eat bratwurst.)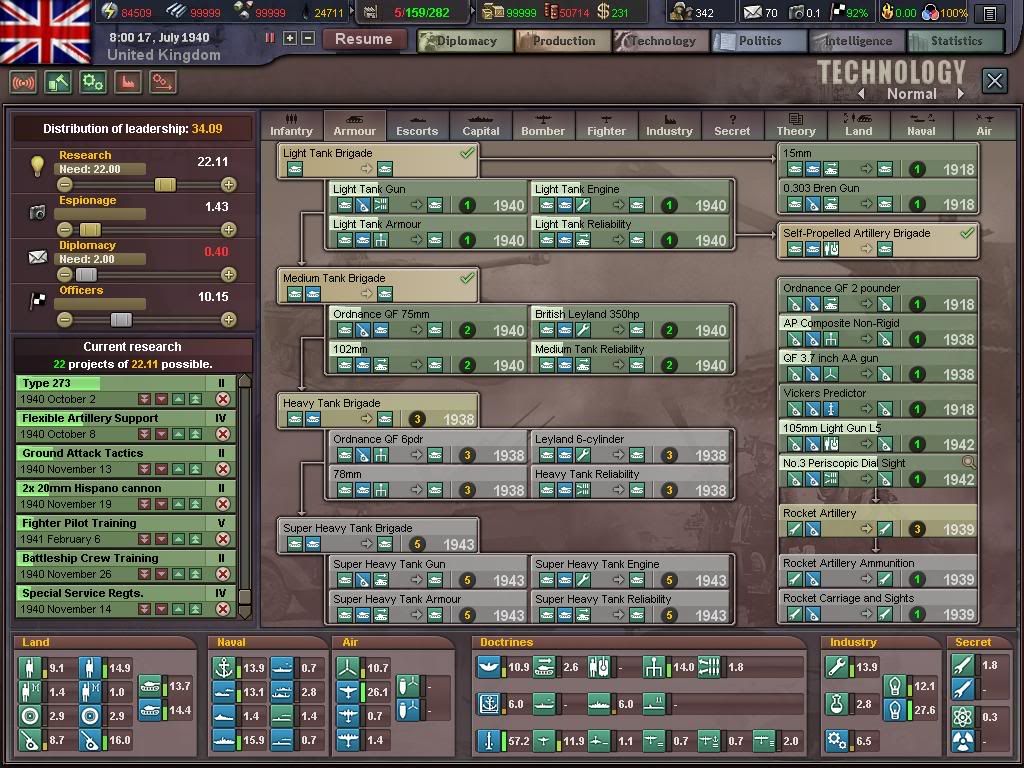 My tech screen. Yes, I'd rather have '42 artillery then '40 tanks, though from a game perspective, since the tank techs only take 100 days or so each, I'll grind through them quick soon enough. You can also see that the liberation of French provinces is giving me a smattering of extra leadership, which I'm spending on officers and espionage; I don't want to commit to a research project before 'liberation of france' fires, and frankly diplomacy is doing well enough without me at this point.
If you look at the earlier, you'll see they left a port undefended. It's clear the Germans are amateurs at maneuver warfare. I grab an infantry div (from territorial army) and a newly-built armor div (organization is low, but it just needs to grab undefended territory, that's what armor units are for! I'm beginning to regret not building any light tank units) and flank the Germans at Dunkirk.
Also, once my infantry div gets to Paris, the armor div there launches a Pinning attack, and my CAS actually lets them beat a German armor division. My CAS has been mostly a target for fighters, so I'm sure they enjoyed taking out all their aggression on some helpless armored boxes. (They also finished upgrading from "Fairey Battle" to "Hurricane mk IV", which may also have helped.)
I constant keep expecting to be thrown back into the sea, but my pinning attacks buy me time to bring up 8th Army from the med. This puts two British Armies in northern europe. (I created some HQs for my hastily improvised initial landing--a corps-level HQ, Second Tank Corps, and an Army-level HQ, called Black Prince Army, after the famous commander of the Hundred Years War. It seemed appropriate because I'm invading France, though after careful reflection, I'm going to change it to French Vacation Army. I though about German Vacation Army, but that's premature.) They're both kinda small actually--only 2 corps and the odd extra div or two each--so I'm going to wait to create the army group until I reinforce them. (And then I'll put up a nice, clean, oob for all to see, until the exigencies of combat make me mess it up.) I have about 4 corps France atm, including an armored corps; I have about a corps in Scandinavia, which I don't really need there anymore, at least at full strength because Sweden/Norway have mobilized; some stuff in East Africa that's trying to leave (~1 div, with its old "First Tank Corps" hq), and two corps in North Africa. (BEF, I. BEF and III. BEF (Mountain). I'll see how northern france goes before I send them in; I might want to use them in a Dragoon/Anvil style landing in southern France if I can't liberate France without going to war with Vichy France--some research is needed.)
Here's the situation now: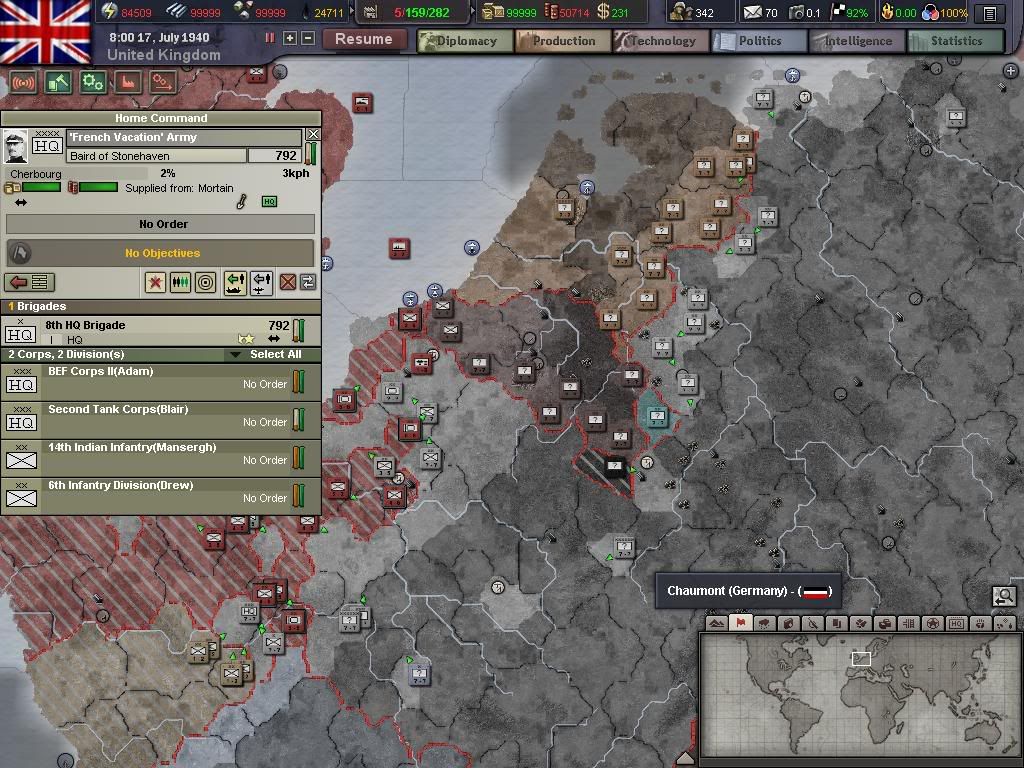 Ironically, even if I succeed, I'll basically have the 'normal' 1940 status quo.
The German-Netherlands borders ai has decided I'm a bigger threat. I have repeatedly asked Netherlands/Belgium to join the Allies, because THIS WOULD BE THE TIME, but they both refuse despite having almost perfect alignment. (I wonder if Germany's threat at this point, over 200, is working in its favor and intimidating countries away from joining the Allies. If so, I'm in trouble, because threat never seems to go down.) My ground superiority is like my air superiority: basically, local. I can maybe beat the Germans piecemeal, but I imagine if I cross into Germany itself it will pull all those divs off the East to stop me. I really want to liberate France so I can have someone on the continent churning out guys; South Africa is shuffling troops in its own country around, though, and that's usually a sign that they'll send more guys. I have to figure Canada will go through this phase again at some point and send a corps SOMEWHERE. I'm also worried that if I have to take over vichy france MUSSOLINI will decide to save ze Germans from their bumbling defense of France. (MUSSOLINI conquered France, remember? And what have the Germans DONE WITH IT? Given half of it to a neutral country, and gone and lost almost the whole other half?)
I'm worried; I don't think I can win a race to the Maginot line. And what can someone DO to an army entrenched in the Maginot line? Why, it's level 10 forts, and its interwar construction was a huge chunk of the French defense budget. It's IMPREGNABLE. The Maginot line SURELY cannot be defeated.
Wait.
Wait.
I have an idea.
I dunno if anyone's ever tried this in a Hoi game before. I know I've tried some unorthodox tactics like commando raids, but this is the most out-there idea anyone has ever said.
Maybe....maybe I can outflank the Maginot line by going through the low countries. I dunno, maybe you German players out there can help me out...does this seemingly insane, completely original and new idea work?
:rofl::rofl::rofl: