First Lieutenant
2 Badges
Between the Devil and the Deep Blue Sea - Jan 1805
What with the landing bug and the ship captures now in place is there a better time to play Britian? We shall see.
House Rules
:
Game settings are Very Hard Difficulty and High AI Aggression.
No reloads (unless I crash the game with too many screenshots).
No ending the game at war.
No ship building.
No African conquests.
Set up phase: We have a free idea to start the game so let's start with Press Gangs, this gives -33% maintenance modifier and +100% range to naval units.
We start with the following.
Our navy is 13 transports, 17 frigates and 26 1st and 2nd rate man of war.
We have a 86,500 militia, we're going to get rid of all of them. They go back into the manpower pool for more useful things like infantry, cavalry, artillery and guards.
At Gibraltar and on Malta we set the armies to retreat into fortresses/cities.
In Ireland we march all the troops to Dublin to await transport to the mainland. With the seas under our control who will be able to land there?
We commence depot construction at Glasgow, Newcastle, Yarmouth and Cardiff. Every depot is a little more manpower and we'll need lots before the end.
All troops in the mainland are ordered to Norwich and London.
We get British India Holdings +25% tax income, rich and no navy to spend it on. A lot of coalition and building works in store for us.
The Ottomans start the game by withdrawing from the Military Access pact they had with Egypt. We guarantee Egyptian independence, I'm not remotely interested in Egypt but lets see how far the Ottomans want to take this. They do have a navy and I'm interested in that.
Spain declares war on us.
A shocking start to the war with France!
Sir Robert Calder may soon be the new Admiral Byng!
The natural order restored. The Lizzard looks like it will be seeing a lot of action.
Off the Spanish coast Nelson goes into action.
Lord Keith starts the naval build up.
And he keeps on building and learning!
The Battle of Trafalgar, nothing to write home about. But we shalll have to have a fleet stationed here to avoid Gibraltar being blockaded.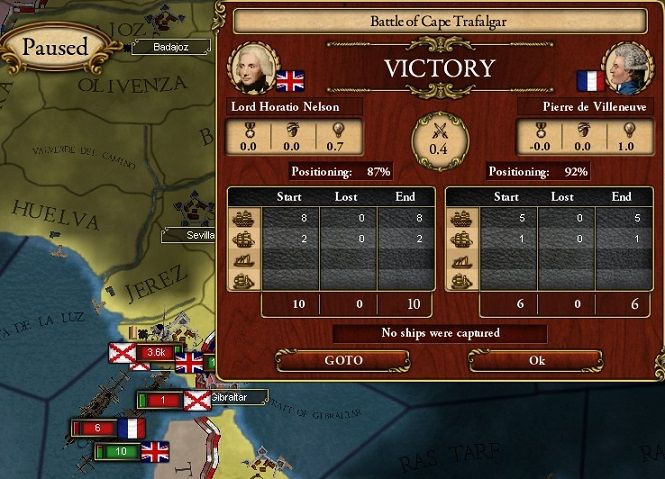 1 month down and we have 2 new 1st rate man of war, much quicker than building. A month in the docks and they'll be good for battle.