May 16, 2002
14.307
1.829
40 Years On: Friedrich von Manstein's Brandenburg​
* * *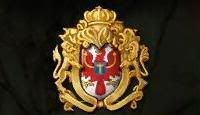 * * *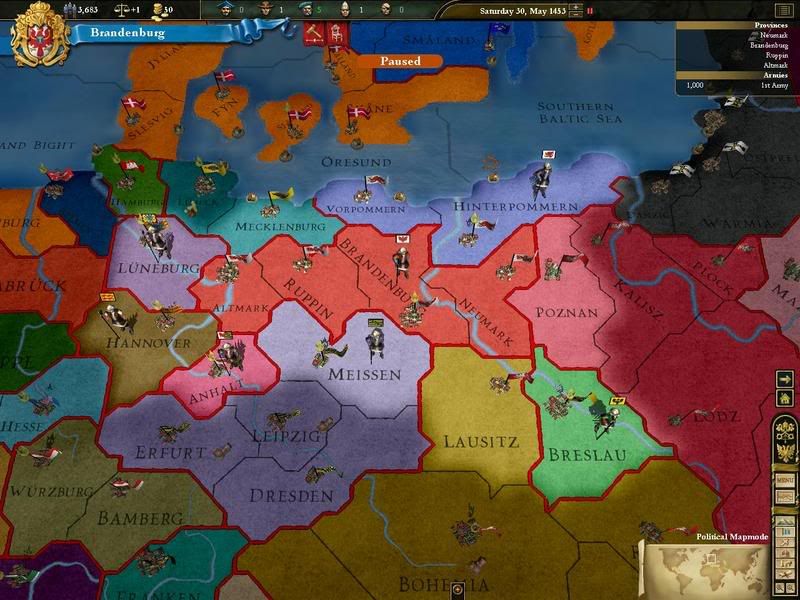 I was naught but a child when plucked from the bosom of my youth to serve under the harsh tongue of the Kurfürst of Brandenburg, Friedrich II. He was called The Iron or Irontooth for his fierce temper and stubborn nature. And I, not but a lad of nineteen; how was I to know that I would outlive him and go on to serve successive generations of Brandenburg nobility that went far beyond anything that Irontoothed Friedrich imagined?

My name is his, and somehow that seems ever so appropriate given what I learned under his brief tutelage and the vision he lent me to see into the great history that was to become our small marche. Yes, I am Friedrich von Manstein and this is a tale of that journey, not yet done. As I have now served for forty years, I begin to wonder if this tale will ever end. My bones now creak and my belly sags. But the coffers of the empire are healthy, or were…but we shall get to that. For now, let me begin at the beginning.

Born in a small village just west of Berlin, I was trained early on by my mother in the arts. Paint was my particular attraction and my work had grown steadily better by the time I was asked to show for the great man himself. Ushered into a grand hall that presented several of my creations, I encountered him standing in front of one particular piece that portrayed a great King gaining his due from his subjects. Friedrich II seemed awed by the work and said not a word for many a moment until I rather rudely coughed. He then turned and asked if I was the creator of such a work and I replied in the positive. He looked me up and down and then nodded his head as he strongly suggested to his advisors, "He is hired."

Well, it is no great shock to think that I was both overjoyed and a little confused. What work did I have to do for a great ruler? I was barely able to impress my own father who was not one for the finer points in life. But it was only a matter of weeks before they had me packed and sent off to live in the great man's own keep. My profession was to be court painter, but one would have never thought that I would assume the position I eventually received and maintain until this day. But that is for later...

Let me tell you of what I first encountered when I arrived at the Kurfürst's court. There were two other men that seemed to hold some place of honor with Friedrich. One was Luitpold von Derfflinger, his chancellor and the man responsible for the great man's honor and prestige with the world that surrounded him. Both diplomat and confessor, this man would be the guiding light for all of the same men I have been privileged to know and work for these many years. He was much the tutor for me and I owe him my everything and all else. The other man was less friendly but no less the teacher. Georg Peurbach was the Kurfürst's steward and this man's main thought at all times was finance, finance and finance once more. His only care seemed to be building up the princely coffers and in this endeavor he was not always successful, but certainly tenacious. His role in my education was to show that perseverance pays off. And I can be grateful for such a thing.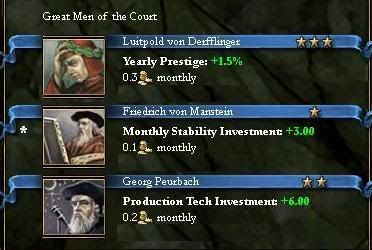 And so it was that my great shock at arriving at court was to find that my artistic sensibilities would not be listed high on the work that I was to do. Friedrich's first offer for my talents was to design a grand building project in the middle of the town square. I assumed, "A sculptor." Well, as I have been many times, yet again I was wrong. It was no sculpture but a grand obilesque of the roman heritage that was to proclaim that Friedrich was prepared to make this small princedom in the northern marche something far grander than anyone might assume. I was not sure exactly how to portray such a thing and one day as I pondered upon the project, the Kurfürst himself happened by. Seeing me off in the wilderness of my mind, he beckoned me to come with him. I did so, as any proper subject should do. We moved into a room with a great cloth map draped on the wall and on it stood the representation of the known world. Friedrich looked to me and said as simply as any man might, "Paint that, if you are able. And paint it with vision, boy. For that will last as long as I can keep breathe in me. We shall grow and prosper by any means necessary. Let not pride nor shortsightedness stand in your way. Present this realm with greatness and we shall become so."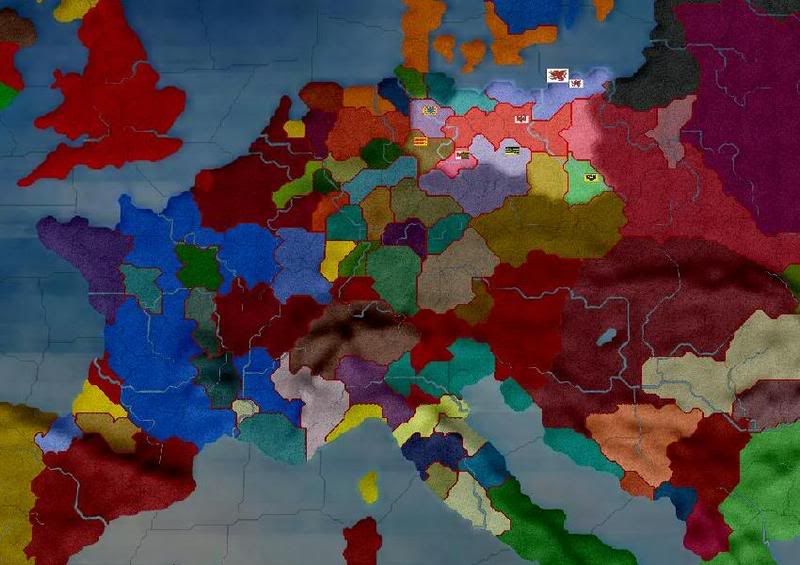 With a slap on the backside, he walked away as regally as any prince might and I was left in awe and utter confusion. But I pushed forward and when asking the Lord Chancellor how I might present the work he was kind enough to offer some constructive advice. I was to etch small tales in the side to tell the story of what was to be. Nothing more nor less. And with that, I went about my work diligently. There was no way for me to know that we would succeed on these grand designs. At the time I was simply trying to please my liege lord. But succeed we did, and in magnificent fashion.

But before there is success, there is failure to learn from. And it was not long into my working world when Brandenburg was faced with great upheaval. I had pleased the Kurfürst with my work and was privy to much of the goings on in the marche since von Derfflinger was kind enough to keep me so. We had apparently made good with the Pommeranians in the north, a ghastly sort but from my best understanding, a potential vassal in years to come. As well, we had made fine friends of the Saxons to the south and good friends they were. For when the Poles decided to declare war against the Pommeranians, both Friedrich and his Saxon allies paid heed to the call.

It was a long and tedious war and one that would deprive us of our greatest living treasure…our liege lord himself. Friedrich was cut down two years into the conflict as he pursued a fleeing army and left the princedom to his son and successor, Joachim. We were lucky to have such a gifted warrior able to fight for the cause and between himself and the heroic Friedrich Wilhelm von Bühler, the Poles were finally placated enough to leave off of war and accept peace for a minor payment. It was not the auspicious journey we all assumed we might find, but it was breathing room. And never since have the Poles even so much as attempted to invade. They did, however, destroy the Pommeranians and they have never seen freedom since.

Of course, I was crushed at the loss of a soldier and patron as fine as Friedrich, harsh tongue and all. But life does go on, and my new patron was no less the prince than his father had been. Regal and proper, even in young age with naught but one child under his belt, he was prepared to take on the realm. And he was kind to me and allowed me far more say so, whether I desired to speak or no. I plunged into my new role with vigor, as I knew I would never have life so fine as this. It was to be a glorious new age and there was scarce time to breathe as soon our marche was entangled in a furious war with neighboring Mecklenburg. Early on in my time with Friedrich (God rest his soul), I was privy to a conversation between the Kurfürst and Peurbach discussing the merits of joining in league with several of the other German state-lets of the north in what became the Hanseatic League. Friedrich was wary of such a step as it might entangle the princedom in issues he cared not for, but the steward made his case strongly. In retrospect, our Lord was right. Not long after the end of the Polish conflict, Mecklenburg and our neighbor Lüneburg who we had chosen to protect, came into conflict over trading rights. Truth to be told on the matter, it was nothing more than Mecklenburgian aggression as they had been threatening each of their neighbors thanks to hosting the great trading house at Lubeck.

Once again, the brave Joachim, never one to dishonor his father, took the call to arms with great seriousness. A touch and go thing it was and once again, we lost our great leader to the field of battle. But thankfully, the Lord above provided us with a suitable replacement in the form of his brother, the great Johann Georg, the first of that name. Immediately, the young man took to the field of battle with a fervor and grace unknown to his people at the time. For five long years the war raged on, but in closing, Brandenburg was in control of both Lüneburg (having been annexed by Mecklenburg) and their own namesake province. Our realm was on the move and with it, great men such as our prince.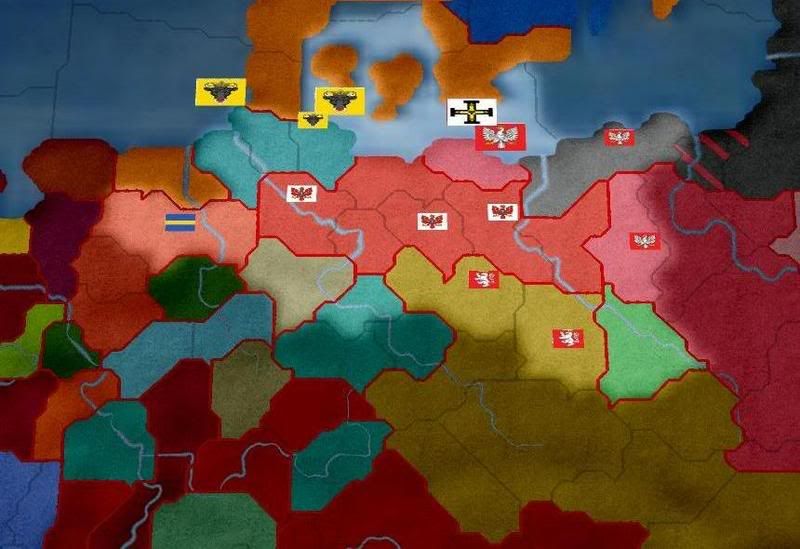 The Christian world was so impressed by his steadfast support of the minor princes, that several of them gathered together on the death of the Emperor and in 1460 voted our own liege lord as die gratia Romanorum imperator electus simper augustus. It was a great day. In seven short years I had come from a small village boy to the servant of an Emperor. However, the life of the brother lasted only for a further six years when he succumbed to an illness not yet understood. Thankfully, the son of the great Joachim had come of age and was prepared to take up the mantle of both Brandenburg and the Empire, receiving a larger share of the vote this time around as the electors began to see Brandenburg as a shining beacon.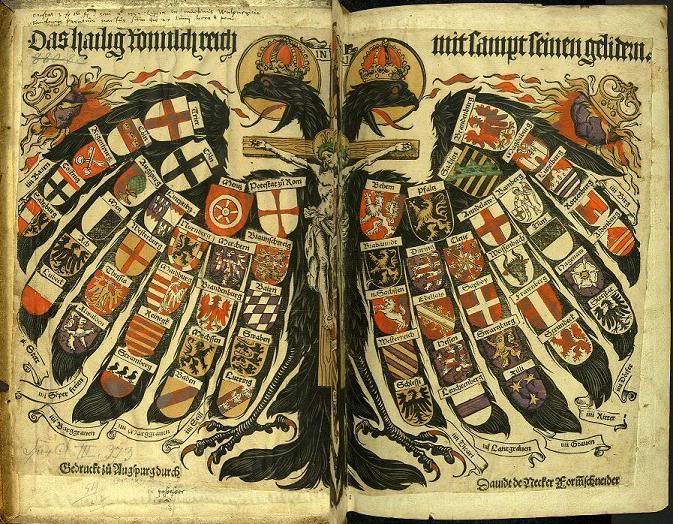 Joachim II Nestor was proclaimed both ruler and Emperor on the twentieth of June, in the year of our Lord 1466. Sad as it is to say, the poor boy lasted only seventeen months as Lord and in life. A freak riding accident took him from us before he could ever prove his greatness. And such as it was, we were hard pressed to find a new ruler. We must thank God above for providing the great Friedrich with a brother who was soon crowned by the Pope himself as Wilhelm Friedrich I. Age had slowed the man but his fire was still very much lit as he told the Holy Father himself, "God has seen such that I might make something of this life. If it happens after my prime, then so much the better."

After his prime or no, the Emperor was as good as his word, traveling in progress to all areas of our realm; he visited nobles, merchants and peasants alike. Trips to various Cardinals ensured that his soul would be safe, and gifts aplenty to his fellow electors made it a sure thing that his son would also gain the crown once he had shuffled from this mortal coil. Wilhelm Friedrich I was also tested early when it came time to once more honor an ally's call. As was his religious and honorific nature, he leapt at the chance to do his duty. Armed with a serviceable army, and the great leadership of both von Bühler and the crafty August Schach (a student of siege craft and a master by this time) Wilhelm went once more to war thanks to the little forethought and no advanced warning of Cologne as that Bishopric aggressively invaded neighboring Münster soon into the new Emperor's reign.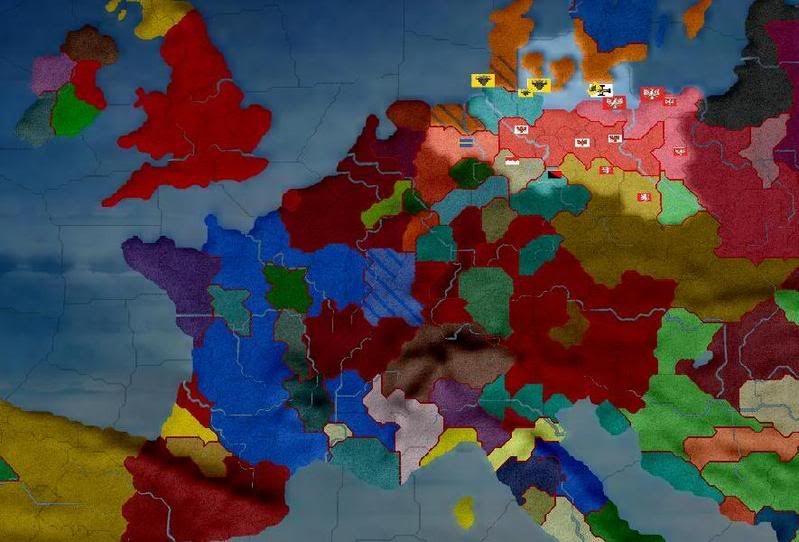 Europe, 1466
​
Last edited: