I recently completed a Sunni Ottoman WC and would like to do a write-up that consolidates all the advice I've gathered from this forum.
The WC was finished in 1737, one tag would have finished around 1750s. All DLCs except Third Rome.
I stayed Sunni to keep the run as straightforward as possible. Conversion stopped after the 1500s. One Faith should have been attainable if missionaries kept working.
Early Game:
As the first 50 years are fairly static for the Ottomans, the following opening strategy should apply to every run.
Before unpausing, use estate interactions, run LV2 advisors, embargo/insult rivals, delete all forts, starting fabricating on Dulkadir. Until all surrounding Sunni nations are killed, low piety is better as attacking Sunnis decreases piety.
When diplomats return, start improving relations with Sunni neighbors who are not immediate targets. If Venice is not a rival, improve relations to friendly to speed up Renaissance spread. Try to never have more than one diplomat free unless they're needed to chain wars.
Be Defender of Faith for the rest of the game. Set estate interaction modifiers to paused pop-ups. In 200 years you can get an extra 1500 mp of each category as well as boatloads of ducats. Demand points when estates have 75 influence. Unassign after to below 70 influence and 40 loyalty to avoid bad events. Estates gradually gain loyalty up to 50 as long as they have enough land.
Uncheck the option that automatically garrisons forts during war. Make sure to always mothball unneeded forts during both peace and war, including captured ones. Always be at state limit but don't full core low dev states. Take the time to set your interested countries. Shift consolidate often to avoid fighting with weakened regiments.
DoW Byzantium on Dec. 11 and Albania the month after. Take back all cores as quickly as possible. Wait for MIL tech 4 then switch to ADM focus. Tech 4v3 is the biggest early game military advantage. I prefer using it on Mamluks but it depends on the map situation. You can either release Syria from AQ before fighting Mamluks to manage AE or take the land with mission claims. I prefer taking the land as I plan to release three other vassals soon. If using Syria, make sure to divert trade asap.
If Cyprus is not in a trade league or do not have annoying allies, start fabricating during the war. Mothball Mamluks forts and peace out on the first of the month. DoW on Cyprus on the same day and white peace Mamluks by occupying their empty forts. This shortens a 15 year truce to 5-6 years. White peace Cyprus also to avoid unnecessary AE. If Cyprus cannot be declared on due to allies, cancel the Levant mission when Mamluk provinces begin coring so you can take it again later.
Next, declare on QQ, make a land bridge to Haasa/Shammar and take at least one Persian core. Start building a spy network in Timurids during the war to support Persian rebels. If Persian rebels have already spawned, keep track of the provinces they hold as the provinces will flip after 5 years.
Fabricate on Haasa, then eventually Najd, Oman, and Yemen. The goal is to snake through to Adal and eventually down the African coast. The Zanzibar node is rich, Kilwa has gold, and the trade company there is the fastest way to get an extra merchant.
If for some reason Persian rebel progress is halted most likely because a stack has already spawned, release Persia yourself and declare on Timmy using reconquest. EIther way, do NOT let Persia form by themselves as that would slow down blobbing considerably. If using the enforce rebel demands CB, release Persia beforehand also and enforce religion. In the future, enforce religion on all vassals as same religion speeds up annexation.
DoW Timurids and Haasa, enforce demands on Timurids and humiliate if able to. If Persia has Mogostan, seize it. You want a land bridge from the capital to every uncored province or else inland provinces cannot be cored until adjacent ones are. Do whatever is needed according to alliances to annex Hormuz and snake through to the African coast. Najd is a good vassal to release in this region if going the conversion route, but since there's not much land to feed them I generally skip it. The first two ideas should be Admin/Influence. At this point Adaptability should almost be completed. Before then, do not take low dev land.
Make sure to enact edicts to spread up Renaissance, develop Constantinople if needed. Build a second fleet in the Indian ocean for African/Indian wars. Do not convert your Orthodox provinces as they'll be assigned to the Dhimmi later. Ally France and Muscovy or whoever are the next two greatest powers after you. They will help with preventing coalitions. Build tax and production buildings as money comes.
At this point there should be no coalition. Depending on whether Persia borders Sind or Baluchistan and if either of them are Timurid vassal or tributaries, do what's needed to get to India. There should be three fronts to trucelock at this point, India, Mamluks/Arabia/QQ, and Africa. Improve relations with Sunni hordes and Sunni Indian and African tags that will be immediate targets. Declare as soon as truces end.
From 1450-1500 on, expand down to Kilwa and through India. Target Sunni countries first in India. Take centers of trade and provinces with valuable goods, snake through to more targets. Leave Copts alone unless they're in the way. When all three fronts are truclocked, DoW Trebizond and snake through to Horde land, avoid the hostile core cost land. Consider slowing down the pace until Influence is filled to lessen unjustified demands cost.
Mid game/Late game:
Manufactories become available at DIP tech 11. Rush it and spam manufactories wherever there is already a workshop present. Delete docks and other useless buildings in Dye/Silk/Cloth/Ivory/Cotton Indian provinces that take up slots. Assign all provinces to trade companies. Kill all Sunni Indian tags and go for Hindu ones after. Grant horde land to Crimea if the event fired, if not, release a horde tag with lots of cores, Kazakh is a good choice as there's a lot of low dev land in that area. Release Punjab from Delhi/Mewar to feed it hostile core cost provinces. Divert trade on all vassals, buy down liberty desire, pay off debts. Don't delete their forts as forts lead to more debt. Start annexing vassals when both Admin and Influence are filled and the cheaper annexation cost policy becomes available.
I ran very few mercs up to this point as I wanted to save money for buildings. Make sure to use optimal army comp. The priority for wars is always to end them as quickly as possible, take land before money unless the land is worthless. Check ledger, don't use more troops than necessary to DoW as there will be multiple wars on multiple fronts. This also means don't build more troops than necessary. With alliance strength and diplomat micro no coalitions should be forming.
When there's no one left in India besides Ming tributaries, become Ming's tributary. At this point you should be too big to rival, so becoming tributary would only cost a bit of power projection and most likely money. Ming rarely demanded MP from me for some reason. As tributary, you are free to eat all of India and SEA which will make your income skyrocket. Meanwhile start preparing to DoW Muscovy. With all Sunnis dead or trucelocked, the targets are now Orthodox and Buddhist tags.
From here on it depends on how the map has formed. The general idea is to expand upstream, eat through Muscovy to border Scandinavia, and kill everyone who's leaching from your trade nodes. I became tributary in 1553. Note that all of this was done with 4 stacks. There's no need to build more troops than necessary. This does require getting to India as early as possible before big blobs form and also a lot of micro. As the goal is to end all wars as quickly as possible, eating around Ming to border as many forts as possible makes things a lot easier than fighting Ming through a choke point.
By taking valuable upstream land and investing in production buildings, I was able to 5x my income in 100 years. I broke tributary in 1590 and waited until mandate hit 0 to DoW. A coalition did form once I broke tributary but it disbanded immediately after I built more troops. At this point I had released Persia, Punjab, Kazakh, Ayutthaya, and Novgorod. Punjab was needed to reduce AE and feed HCC land. Novgorod and Kazakh both have lots of cores and great NIs. Ayu was the only Sunni tag in SEA and also had lots of cores.
Having done a one faith before I really didn't want to click the convert button ever again. Hence I went with Humanist instead of Religious third for a no conversion run. If I intended to convert and unify Islam I would have taken Religious for Deus Vult and an earlier WC finish, but at the cost of more rebel micro as opposed to missionary micro. It's a lot of extra clicks either way so the decision depends on your goals.
The first Ming war was finished in 3 years. On the next day I DoW'd a tributary while using the mothball fort trick to white peace Ming. Shu and Shun were released and put on scrutage. After Asia was nearly wrapped up I snaked through Berber land towards Iberia. Diet of Wien fired, Poland/Lithuania were being eaten by Hungary and Bohemia. I expected France to break the alliance once I bordered him so I saved up money beforehand to fill my force limit. Coalition desire is heavily influenced by the size of your standing army. For most of the run I reinvested all profit on buildings.
Once Aragon was beaten up France broke the alliance and a coalition formed, but once again it dissolved when I built up to force limit. No coalition formed for more than a day for the entire run due to diplomats, alliances, and aggressive blobbing.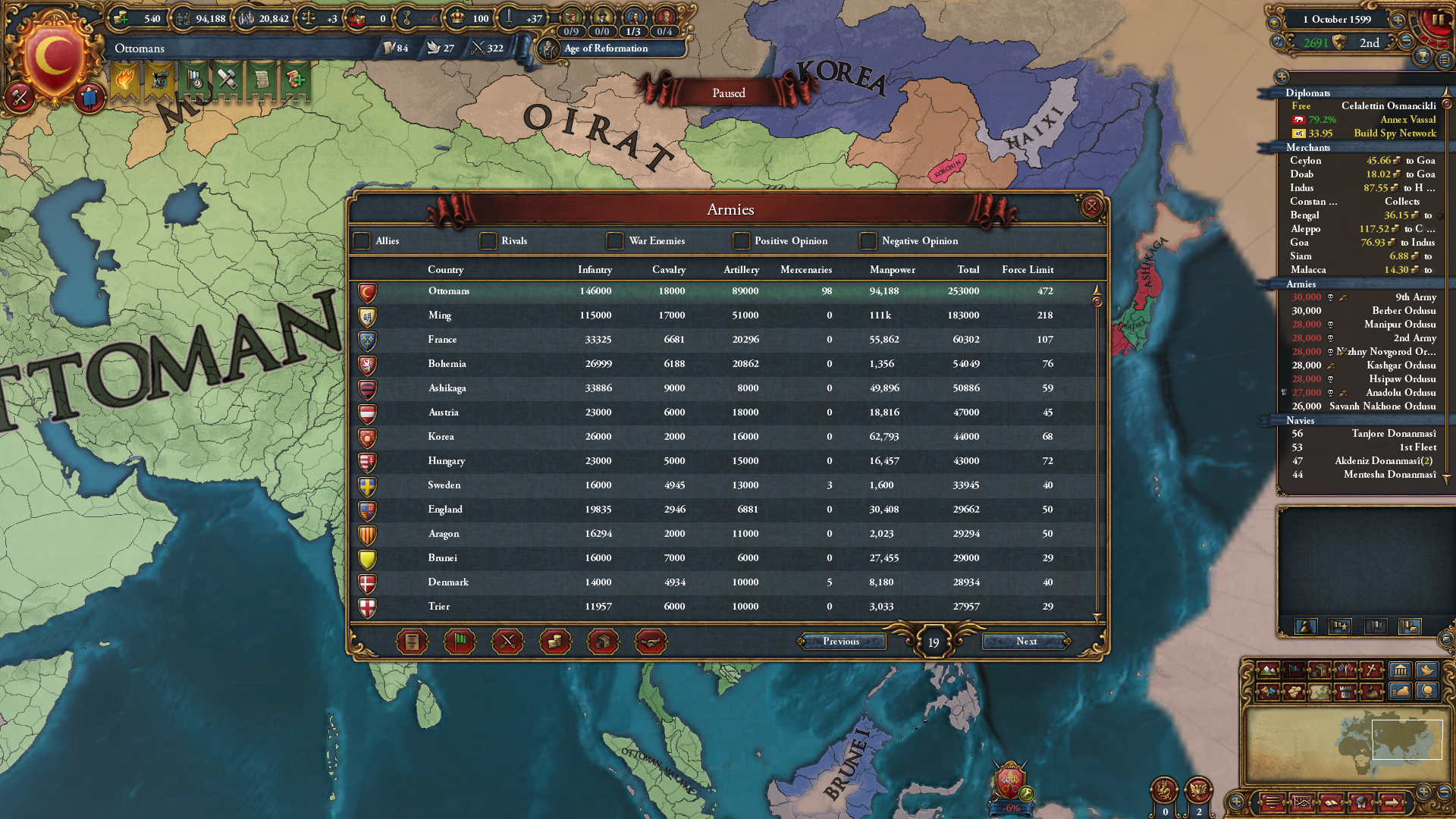 Without Deus Vult, my dip was tanked for most of the game which meant being behind in naval tech. I had to abuse naval combat by building lots of heavies and sending them in stack by stack into engagements.
The priority in Europe was to make a land bridge from Hungary through Austria/Venice/France to Iberia, and from Scandanavia down to Venice. Colonizers were dealt with early to wear down their war score. The autonomy in my TC provinces were too low so harsh treatment was spammed to raise absolutism. Golden age was enacted in the 1630s. I hit 10k development around 1650.
In the last 50 years the HRE was kept intact for as long as possible. Every HRE prince calls in the emperor as a co-belligerent which allows me to take the emperor's land with no truce. Doing so wore down the European powers much faster than if the HRE has been disbanded. When Austria died Bohemia became emperor, and later France. I also did not take any New World provinces unless they were needed to full annex their overlords. This reduced their WS considerably and saved me from decades of constantly CN revolts.
After ADM and DIP tech 17 I stopped teching until the very end. The next level of admin efficiency comes at 23 and all the techs in between are not worth getting. All dip points went into unjustified demands. I'm not certain this resulted in a faster finish as I had to wait for Imperialism eventually.
My CNs refused to fabricate claims no matter what. Every country was less than 100 WS in 1700 except for an independent Canada that required an extra truce. With spy networks and a loyal Dhimmi which gave -10% tech cost, ADM 23 didn't take too long. In the end I only filled Admin/Influence/Humanist and the first idea in Diplo. Most of the midgame blobbing was done with 2.5 idea groups. Imperialism would've made life easier, but I technically should've been able to get to everyone with exploration if my CNs fabricated claims.
Endgame vassals were Portugal, Kong, Poland, Satake, and Gascony. I did not spawn the last two institutions for some reason despite having 99% of the world's manufactories and most of the world's universities.
Overextension rarely went above 100 and never above 100 for longer than 5-6 months. No trucebreaks. In hindsight I may have been better off going Religious third. Dhimmi with 60 loyalty/influence gives +2 ToH along with Ottoman tradition which gives +3. I would get a few more rebel stacks, which is okay given my force limit and economy. In return I would save on thousands of dip from unjustified demands and be able to release more vassals and rush Imperialism CB. With the Janissaries modifier I did not need military ideas. Expansion was constricted by monarch points rather than military strength.
1737 finish:
Timeline:
Thanks for reading
Last edited: