Hello and welcome to another winter teaser
In this short teaser today I bring you more cultural traditions as well as previews of some cultures we haven't shown you before.
Chanson De Geste
In some cases cultural traditions are regional variants on more generically available one. Instead of the more widely available Martial Admiration tradition that we've shown previously the cultures that have a Frankish heritage will have access to the Chanson de Geste tradition. This both grants access to the Valets innovation when the Late Medieval era comes around and highlights the role of troubadours in the French region.
Performative Honor

​
For those that have Flavor Pack 1 the Shield Maiden related content is now connected to a new cultural tradition called Performative Honor, which is available for cultures of the North Germanic Heritage.
Persian Culture
One of the traditions of Persian culture highlights the prevalence of philosophical thought among its members, another gives access to a royal gardener court position.
Butr Culture

​
Cultures with a Berber heritage and a presence in desert or dry lands will have access to the Desert Ribats tradition, which unlocks the Mulathamun Man at arms type among other things.
Catalan Culture

​
Maritime Mercantilism is a tradition that makes coastal holdings more useful to a culture, as seen here in the lineup of Catalan Traditions.
Cisalpine Culture

​
Any culture that has the Roman culture somewhere in its ancestry can adopt the Republican Legacy tradition which is a special version of the more generally available Parochialism cultural tradition. This highlights the special Republican heritage in the italic sphere and will let you create a number of Republican vassals out of your counts who will become overseers, or Podestàs.
Mongol Culture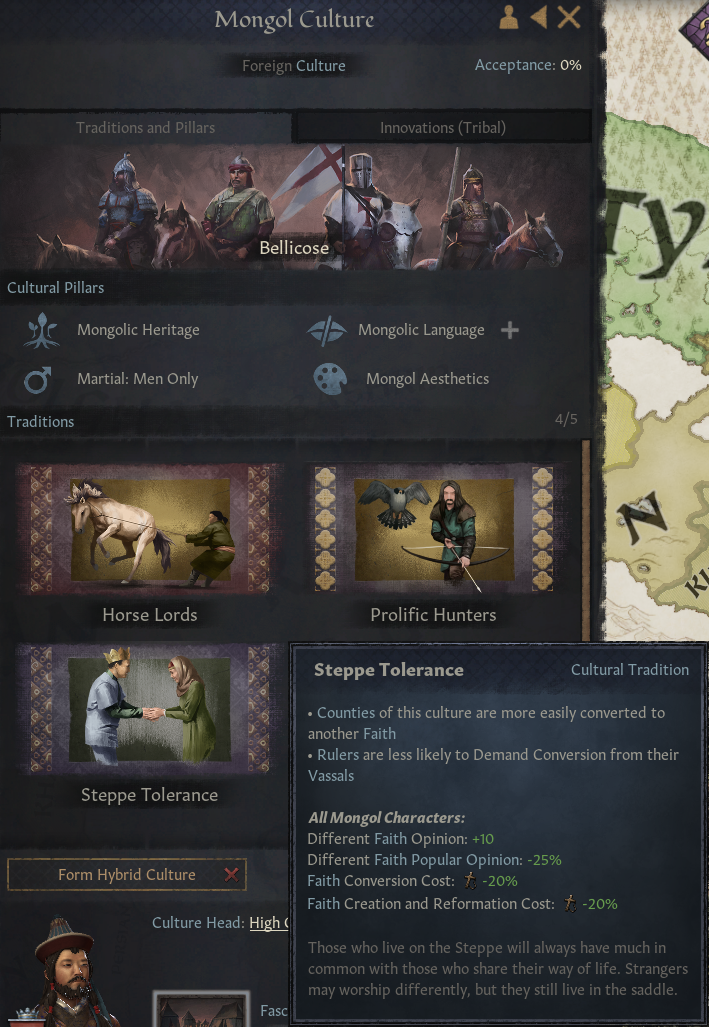 ​
The Steppe Tolerance tradition highlights that for some cultures what your subjects believe was not as important as it was for others…
And that was all for this short winter teaser. These are some of my personal favorite traditions in the update, I hope you found them as interesting as I do!