Tech Lead
Paradox Staff
33 Badges
Hello everyone!
Today is Tuesday and that means it's time for another fascinating Developer Diary. My name is Divine and I've been part of the Crusader Kings team since last autumn as a scripter and now I'm going to tell you about some of the events that we've been working on for the soon-to-be-released expansion, Horse Lords!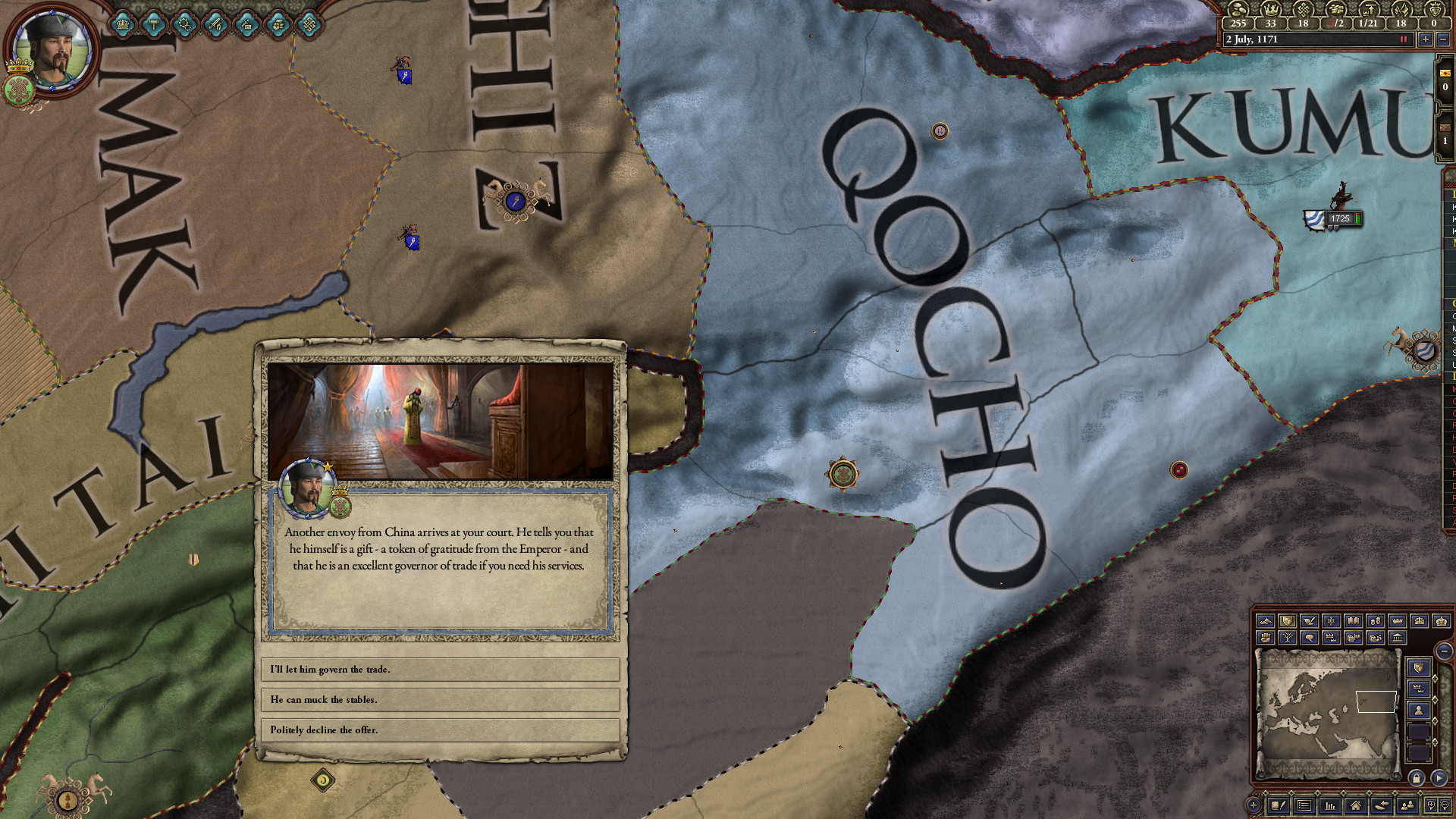 If you control a part of the Silk Road you can now build trade posts to make sure to get some of the riches that is traveling along the route. However, there might be more people who want a share of the wealth, so you'll probably have to guard your treasure chests. There's also a possibility to gain the help of a trade governor who might attract more traders and riches to your land... or his mishaps might prove to be more of a headache for you to cope with.
As mentioned in a previous dev diary, rulers on the Steppe can send out their sons and brothers to take up arms and become mercenaries. The life of a mercenary, though, is a harsh one and a lot of things can happen when you're out adventuring in a foreign court; so we've added some events about various things that can occur for the captain of such a created mercenary band.
For instance, the Mercenary Captain, being on the field fighting for a living, has a chance to improve his military education trait to one of the stronger ones. These mercenaries also get a few events to interact with their employer or the ruler of the province they are hanging out in. One of these events is for instance eloping with a person of the employer's court. It can be a daughter, son or a skilled courtier.
Since the Mercenary Captain is earning his keep from being hired he also gets some choices on what to spend it on. For example, improving his Band of Mercenaries or spend it all on women and vice.
A ruler of the Steppe was not much of a ruler unless his clan had a thriving herd of livestock to support them. Thus, it is only natural that we needed to have some events about horses! If you're living on the Steppes as a nomad, you can now adopt a favorite war horse. There are some events associated with having a horse and what you do together with it - both ordinary and unusual happenings.
So that's a little sneak peek of the things that can happen on the wide Steppes and everything I had to say for today. I hope you are all hyped for the upcoming expansion that is now just a week away!
Oh! And I might actually have heard legends about certain altaic families behaving in odd ways lately… with hideous faces and beast-like behavior.