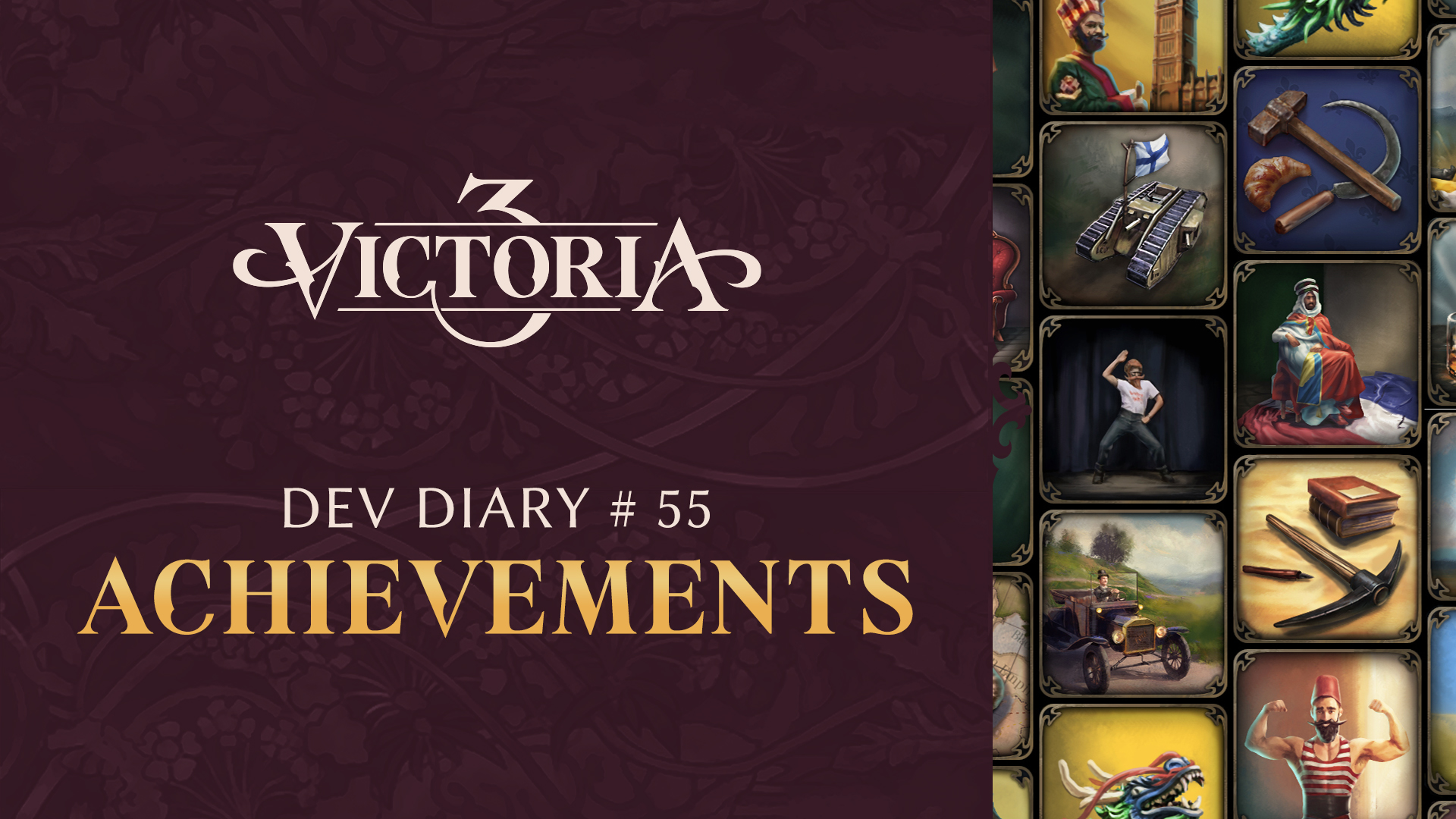 ​
Hello and welcome to yet another Victoria 3 development diary. Today we're going to be talking about Achievements, and since I think absolutely everyone reading this already knows what an Achievement is, I'm not going to do the usual what-is-this-feature preface. But before I get to listing all the achievements that Victoria 3 will be releasing with, we do have something to announce in regards to achievements which will differ in Victoria 3 compared to earlier Paradox Grand Strategy Games, namely that Ironman and an unmodified checksum will no longer be required to unlock achievements.
That is to say, no matter what mods you have installed and whether you're playing ironman or not, all of these achievements will be unlockable. There are a few game rules that disallow achievements, but since you could simply mod away that requirement if you wanted, not even this is a particularly hard rule. The reason for this change is simply that after quite a bit of discussion among the designers, we've decided that for Victoria 3 we want to emphasize access to achievements for everyone, even if that may end 'devaluing' the achievements in the eyes of some players.
Now then, with that out of the way and without further ado, I will get to listing, in no particular order, the 50 achievements that will be available in the release version of Victoria 3!
Peccavi:
Starting as the British India Company, fully own the states of Sindh and Punjab.
Perkeletankki:
Starting as Finland, produce at least 100 units of tanks every week.
Luxurious Luxemburg:
Starting as Luxembourg, be the leading producer of Luxury Clothes, Luxury Furniture, and Porcelain.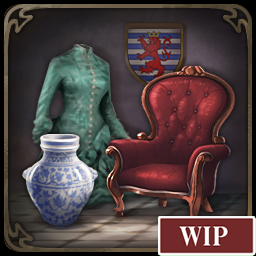 Anarchy in the UK:
Starting as Great Britain, have an Anarchist form of government.
Mohammed Ali's Ambition:
Starting as Egypt, form Arabia and own Thrace.
An Empire Under the Pun:
Starting as the Sikh Empire, subjugate Great Britain.
I didn't vote for Pedro:
Starting as Brazil, change government to Republic and implement Universal Suffrage.
Go West, Young Man:
Starting as the USA, own California, Oregon and Washington with 250k or more population in each.
The Western Protectorate:
Starting as Great Qing, have a treaty port in France, Germany, the British Isles, Iberia and Italy.
The Paris Commune:
Starting as France, become a Council Republic and have a Command Economy.
Barbary's Back:
Starting as Algeria, retake Algiers and become a Major Power.
Miners and Minors:
Starting as Lanfang, incorporate all states in Borneo and have the 'Compulsory Primary School' law.
Healthy Man of Europe:
Starting as the Ottomans, be the Greatest Power while having max level Public Health Insurance.
Habsburg Resurgence:
Starting as Austria, own Silesia and Prussia must be Minor Power or lower rank.
The Great Game:
Starting as Russia, own the entire Central Asia region.
Bourbon for Everyone:
Starting as Spain, have an average standard of living of at least 20 while remaining a monarchy.
Manifest Mexico:
Starting as Mexico, own the Pacific Coast & Great Plains, and have a higher Power Rank than the USA.
American Territory:
Starting as the Indian Territory, have the USA as a subject with no more than three states.
Broken Promises:
As Italy, join a diplomatic play against 2 or more of your allies.
The Berlin Conference:
Starting as Prussia, form Germany and fully own at least 10 states in Africa.
Star-Swarmed Banner:
As the United States, have 100 incorporated states represented on your flag.
Belle Époque:
Starting as France, have the highest GDP per capita and Innovation generation in the world.
Deeds, Not Words:
Pass the Women's Suffrage law.
First Flight:
Be the first nation in the world to fly aeroplanes.
Victorian Century:
Play a full campaign from 1836 to 1936.
Poor, Huddled Masses:
Have a cultural migration target in one of your states.
Billionaire:
Have a national GDP of at least £1 billion.
Serf's Up:
Starting as a nation with Serfdom, enact Worker's Protections Labour Rights Law.
Risorgimento:
Form the nation of Italy.
Three Hurrahs:
Form the nation of Germany.
Solomon's Quest:
Form the nation of Ethiopia.
I am a Scandinavian:
Form the nation of Scandinavia.
Enlightened Despot:
Have electrical street lights in all states while being an Autocracy.
Mightier than the Sword:
Have the other side back down in a diplomatic play.
Revolutionary:
Switch sides to the revolutionaries in a civil war and win the ensuing conflict.
Reading Campaign:
Starting as a nation with less than 20% literacy, get to 100% literacy.
We Are Not Amused:
Starting as Great Britain, Expel Diplomats of a Great Power with Cordial or better relations.
Institutional:
Have an institution at maximum investment level.
Poppydock:
Have at least a level 8 port and export at least 2500 units of Opium to foreign markets.
Grander Colombia:
Form Grand Colombia and own all land in the Gran Colombia, Andes, and La Plata strategic regions.
Inventive:
Research all technologies across all three categories.
Educated:
Complete the 'Learn the Game' objective.
Tycoon:
Complete the 'Economic Dominance' objective.
Hegemon:
Complete the 'Hegemon' objective.
Caretaker:
Complete the 'Egalitarian Society' objective.
That's all of them, and that's all for today! Join us again next week as Alex goes into more depth about Cultures and Religions!