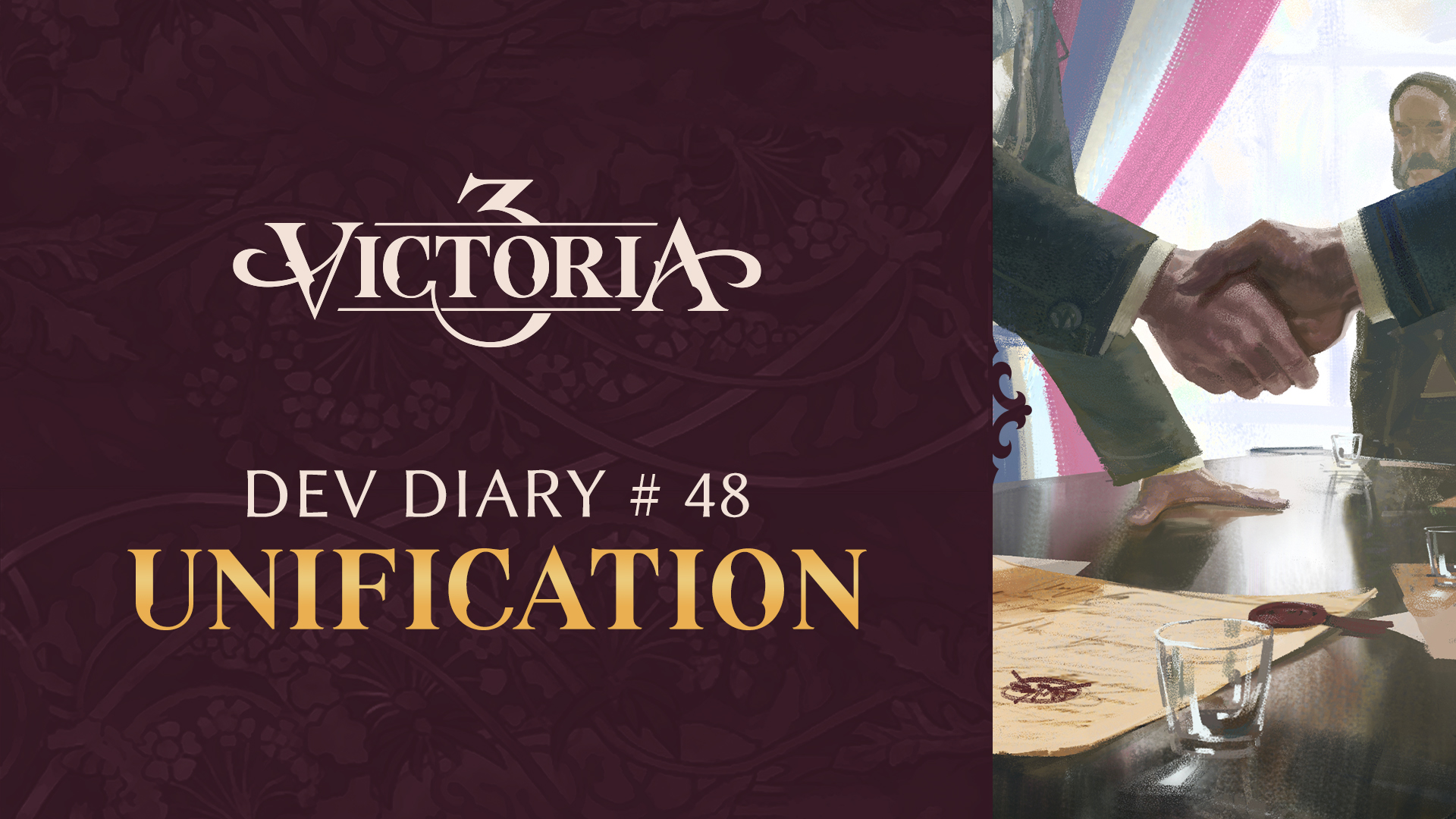 ​
Hello and welcome to yet another Dev Diary for Victoria 3! Today's topic will be Unification, aka the process of turning one nation into another, 'greater' nation, such as the historical example of the Kingdom of Prussia turning into the German Empire in 1871.
When talking about Unification, there's two distinct types of Unifications - regular Unifications and Major Unifications, the latter of which have some special mechanics associated with them. We'll go over the former first.
The Unifications you're able to form range from small one-region nations like Baluchistan to vast ones like India.
​
A Regular Unification is, plain and simple, a particular country that can be formed by other countries. These may be countries that have existed in the past (such as Poland), came into being after 1836 (such as Italy), are alt-history countries that we have deemed plausible or interesting enough to include (such as Arabia) or may even be countries that already exist on the map in 1836 but can be re-formed if they were to break up or be conquered (such as the United Provinces of Central America).
In order for one country to become another, there's a few conditions that must be met:
The forming country must share at least one Primary Culture with the Unification country. For example, any country with either South German or North German Primary Culture can form Germany, which has both.
The forming country must have a lower country tier than the Unification country. Country tier is an inherent 'status' assigned to each country based on how it was historically perceived, and gives Prestige based on how high the tier is. For example, a country that was historically regarded as a Kingdom gets a bit more Prestige than one that was a mere County. This is a fairly weak effect, as the idea that some countries/titles are simply more inherently prestigious than others was falling out of fashion in the game's era, but serves as a useful way to determine which countries would realistically strive to change their identities, as it's quite unlikely that Poland would want to turn itself into just Galicia-Volhynia, while Krakow might jump at that opportunity. There is one exception to this rule - a country may form a Major Unification of the same tier, if they are themselves not already a country that counts as a Major Unification. For example, the Empire of Austria can become the Empire of Germany despite not increasing their tier in the process.
The forming country must own or be the suzerain of the owner of a sufficient number of the integral State Regions of the Unification Country. Usually, what a Unification country considers to be its integral State Regions maps directly to the Cultural Homelands of its Primary Cultures - so the integral State Regions of Italy is any State Region that is considered to be the Cultural Homeland of either North Italian or South Italian culture.
Certain Unifications may require you to research technologies such as Nationalism or Pan-Nationalism to be available.
Once these conditions are achieved, unification is as simple as the press of a button. Once that button is pressed, the forming country will immediately turn into the Unification country, annexing any subjects of theirs that share a primary culture with the Unification country and own land in its integral State Regions in the process. For this reason, it isn't necessarily required (or even desirable) to outright conquer other countries that are standing in the way of your unification dreams - subjugating them lets you count their land towards the required goal, and allows you to integrate them into your unified country with less Infamy than you would otherwise get.
With seven of the nine integral Australian State Regions under their control, New South Wales are ready to proclaim themselves as the united Dominion of Australia
​
That's about all there is to know about regular Unifications. So then, how do Major Unifications differ? Quite a bit, actually! Major Unifications are countries such as Germany and Italy, which historically had strong nationalist movements agitating for their creation from the disparate polities they were divided into. At the start of the game, these differ little from regular Unifications, but once any country sharing a primary culture with the Unification Country researches the Nationalism Society tech, new mechanics called Unification Candidates and Unification Diplomatic Plays come into effect.
Unification Candidates are, quite simply, countries that aspire to unify the aforementioned disparate polities under a single flag, the clear historical example here being the Kingdom of Prussia's ambition to unify Germany. In order for a country to be a Unification Candidate, the country must be at least a Major Power. However, if there are other (potential or current) Unification Candidates that are Great Powers, then Major Powers are not considered to be valid Unification Candidates as they are simply seen as too weak by comparison.
There can be up to 3 Unification Candidates at any given time, and if there are more potential candidates than this, then the 3 with the highest Prestige are chosen. It is also possible for there to simply be no Unification Candidates at all if no potential formant is at least a Major Power. As power rankings change, so do the candidates - any candidate which falls below the rank threshold ceases being a candidate, and any potential candidate that achieves it becomes a candidate (assuming there is a free slot or they can beat out an existing candidate in raw prestige).
Prussia and Austria each have a handful of supporters for their bid to unify Germany, but most of the minor German countries remain uncommitted.
So then, now that I've told you all about how to become a Unification Candidate, what do you do once you actually are one? Well, most importantly, you can now begin to receive the support of non-candidate countries sharing a primary culture with the Unification Country - aka, any country which has the potential to be a candidate but doesn't make the cut. These countries can instead choose to throw their weight behind one of the existing Candidates, effectively telling the world that they would like to become part of something greater than themselves.
For the purposes of holding the necessary number of integral State Regions, any Unification Candidate gets to hold the land held by countries supporting them, so if both the Mecklenburgian Duchies back Prussia's candidacy, this means that Prussia gets to count Mecklenburg towards the number of North/South German State Regions they need.
Furthermore, Unification Candidates get access to two special Diplomatic Plays, which can be launched from the Nation Formation panel. These are called 'National Leadership' and 'Unification', and are modelled largely on the historical process by which Germany came into being.
National Leadership is only relevant if there are multiple Unification Candidates, and is effectively one candidate challenging another for supremacy, as happened in the Austro-Prussian War of 1866. This play always targets another Unification Candidate with both sides having as a primary wargoal to force the other to renounce their candidacy. Supporters come into play here, as any country pledged to support one candidate or the other will automatically back them in the play, and fight on their side should things escalate into war.
Having amassed a large number of supporters, Prussia is poised to challenge Austria for German Leadership and become the sole Unification Candidate remaining
​
When a Leadership wargoal is enforced, the defeated party will become permanently disqualified as a Unification Candidate, which also lowers the maximum number of candidates for that Unification Country by 1 (to ensure that there is not simply an endless number of new candidates rising up to challenge the dominant candidate). In other words, if Prussia defeats Austria as happened historically, then Austria will no longer be a Unification candidate, and unless another German country such as Bavaria has been able to rise to Great Power status, Prussia will be left as the sole candidate standing.
It's important to note that Austria being disqualified from candidacy for Germany, does not actually prevent them from ever forming Germany, but it does mean they can no longer use the tools available to candidates and so would have to rely on brute force to achieve that end.
When there is only one Candidate (either because there was only one to begin with, or all others have been defeated), the Unification play can be used. This is a special play that involves every non-Great Power country that shares a primary culture with the Unification Country and owns land in its integral State Regions. As before, any of these countries that support the candidate will automatically be on their side in the play, while all others (regardless of who they might have supported or not supported in the past) will be on the opposing side, with the strongest among them as war leader. Just as with any other Diplomatic Play (including National Leadership) any country with an interest in the region where it's taking place may butt in.
In a Unification Play, the attacker is angling for no less than the full annexation of all other (non Great Power) countries on the potential target list, including their own supporters (who may end up fighting to be annexed). As such, it may seem like there is little reason for a player country who isn't a Unification candidate themselves to support a candidate, but (assuming your goal isn't annexation of your own country) there is one valid reason to do so: To play for time. Supporting a unification candidate is very likely to make them friendlier towards you, which means that if you're playing as Anhalt, surrounded on all sides by Prussia, it can be a valid strategy to throw your support behind them to avoid an 'intervention' in your country, and abandon that support once you've secured some strong allies.
With Austria now out of the contest, German unification seems within Prussia's grasp… if they can find a way to avoid or overcome French and Russian intervention
​
That's all for today! Join us next week as we turn to the topic of Characters with another dev diary by our lead content designer and AAR aficionado, neondt.