Hello everyone and welcome to another Stellaris development diary. Today's dev diary is about Faster than Light travel in the Cherryh update, and it's likely to be a controversial one. When discussing, please remember to keep things civil, and I would kindly ask that you read the entire dev diary before rushing to post, as it's going to cover some of the questions and concerns we expect to see from the playerbase. Also, as posted last week, all of these changes are currently far away, and we cannot give more details on ETAs or the exact nature of the Cherryh update than we already have. Thank you!
FTL Rework
The single biggest design issue we have had to tackle in the Stellaris team since release is the asymmetrical FTL. While it's a cool and interesting idea on paper, the honest truth is that the feature just does not fit well into the game in practice, and blocks numerous improvements on a myriad of other features such as warfare and exploration, as well as solutions to fundamental design problems like the weakness of static defenses. After a lot of debate among the designers, we finally decided that if we were ever going to be able to tackle these issues and turn Stellaris into a game with truly engrossing and interesting warfare, we would have to bite the bullet and take a controversial decision: Consolidating FTL from the current three types down into a primarily hyperlane-based game, with more advanced forms of FTL unlocked through technology.
However, as I have said on the previous occasions when discussing this issue, one thing we would never consider doing is just slashing FTL types from the game without adding in something else to compensate their loss. That is what most of this dev diary is going to be about. However, before continuing with the details on the additions and changes we're making to FTL, I want to cover a couple of the questions I expect will arise from this:
Why are you removing FTL choices instead of building on them?
A lot of people have asked this question when we have brought up consolidating FTL types before, suggesting that problems such as static defenses can be solved by just adding more mechanics to handle each special case. I think the problem with this is best illustrated with defense stations and FTL inhibitors. One of the aims of the Starbase system is to give empires the ability to 'lock down' their borders, building fortresses that enemy fleets cannot simply skip past to strike at their core worlds, instead of having to create static defenses in every single valuable system.
With hyperlanes, this is a pretty simple affair: As hyperlanes create natural choke points, the only thing a hyperlane-stopping FTL inhibitor needs to do is to prevent enemy fleets from leaving the system once they enter it. The fleet can enter, it can retreat (via emergency FTL) and it can bring down the source of the FTL inhibitor (which might be a Starbase or even a planet) to be able to continue. This is quite easy to understand, both in terms of which system you need to defend to lock down your borders, and how it works when you are on the offensive.
Now let's add Warp to the mix. In this case, the single-system FTL inhibitor is useless because Warp fleets can just go over it, so we'll invent another mechanic: A warp interdiction bubble, stretching a certain distance around the system, that pull in any hostile Warp fleets traveling there to the system containing the FTL inhibitor, and force them to battle it or retreat. This is immediately a lot more messy: First of all, this bubble can't possibly affect Hyperlane fleets, because it could potentially pull them dozens of jumps away from their current location. This means that when fortifying your borders, you now need to not just make sure that every important chokepoint is covered, but
also
that your entire border is covered in warp interdiction bubbles.
But there's more: Add Wormholes as well, and you now have an FTL type where not only the 'bubble' type interdictor doesn't make intuitive sense (because Wormhole fleets make point-to-point jumps rather than traveling over the map) but if said interdictor works to pull Wormhole fleets out of position regardless of what makes intuitive sense, you end up with the same probem as with hyperlanes, where the fleet can get pulled out of range of its wormhole network and end up stranded even if it brings down the defenses. This means you pretty much have to invent a third type of interdiction type for Wormhole on top of what is already an overengineered and hard to understand system.
Finally, add the problem of displaying all these different types of inhibitors and interdictors on the map, in a way that the player can even remotely start to understand, and you end up with nothing short of a complete mess, where it's far better to just have static defenses protecting single valuable systems... and so we come full circle.
This is the fundamental problem that we have been grappling with when it comes to asymmetrical FTL: What works in a game such as Sword of the Stars, with its turn-based gameplay, small maps of usually no more than 3-6 empires, and 1-on-1 wars breaks down completely in a Stellaris game with real-time gameplay and wars potentially containing a dozen actors, all with their own form of FTL. The complexity collapses into what is for the player just a mess of fleets appearing and disappearing with no discernible logic to them.
Why Hyperlanes?
When discussing this, we essentially boiled down the consolidation into three possibilities: Hyperlanes only, Warp-only, and Warp+Hyperlanes. Wormhole is simply too different a FTL type to ever really work with the others, and not intuitive enough to work as the sole starting FTL for everyone playing the game. Keeping both Warp and Hyperlanes would be an improvement, but would still keep many of the issues we currently have in regards to user experience and fleet coordination. Warp-only was considered as an alternative, but ultimately Hyperlanes won out because of the possibilities it opens up for galactic geography, static defenses and enhancements to exploration.
Here are the some of the possibilities that consolidation of FTL into Hyperlanes creates for Stellaris:
Unified distance, sensor and border systems that make sense for everyone (for example, cost of claiming a system not being based on euclidean distance but rather the actual distance for ships to travel there)
Galactic 'geography', systems that are strategically and tactically important due to location and 'terrain' (more on this below) rather than just resources
More possibilities for galaxy generation and exploration (for example, entire regions of space accessible only through a wormhole or a single guarded hyperlane, containing special locations and events to discover)
Better performance through caching and unified code (Wormhole FTL in particular is a massive resource hog in the late game)
Warfare with a distinct sense of 'theatres', advancing/retreating fronts and border skirmishes (more on this in future dev diaries)
Are all new forms of FTL free patch content?
Yes. Naturally we're not going to charge for any form of content meant to replace the loss of old FTL types.
Hyperlane and Sublight Travel
As mentioned, in the Cherryh update. all empires will now start the game with Hyperlanes as their only mode of FTL. By default, hyperlane generation is going to be changed to create more 'islands' and 'choke points', to make for more interesting galactic geography. However, as we know some players do not enjoy the idea of constricted space, we are going to add a slider that controls the general frequency and connectivity of hyperlanes. Turning this up will create a more connected galaxy and make it harder to protect all your systems with static defenses, for players who prefer something closer to the current game's Warp-style movement.
Sublight travel is also being changed somewhat, in the sense that you need to actually travel to the entry point to a particular hyperlane (the arrow inside a system) to enter it, rather than being able to enter any hyperlane from any point outside's a system's gravity well. This means that fleets will move in a more predictable fashion, and interdictions will frequently happen inside systems instead of nearly always being at the edge of them, in particular allowing for fleets to 'guard' important hyperlane entry/exit points. To compensate for the need to move across systems, sublight travel has been sped up, especially with more advanced forms of thrusters.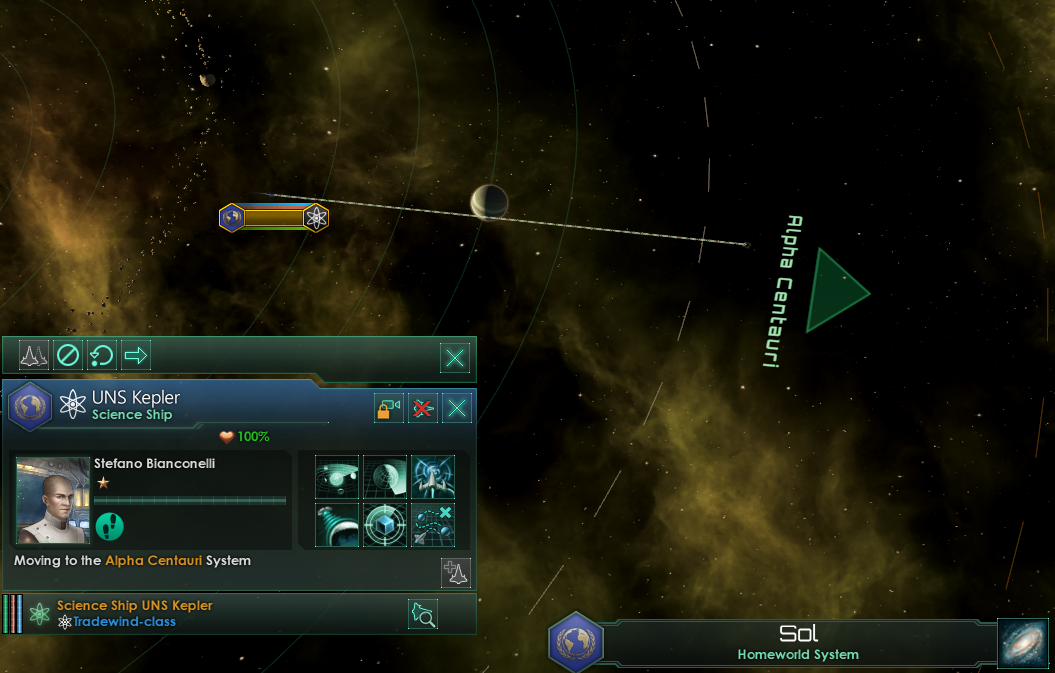 FTL Sensors
Along with the change to FTL, we are also changing the way sensors work. Instead of simply being a circle radiating an arbitrary distance from a ship, station or planet, each level of sensors can now see a certain distance in FTL connections. For example, a ship with level 1 sensors (Radar) will only give sensor coverage of the same system that it is currently in, while a ship with level 2 (Gravitic) sensors will give sensor coverage of that system and all systems connected to it through a Hyperlane or explored Wormhole (more on that below), a ship with level 3 sensors will be able to see systems connected to those systems, and so on. Sensor coverage can be 'blocked' by certain galactic features (more on that below), which will also block propagation into further connected systems. We are currently discussing the implementation of sensor blockers as a potential Starbase component.
Wormholes
While Wormhole as a full-fledged FTL type is gone, Wormholes are not. Instead they have been changed into a natural formation that can be encountered while exploring the galaxy. Wormholes come in pairs, essentially functioning as very long hyperlanes that can potentially take a ship across the entire galaxy near-instantly. Natural Wormholes are unstable, and when first encountered, you will not be able to explore them. To explore a Wormhole, you need the Wormhole Stabilization technology, after which a science ship can be sent to stabilize and chart the Wormhole to find out what lies on the other side. If you're lucky, this may be unclaimed space full of valuable systems, but it could just as well be a Devouring Swarm eager to come over for dinner. There is a slider on game setup that controls the frequency of wormhole pairs in the galaxy.
Gateways
Gateways is an advanced form of FTL most closely resembling the Wormhole FTL in the live version of the game. While exploring the galaxy, you can find abandoned Gateways that were once part of a massive, galaxy-spanning network. These Gateways are disabled and unusable, but with the Gateway Reactivation mid-game technology and a hefty investment of minerals, they can be restored to working order. Like Wormholes, Gateways allow for near-instant travel to other Gateways, but the difference is that any activated Gateway can be used to travel to any other activated Gateway, and late-game technology allows for the construction of more Gateways to expand the network. Also unlike Wormholes, which cannot be 'closed', Gateways also have the advantage of allowing any empire controlling the system they're in to control who goes through said Gateway - hostile empires and empires to whom you have closed your borders will not be able to use 'your' Gateways to just appear inside of your systems.
When the first Gateway is re-activated, another random Gateway will also be re-activated along with it, so that there is never a situation where you just have a single active Gateway going nowhere. There is a slider on game setup that controls the frequency of abandoned gateways in the galaxy.
Jump Drives
Jump Drives and Psi Jump Drives have been changed, and is now an advanced form of FTL that mixes Hyperdrive with some functionality from the old Warp FTL. They allow for a ship to travel normally and very quickly along hyperlanes, but also come equipped with a tactical 'jump' functionality that allows a fleet to make a point-to-point jump ignoring the normal hyperlane limitations. This is done with a special fleet order where you select a target system for the jump (within a certain pre-defined range, with Psi Jump Drives having longer range than regular Jump Drives), after which the fleet charges up its jump drive and creates a temporary wormhole leading to the system. After the fleet makes its 'jump', the Jump Drive will need to recharge, with a significant cooldown before it can be used again, and also applies a debuff to the fleet that reduces its combat effectiveness while the cooldown is in effect. This allows for fleets with Jump Drives to ignore the usual FTL restrictions and skip straight past enemy fleets and stations, but at the cost of leaving themselves vulnerable and potentially stranded for a time afterwards. This design is highly experimental, and may change during the development of Cherryh, but we wanted Jump Drives to not just be 'Hyperdrive IV' but rather to unlock new tactical and strategic possibilities for warfare.
Galactic Terrain
With the switch to Hyperlanes and the creation of strategically important systems and chokepoints, we've also decided to implement something we had always thought was a really interesting idea, but which made little sense without such chokepoints: Galactic Terrain. Specifically, systems with environmental effects and hazards that have profound tactical and strategic effects on ships and empires. This is still something we are in the middle of testing and prototyping, but so far we have created the following forms of Galactic Terrain:
Nebulas
block all sensor coverage originating from other systems, meaning that it's impossible for an empire to see what ships and stations are inside a system in a nebula without having a ship or station stationed there, allowing empires to hide their fleets and set up ambushes.
Pulsars
interfere with deflector technology, nullifying all ship and station shields in a system with a Pulsar.
Neutron Stars
interfere with navigation and ship systems, significantly slowing down sublight travel in a system with a Neutron Star.
Black Holes
interfere with FTL, increasing the time it takes for a fleet to charge its emergency FTL and making it more difficult to ships to individually disengage from combat (more on this in a later dev diary).
The above is just a first iteration, and it's something we're likely to tweak and build on more for both the Cherryh update and other updates beyond it, so stay tuned for more information on this.
That's all for today! I will finish this dev diary by saying that we do not expect everyone to be happy with these changes, but we truly believe that they are necessary to give Stellaris truly great warfare, and that we think you will find the game better for it once you get a chance to try them. We will be doing a Design Corner feature on today's Extraterrestial Thursday stream, where me and Game Designer Daniel Moregård (grekulf) will be discussing the changes, fielding questions and showing off some gameplay in the internal development build. If you want a look at some of these changes in a live game environment, be sure to tune to the Paradox Interactive twitch channel at 4pm CET.
Next week, we're going to talk about war and peace, including the complete rework of the current wargoal system that was made possible by the changes to FTL and system control discussed in this and last week's dev diary. See you then!