Hello everyone and welcome to another Stellaris development diary. Today's dev diary is a highlight of a few things coming in 1.6 'Adams', a bug-fixing and quality of life-focused update that we are currently working on. We can't tell you the exact release date of Adams yet, only that it won't be a very long wait. Since it's not a major update, it's also not expected to break saves from 1.5 'Banks'. There will be no paid DLC accompanying Adams, so everything listed below is either free for everyone or only requires a previously released expansion. We wanted to make sure we had time for as much bugfixing and smaller quality of life tweaks as possible, so don't expect any major features to be part of this update!
Ruined Megastructures
One of the things we were hoping to have time for in 1.5 'Banks' that ended up being cut for time was having ruined and repairable megastructures in addition to the ones you can build. This will now be part of the Adams update instead. Once Adams is released, you will be able to find ruined versions of all the different types of megastructures in a variety of systems while exploring. Claiming these systems will allow you to repair these ruined megastructures and restore them to full functionality. Repairing a megastructure is cheaper and faster than building a brand new one, and also doesn't require any Ascension Perks, only the Mega-Enineering technology. Ruined ringworlds that existed previously (such as the Cybrex homeworld and the ones owned by the Keepers of Knowledge) are also able to be repaired, and will be able to be restored even for players that do not have the Utopia expansion. Utopia is however required to find and restore the Science Nexus, Dyson Sphere and Sentry Array.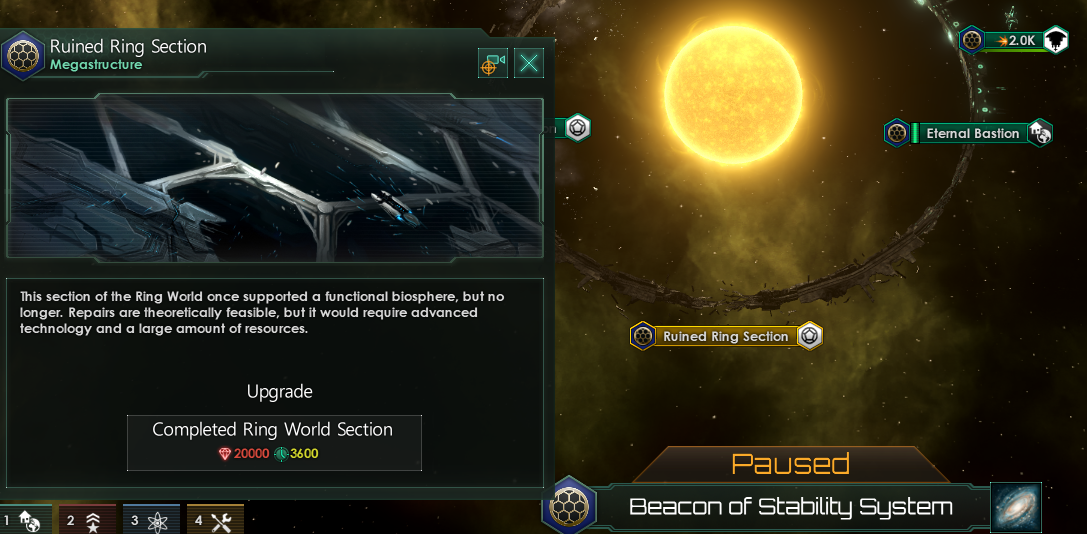 Sector Taxes & Stockpiles
Another addition to Adams is a few more tools for managing your sectors' economy. As of 1.6 you will be able to set taxes for Energy and Minerals separately, and we've added a new 'Drain Stockpile' interaction that allows you to seize 75% of a sector's stockpiled resources at the cost of 100 influence. In the event that you are fighting in a defensive war, this cost goes down to 25 influence, allowing you to use rich sectors as a resource reserve for an unexpected war declaration. Finally, we've added the ability to feed your sectors 1000 resources at a time through CTRL-clicking.
New Room Backgrounds
While the code and content design team have been busy with fixes and improvements, the art time has not been idle either. As part of the Adams update, we've created 15 new room backgrounds themed around the various AI personalities. Randomly generated empires will use the background appropriate to their personality, adding flavor and allowing you to more easily tell the Slaving Despots from the Federation Builders at a glance. All 15 rooms are naturally also available when designing an empire, so if you really want your pacifist xenophile egalitarians to conduct diplomacy in a room surrounded by alien skulls, we have you covered! In addition to the player-usable rooms there are also 4 new rooms for the Fallen/Awakened Empires that are designed to suit their unique aesthetics.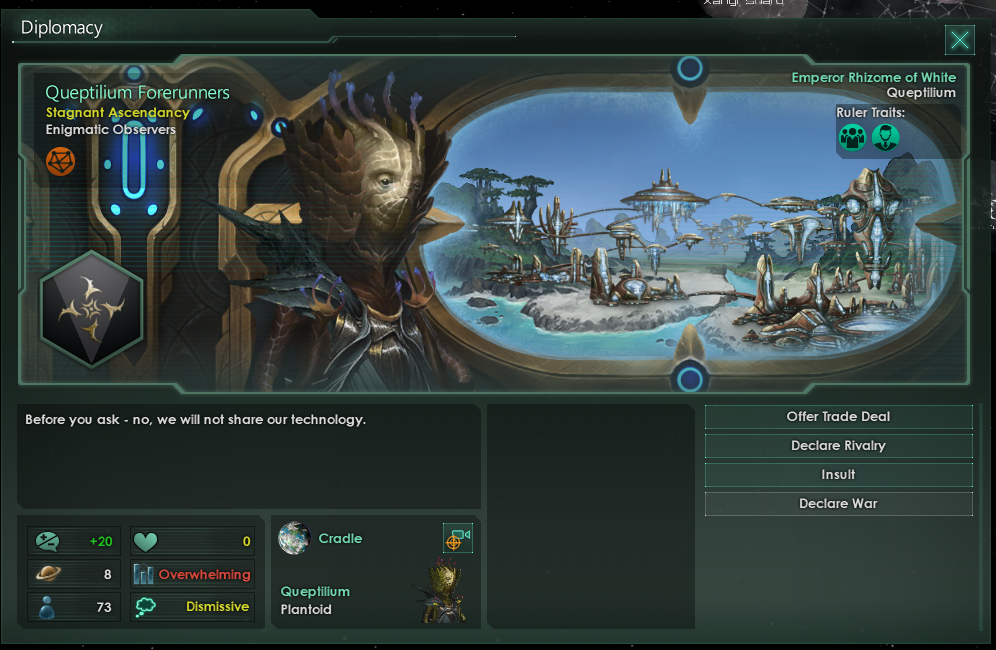 That's all for today! Next week we'll continue talking about the Adams update, so stay tuned.