Hello everyone and welcome to another Stellaris development diary. Today's dev diary is going to be about the Government Rework, the last of the major feature reworks coming in 1.5 'Banks' and some related features in the 'Utopia' expansion.
Government Rework
(Free Feature)
With the focus of Banks and Utopia being ethics, internal politics and empire customization, we felt it would be remiss of us not to put in some work in regards to governments. While the old government grid worked alright to give you a broad range of governments to pick from, they were a bit lackluster, not very well balanced and I rarely felt that the government I picked truly corresponded to my own idea of what my empire's society was like. To address all of these issues at once we decided to go back to the drawing board and redo the way governments are constructed completely. In Banks, instead of picking from a preconfigured government, you build your own from
Authority
and
Civics
.
The
Authority
determines how power is transfered in your government. The different Authorities are:
Democratic: A ruler is democratically elected every 10 years.
Oligarchic: A ruler is elected every 40 to 50 years.
Dictatorial: Rulers are elected but rule for life.
Imperial: Rulers rule for life and are succeeded by appointed heirs on death.
In all systems that involve elections, leaders will be elected from the different Factions in your country, and electing a ruler of a particular Faction will significantly strengthen the political clout of that faction and the attraction of their related ethics, so be careful about letting a Xenophile take charge of your Supremacist Empire!
The
Civics
represent the political and social traditions of your government, and come in a wide variety of types, primarily limited by your authority and ethics. In addition to providing modifiers, they can also change how your empire is governed. For example, the
Citizen Service
Civic ties citizenship to military service, so that only species with Full Military Service are afforded the right to vote and become leaders. On empire creation, you can choose two Civics, with a third able to be unlocked later through research.
With a few exceptions (more on that below), Civics and Authorities are not necessarily permanent. Where previously you could change your government type for 250 influence, you now have the option to effectively rebuild your government at the same cost. By using the 'Reform Government' button in the government screen, you can add and remove Civics and change Authority from among the picks available to your ethics. As your Ethics and Authority change, you may end up with Civics that are no longer valid for you country - for example a 'Beacon of Liberty' that has lost its Egalitarian ethics. When this happens, the Civic in question will remain, but will become 'inactive' and stop providing you with any sort of bonus, effectively a wasted Civic slot until you reform your government and replace it.
From the Authority, Civics and Ethics you pick, a
Government Name
is finally generated. The Government Name is purely there to roughly summarize the government you have built, as well as provide flavor, and has no actual impact on gameplay.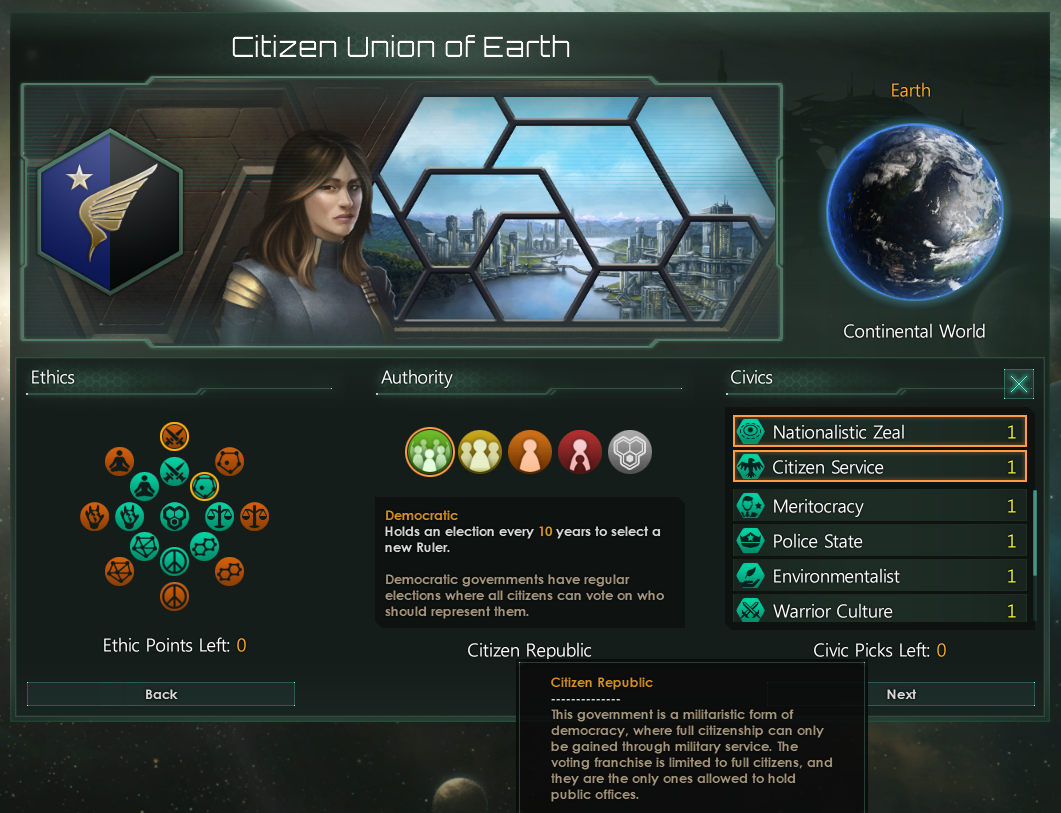 Advanced Civics
(Paid Feature)
In addition to the normal Civics available to everyone, there are also a few special Civics that are only available to those with the Utopia expansion. These Civics are meant to simulate very specific kinds of societies and generally have more of an impact on your game than the normal Civics do. They are as follows:
Syncretic Evolution: Your species evolved along with another, subservient species. A second species is randomly generated on your homeworld replacing some of your primary species' Pops. They always have the Proles (rebalanced in Banks) and Strong traits, making them excellent soldiers and workers but less ideal for intellectual pursuits. This Civic provides no additional benefits and cannot be removed once picked.
Mechanist: Your species is obsessed with the pursuit of robotics. This Civic requires you to be Materialist and has you start with the Robotic Workers and Powered Exoskeletons technologies and a population of worker robots to do the farming and mining for you, replacing some of your primary species' Pops. This Civic provides no additional benefits and cannot be removed once picked.
Fanatic Purifiers: Your empire will not tolerate the existance of any other sentient life. This Civic requires you to be Fanatic Xenophobe/Militarist and gives very large boosts to the effectiveness of your military and gives you Unity from purging Xeno Pops, but disables all diplomacy with other species and forces all Xeno Pops in your empire to be purged (though you get to choose the method of extermination). All other regular empires will also have a massive relations malus with you, the one and only exception being Fanatic Purifiers from the same species.
Hive Minds
(Paid Feature)
In addition to the Advanced Civics, those with the Utopia expansion also get access to a unique Authority with a highly unique playstyle: the Hive Mind. Hive Minds are species where the individuals are all part of the same, vast, psionically linked consciousness. The Immortal Hive Mind rules absolutely over the population of non-sentient worker drones, using sentient 'Autonomous Drones' (Leaders) to extend the reach of its will. Picking the Hive Mind Authority requires the Hive Mind Ethic and each can only be picked together with the other: With only one, vast and linked consciousness, the guiding values of a Hive Mind is whatever the Hive Mind player wants it to be. They have their own set of Civics that can only be used by Hive Minds, and cannot use any non-Hive Mind Civics.
All Pops from the founder species of a Hive Mind will have the Hive-Minded trait. Hive-Minded Pops are not affected by Happiness and will never form Factions, allowing Hive Minds to completely ignore internal politics... though this comes as a cost, as they also cannot benefit from the Influence boost and other benefits provided by happy Factions in a regular empire. As Hive Minds rely completely on their ability to communicate psionically with the drone population, they are also unable to rule over non Hive-Minded Pops, and any such Pops in your empire will automatically be killed over time and processed into food to feed the Hive. Similarly, Hive-Minded pops that end up in non Hive Mind empires will be cut off from the Hive and will perish over time. The only way to integrate Pops between Hive Minds and non-Hive Minds is to use the Biological Ascension Path to unlock advanced gene modding and modify them by adding or removing Hive-Minded (more on this in the next dev diary). However, Hive Minds can still coexist with other species: They have full access to diplomacy and can have non-Hive Mind subjects (and can be ruled over as subjects in turn), though non-Hive Mind empires tend to be somewhat distrustful of Hive Minds on first contact.
While Hive Minds are psionic by nature, the way they function and their connection to the Shroud is radically different from that of regular psychics, making them unable to follow the Psionic Ascension Path. Furthermore, Hive Minds are deeply biological entities, and fundamentally incompatible with the Synthetic Ascension Path. They are however perfectly suited for the Biological Ascension Path, and can make use of it to assimilate other, non-Hive Mind species into the Hive as described above.
That's all for today! Next week we'll be talking about the Biological and Synthetic Ascension Paths. See you then!