Hello everyone!
Today we will go into the sixth part in a multi-part dev diary about the 'Heinlein' 1.3 update and accompanying (unannounced) content DLC. The topic of today's dev diary is the changes to ship roles and ship balance.
Ship Roles
The new design intends to give each ship a more unique combat role. Some ships will be defensive, while others will be more offensive.
Corvettes
Small and aggressive ships with high evasion that can be equipped with torpedoess. They will be very effective against large ships like battleships due to their high evasion and access to torpedoes. They have very low armor, but a very high chance to evade.
Destroyers
Defensive ships that are designed to counter corvettes, which is why they receive an innate +10 bonus to Tracking. They can be equipped with point-defense weapons, to shoot down the torpedoes fired by corvettes. They have moderate armor, and a moderate chance to evade.
Cruisers
These aggressive ships should be able to put out a lot of damage, but at the cost of less defense. Cruisers, like corvettes, can also be equipped with torpedoes. But unlike corvettes, they can also be equipped with hangars for strike craft. They have somewhat high armor, and a small chance to evade.
Battleships
The new role for battleships will be durable capital ships that fire at its enemies from a long distance. They are the only ship size that can be equipped with extra large weapons. They have very high armor, but minimal evasion.
Evasion, Tracking & Armor
A new feature in the Heinlein patch will be the Tracking stat. Each weapon will have a Tracking value that determines how effective they are against ships with high evasion. Every point of Tracking reduces the target's chance to evade that attack by the same amount. Small weapons will have high Tracking, medium weapons will have medium Tracking, and large weapons will have minimal Tracking.
This means that large weapons - with a poor Tracking value - will still be very effective against large ships like cruisers or battleships, but almost useless against small ships like corvettes due to their high evasion.
The armor penetration of weapons has also been rebalanced so that large weapons have a much higher armor penetration values than smaller weapons.
In effect, this means that small weapons are good at shooting at small ships, while large weapons are good at shooting at large ships.
Another note is that missile weapons no longer ignore evasion, and can be evaded like normal. Most missiles, however, will have a very high Tracking value.
New Slots
Something new in the Heinlein patch will be the introduction of a couple of new slot types.
The extra large slot will contain powerful spinal-mounted weapons that are designed to target and take out enemy capital ships. Only Battleships will have a ship section with this weapon slot.
The torpedo slot, as evident by its name, will hold torpedoes. Torpedoes are slow firing weapons that deal massive damage, perfect for taking down larger ships. Unlike other missiles, however, torpedoes do not have good Tracking, which means they are very ineffective against ships with high evasion, such as corvettes or destroyers.
The auxiliary slot will hold components that have ship-wide effects. Crystal-Forged Armor, Shield Capacitors and Regenerative Hull Tissue are examples of components that will now be equipped in this slot.
Point-defense weapons now have its own slot size. The idea is that you should need to specialize some ships into countering enemy torpedoes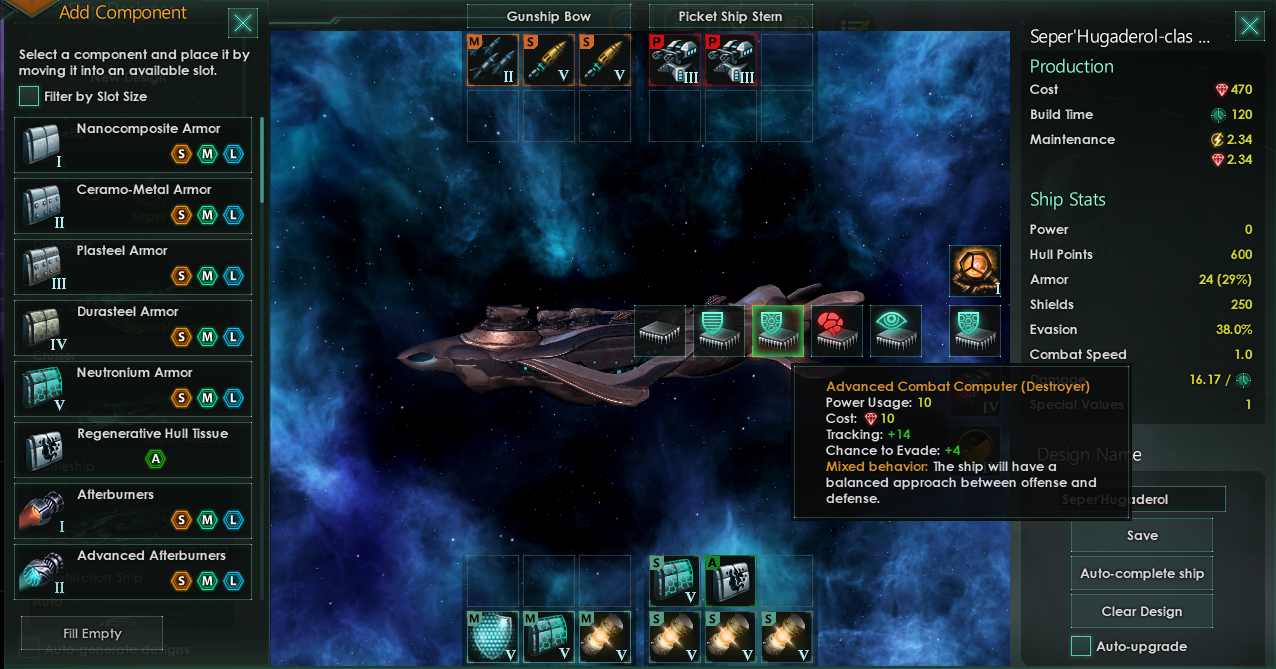 Major weapon rebalancing
Most weapons have been rebalanced to better suit the new design.
That's all for this week! Join us again next monday when we'll be back with another dev diary!