Nothing unites people more than a common enemy.
You know how the story goes: space invaders attack, and the people of the world unite, casting aside their differences to stand together against a shared threat. Together, they defeat the more advanced enemy, who foolishly underestimated the plucky underdogs.
But what happens after the story ends? The former invaders are still out there, and they won't be fooled again. An awkward reunion is unavoidable.
I'm CheerfulGoth, a content designer on Stellaris, and this is the story I wanted to tell with Payback.
Payback is the "sibling" of Broken Shackles, two origins united by a common threat: Minamar Specialized Industries, a megacorp that provides pre-FTL enlightenment – for a price. While Broken Shackles focuses more on reconnecting with your past, Payback empires only see one thing in their future:
revenge
.
The means of achieving that revenge are up to you. Annihilate your enemy? Turn your slavers into your slaves? Or battle them on the floor of the Galactic senate, outlawing their very business model? Even Pacifist empires will have the means to obtain their vendetta without betraying their ideals.
Revenge doesn't have to be synonymous with violence.
​
Don't be too hasty in your quest for revenge, though. Rest. Take your time to rebuild. The war against MSI left you with a devastated planet... And the remnant of a battleship to be repurposed for your own needs.
Make new allies (Broken Shackles empires might be particularly inclined to help you). Remember: revenge is a dish best served cold. Don't wait too long, though, because the Minamar Specialized Industries surely won't let you alone.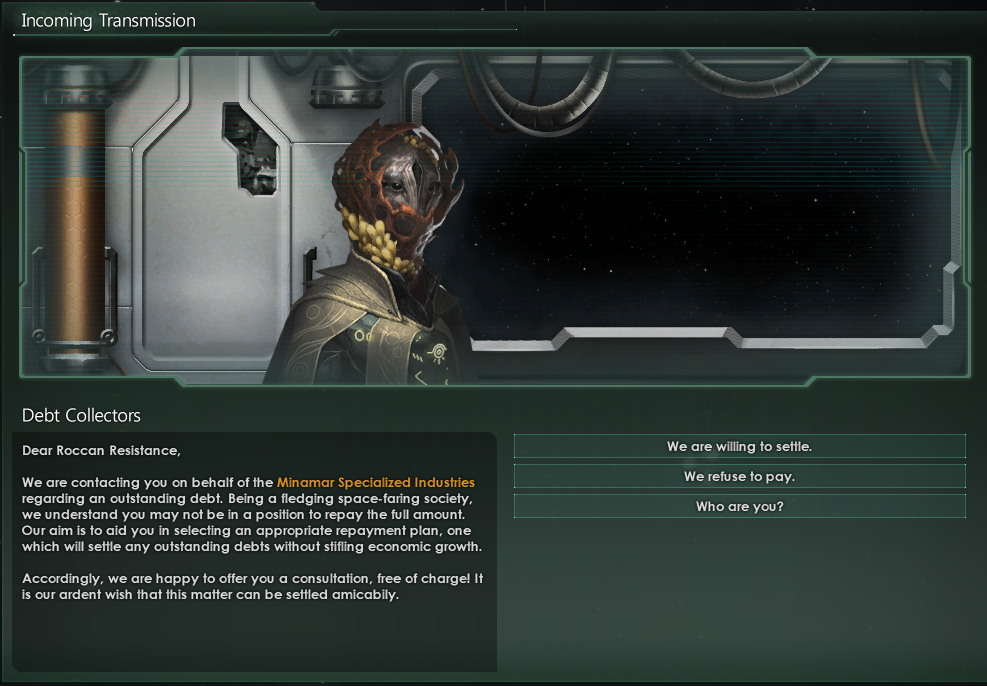 You want to make them pay? The feeling is mutual.
​
We're not so different, you and I​
The galaxy of Stellaris is already filled with extra-dimensional invaders, space dragons, and all kinds of unimaginable horrors. With Payback and Broken Shackles, we wanted to pit players against an enemy not so different from themselves. Minamar Specialized industry starts as a developed empire with extra colonies and resources, but otherwise behaves like a normal empire with a well-defined personality. They will make their own alliances, join their Galactic Community, wage their wars... and might even fall before you can get your due.

What will you do when even revenge is stolen from you?
​
Many of our narrative Origins present a fixed story. With Payback, we wanted to create a less linear narrative, providing players with multiple tools to accomplish their goal. Sometimes things don't go as planned, but we believe that's what will make this origin more interesting and replayable.
We give you an enemy. You tell us how you want to pay them back.
---
Insights​
Now for the return of PDS_Iggy who desperately wants you to stop invading pre-FTLs.
A common issue that has been brought up in regards to this DLC is "Why shouldn't I just invade the pre-FTLs the moment I meet them" and I am here to present a counter offer. What if I give you unique techs?
Insight Technologies are gained when you study pre-FTLs without making them aware of you. They are unique paths their society take which you have dismissed as dead ends. This is all tracked through a situation which, once completed, will make a future observation event grant you a new Insight.

We can learn from anything and anyone.
​
If you haven't completed the situation when you get an observation event instead you gain even faster progress to the next Insight.
I am sure it's nothing.


​
These Insight technologies are designed to have unique and flavorful effects. So let me share a few with you.


Let's see how close we can get with our observation station.



A smart hunter lets the environment aid their hunt.



How were the pyramids built? Let's check!
​
As you can see these technologies grant you partial Envoys as well as a unique benefit. Therefore, the more you spy and study the pre-FTLs, the more you can do it!
Next week, Alfray Stryke will finally tell you about cloaking, and I might be back to help him explain the new civics!